Welcome back to another edition of What I Wore Lately. I'm calling it winter fashion because the week of Christmas and a few days after were the closest to what we call winter with lows in the 30s and highs near 50. I only worked three days of two of these weeks and that was either field work or telework so there are few office outfits this time.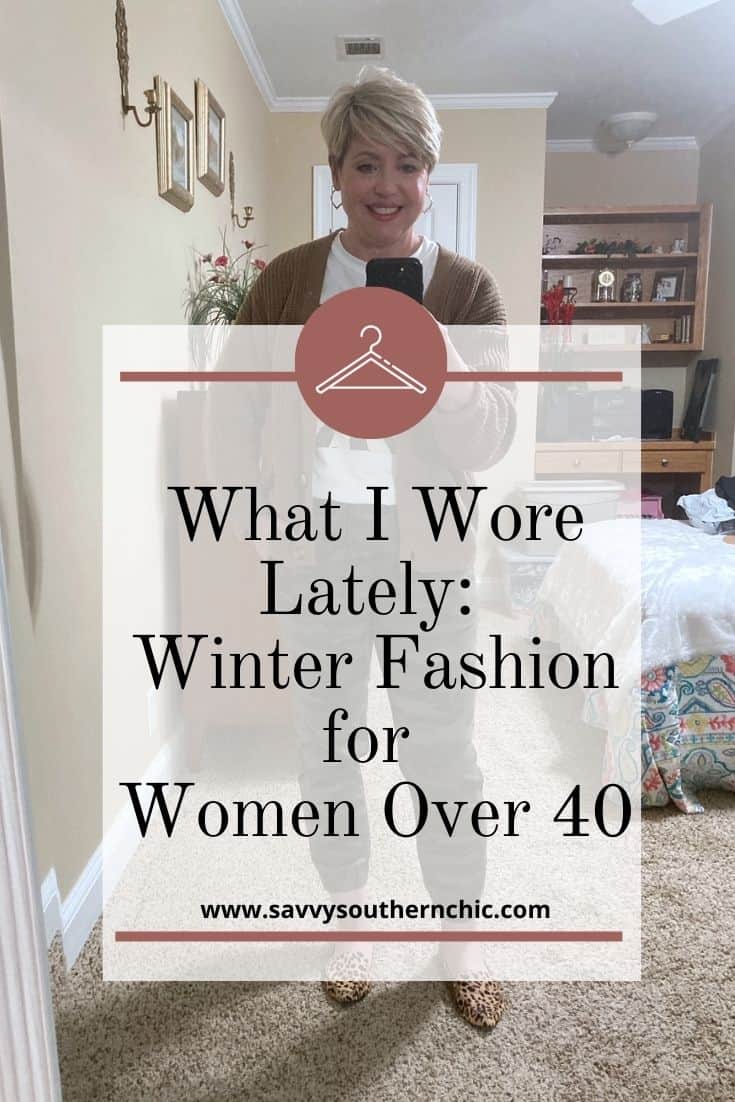 Telework: Slip on shoes of any kind are my go to when I'm working from home. A mock neck top is great for layering in our milder winters and for wearing alone.
Top- Land's End; Jeans-Lee; sneakers- old; option; earrings- Kendra Scott
Telework/ video court- Another work from home day, but with court, hence the blazer. I cannot wear these corduroy pants to the office, but for video court, I made them work. If you work in a more casual office environment, your corduroy pants are a great option for casual winter work wear.
Blazer- JCrew Factory; sweater- Loft- similar; pants- old- similar; similar; boots- similar similar
Christmas Eve– I'd rock this outfit for Valentine's Day too!
Faux leather leggings- Hue; cardigan- Old Navy/old; option blouse- Old Navy; option; shoes- Cole Haan option
Christmas Day- It didn't get above 48 and we kept our get together outside in the garage at my parent's house, so I bundled up. The scarf made it festive enough for Christmas, but you could wear this any day.
Jeans- Nordstrom; sweater- Gap; option scarf- JCrew Factory; vest- JCPenney; shoes- Target; option; bracelet- Victoria Emerson
Saturday- Car shopping. I still haven't made a decision on a new/newer car but we test drove several that day.
Shirt- Amazon; chambray- old; similar; jeans- Levis; leopard boots- Sam Edelman/ similar
Sunday– Keeping it real here. Leggings and this super oversized sweatshirt. Yes, that's bigfoot! The back says The Legend of Boggy Creek. At least the sneakers are cute.
leggings- Zella/ sneakers- JCrew Factory
Weekday/ off work- Running errands and voting.
Jeans- Old Navy; sweater- old; scarf- JCrew Factory; shoes- Clarke's- similar
New Year's Eve– It was warm again and I kept it casual. We didn't go anywhere so the shoes and jacket were just for future reference.
Jacket- Old Navy; pants- gap; tee- Old Navy; sneakers- JCrew Factory; headband- Amazon
New Year's Day- I think I lounged around in leggings or sweats again, so no pics.
Saturday – This seems to be the Saturday shirt, whether dressed up or down. I made a quick trip out to the Dollar General to get some notebooks to track some things in for the new year.
Shirt- Amazon; jeans- NYDJ; sneakers- old/ similar
Another week of telework:
Monday
Shirt- Old Navy; tee-gift; leggings- Hue; boots- Target; similar; earrings- Kendra Scott
Tuesday
Cardigan- Wal-mart; tee- Ebay; camo joggers- Amazon; flats- Steve Madden
Wednesday– video court and then I dressed down into the hoodie and jeans.
Blazer- Gap; option sweater- JCPenney; pants- Banana Republic; shoes- Dr. Scholl's
Jeans- Gap; hoodie- Wal-mart; sneakers- JCrew Factory
Thursday
Vest- JCPenney; shirt- JCPenney (old); option jeans- Nordstrom; sneakers- JCrew Factory
Friday- I got dressed, but forgot to take pics!
Saturday- I didn't go anywhere but put on real clothes anyway. I needed to get dressed to get motivated.
Jeans- Gap; shirt- Nordstrom; sweater- old; option loafers-old option
Hope you're upcoming weekend is great!