It's time for another What I Wore Lately edition, where I share exactly what I wore. You might expect this edition to be full of holiday outfits or more casual attire, but nope, it's mostly work wear. I didn't really take any time off during the holidays this year because work was just too busy. I also didn't dress up or for any holiday events, so that leaves me with work wear. I mixed up a bit during the last lazy days of the year at work and wore vests to the office.
Burgundy blazer + blush blouse + grey pants+ plaid loafers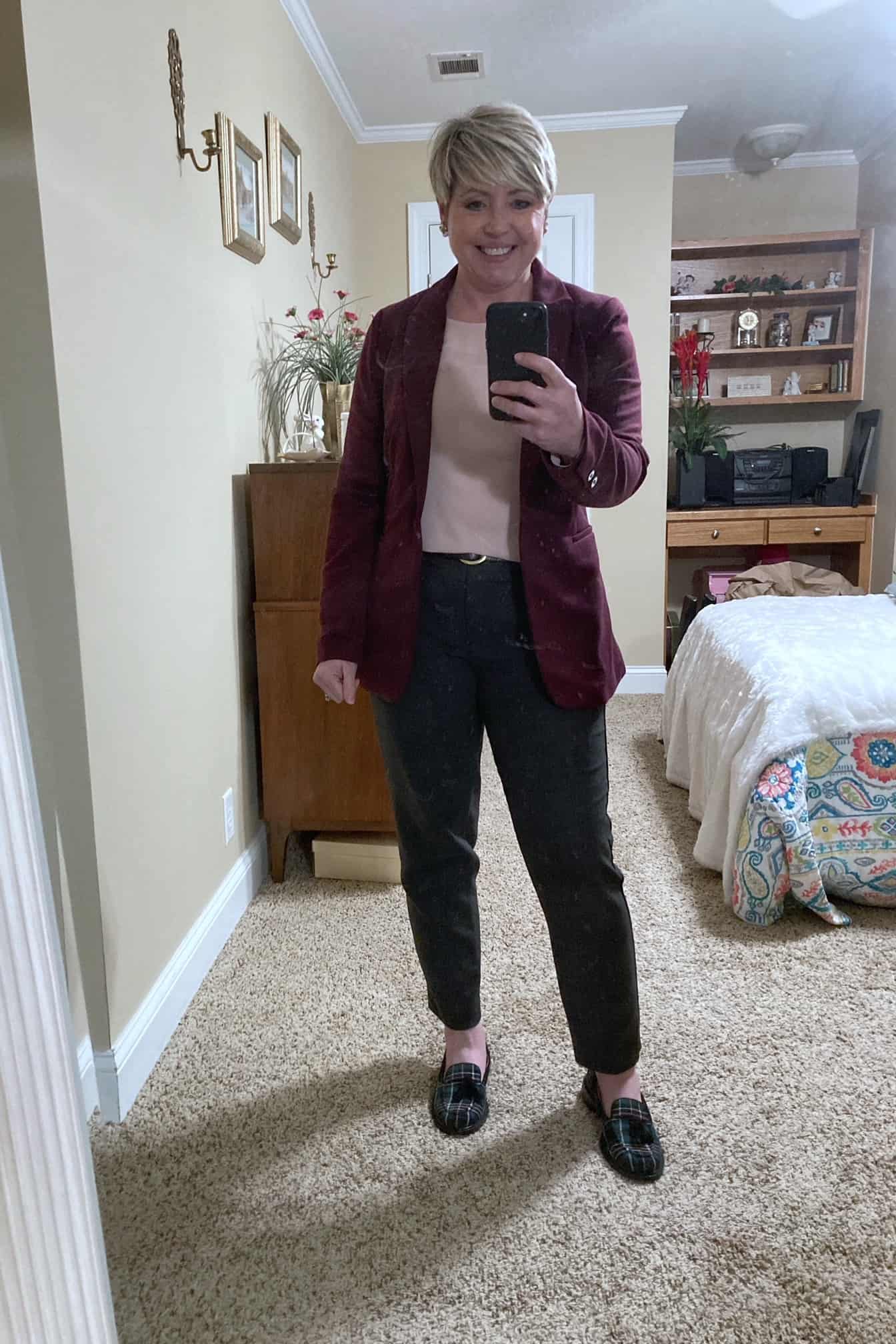 Blouse- Nordstrom/old- option; option; Blazer- old– velvet option; pants- Loft; option shoes– Ann Taylor
I mostly built this outfit around the desire to wear the plaid shoes again. They have a bit of blush pink in the pattern, so I grabbed this blush top. I added a burgundy blazer for a monochromatic effect on top and neutral pants on the bottom. If you are ever stuck on what to wear with a certain color, go monochromatic with the same color in a shade lighter or darker. It creates a very chic effect.
Plaid pants+ green mockneck sweater + navy puffer vest + loafers
Sweater- Loft; similar; vest- JCrewFactory pants- Loft/ option
I don't normally wear my vests to work but I decided to try it during the week of Christmas when there was less staff around. The guys wear their fleece Columbia vests over their ties and button ups, so why can't I wear this? I wouldn't wear this to court, but it's still professional enough for the office on a slow day. I find this to be a very "JCrew" style outfit, but the only JCrew piece is the vest. The other pieces are older from Loft. I think sometimes an outfit can take on the vibes of it's environment and be appropriate in more than one environment. In the office, this is office appropriate. At a casual gathering, it would just be a preppy outfit.
Black sweater+ Black pants+buffalo check vest+ boots
Sweater- JCPenney; vest- Old Navy; option pants- Loft: belt- Amazon; boots- Nordstrom
I did it again. I wore another vest to the office. This time I popped a plaid vest over a column of black. This look will work with any patterned cardigan, blazer or vest.
Burgundy blazer + floral print blouse + grey pants + loafers
Blazer- old/ option; blouse- JCPenney; pants Ann Taylor shoes- Dr. Scholls; belt- Amazon
I wear this blazer frequently during the fall and winter. Pair any floral print top with a coordinating color blazer and wear with grey or black pants for an easy outfit.
Velvet blazer + graphic tee + crop flare jeans + plaid loafers
Blazer- thrifted- similar; tee- JCrewFactory (old); option jeans- Nordstrom- option; shoes- Ann Taylor option
This is what I wore Christmas day. It was a warm afternoon so I needed a layer I could remove. The fun plaid loafers kept this from being just 'jeans and tee" when the blazer was removed.
Cropped button front sweater + tee+ boyfriend jeans+ plaid loafers
Sweater- Gap; tee- Old Navy; jeans- Old Navy; shoes- Ann Taylor
I had another appointment with the allergy doctor so I wore this casual outfit. It was mild weather so I was able to wear this sweater with a short sleeve tee without roasting.
This is a short edition as well because I spent several work days in field attire, had a couple of holidays away from work and stayed in joggers and workout wear most of my other time off.
Be sure to check out the last edition of What I Wore featuring winter office outfits.