Hello and welcome back, friends! We are in full on spring now. The oak blooms are making my eyes burn and swell, but the temperatures are wonderful. I've been able to wear light layers and spring clothes so I'm a happy girl. I've got over one dozen spring outfits that I've worn over the last month for your inspiration.
Olive, pinks, and blues are strong in my spring wardrobe, as well as slip on mules, loafers and sneakers. For work wear, my nude pumps get a lot of wear in the spring.
Be sure to check out my spring color trend series. So far I've discussed pinks and blues.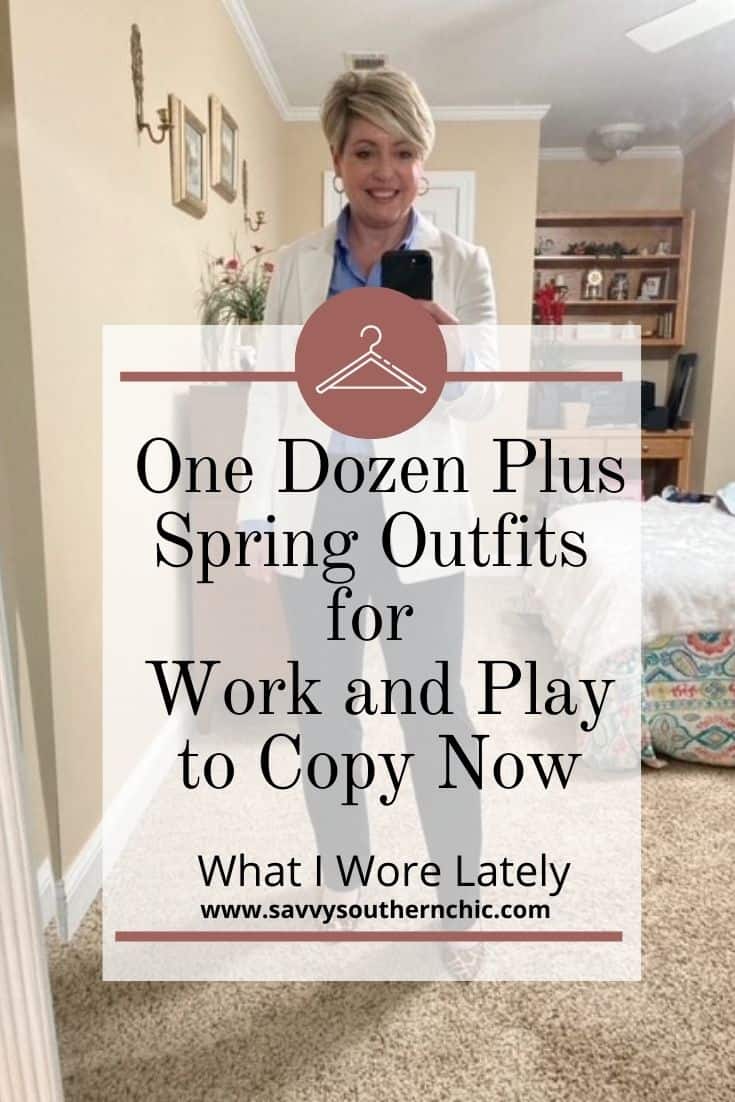 I took my mother to a doctor's appointment and it was one of those days that required a jacket for the morning but not the evening. A striped tee keeps an outfit interesting when you have to shed a layer.
Similar jacket; similar tee; similar jeans; sneakers
Work from home and a hair cut after work
similar popover; option; Old Navy boyfriend jeans; similar shoe
Running errands- This outfit has more recent purchases.
Cardigan- Loft; jeans- Gap; shoes- Dr. Scholl's; tote- Amazon
Office wear- I love to soften up navy with pink during the spring.
Blazer- option; blouse- option; pants-Loft/option; shoes-option
At the office
Blazer- old/ option; top Old Navy; option; pants- Loft/ option shoes- option
I don't really find this color scheme to be very "spring" like. It's more like something I would wear in the fall but I was playing around with a capsule formula and put this together on one of our cooler days.
Cardigan- similar; top- option; jeans- Nordstrom; shoes- option
Sunday at home
Pants- Old Navy; sandals- similar
Work outfit- These are all old pieces from my closet. The blazer is from Thred Up.
Office outfit- The pants are new from Loft.
Blazer- option; sweater- JCrewFactory- option; pants- Loft; shoes- old- option
Work from home
Cardigan- Walmart; tee- Old Navy; jeans- Nordstrom; shoes- Option; bracelet- Victoria Emerson-similar
Saturday errands
Similar jacket; tee- Old Navy; jeans- NYDJ; shoes- similar; belt
Office outfit
shirt- Amazon/ similar; pants- Ann Taylor; blazer- Loft –similar; shoes- similar
Dinner out with friends– just closet basics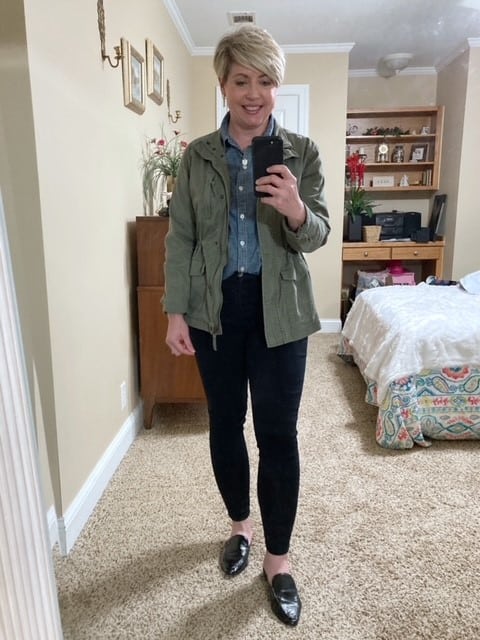 jacket- similar; shirt- Old Navy option; jeans- Nordstrom; shoes- similar
Work from home/ video court
Blazer- option; sweater- JCrew Factory; chinos- JCrew Factory; loafers – option
Don't forget to pin your favorite spring outfits.