Happy Hump Day! After today, we are on the downhill slide to the week. I've got another edition of What I Wore for you- these are my real life/ what I really wore outfits. I have some more work wear for fall this time as we are increasing our presence in the office a little more and that seems to be all I've remembered to take photos of lately.
This first outfit was one I wore out on a shopping trip on a Saturday evening with the hubby. I should have included it in the last What I Wore post but it got overlooked. I pulled out my Chelsea boots for this one. I am on the hunt for a replacement pair of black booties but I'm in no real rush considering the continuing limited public appearances. I've had these boots for a few years. At first they stumped me on styling because they are so flat and I really need a little heel with every shoe, but I've found a few ways to wear them and I pull them out more and more every year.
Camo tee- Target; option; sweatshirt option; jeans- Old Navy; similar option; boots- Clarkes; option; option; bracelets- DIY; option; necklace – Gorjana; belt- Amazon
This jumpsuit makes a great work from home outfit. It's so comfortable and bathroom breaks aren't an issue since I'm home. Even if I were out and about, it's not hard to get in and out of for bathroom breaks. I topped it with a chambray shirt. The sneakers are comfy too. I also wore this to get a haircut at the end of the work day.
Chambray shirt- Old Navy; option; option option Jumpsuit- Amazon; shoes- Target; earrings- similar
I style this outfit with the jacket and peep toe booties, but I actually only wore the top and jeans as another work from home outfit. I'm putting these belts to good use because it's the only way I can keep my pants up right now, lol. This top is several years old but I never get tired of it.
Jacket- Walmart; top- old; option option option jeans- NYDJ; booties- Cole Haan; option belt- Amazon; necklace- Gorgjana; option earrings- Kendra Scott
There is nothing like a mirror selfie to let you know when it's time to CLEAN THE MIRROR (note to self) and clean up the junk in the room.
I wore this on a Saturday to get groceries but had to remove the cardigan because it was too hot. Just wishful thinking for an outfit.
Cardigan- Target; jeans- Old Navy; mules- TJMaxx; option; option earrings- Kendra Scott
This was my "pack up camp" and return home from our camping trip outfit. I wore jean shorts and shirts, sweatshirts and leggings and a hat most of the camping trip. I didn't take pictures either. I took a full break from all things outfits and blogging and enjoyed the trip. I ordered a couple of bucket hats from Amazon for the trip because they are easy to fold and pack. I wanted something to provide a little sun protection and to hide the bed head on the way to the bath house each morning. I don't wear ball caps and I don't find most of my stiff felt hats practical for a camping trip. I like the bucket hat for activities like camping and hiking. How cute is the leopard? It's reversible so I've got a black hat too.
Hat- Amazon; tshirt- Target; option joggers- Amazon; option; option sneakers- Tiosebon
I spent most of last Saturday (and Sunday) in this comfy outfit. I didn't go anywhere except to the Goodwill after cleaning out the garage Sunday. I also spent most of Saturday morning in my workout attire, so this outfit really only got a day and a half of wear. I was pretty lazy Saturday afternoon so I had no issues with wearing this again on Sunday.
Tunic sweatshirt- Kohls; option leggings- Old Navy; option; sneakers- Tiosebon
I'm not sure how much more I will get to wear this suit before having to replace or alter the pants because they are getting way too big, but I like it and I am getting by with it so it's been on frequent rotation for trips to the office. I love the green leopard top paired with it.
Blazer- Loft; Pants- Loft; blouse- Amazon; belt- Amazon; shoes- Cole Haan; necklace- Kendra Scott
Given that I'm only wearing office attire a couple of days per week, I'm pulling out all the fall color blazers so I can get some wear out of them. Work wear for fall can be tricky since it's still so warm so I use fall colors and lighter weight materials.
Blazer- old; option; top JCPenney (old); option; Pants- Loft; pumps- Payless; earrings- Kendra Scott
Same navy pants but worn two weeks apart. This time I paired them with a rust cropped blazer and a navy floral blouse.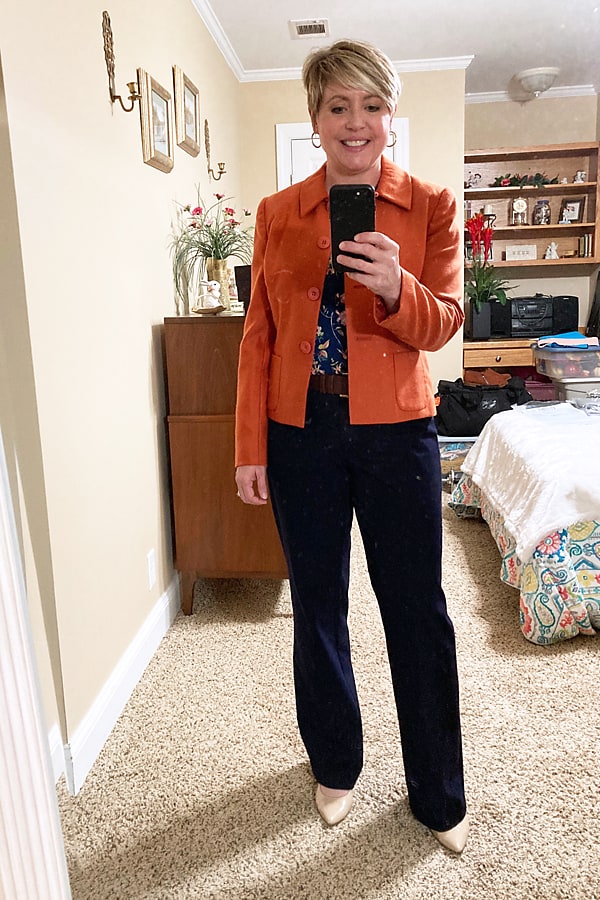 Blazer- old; option; blouse- JCPenney (old); option pants- Loft; shoes- Payless
Another work wear outfit for fall. This time in pants that actually fit. I've recently replaced my black work trousers with a smaller size from Ann Taylor Loft. It was time to replace my black suit anyway, so I replaced it with a blazer and pants from Ann Taylor. I'm only wearing the pants here. This moto blazer is old but a fun option for work. This outfit was inspired by one of the formulas in the GYPO Fall Work Wear Capsule. If you need inspiration for work wear for fall, this is a good capsule to have.
Moto blazer- option; option; blouse- Kohl's; pants- Ann Taylor; pumps- Vince Camuto; option option belt- Amazon; necklace- old; option; earrings- Kendra Scott
I hope you have found some inspiration in this post for whatever your current status is – home or office, or like me, both. Remember to think out of the box too- if you saw a color combo you like but need a more casual or dressy version, use the inspiration and make it your own. For example, you could dress down that last outfit with black jeans, mustard tee or top and black leather moto or grey suede moto and leopard boots or flats.
Get the inspiration in your inbox as soon as it's published by subscribing to my email feed or weekly newsletter.