Here's another issue of What I Wore Lately. Most of these outfits are work outfits. The casual outfits are at the end, so if you don't need work wear, scroll on down. I do encourage you to look through all of the outfits. Even if you don't need work wear, you might see a color combination or some element that sparks creativity for a dressed down version of your own. These outfit repeat rust and olive on heavy rotation. It seems odd to wear these colors for summer, but olive is a year round neutral. These olive pieces are linen, so they are right on point for summer. The rust, or spice, is new for summer but I'm trying to break out of the mindset that certain colors are for certain seasons only. I think we get in a style rut when we create too many rules for ourselves.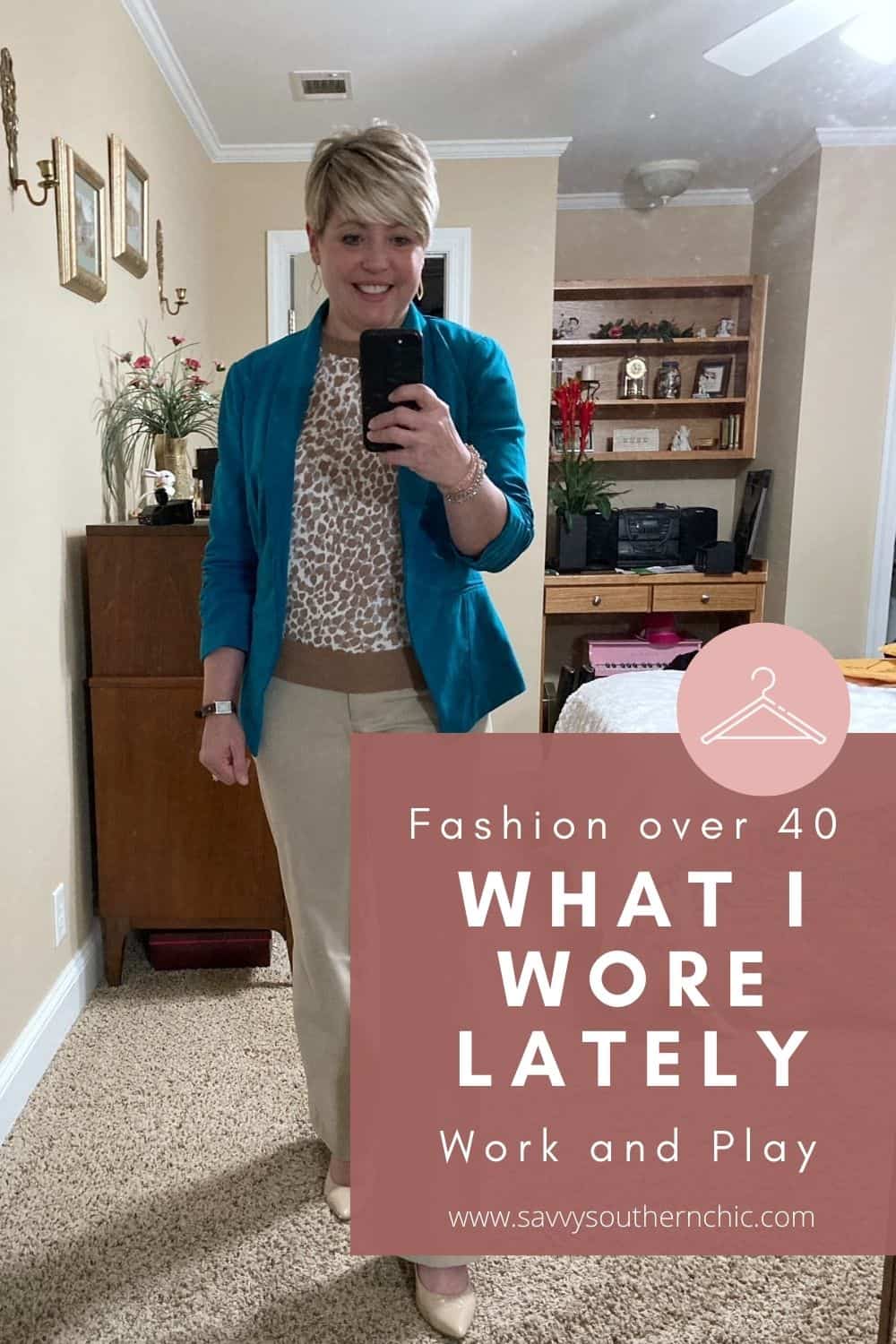 Work- Teal Blazer+ white blouse + rust pants + neutral shoes
The floral headband and light neutral shoes keep this outfit on the side of summer. Note: The pants come in several colors and are currently $20!
Shop the Look:
Striped blazer + green blouse + navy pants + leopard pumps
I finally bought a striped blazer. They go in and out of popularity but will always be classic. This one was on sale at Ann Taylor so I decided to pull the trigger and add it to my closet.
Shop the Look:
Linen blazer + Black/white stripe Old Navy top + rust pants + cognac flats
I wanted to add a beige or ivory linen blazer to my wardrobe. I ended up getting this one from Thred Up. It was new with tags from Loft. These pants come in several colors and are now $20!
Shop the Look:
Olive blazer + white top + black ankle pants + neutral flats
This blazer has been with me since the beginning of my working career- almost 26 years! It's rare that you can wear a piece that many years without it being dated.
Shop the Look:
White linen blazer + gingham pants + cognac flats
These pants are the same cut and style as the rust pants. When something works and is on sale, I get multiples. I took this photo when I picked up those dreadful glasses. You can read about that story here if you missed it.
Shop the Look:
Teal blazer+ leopard sweater (short sleeve) + tan pants + nude pumps
Shop the Look:
Olive blazer + navy floral top + navy pants + taupe flats
This olive blazer again. These flats are several years old and well worn, almost worn out but I can't part with them.
Shop the Look:
Old Navy black/white high neck tank + linen shorts + white slides
The same top from above. I love it when I can wear an item for work and play.
Shop the look
Olive wide leg linen pants + blue floral top + rattan slides + rattan headband
I wore this to a follow up at the allergy doctor. These pants are cool and comfy for traveling.
Shop the Look
Caramel muscle tee + black/white print shorts + black sandals
Another top that I've worn for both work and weekend.
Shop the Look
Sleeveless chambray top + olive linen pull on shorts + raffia sandals
Shop the Look:
I'm finally done with allergy testing and restrictions on products so maybe I can get some color back into these legs. I will have to slowly add makeup and skin care back as my issues are mostly with eye makeup and moisturizers, but I should be able to go back to using self tanners and lotions on my body.