Welcome back for another edition of Fashion A to Z. This week we are taking a look at another popular print for winter that is used for both clothing and home decor- houndstooth.
This post contains affiliate links. I make a small commission from these links at no cost to you.
Houndstooth originated in Scotland in the 1800s. It has an abstract four point shape- a skewed square of sorts. It was originally a wool fabric worn by shepherds and called "shepherds check or dogtooth." In the 30s it became a status symbol of the wealthy. Originally it was not just a print. Houndstooth results from a particular method of weaving the fabric. Later, designers like Dior began printing the design on fabric.
Scottish shepherds first wore houndstooth in outer garments, but today it is seen on everything from coats to pants to scarves and all types of garments.
Let's take a look a four ways to wear houndstooth.
1 A houndstooth cardigan- This one is a big bold print. This cardigan is an Amazon find and it's a great quality. I've had a bad patch with Amazon lately and some poor quality items but this one is a winner.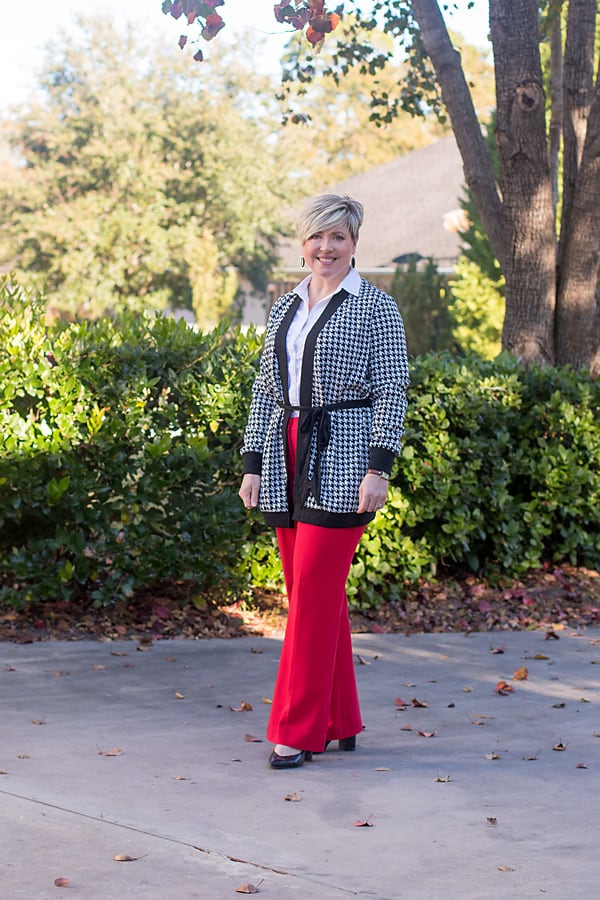 The cardigan comes with a belt but looks great without it too. I'm wearing a medium but could wear a small.
Cardigan- Amazon; shirt- Ann Taylor; pants- JCPenney; shoes- Nordstrom; option similar earrings- Kendra Scott (on sale now!)
2 Houndstooth pants and pumps – These pants are a mini houndstooth print so they appear a solid color from a distance, but up close it's more obvious they are a pattern. There's no doubt about the shoes being a houndstooth pattern. The shoes are a great way to add interest to an outfit.
These pants are from Ann Taylor. I'm wearing a curvy fit petite (6) and they are worth the splurge for work pants. They bend and stretch with you. The shoes are from Ann Taylor as well. I'm typically not a fan of kitten heel shoes, but the bow and pattern stole my heart. They are actually pretty comfy and feel like I'm wearing flats.
3- Houndstooth sweater- This pattern is typically black and white but not limited to that color. This sweater is a navy and white houndstooth. The sweater is another Ann Taylor item. It's pretty heavy for a top but would be warm for cold offices and climates.
Sweater- Ann Taylor; pants- Loft; similar shoes- Nordstrom rack; option necklace- old; option earrings- Amazon
4 Houndstooth puffer vest– Don't think that this pattern is limited to office attire. It can be fun too.
vest- Amazon; sweater- old; jeans- AOS; boots- Vince Camuto; similar earrings- Amazon
This vest is by Land's End and is another Amazon find. I'm not a fan of super thick puffer vests, but this one is almost weightless so I didn't mind the extra puffiness. (Solid colors of this vest are on sale at Land's End!) The pattern adds some fun interest to outfits.
Do you have a houndstooth in your closet?