Hello and Merry Christmas! You may be in full on holiday activity mode right now, or you may have a little less going on this year thanks to COVID. I'm sharing my daily outfits from the past couple of weeks. Find some down time, grab a beverage and relax a little while you view and virtually tuck these comfy and cozy outfits away for inspiration.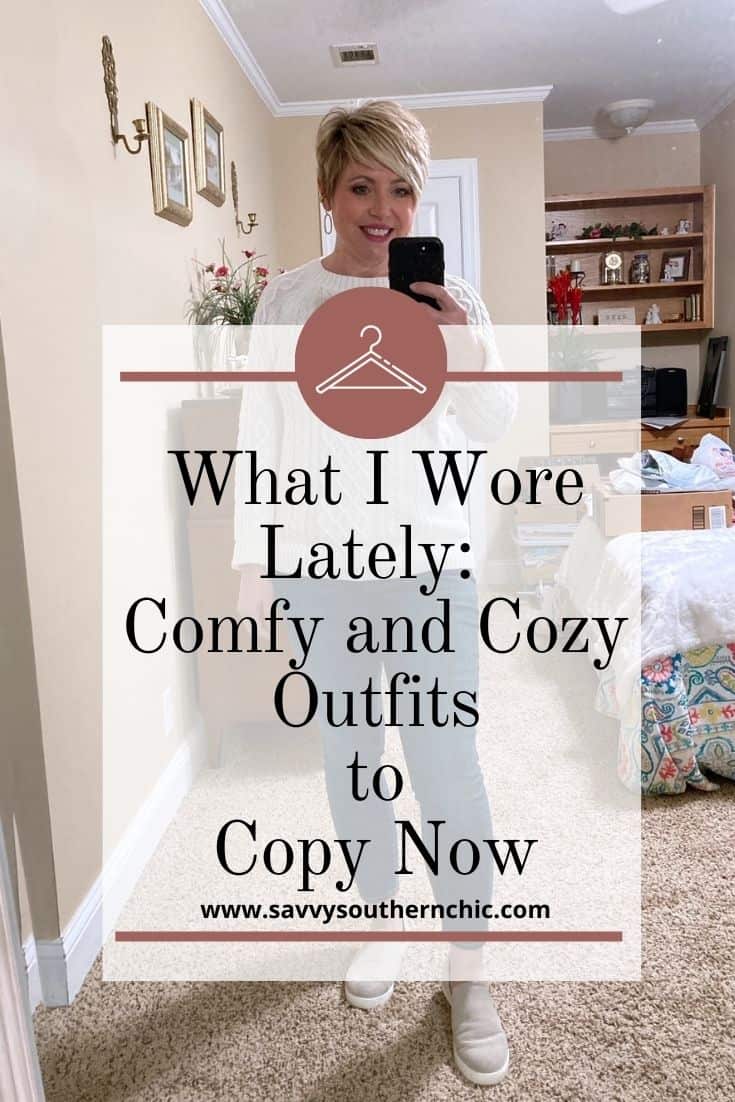 Monday/ Work from home – No video conferences means I keep it pretty casual for working from home. It was rather cool outside, so the flannel over the tee was a cozy edition. I usually feel sloppy in a shirt over a tee, but I think the ripped jeans and pointed toe mules kept it in check for me and made if feel more like an outfit.
Similar plaid shirt; Cheers tee; jeans
Dress it up– black pants+ plain or graphic tee+ cardigan or blazer
Tuesday- office outfit- I'm getting in all the blackwatch plaid I can this season and will likely wear these pants on repeat because they actually fit.
Similar pants; sweater– option; blazer- option– shoes- Dr. Scholl's
Dress it down- pants + sweater with no blazer or long sleeve tee
Wednesday/ Work from home– Cozy in a cable knit sweater, comfy in the slip-on sneakers.
Similar sweater; jeans- NYDJ; sneakers- Dr. Scholl's; earrings- Kendra Scott
Dress it up – Sweater + navy dress pants + taupe or grey heels. Add a scarf to dress it up even more.
The next couple of days involved field attire that I don't bother to share. It's purely function and not much fashion is involved.
Saturday errands
I recently purchased this lightweight color block sweatshirt from Amazon. The temps were beginning to warm up and this was all I needed- no jacket and no layers.
Dress It Up– Add a blazer or jacket. Swap the sweatshirt for a color block sweater.
Sunday- grocery store and more errands
It was back into the 70s so I was back into short sleeves.
jeans- Levis
Dress It up– Swap jeans for black pants.
Monday/ work from home– Do you see a pattern? I like to telework on Mondays when I can. I'm wearing a sweater and jeans that can easily be dressed up with a change of shoes and another layer if needed.
Sweater- Old Navy; jeans- NYDJ; sneakers
Dress It Up– Sweater + grey dress pants + snakeskin loafers or pumps
Tuesday- Work/Office
Plaid pants and a punch of color.
pants- Banana Republic; shoes- Dr. Scholl's
Dress It down- Cardigan instead of blazer or pull over sweater+pants.
Thursday- Office
A red blazer seems festive for the season, but I will wear a black and red outfit anyday. I'm also a fan of these JCrew Factory tissue turtlenecks and tees. They are the perfect weight for our warmer climate and for layering. I'm doing a little subtle pattern mixing here with the houndstooth print and a leopard belt.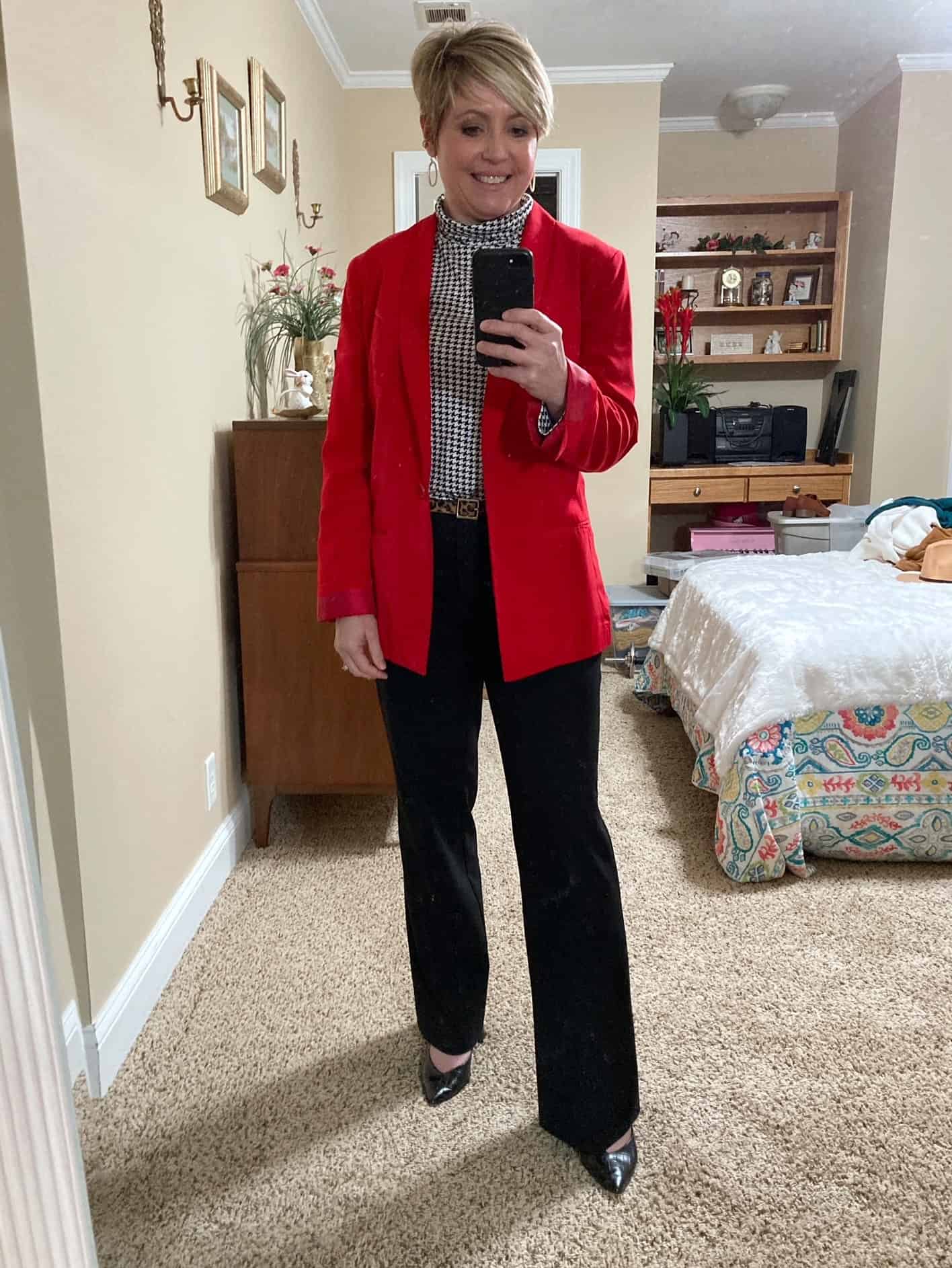 Friday- Work from home in the chambray shirt and black jeans, then added the rest to go see Christmas lights.
scarf; similar top; jeans; similar cardigan; similar Chelsea boots
Sunday- a shopping trip for groceries and extra supplies that took almost ALL DAY! I hate our local Wal-mart and in a COVID/ Christmas season environment, it was even worse. I'm good on Wal-mart trips for another year or so. I planned for this ridiculous trip and wore my comfy sneakers.
similar striped turtleneck; jeans; similar sneakers
Need cozy Valentine's Day or date night/day date outfit ideas? These five outfits will get you inspired.