Happy Friday! I'm a bit behind the curve today because we just returned yesterday evening from a four day/three night camping trip. Is it just me, or are you also slow to jump back into the routines after a vacation?
This week if full of favorites, most of them camping related but you can also use some of these ideas and products for your next outdoor get together.
First, the hubby and I celebrated our 15th wedding anniversary this week. This guy will always be my favorite.
We spent the first 10 years traveling to lighthouses for our anniversaries because we were married at a lighthouse, but then hurricanes started messing with our plans. We switched up our anniversary trips to mountain vacations, but due to COVID this year we decided to go on a camping trip. Keeping it all outdoors is the best way to social distance right now.
We camped at Indian Springs State Park in Flovilla, Georgia. We generally visit a state park nearby on our trips and vacations anyway for a hike. Indian Springs is known for healing waters that come from a natural spring but again, due to COVID, we didn't sample the water. Too many people appeared to be coming to fill their own reusable jugs and containers with water and I'm just not sure how sanitary they were, and as a result, how sanitary the spout coming out of the spring was.
Nonetheless, the park is a beautiful place and our site was amazing.
If you visit and want a more private site, site 61 or 62 is your site. Site 15 and neighboring sites also have an amazing view of the lake. Site 61 only had the one immediate neighboring site and it's still close to the bathhouse. You have to walk a little but the walk is worth the privacy of the lot to us.
Favorite/ funny moment of the week:
We had no neighbors on Tuesday night but on Wednesday a family of four set up beside us. We went for a short walk and came back to find that their kids, probably around 11 and 14, had drawn a "crime scene" on the drive in front of their site with sidewalk chalk. My hubby thought it was hilarious and also appropriate given that he teaches forensics and crime scene investigation. He bartered a pack of glow sticks for his own crime scene in front of our site.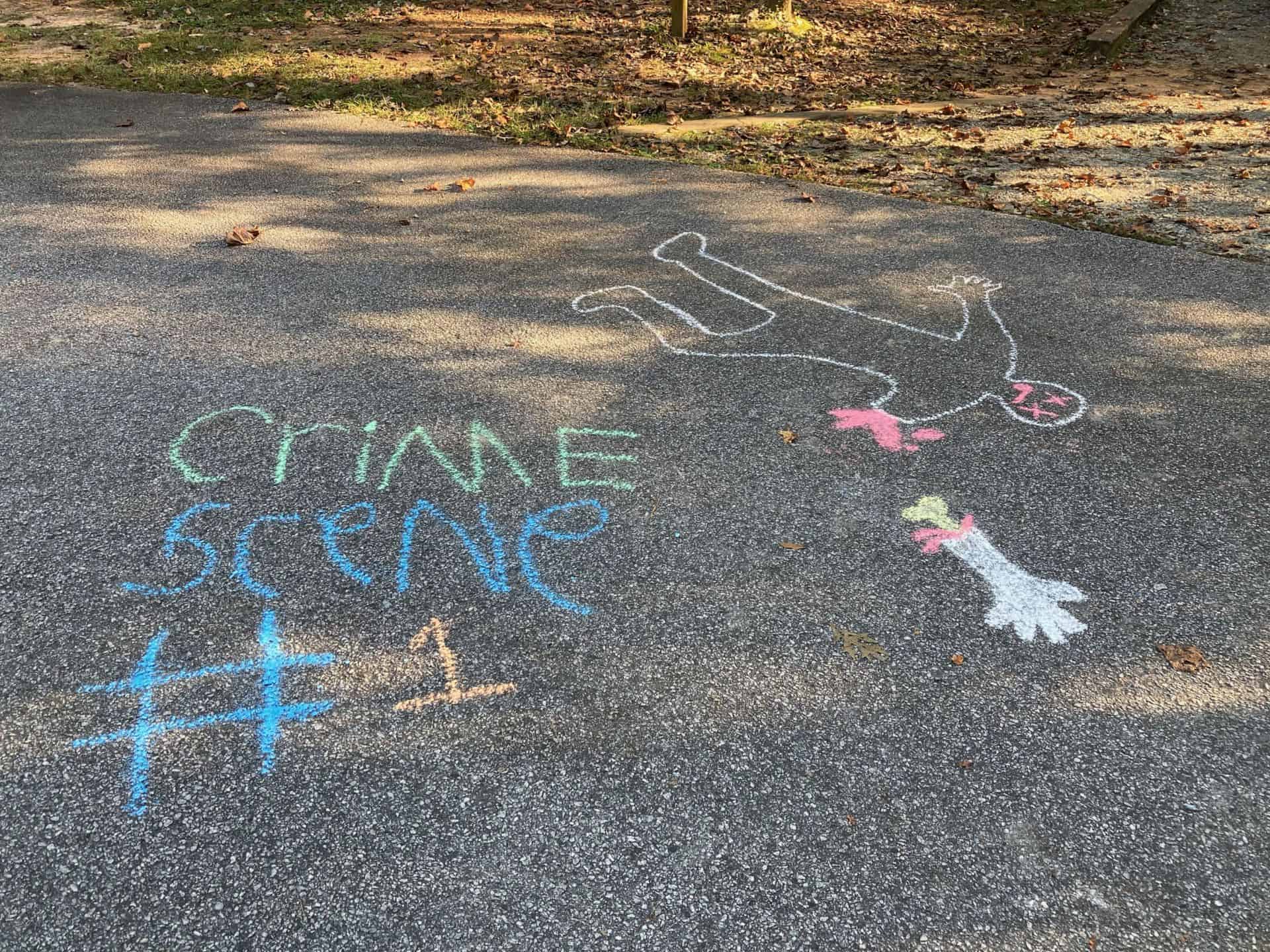 Besides s'mores, one of my favorite treats of the week was campfire peach cobbler. It was a simple dish of canned peaches and granola sprinkled with a little cinnamon and heated in a tin foil packet over the camp fire. Yum! So good.
We took a tent and set up our gear inside the tent, but we actually slept in the car on a Luno Life mattress designed to fit the Crosstrek. It was much comfier than a sleeping bag on the ground would have been.
The Luno life mattress is compact and easy to carry in its own bag. It inflates with the included pump . It's one mattress but each side inflates separately. After the first night, I had the hubby let a little air out of my side because I felt like the top was too tall and I was sliding towards the bottom during the night. After making the adjustments, I was more than comfortable. The hubby has back issues but didn't experience any pain while sleeping on this mattress. We cracked the windows for ventilation and covered the openings with mosquito net.
I covered the mattress with a set of our favorite sheets. We picked orange because we have an orange wind deflector on the Crosstrek and an orange canopy for camping. If you do happen to camp in a tent with a sleeping bag, these Therm-a-rest foam pads are THE BEST THING EVER. We took them just in case and I used them as a kneeling pad inside the tent when I got things out of my bag and changed clothes, and I lounged on one on the ground one afternoon while reading.
My favorite thing at night was the fairy lights hanging around the canopy. The hubby ordered these to make our site a little festive.
And my absolute favorite- smore scented citronella candles. You have to get some of these for the back porch, patio or backyard. Keeps bugs away and smells heavenly!
Camping is a great fall activity. I'll be sharing a part two later with all my favorite gear and hacks.
Linking here: