Visiting Disney World is a magical experience. And to make the most of this experience, you have to leave no stone unturned.
Perfect clothes? Check. Water bottle? Check. Sunscreen, sunglasses, and hat? Check, check, and check!
Perfect Shoes? Now that's a tricky one.
When you're in Disney World, your feet can end up taking a real beating. You'll be walking for hours and standing in queues for the better part of the day. So, if, for some reason, you end up wearing the wrong shoes that is the only thing you are going to remember about your journey.
To help make your trip memorable, here's a quick guide to choosing the best shoes for Disney World!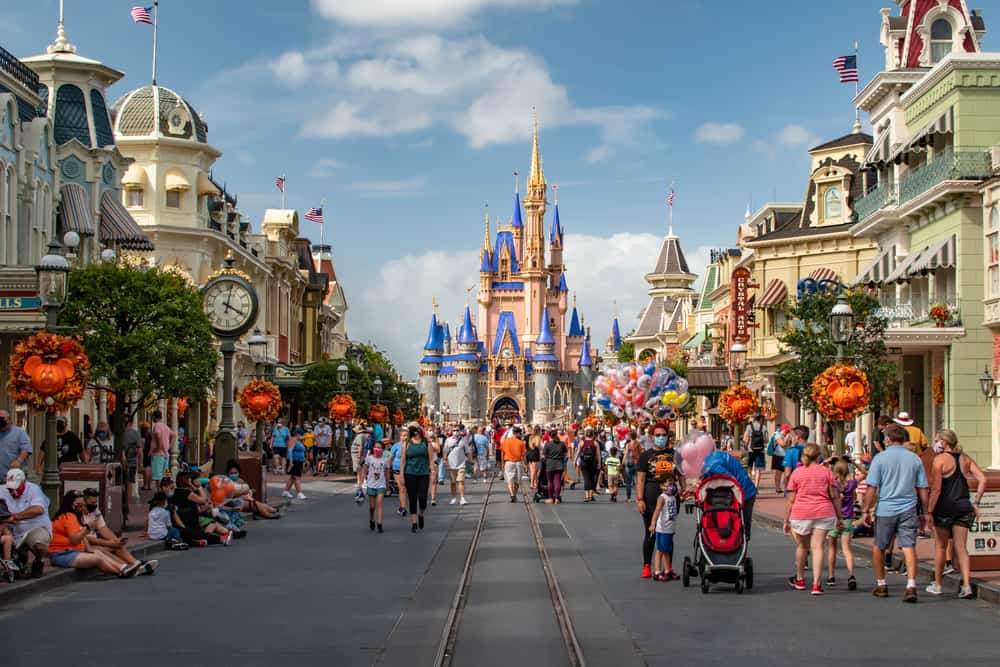 Things To Look For In Shoes For Disney Theme Parks
Now, why shoes are so important for your Disney trip? It's just because Disney World is so massive that you'll have to walk long distances from one entertainment spot to another.
So, expect around 13,000 to 14,000 steps — that's right, your step counter will be very proud! And not just that, you will also have to do a lot of standing when you wait in lines for your turn.
This is why choosing the right footwear is so important when visiting Disney World or any amusement park. Now sure what to look for? We've got you! Here are four major factors you should consider when choosing your Disney footwear:
1. Comfort
If you want to get through the day without complaining about sore feet and aching legs, comfort must be your top priority. Wear shoes that are neither too tight nor too loose and in which you can walk comfortably for a long time.
You should also check your shoes' soles as the floors of parks are made of hard concrete and tiles, which are not very comfortable to walk on.
2. Broken In
Avoid wearing a new pair of shoes to Disney. This is because new shoes take some time to get used to, and until then you are aware of wearing them every second.
New shoes can also give you blisters, especially if not worn for long. And no one wants to walk around Disney World with blistered feet, or you'll just end up cutting your trip short. Choose shoes that you have worn a few times before to avoid any discomfort.
3. Breathable
Walking around for a long time can leave your feet feeling hot and sweaty. Shoes that let your feet breathe will reduce this to a great extent. For example, pick shoes with mesh or other breathable fabric. Or you could even go for open-toed sandals.
4. Lightweight
Try to pick shoes that are lightweight, so if you feel uncomfortable, you can always pack them away and wear the extra footwear you are carrying (provided you are carrying extra footwear).
The Best Types of Shoes for Disney
Here are some popular options that people often find suitable for walking long distances and spending a day at Disney:
Athletic or Running Shoes
Athletic shoes with good cushioning, arch support, and shock absorption are a common choice for Disney trips. Look for lightweight and breathable options that provide comfort and stability during long walks.
Walking Shoes
Walking shoes are designed for prolonged walking and offer excellent comfort and support. They often have features like cushioned insoles, flexible outsoles, and good arch support. Look for ones made of breathable materials.
Sneakers
Classic sneakers can be a reliable choice for a Disney visit. Look for ones with ample cushioning and support. Opt for sneakers made from breathable materials to keep your feet comfortable.
Comfortable Sandals
If you prefer open-toed shoes, choose comfortable sandals with straps that securely hold your feet. The best sandals are ones with arch support, cushioned footbeds, and adjustable straps. Make sure they have sturdy soles for walking long distances.
Slip-On Shoes
Slip-on shoes are convenient and comfortable for a day at Disney. Look for slip-ons with cushioned insoles, supportive soles, and breathable materials. They can be easy to take on and off during rides or breaks.
You May Also Like: What to Wear to Disney: Cute Outfit Ideas
Best Shoes At Disney World
Here are our top suggestions for the best shoes for a Disney trip. This list should help you find the most comfortable shoes for your needs.
Sneakers are undoubtedly the best choice for a trip to Disney World. And these Go Walk Joy sneakers by Sketchers are one of the best on the market. They are loved by buyers and are deemed as a "repeated buy" by fans.
In fact, they are so perfect that Skechers Go Walk Joys are a repeated sighting all over Disney World! Available for both men and women and in a variety of colors and designs, these shoes are comfortable and lightweight and even come in an easy slip-on design.
The shoes come cushioned insole and a soft fabric lining that protects your feet. Additionally, the memory soles adjust to the feet and make walking less tiresome. And given their mesh fabric, the shoes are highly breathable and lightweight.
However, like any other sneaker, you will have to break in the shoes first.
The Qt Racer 2.0 by Adidas is designed specifically for running and walking. They thus offer all-around comfort right from the moment you slip your feet into them.
The upper part is made of textile, specifically cotton and polyester, so the shoes are flexible and breathable. They have a rubber sole with a cushioned midsole, thus offering complete protection to the soles of your feet while you walk. Their lace-up closure also ensures that you can adjust the fit if your feet get swollen from walking.
These shoes are perfectly comfortable and stylish and come in a variety of colors.
If you suffer from foot pain or knee issues, the Orthofeet Women's Coral Walking Shoe is the perfect choice for you.
These shoes come highly recommended by podiatrists and provide relief from pain. They have an arch booster, premium orthotic insoles, and multiple cushioning layers, making them wonderfully comfortable and stable.
The shoes are also lightweight with a mild rocker design that not only make walking easy but also add spring to your step. The upper fabric is soft and stretchable with extra foam padding, reducing pressure on the feet. The shoe has a wide and roomy toe box, offering a non-binding fit and allowing more room for your toes to move while easing pressure on hammertoes and bunions.
While they're also expensive, the comfort they offer makes them well worth the investment!
Crocs Clogs are quite famous — some love them for comfort while others hate them for their ugly look. But one thing's for sure — people who start using them hardly ever go back.
Crocs Clogs are perfect for men, women, and children. While there are many Crocs sandals and other designs, Crocs Clogs seem to be a favorite among Disney fans. The shoes are available in a variety of colors and even have personalization options, including Disney characters!
Along with being comfortable and lightweight, clogs are also waterproof, allowing you to enjoy all the water rides and water parks without worrying about your footwear. So, if you don't want to wear shoes, and flip flops are out of option, choose Crocs.
The shoes are designed for running and are perfect for your Disney visit. Featuring rubber soles, these shoes offer protection for your feet against impact. They also have leather overlays that add durable stability.
The Charged Assert 9 shoes are lightweight and have a mesh upper that keeps you cool for a long time. They also have an Eva sock liner that will cushion your feet and provide comfort for long hours.
The shoes are available in several colors and have digital print designs to choose from!
Cloudfoam is one of the most comfortable sneakers from Adidas. The shoes have extra cushioning that keeps your feet happy even when you are on them all day long.
Cloudfoam shoes are designed to offer exceptional flexibility. They are also made with breathable mesh fabric on top, making them breathable enough that you can go sockless without any smell or irritation.
The shoes offer a comfortable and secure fit without being too tight and add just the right amount of pressure on your feet. Pisces affordably, Cloudfoam shoes are available in various colors to choose from.
If you are an environment-conscious person, Allbird's Plant Pacers are the best shoes for your Disney visit. But they are not only sustainable but also highly comfortable.
Plant Pacers are 100% vegan and made from plastic-free leather. They are made using natural materials like plant oils, natural rubber, and agricultural byproducts. Because of this, the shoes may also feel a bit stiff initially, but they break in easily after just a few wears.
The cushioned heels protect your feet and keep you comfortable for hours while offering a snug fit without being too tight!
These everyday shoes are perfect for long walks, trail runs, gym, and more, making them ideal for your Disney World visit!
Stylish without compromising on comfort, these shoes have the Olukai patented drop-in heel design where the heel can be folded so you can easily slip them on. They are also lightweight and have a compression-molded EVA midsole that provides underfoot comfort and an anatomical fit for sustained support.
The shoes have good traction with non-slip safety so you do not have to worry about wet surfaces. They absorb shock for maximum comfort and come with a 1-year manufacturer's guarantee against defects — this includes straps pulling out and loose or frayed stitching.
Another running shoe that provides the ultimate comfort, ASICS Gel-venture shoes have a rubber sole and a rearfoot gel cushioning system that reduces shock on impact.
The lugs on the outsole are reversed so you have both uphill and downhill traction on all types of terrain. The outsole also has AHAR (ASICS High Abrasion Rubber) placed strategically to increase the durability of the shoes.
These shoes offer a breathable upper mesh design as well as enough toe space for freely moving your toes. They even have a removable sock liner so you can replace it with an orthopedic one if needed!
Conclusion
When visiting Disney World, your feet will be your all day. And because you will be on your feet all day, you want to keep them happy — which is you need to choose the right shoes.
We hope this list of shoe suggestions helps you find the most cute comfortable shoes, so the only thing you will be worrying about is the thrilling rides!