The Christmas holidays are such a fun and busy time. There are family gatherings, holiday parties, gift exchanges, concerts to attend and more. In all of the busyness, deciding what to wear to all of these events can be stressful.
Last minute decisions made in a rush can leave us feeling less than confident and social. Here are 12 Christmas holiday looks over 40 women can wear.
Dressy Holiday Looks Over 40
If you love having the holidays as a chance to dress up, go for it. Being overdressed is always better than underdressed in my opinion. Wear these looks to those Christmas plays, concerts and church services.
Velvet top + midi slip skirt+ heels
Pair up a velvet top with a silky slip skirt and heels for a simple but glamorous look. While some can pull off skirts with flats, a midi skirt generally looks better with heels.
A slip skirt is easy and comfortable to wear, so there is no need to sacrifice comfort. Add a sparkly pendant necklace or statement necklace.
Christmas outfits don't have to be traditional colors. Embrace rich jewel tones that suggest winter.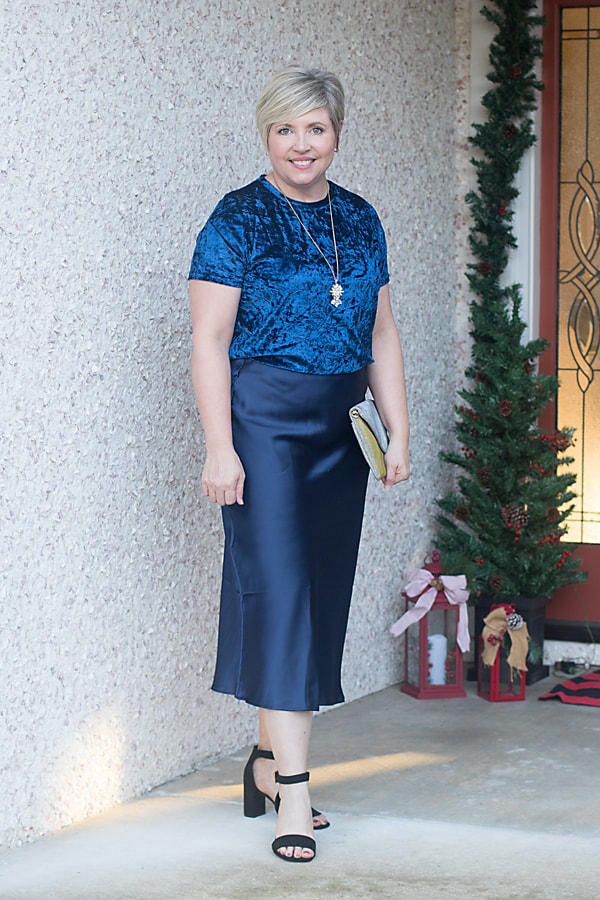 This look would also be perfect for New Year's Eve dinners and parties as well. Keep wearing the navy skirt into the New Year.
Opting for separates will allow you to get more wear out of your party outfits later rather than being limited by one party dress.
Skirt- Amazon; top- Amazon; sandals- similar; clutch- Target; necklace- similar option
Another take on the velvet top and slip skirt, but in a festive green that's a little more traditional for a Christmas party outfit.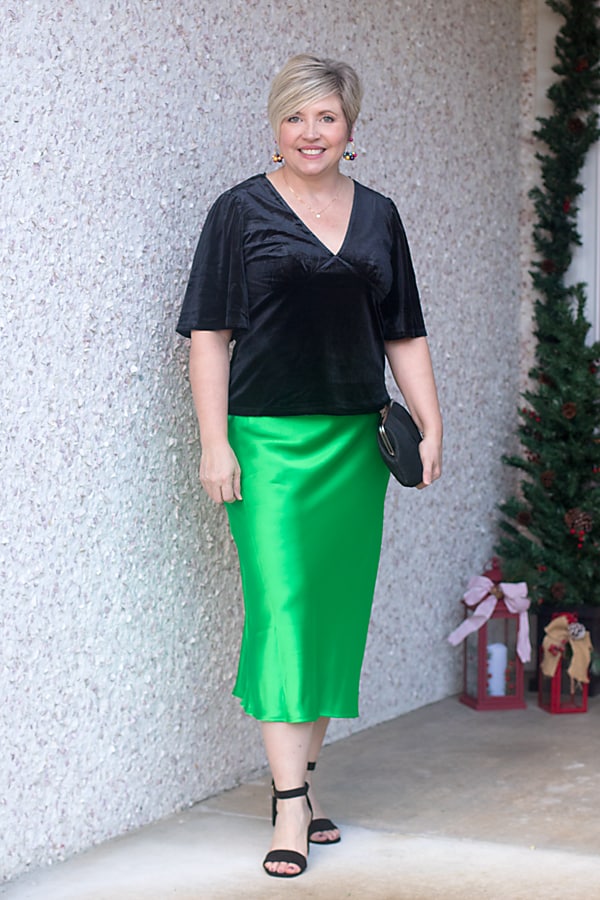 The green is so bright that it makes a statement on its own. I added some colorful bauble earrings to balance it but kept the necklace simple. A small black glitter clutch completes the accessories.
This clutch has enough sparkle to be festive but not so much as to distract from an outfit.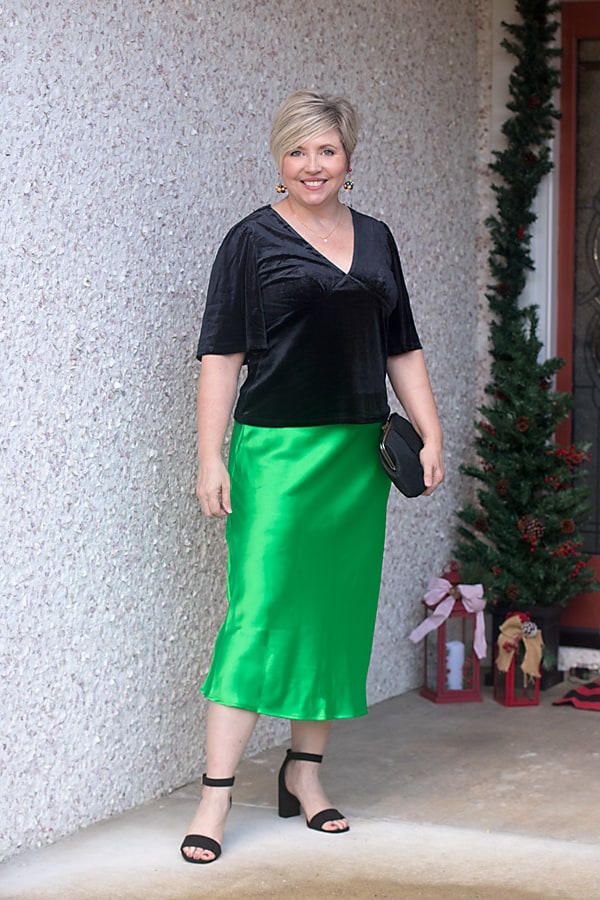 Top- Target; slip skirt- Amazon; earrings- option; necklace- option; option; sandals- option; clutch- Target
SEE ALSO: Trend to Try: How to Wear a Slip Skirt 7 Ways
Velvet Pants + Peplum Top + Silver Metallic Shoes
For a comfortable but stylish Christmas party outfit, consider black velvet pants. Velvet pants, especially ones with an elastic waist like these, are cozy, comfy, and easy to dress up.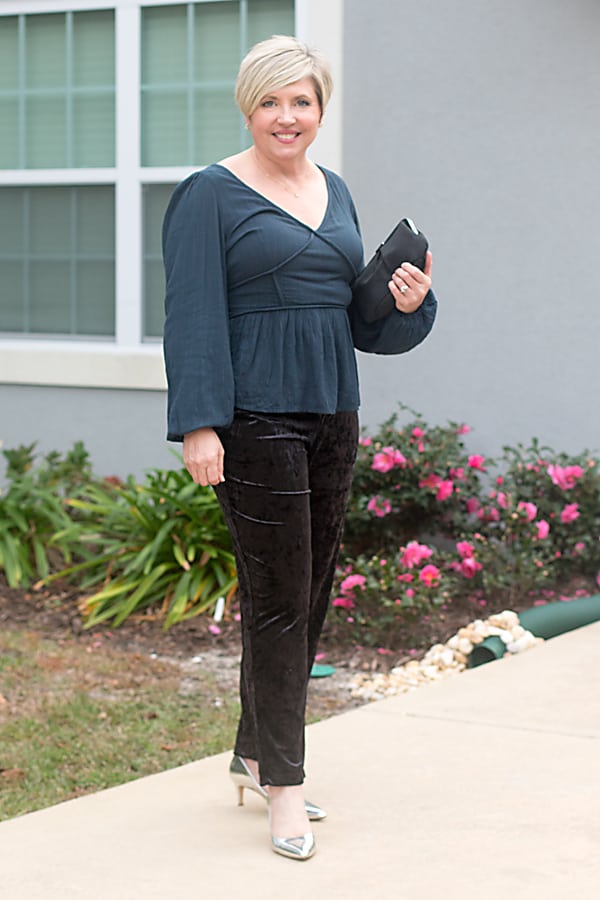 Details like the peplum hem and fine silver metallic thread in this top give it a festive flair. Silver metallic pumps complete the look. A lower heel or metallic flats would work with this look also.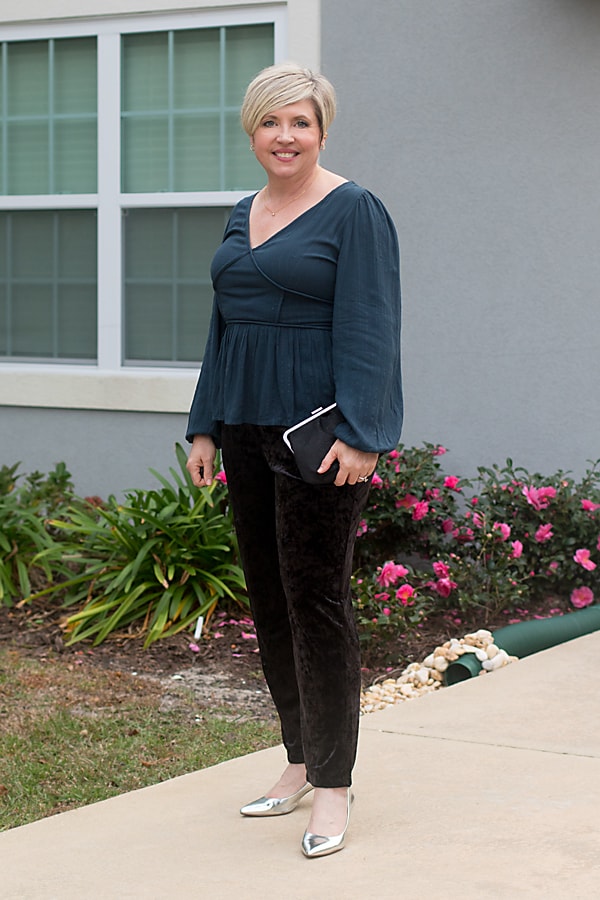 Shop the look:
Ruffle top + Plaid Ruffle Skirt + Black Pumps
Ruffles should always be among your Christmas party outfit ideas. These dramatic ruffles aren't childish and can certainly be worn as holiday looks over 40.
The blue and green plaid pattern is perfect for the holiday season.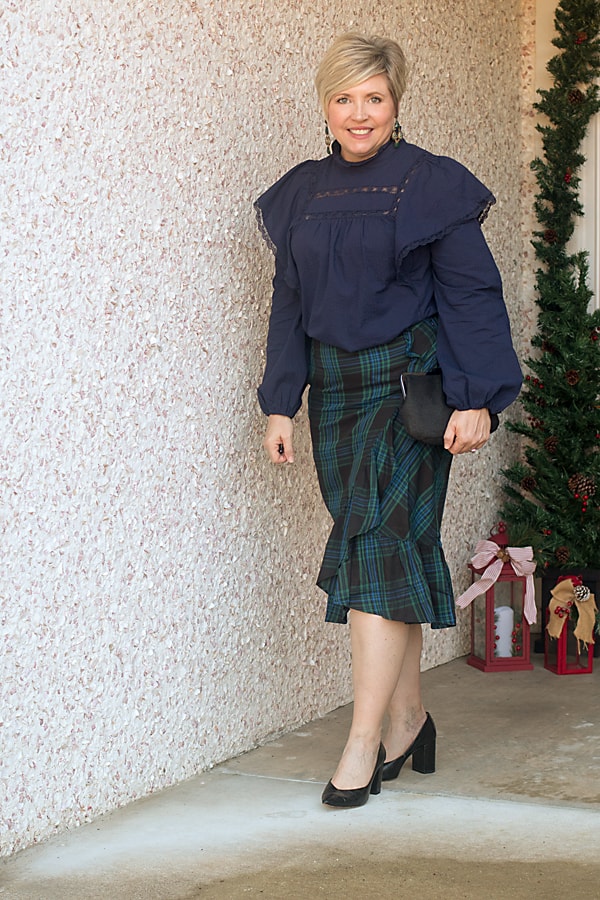 Top- Walmart; Skirt- Walmart; pumps- similar; similar
If this look is just too much ruffles for you, pair the top with this pull on blackwatch plaid skirt.
Bow Sleeve Sweater + Plaid Skirt + Tall Black Boots
Another option for the the skirt is a green bow sleeve sweater. Little details like the simple bows make an outfit festive. Tall black suede boots are an option for those who live in cooler climates.
More options for this skirt are the blue and black velvet tops above. Wear it to the office with a white button up.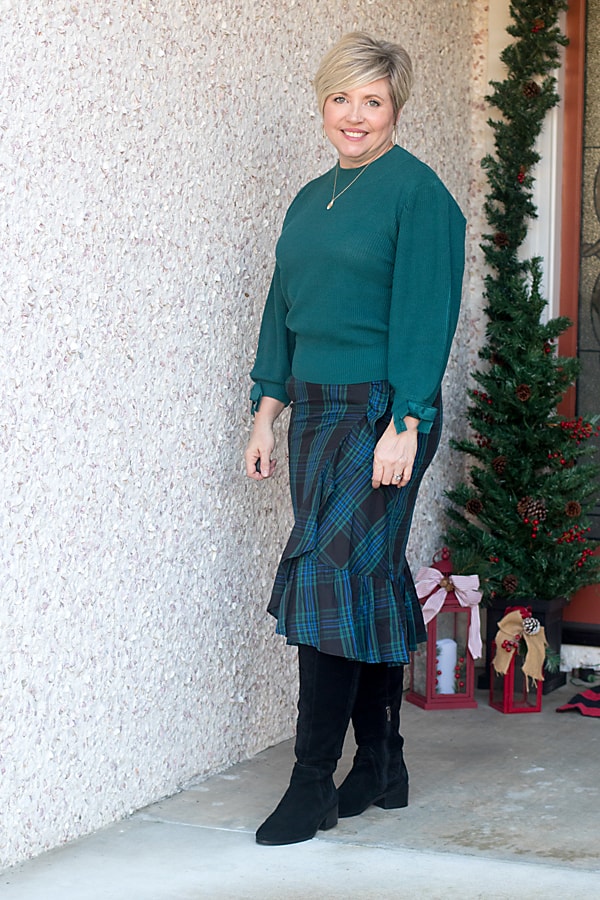 Sweater- Walmart; skirt- Walmart; necklace- option; boots- option
Red Print Peplum Top + Faux Leather Midi Skirt + Black Pumps
This red print peplum top gets a little sparkle from a metallic thread that runs through it. Pair it with a faux leather skirt and black heels for a dressy Christmas outfit.
This faux leather midi skirt is a comfy pull on style with an elastic waistband and it's an affordable way to try this trend.
Top- Target; skirt- Walmart; shoes- similar; purse- Target
Casual Holiday Looks Over 40
Plaid Flannel Shirt Dress + Sweater Vest + White Ankle Boots
A plaid flannel shirt dress paired with a sweater vest is a great option for a casual holiday gathering. The dress will be comfortable and roomy. Wear it with white ankle boots for a trendy look or go more casual with sneakers.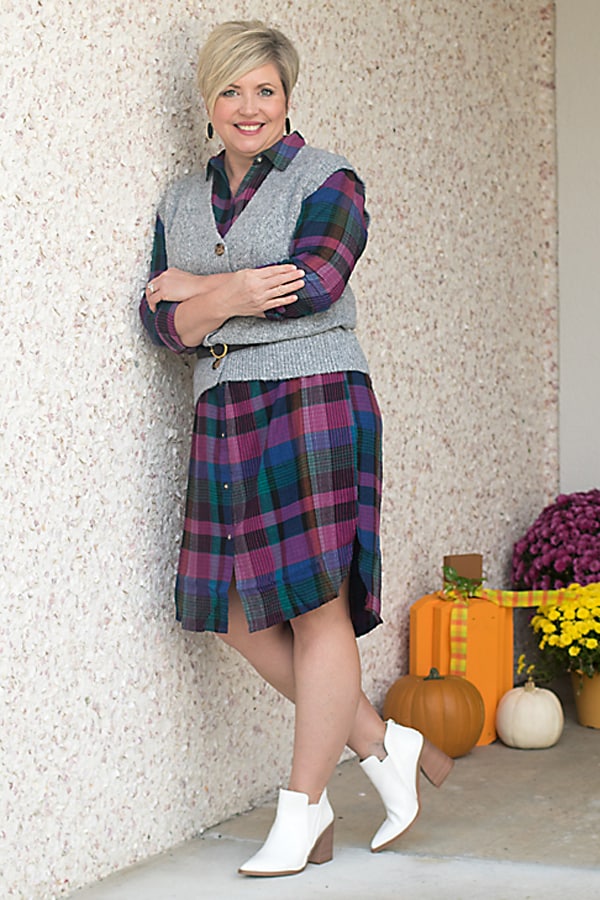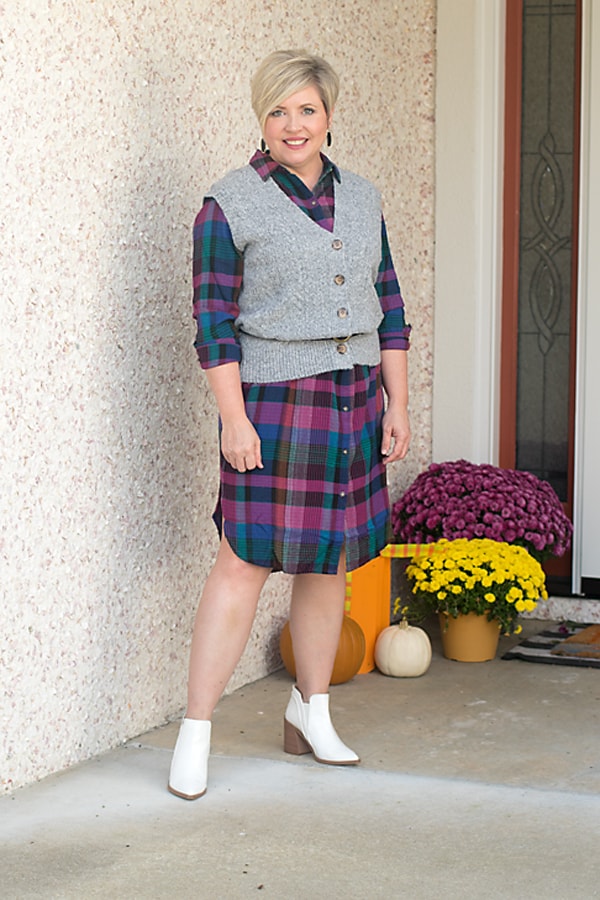 Dress- Walmart; vest- Walmart; boots- Amazon
Red Blouse + Ivory Jeans + Taupe Boots
Ivory jeans are trendy this year. Pair them with a red blouse for a striking Christmas outfit. This blouse is lightweight and perfect for warmer climates. The pleats and bishop sleeves elevate this blouse above a plain red tee.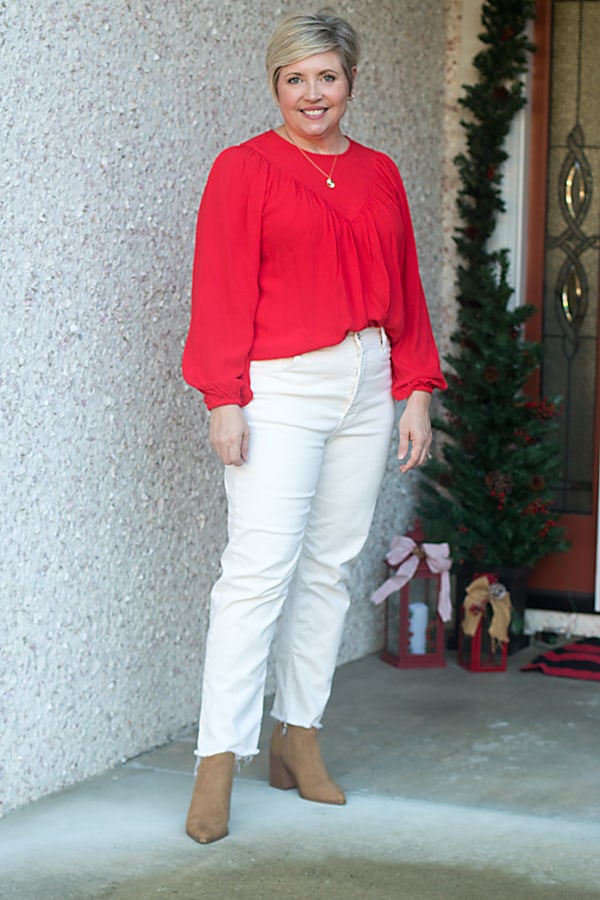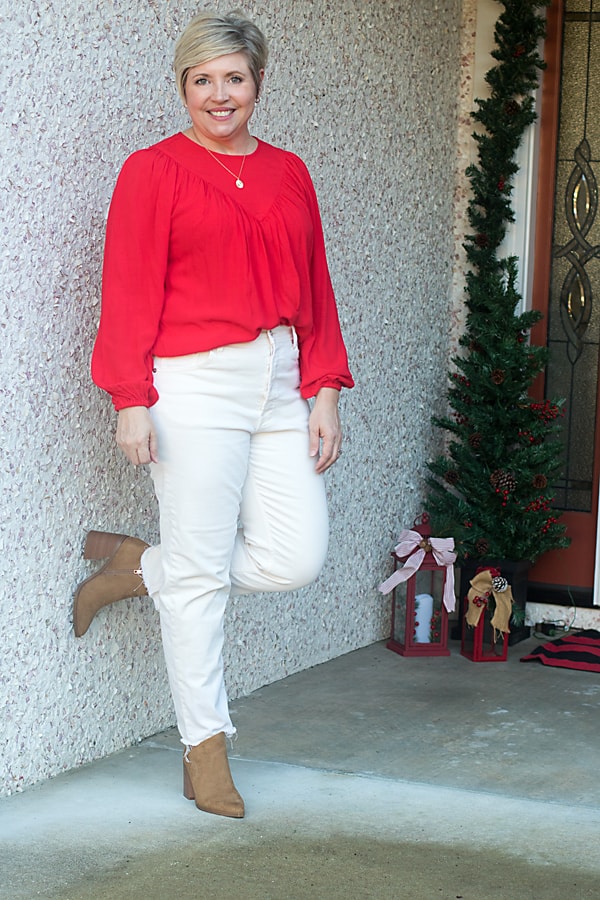 Top- Target; jeans- Gap Factory; Boots – Amazon
Add a casual plaid coat if you need another layer.
Coat- Amazon
Bright Pink Sweater + Plaid Pants + Loafers
Non-traditional holiday colors can be just as festive as red or green. Pair a hot pink sweater with plaid pants. These high rise pants are a relaxed fit that will keep you comfortable through all of your holiday gatherings.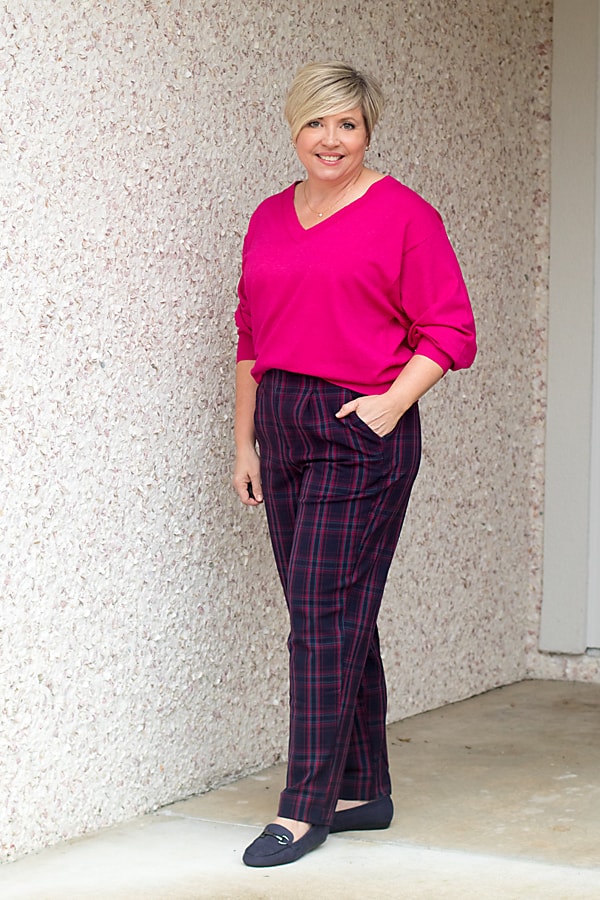 If you are going to be on your feet hosting a cookie exchange or casual dinner, these loafers will keep you comfortable and mobile.
Sweater- Target; pants- Target; shoes- Nordstrom
Plaid Button Down Shirt +Ivory Jeans + Black Quilted Vest + Black Boots
For another casual holiday look over 40, pair a plaid button down with ivory jeans and layer on a quilted puffer vest. Finish the look with black ankle boots.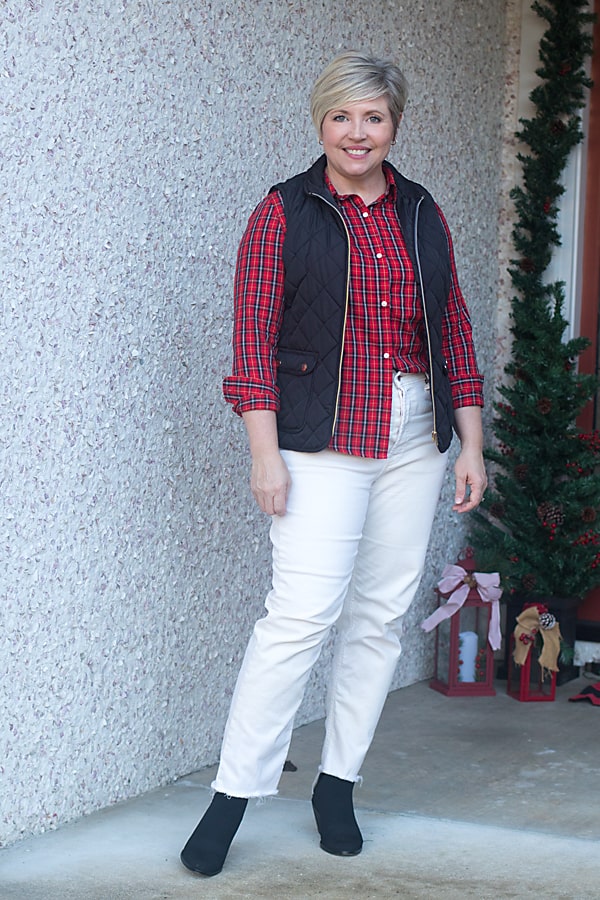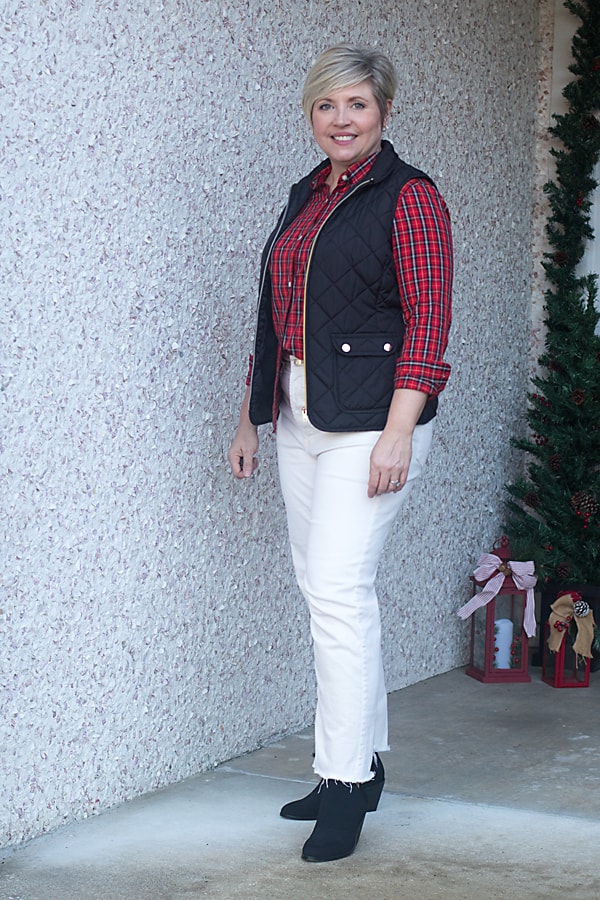 Shirt- Old Navy; vest- JCPenney; jeans- Gap Factory; boots- simliar
Fair Isle Sweater + Grey Jeans + Neutral Ankle Boots
Fair Isle is a winter classic and makes a good choice for a holiday outfit. Pair a neutral color fair isle sweater with grey jeans and neutral boots.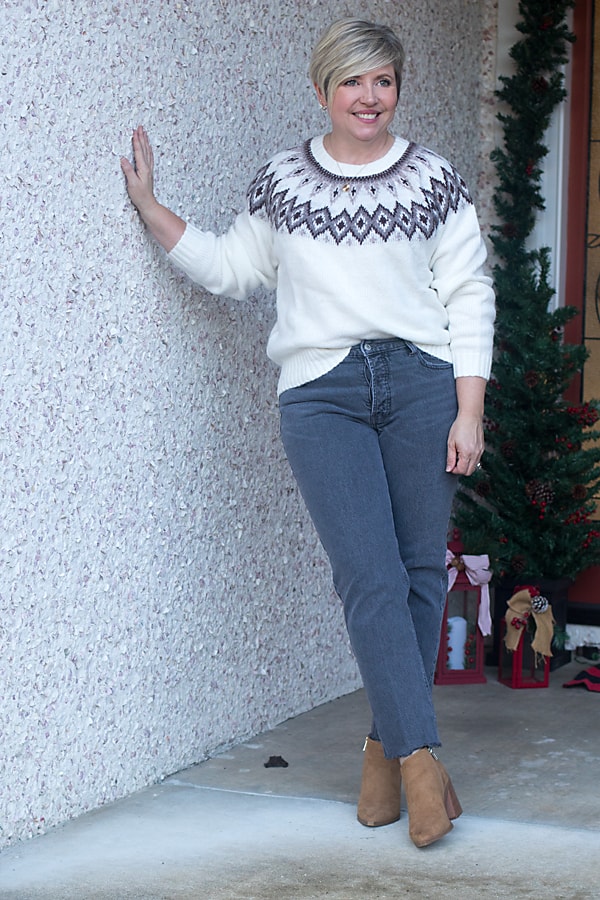 If you are going to an outdoor event and need more warmth, add a beanie and a quilted vest. You can also layer a thermal top under the sweater for more warmth.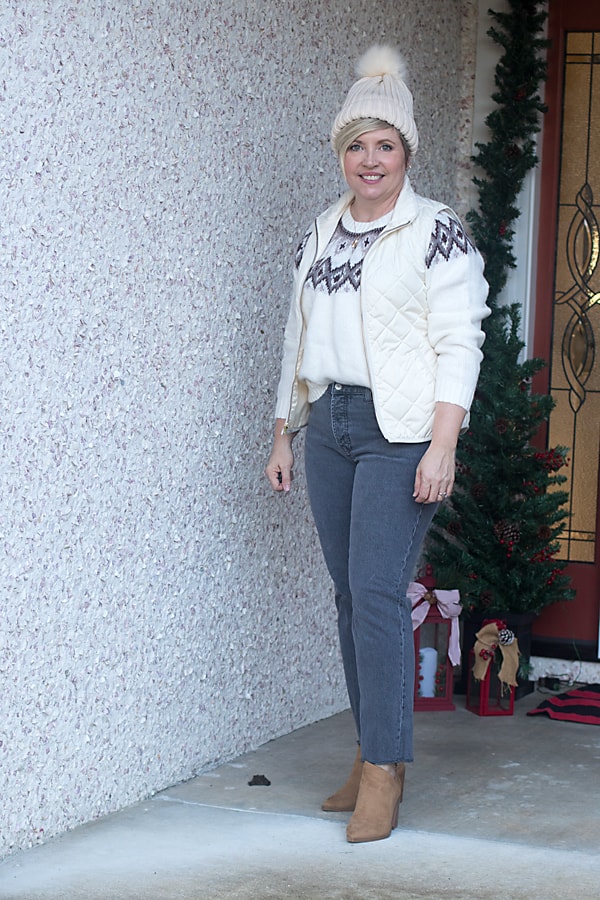 Sweater- Old Navy; vest- Old Navy- similar; jeans- Old Navy boots- Amazon; beanie- Amazon
I always have to make this disclaimer- women over 40 should not be limited in what they can wear. Just because this post focuses on looks over 40 doesn't mean women over 40 should only dress a certain way.
Women should dress in a way that works with their body type and makes them feel confident at any age. Make the holidays extra special by wearing an outfit that makes you feel good!
Have an extra special event to dress up for? Check out How to Wear A Sequin Dress: Style Tips You Need to Know.
Please pin and share this post!