Can ankle pants be worn in winter?
Ankle pants can be worn in the winter in lots of chic and stylish ways.
Ankle pants are a great way to achieve a trendy look while avoiding the bulk of longer styles. In this article, you'll learn how to choose, style, and wear ankle pants during the cold winter season. You'll find out how to layer up and still look fashionable and how to wear ankle pants in the winter months.
First, let's define ankle pants.
Ankle length pants hit right at or just above the ankle and show the ankle bone. A cropped pant will usually be a little shorter than an ankle pant but both are shorter that full length pants. To complicate things, different retailers will define lengths differently.
Both ankle pants and cropped pants should be short enough to look intentional. Anything that falls mid ankle without exposing your whole ankle might look like your pants are just too short.
Next, let's talk about winter.
We all have different types of winter. It might be so cold wear you live that ankle pants are not an option at all for you. Here in South Georgia and warmer climates, winter is pretty much only defined by the calendar time frame. The temps stay pretty mild. Even during our colder months, my ankles can tolerate a quick walk in and out of a building, so I don't have to always cover them up.
If you choose to wear ankle pants in the winter, you have a few options. And you don't have to suffer cold ankles.
One option to keep your ankles and lower leg from being exposed to the cold is to wear socks. A few years ago, wearing socks with cropped pants would have been a faux pas, but it's totally acceptable now.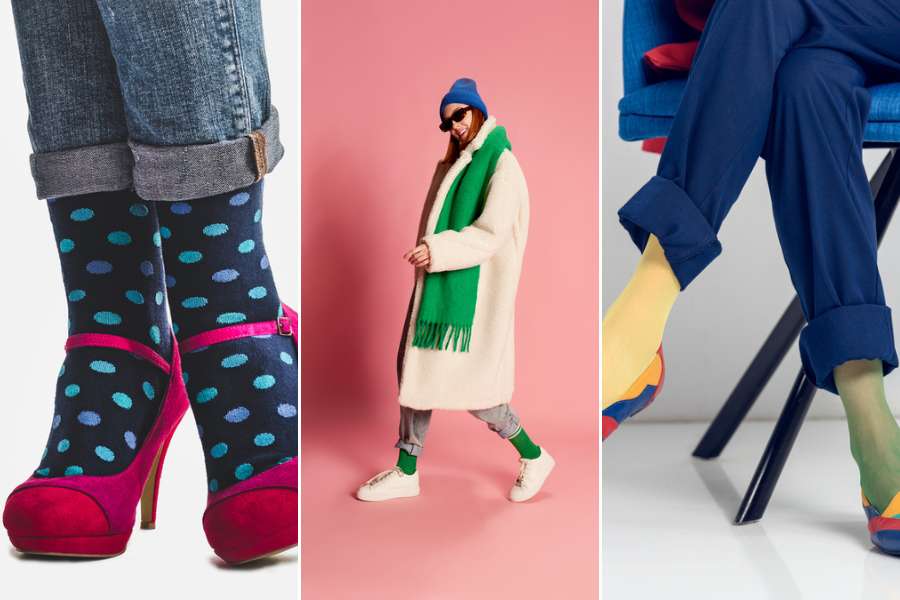 You can choose socks that create contrast with your outfit and stand out, or you can choose neutral color socks that blend in. It's a matter of personal preference. Someone with bold style or eclectic style would opt for the colorful socks.
You will create a more streamlined look and a better flow for the eye with neutral socks that create less contrast with the color of your pants. Make sure the socks are long enough to extend well up under the hem of your pants.
One more tip: Choose neutral socks but don't match them to the color of the shoe, unless you want your feet to look like blobs. You need a little contrast. The time to match your socks to your shoes is if they also match your pants. For example, black pants, black socks and black shoes would create on continuous line for a lean look. This is a great way to lengthen the look of your legs if you have short legs.
Fishnet socks? Why not?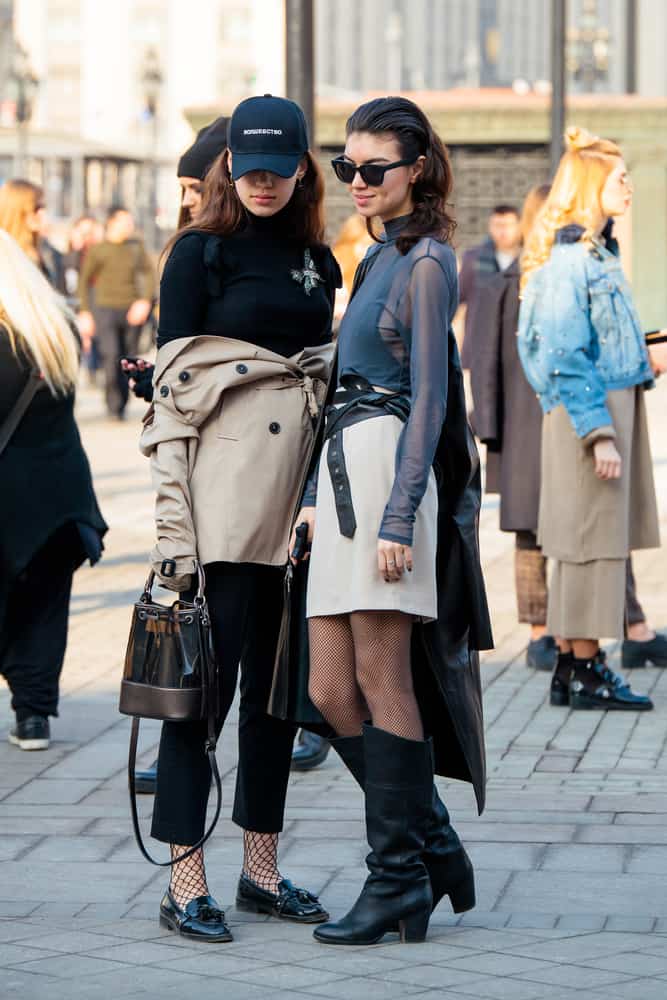 For a more casual look, choose a pair of warm merino wool socks to wear with straight leg ankle jeans. For a dressier look, pair cashmere or silk trouser socks with ankle length dress pants. Straight leg ankle pants and straight leg jeans work better with socks than skinny leg styles because they leave a little more room for the sock and create less bulk.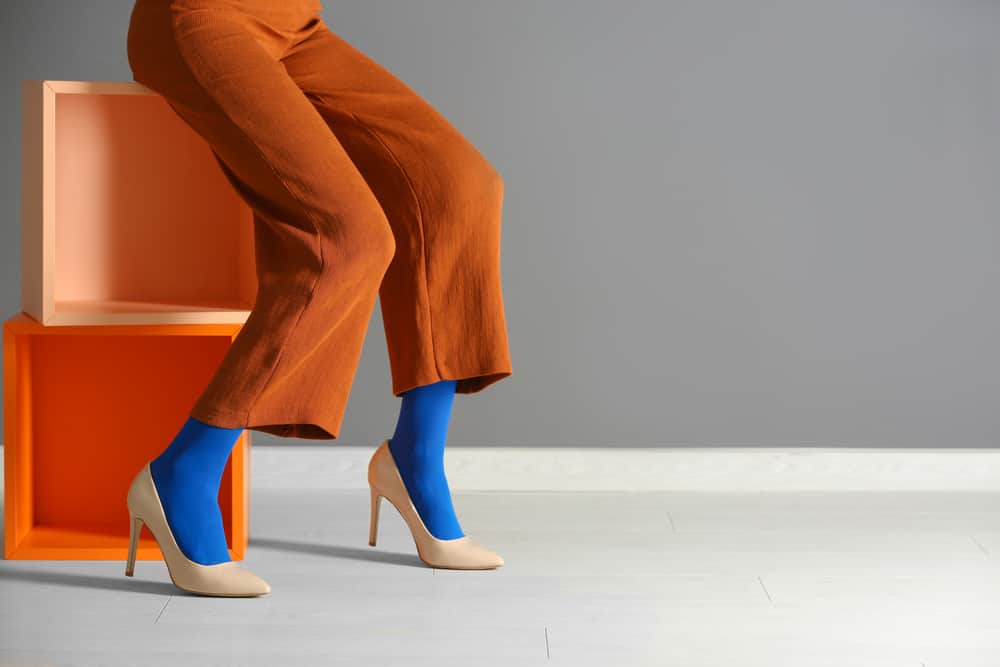 For a more elegant look, wear a pair of opaque tights under your ankle pants. This is particularly stylish with wide leg crop pants in dressier fabrics and styles. Sound odd? We wear tights under dresses and skirts. The easiest way to picture this is to think of wide leg crop pants as a longer dress.
If you are wearing tights under pants, just make sure that each fabric has enough "slip" for your pants to move freely over the tights. You don't want your pants to catch or grip on the tights. The feeling is just miserable. I know- I tried to wear women's long underwear (long johns) under a pair of skinny jeans once and the two fought each other all day. WORST .FEELING. EVER.
What shoes to wear with ankle pants in winter?
Choosing the right shoes in any season is key to pulling off a great look with ankle pants. The more fitted the pants, the more shoe options you have. The wider the leg of you ankle or cropped pants, the slimmer the shoe should be (and the lesser of a shoe choice you have.)
One thing to note: If you are going to wear socks as mentioned above, you will want to wear a loafer, sneaker or oxford type shoe. Dainty flat shoes will look funny with socks. You might be able to pull of a thinner trouser sock with a slimmer shoe, but it will take some trial and error to get the look right.
Given that it's winter, you are more than likely going to choose closed-toe shoes or a pair of boots. Ankle boots, sock boots, mid calf boots and even tall knee-high boots can work with ankle pants, depending on the silhouette of the pants. The kind of shoe you choose can really change the vibe of an outfit.
When wearing ankle boots with ankle pants and jeans, it can be trial and error finding the right pair of ankle boots and the right pants. You have two options.
Find a pair of ankle boots with a higher shaft that will fit under the hem of your pants. Or in the alternative, find pants that come just to the top of your boot. Let them end just above the boot so the pants and boots are not competing with one another.
Ankle Pants Winter Outfits
Creating polished outfits with ankle pants is all about balance. If you are wearing an oversized or chunky sweater with ankle pants in the winter, choose ankle pants that are more fitted. If you have the reverse situation and your ankle pants are loose or wide leg, wear a more fitted top or sweater like a turtleneck or slim fit long sleeve tee shirt. The best way to get this formula right is to remember 1 loose item + 1 fitted = balance.
Here are a few outfit ideas with ankle pants for the winter.
Ankle pants + Sneakers + No show socks
Pair up your ankle pants with a blouse, denim jacket and sneakers for a casual look. No show socks will help a little in keeping your feet warm, but your ankles will still be exposed. If you live in extreme cold weather, save this look for warmer weather.
Sweater + Square scarf + Ballerina flats or loafers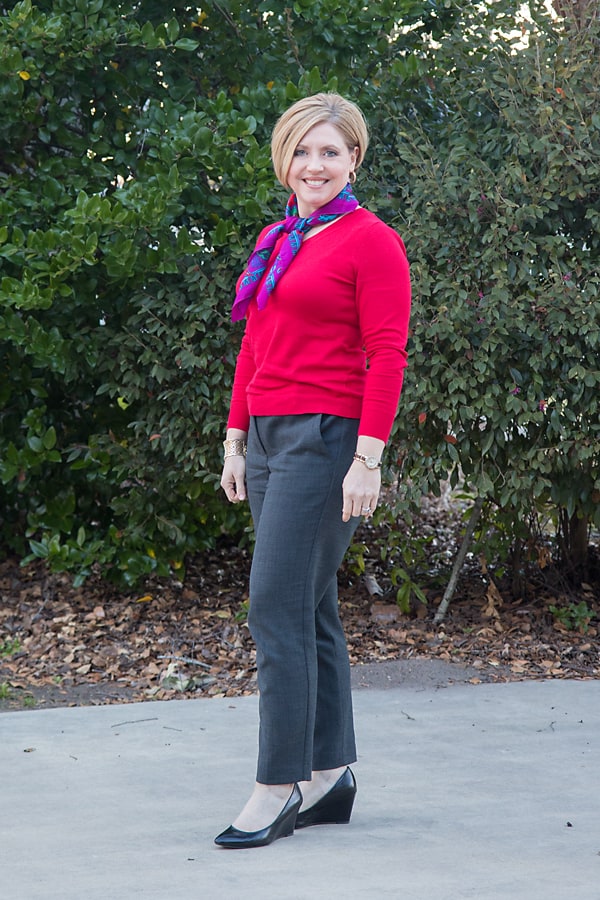 For a very chic look with French minimalist flair, pair a sweater with ankle pants and ballet flats or loafers. Tie a square scarf around your neck. This makes a great outfit for work. Top it off with a trench coat.
I put together a similar look with wedge pumps, but the ballet flats or loafers would complement this look too.
Wide leg Ankle Pants + Blouse + Tall Boots
Tall boots with a heel are just beautiful with a pair of wide leg ankle pants. Top with a dressy blouse for a work appropriate look. You can pull off this look with any boots that are tall enough to extend under the hem, but knee-high boots will keep you warmer in these flowy pants.
At 4'11', Cori Lynn pulls off this look.
Ankle pants + Sock booties
Sock booties are a good choice for ankle pants. Sock boots are more fitted and have a slightly higher shaft. They fit perfectly under ankle pants and jeans. They also cover the ankle.
Pair a bright red pair or sock boots with light wash jeans, a neutral top and a neutral coat. The boots will be the perfect pop of color against the soft palette of the outfit.
Leather jacket + Black combat boots + wide-legged trousers
A black leather jacket and combat boots add a little edge to ankle pants in the winter seasons. Keep the look feminine with a lace top.
How to Wear Ankle Pants in Winter Professionally
For work, ankle pants that hit right at the ankle look more professional. Cropped pants that are a little shorter are less professional but are appropriate if your office is business casual or a creative environment.
Dressy flats or high heels will look good with ankle pants for a professional outfit. Since you might not want to wear heels outside in colder weather, you might want to tuck your pants into your winter boots for the commute to work and change into your favorite shoes at the office.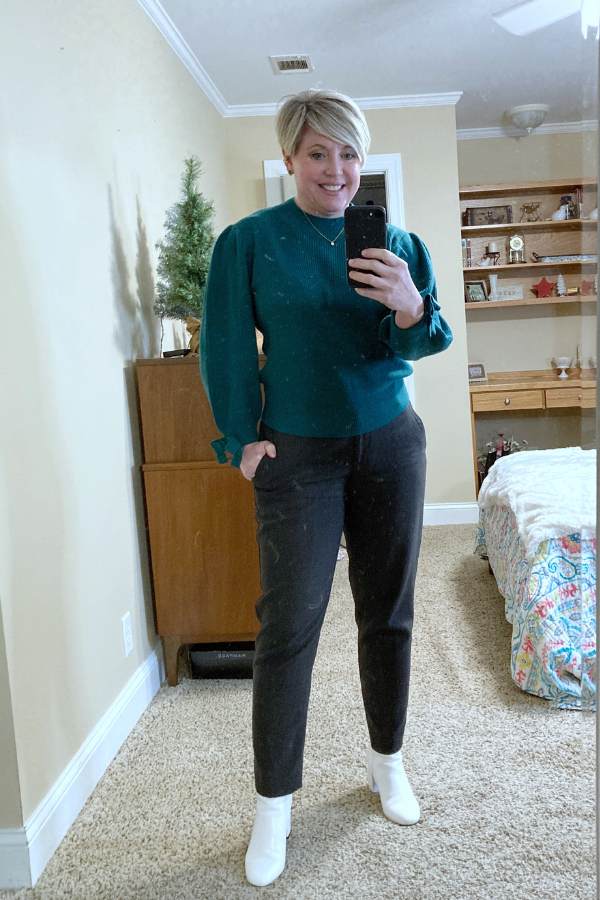 To keep the look professional when wearing ankle boots with ankle pants, opt for a dressier boot with a heel. Save the lug sole boots for after hours and off duty outfits. A lower heel boot can work too in a pointed-toe boot, patent or leather boot. Just make sure the boot is not too casual for the office.
Not having a gap between the boot and pants works for more conservative offices. For less conservative workplaces, having the pants fall just above the boot is fine. Just don't wear too slim of an ankle pant. A straight leg ankle pant is a great option for work.
---
Don't let cold weather stop you from staying fashionable. With these simple tips, you can look stylish and comfortable while keeping warm. Remember, the key to wearing ankle pants in winter is wearing them confidently.