We typically think of burgundy, oranges, mustard and olive for fall, but this year there is a new trendy color- fuchsia. Fuchsia, magenta or hot pink, call it what you will. It's typically a summer bright, but fuchsia is trending for fall.
This post was originally published in 2018. Four years later, fuchsia or hot pink, is still a trendy color for fall. Rose violet is one of Pantone's top ten colors for fall 2022.
Given the attention this topic gets, it was time to update this post and bring you more ways to wear fuchsia.
Is fuchsia a fall color?
Absolutely! The rules about traditional fall colors continue to blur season to season.
Following the pandemic, dopamine dressing– dressing in bright colors to boost your mood- became popular. The fashion industry and consumers don't seem to be letting go of it.
Fuchsia is a bright purplish red color with pink mixed in. If you think about it, purples and reds are abundant in nature in fall. A brighter version fits right in.
7 Ways to Wear Fuchsia in the Fall
Wear fuchsia with black and white.
The original outfit that I featured this color in includes a fuschia sweater with black and white check pants and a blazer vest. The blazer vest is back again for fall 2022 as well. I'd make this outfit a little more up to date with loafers- white or black, and swap the necklace for a shorter one.
Vest- option; option sweater- option; pants- option
Wear a fucshia top with grey jeans and a plaid blazer.
Fucshia makes a stunning pop agains grey. Add black ankle booties and a quilted purse to finish off the look.
Blazer- similar; top- Nordstrom; jeans- Loft; similar; boots- Nordstrom; similar– purse- Amazon
Wear the same fuchsia top to work with black pants and a grey blazer.
If you want a steamlined look that makes you look taller, wear black pumps. I chose snakeskin pumps for a little texture and interest.
I chose to accessorize this look with silver jewelry. The necklace and bracelet are new pieces from the Victoria Emerson x Jo-Lynne Shane collection. The collection officially launches September 22, 2022.
Blazer- Macy's; top- Nordstrom; pants- Nordstrom; shoes- Nordstrom; necklace; bracelet
Pair a fuchsia or hot pink blazer with camels and browns.
Browns and camel colored clothing are a great way to give fall vibes to this bright color.
This ensemble pairs a camel color zebra print shirt with camel pants and a fuchsia blazer. Tie it all together with a cognac belt and cognac shoes, along with tortoise jewelry.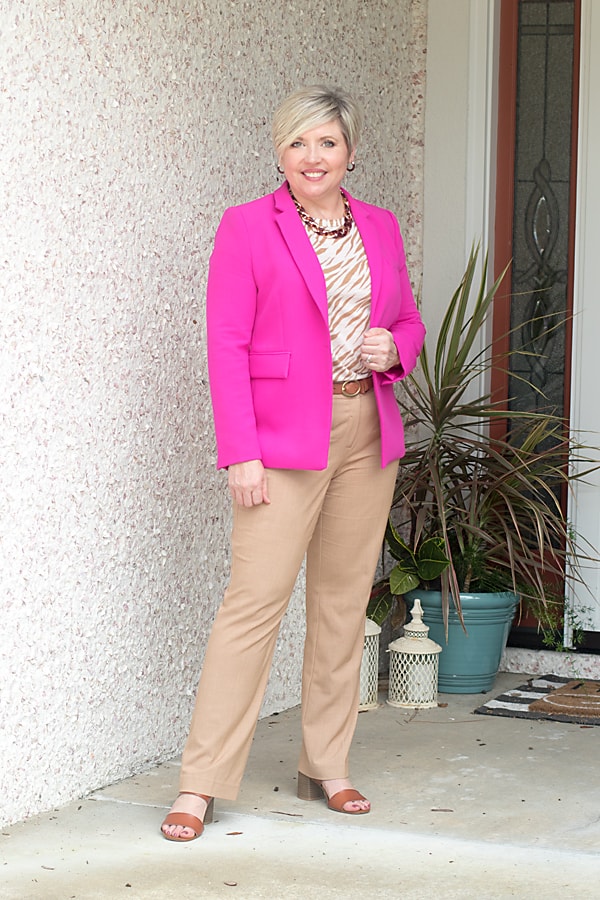 Blazer- similar; pants- JCPenney; option; tee- Banana Republic; option; necklace- JCrew Factory; earrings- JCrew Factory; sandals- similar
Flip the script and wear fuchsia on the bottom in a bold pair of wide leg pants.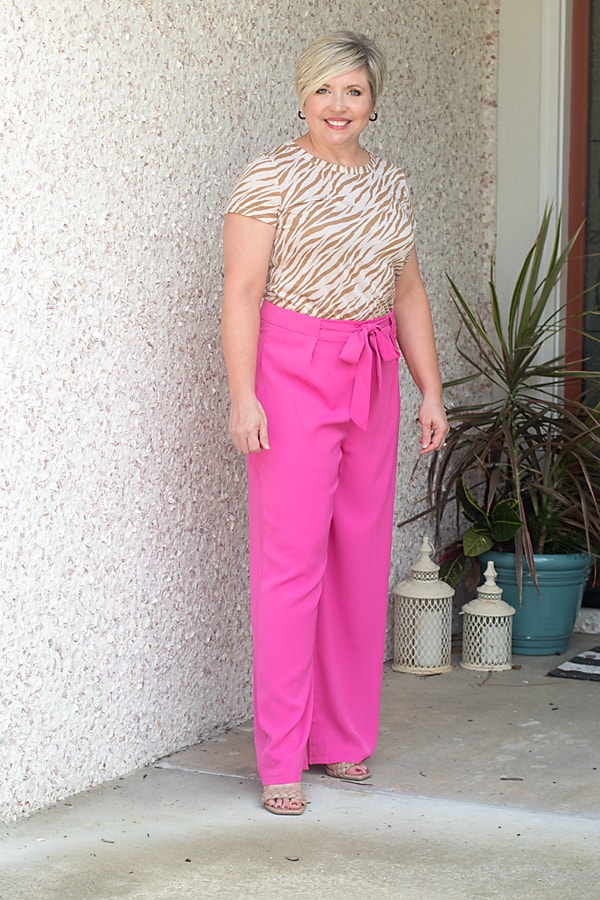 Pants- Amazon
Top off a black and white outfit with a fuchsia hat.
A felt hat is another great way to give an outfit fall vibes. Wearing fuchsia in a seasonally appropriate accessory is a great way to make it a fall color.
Wear fuchsia in a plaid shirt.
Plaids scream fall in almost any color, so work fuchsia into your fall wardrobe with a plaid shirt in this fun color. Pair it with faux leather leggings or wear it as a layer over your favorite band tee with straight leg jeans.
This is one color I can get on board with for fall. It's not new for me. I've had this color in my wardrobe for several years. I like to have a few bright colorful pieces in my fall and winter wardrobe for when it gets cold, dark and depressing and I just can't take anymore grey and black.
It's easy to incorporate fuchsia into your fall wardrobe. It pairs well with other fall colors like burgundy and olive. It also really pops against black, like I've styled it here. You don't have to go head to toe in hot pink, just one piece will make a big impact.
Keep everything else neutral or monochromatic. Consider your fabric choices too. While a hot pink linen jacket or fuchsia blouse would be very out of place, a knit sweater or wool jacket will fit in just fine. Consider accessories like scarves too, if wearing lots of color isn't your thing.
Are you excited to see some non traditional fall colors this year? Let me know in the comments.