If you start searching for winter 2021/2022 trends, you are likely to come across results for dopamine dressing, or at least bold colors.
What the heck is dopamine dressing?
Brought back to the forefront by Pinterest's predictions based on searches for bright colored outfits, dopamine dressing is being used to describe elevating and improving your moods by wearing bright, cheery colors. However, fashion psychologists have been studying the phenomen since 2012.
Dopamine is the neurotransmitter that helps us feel pleasure and acts as a reward for certain activities.
The focus on bright colors was brought on by the return to society and activity after the past two years of staying in and enduring a pandemic. The Pantone Fall/Winter color palette features bright pinks (fuschia), yellow and bright greens, chosen to "support our lifestyle of continual reinvention and convey a promise of reemergence," said Leatrice Eiseman, Executive Director of the Pantone Color Institute."
Dopamine dressing is really about more than colors and vibrant outfits. Some people associate different emotions with colors.
While there are some universal emotions and energies for certain colors, not everyone responds to color in the same way. Dressing to feel good involves textures, designs and wearing pieces that have value or meaning to us.
Friday I wore a red blazer, leopard blouse, black pants, and black ankle boots to work and felt like a total bada**. Or maybe I should say I felt confident and in control of my day.
It wasn't really about the color red. It had more to do with the cut and fit of the blazer and the boots. I would not have felt the same way in black pumps or flats. I liked the pieces I was wearing and felt good.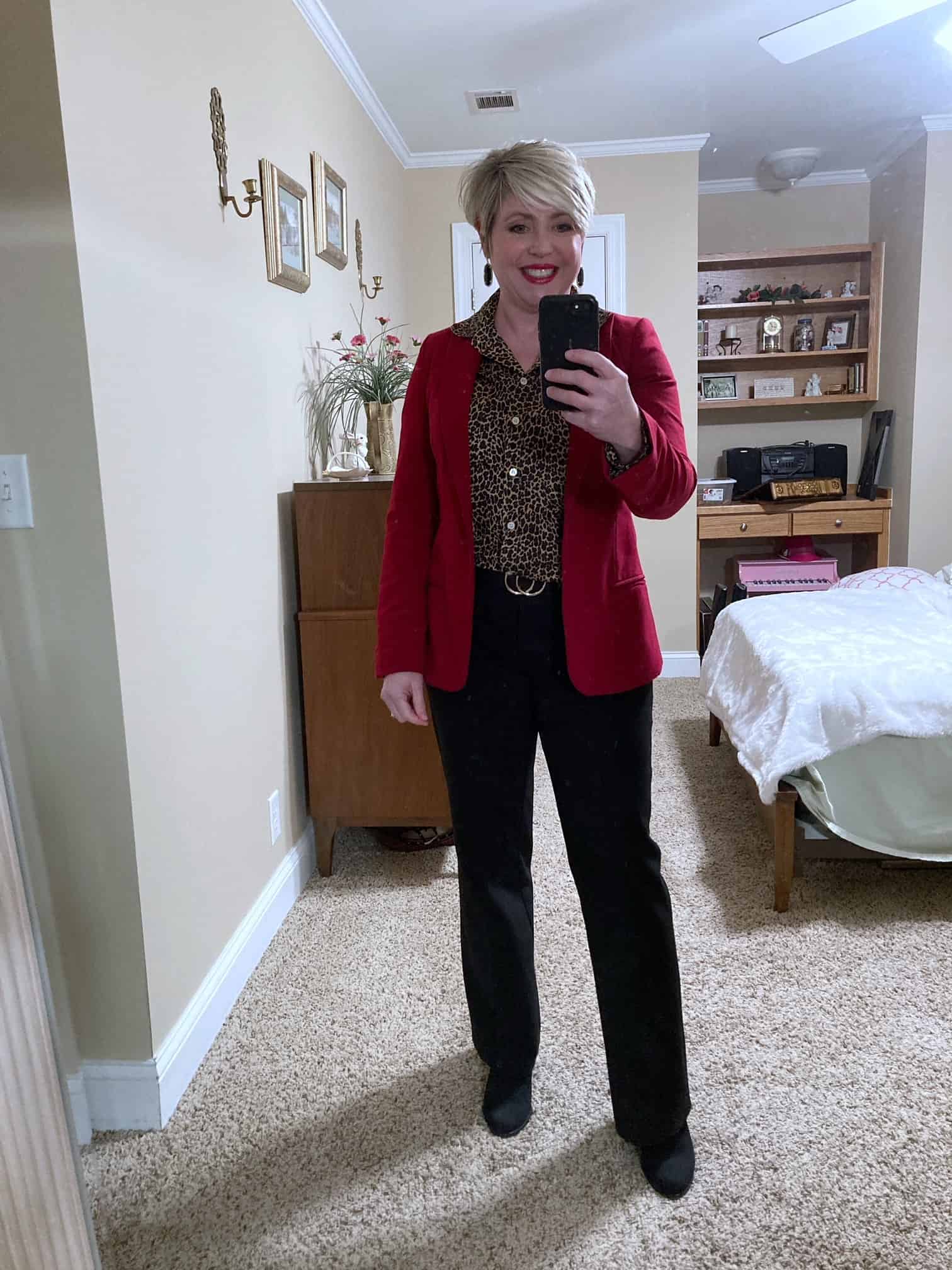 Blazer option; option pants- Loft; similar blouse- JCrew Factory; boots- Nordstrom
How to practice dopamine dressing
Wear bright colors.
If bright bold colors are your thing, go ahead and wear them. You can wear them head to toe, or just one bright piece or pop of color.
Head to toe matching suit in bright blue
One bright color
This cheery fuschia pink sweater brightens my mood.
Sweater- Gap; jeans- Loft; boots- Amazon; purse- Amazon; pearl purse strap- Amazon
Pop of color
Add a pop of color to a black and white or neutral outfit with shoes and accessories.
Practice dopamine dressing by wearing the things that make you feel good.
Do you love the cozy feel of fleece or sherpa? A chenille sweater? Cashmere? Or maybe the smooth coolness of a silk blouse? Does tweed make you feel powerful or put together?
Be more attentive to the clothes and textures that truly make you feel good. Pay attention to what brings you compliments, whether it's a certain color or a certain style or cut. Wear more of those things. You should absolutely love everthing in your wardrobe. There shouldn't be any "just okay" pieces.
Do away with the pieces of clothing that don't feel quite right or all you.
We all have some sense of style and what feels most like ourselves. Sometimes we need to break out of our comfort zone and try new things to discover more of what brings us joy, but when we do, we shouldn't hang on to those things that just don't quite fit our personality and style. You DO NOT have to wear a trend just because it's a trend.
Let me repeat that- you do not have to wear a trend just because it's a trend.
Being trendy does not always equate to being fashionable or stylish. If you aren't comfortable and confident in something, it shows. If it is not the best fit or style for your body type, it won't flatter.
Low rise pants are supposed to be coming back, but there is not enough material in those to fully cover my behind so you won't see me even looking at them. Don't force fashion for the sake of trends. Trends come and go. If it doesn't feel like "you", pass on them. Classic and timeless pieces will always be in style.
What pieces or colors make you feel good? Drop me a comment below.