I hope this continues to find you well. The hubby and I are still staying home and both teleworking from home. It's been interesting. I'm still getting dressed daily because I never know when I will be doing a video conference or chat with someone and I think it's important to maintain a professional image. I save the joggers and leggings for the weekends, so it is still pretty normal and routine for me. It's also spring so let's embrace spring style the best we can. Here are five spring work from home outfits (or stay at home outfits if you are not working).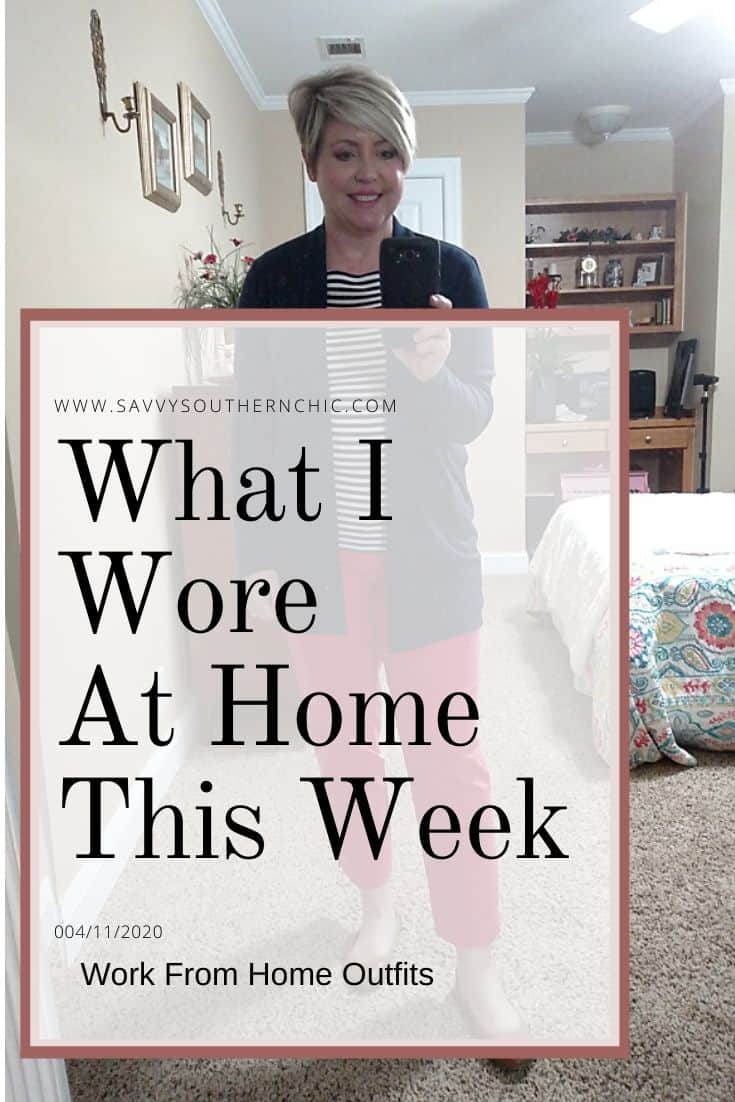 Monday– I wore my new Ann Taylor pants and blouse. I'm going to enjoy wearing these pants to the office in the future. The cardigan and mule loafers keep it casual and comfy for home. When I go back to the office, those will be replaced by blazers and pumps.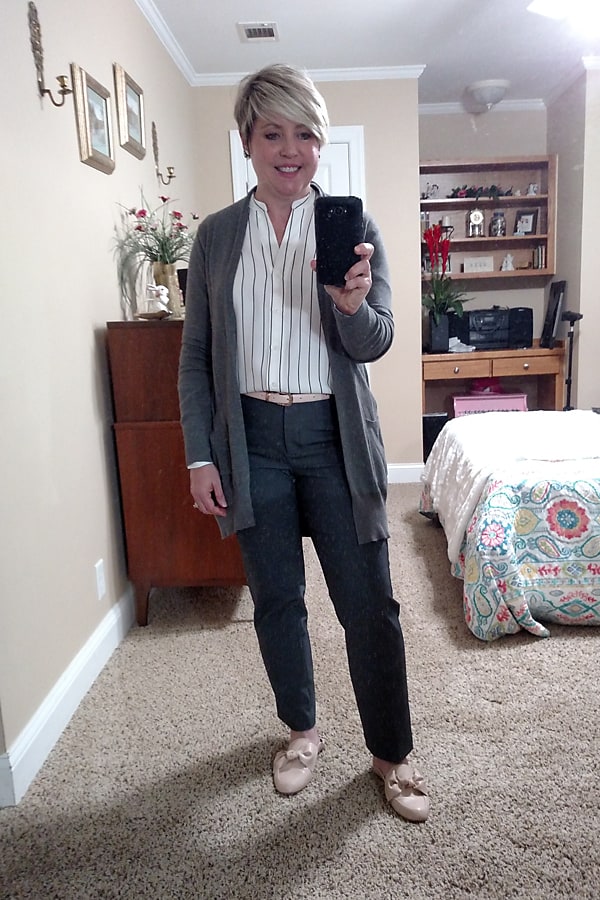 Cardigan– Amazon/ exact below; blouse– Ann Taylor; pants– Ann Taylor/ exact below; shoes– Belk
Tuesday – Don't think a skirt works for a stay at home outfit? It totally does. I was so comfortable in this all day. If you are sitting at a computer working for most of the day and not chasing kids, pull out a skirt and give it a try.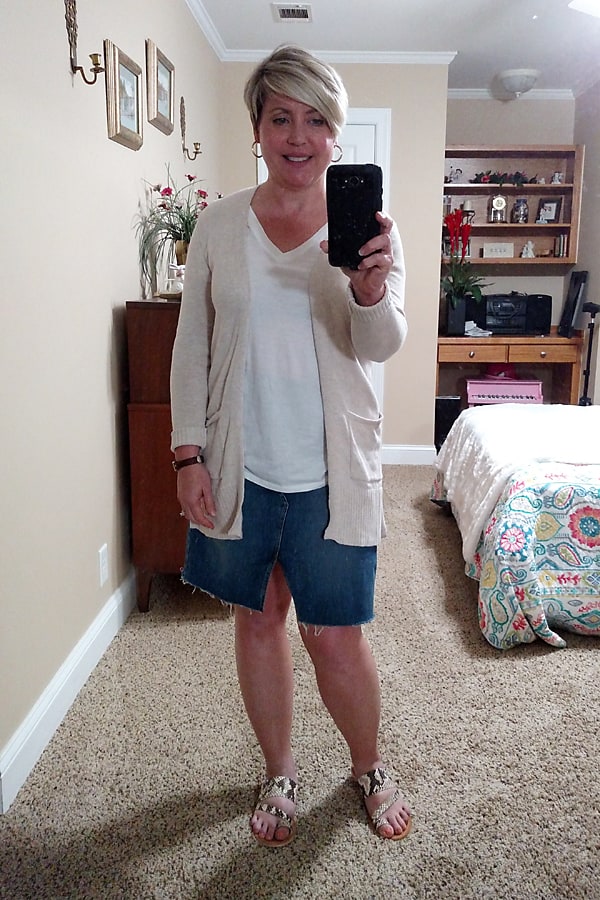 Cardigan– Old Navy- exact below; tshirt- Target- exact below; skirt- Loft; sandals- Nordstrom/Topshop- exact below
Wednesday – I generally have more video contacts on Wednesday so a blazer was appropriate but the jeans and loafers kept it at home casual. This has all the vibes of spring work from home outfits.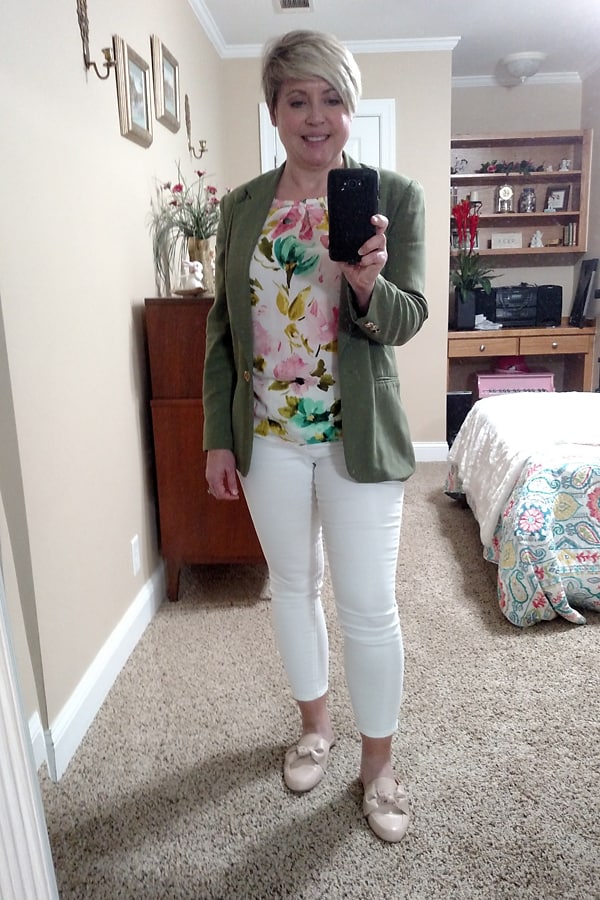 Blazer– old; blouse– old; jeans- Loft (below); shoes- Belk
Thursday – I really wore flip flops all day but decided to dress this up for pics into an outfit I'd really wear out to see if I liked it.
Blazer– Loft; tee– Old Navy; pants– Nine West/TJMaxx (old); shoes– Old Navy; necklace-Kendra Scott
Friday Another cozy outfit. These pants will be great for work and play but they have enough stretch to be comfortable at home too. I wore these ballet flats most of the day because my feet were cold and I was tired of the flip flops from the day before.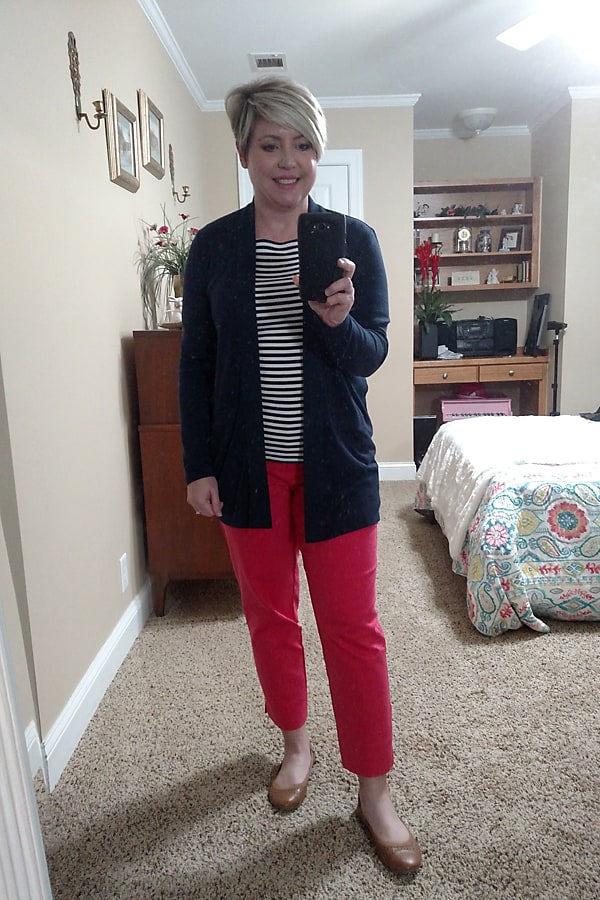 Cardigan– Banana Republic; shirt- JCrew Factory; pants– Loft; shoes- Payless
Most days I change into something else at the end of the day. It mentally signifies the end of the work day and time to relax or do household activities for me.
Are you keeping some sort of routine to your day?
You might also like last week's edition of work from home outfits.
Weekend sales and my picks
Loft is 40-60% off/ Free shipping over $25
DSW 30% off online code DRESSTOCHILL
Banana Republic– 50% off everything plus extra 10%
Old Navy– Up to 60% off
JCrew Factory– 60% off everything
Ann Taylor– 50% off + extra 10% code TAKECARE