Today I'm sharing another round of work from home outfits. How are you holding up to the new lifestyle? I might be in the minority, but my husband and I actually love the slower pace and the lack of stress and pressure to go somewhere and do something. We keep plenty busy around the house.
I'm still teleworking and that is my biggest challenge. When I'm done at 5 p.m., I'm done with computers, phones, and anything to do with anything online. Social media and blogging is really a challenge right now, but I love blogging and sharing with you and I want to continue so I'm pushing on.
Here's what I've worn lately. These work from home outfits are for being presentable in video and virtual contacts, but still have a comfortable, stay at home feel.
Cardigan- Old Navy; exact; jeans- Old Navy;exact; shirt- thrifted; shoes- Belk option/ option
Sweater- Old Navy; jeans- Loft; shoes- Chinese Laundry option necklace- Rocksbox
Some days I skip accessories, but most days I try to add at least earrings and sometimes a necklace. I think it's important for clients and coworkers to see me as "normal" as possible. Nothing about my position or the responsibilities it holds have changed so I don't want my appearance to mistakenly convey a change.
Cardigan- Old Navy; option tee- Target; jeans- NYDY; shoes- Steve Madden; necklace- Gorgana; earrings- Kendra Scott
Cardigan- Banana Republic; option; shirt- JCrew Factory; option joggers- JCrew Factory; option sandals- Topshop option
Cardigan- Amazon; shirt- JCPenney; jeans- NYDJ; slides- 6pm
We started having court via video a couple of weeks ago, so I wore the same outfit I showed in the 9 to 5 style post on video conferencing.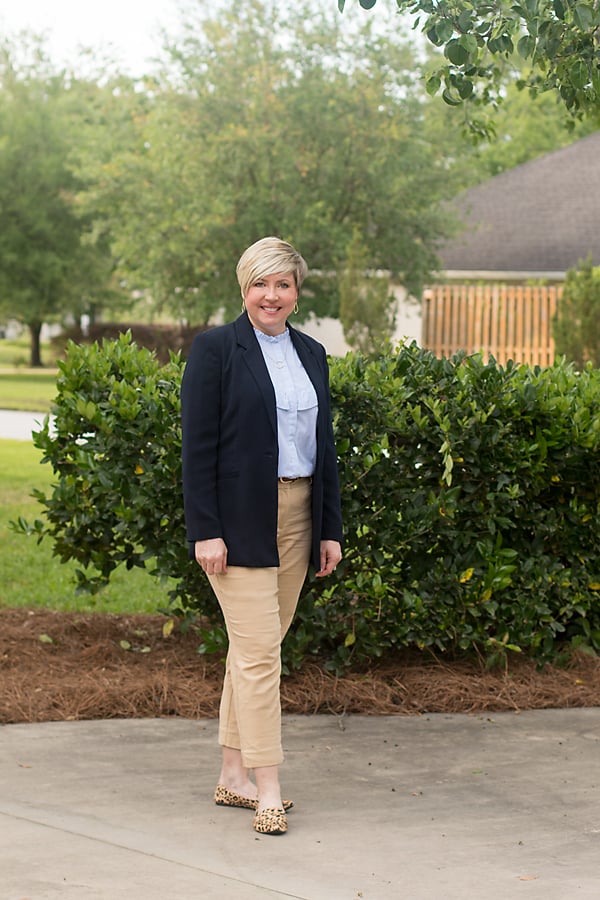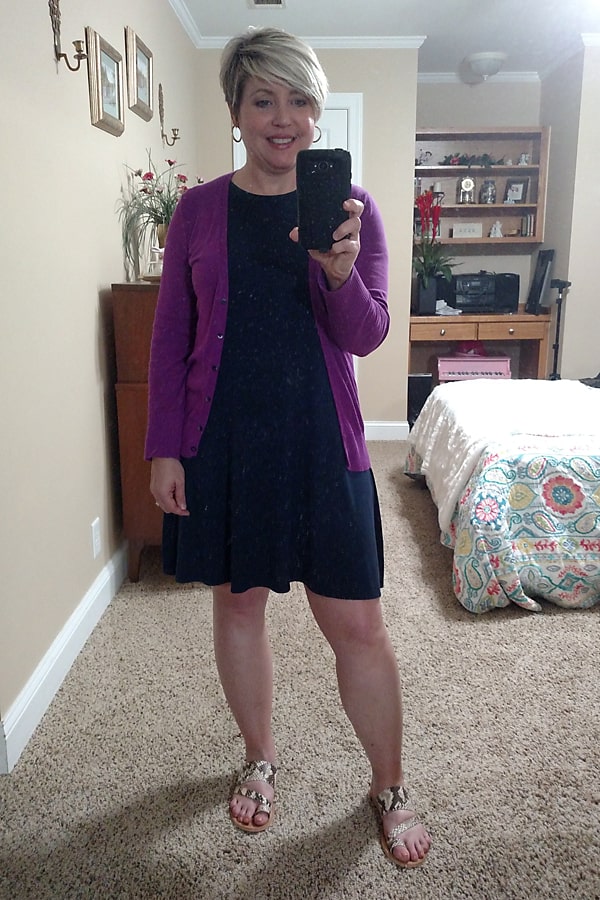 Cardigan- Old Navy; option dress- Amazon; sandals- Topshop
See a pattern here? I've mostly been working through a capsule I pulled into my closet at the beginning of spring. I'm not going to lie- I'm board with most of these pieces now, so I need to mix it up. Except for the sandals- I could wear these snakeskin sandals every day!
Cardigan- Amazon; tee shirt- Old Navy; pants- old; option shoes- Nordstrom
More court, so I literally wore this all day at home. I just took the blazer off when court ended. Notice the untucked shirt? I couldn't get away with that for an in person appearance.
Pants/blazer- old; blouse- Old Navy, shoes- Franco Sarto wedge pumps option
Pin your favorites and inspire others with work from home outfits.