Cargo pants, once reserved for utilitarian purposes, have evolved into a fashion staple that effortlessly combines comfort and style. These pants are known for their characteristic side pockets and relaxed fit, making them the perfect choice for those who crave functionality without sacrificing style. In this blog post, we'll explore how to embrace the trend and style cargo pants in a way that makes them fun and not frumpy. Cargo pants outfits can become a part of your style.
Cargo pants are incredibly versatile, making them suitable for various occasions. Whether you're running errands, going to work, or meeting friends for brunch, cargo pants can be styled to match the dress code or atmosphere. Dress them up with a blouse and heels for a semi-formal look or go for a casual vibe with sneakers and a tee.
Cargo pants have stood the test of time in the fashion world, and they continue to be a trendy choice. While fashion trends come and go, cargo pants have a classic appeal that can endure through various seasons and style evolutions. They are a great addition to your wardrobe for both current and future fashion trends.
For women over 40, cargo pants provide a youthful and modern option that doesn't compromise on sophistication. When styled appropriately, they can exude an ageless charm and a sense of confidence, allowing you to express your personal style while feeling comfortable and chic.
The History of Cargo Pants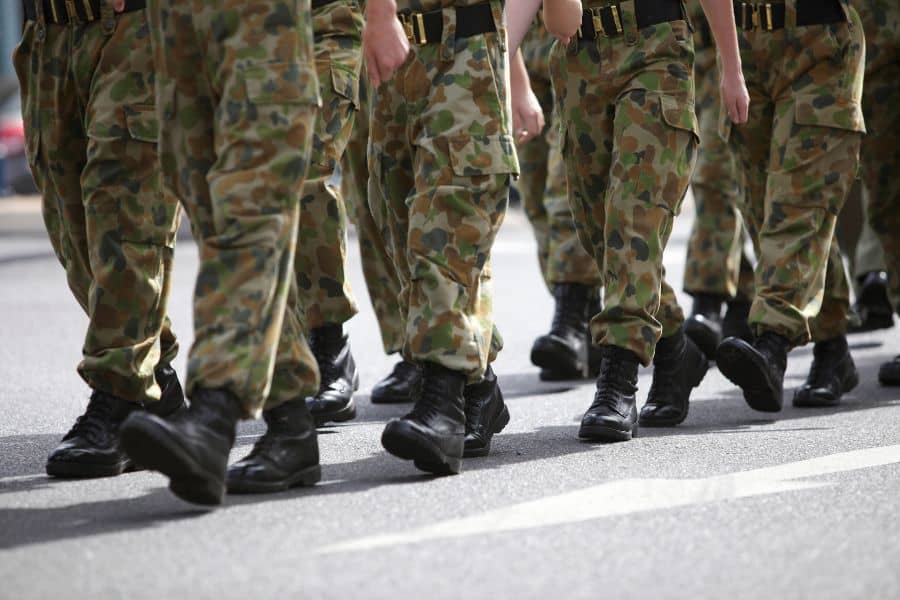 Did you know that these versatile trousers have an intriguing military background? The military has often had an influence on fashion- pea coats, trench coats, camouflage prints are just a few of those influences. Initially designed for the armed forces, cargo pants transitioned from practical utility wear to a fashion statement.
Cargo pants were first introduced during World War II by British soldiers serving in tropical climates. These soldiers required durable clothing with ample storage space for carrying essential supplies and equipment. Hence, cargo pants were born – featuring multiple large pockets on the sides and thighs to accommodate various tools, maps, rations, and other necessities.
The functional design of cargo pants quickly caught on among other military branches worldwide. The United States Armed Forces adopted cargo pants during the Vietnam War (1960s-1970s), where they became particularly popular due to their practicality in jungle warfare conditions. Soldiers found these trousers ideal for carrying ammunition belts, field dressing kits, canteens, grenades, compasses, and more.
As American soldiers returned home from war zones wearing their battle-worn cargos as casual attire or souvenirs, these distinctive trousers began gaining attention beyond military circles. A symbol of rebellion against traditional dress codes and a reflection of counterculture movements like hippies or punk rockers emerged – adopting cargo pants as part of their signature style. The 1990s saw a renewed interest in cargo pants, and here we are again being influenced by the 90s for several seasons now.
Choosing the Perfect Pair of Cargo Pants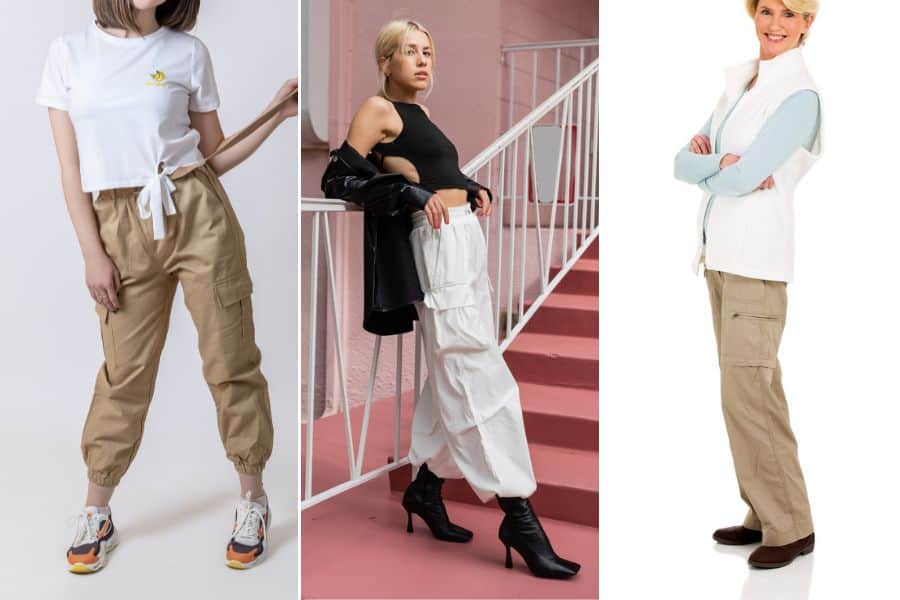 When selecting the right cargo pants, the abundance of choices in cuts, colors, and materials can be both exciting and overwhelming.Let's consider the different cuts, colors, materials available and how to match them with your individual style. You will easily be able to find your favorite pair of cargo pants.
Cuts, Colors, and Materials
Cuts: Cargo pants come in various cuts and different styles, each offering a unique silhouette. Some popular options include straight cut, slim fit, relaxed fit, and tapered leg.
Straight cut cargo pants provide a classic and timeless look while offering ample room for movement. Slim-fit cargos offer a more modern and streamlined appearance with narrower legs. Relaxed fit is ideal for those who prefer a looser fit around the hips and thighs. Tapered leg cargos gradually narrow towards the ankle, providing a stylish touch. Consider what flatters your body shape and aligns with your style preferences.
Colors: From traditional earthy tones like olive green cargo pants and khaki cargo pants to more adventurous choices like navy, black, or even vibrant hues, these utilitarian pants come in a spectrum of colors. Neutral tones are versatile and easy to pair, while a bold color can add a statement to your ensemble.
Materials: Cargo pants are crafted from diverse materials, including cotton, twill, denim, or even blends like cotton/spandex for added flexibility. The choice of material influences comfort, breathability, and overall look. Consider the climate and your comfort preferences when choosing the fabric. A breathable cotton twill would be a good choice for warm weather.
Consider Personal Body Type and Preferences
Body Type: Understanding your body shape is crucial in choosing the right cargo pants. For instance, those with a pear shape might prefer straight or wide-leg cuts to balance proportions, while individuals with a slender frame could experiment with various fits. High-waisted cargo pants can elongate the legs, while mid-rise options can be more comfortable for some.
Here's a breakdown of which styles work for which body:
Pear-Shaped Body:

Recommended Styles: Straight-leg or wide-leg cargo pants work well for pear-shaped bodies as they create a balanced silhouette. The wider lower leg can visually balance out the hips.
Avoid: Extremely tight or tapered cargo pants around the thighs and hips can accentuate the bottom, so it's best to avoid overly slim or skinny cargo pants. Avoid pants in which the cargo pockets sit right on the widest part of your hips. This will bring too much attention here. Find a pair with lower pockets or front patch pockets.
Hourglass Body:

Recommended Styles: Hourglass figures can carry off most styles well. Look for cargo pants that accentuate the waist. High-waisted or belted options can emphasize the natural curves.
Avoid: Avoid overly baggy fits that can obscure your natural shape.
Apple-Shaped Body:

Recommended Styles: Opt for mid-rise or high-waisted cargo pants that elongate the legs. Straight or slightly flared cuts work well for this body type, offering a balanced look.
Avoid: Extremely tight or low-rise styles that might accentuate the midsection.
Athletic/Rectangle Body

Recommended Styles: Slim-fit or tapered cargo pants can add some curves to the straight body shape. Cropped styles can also create the illusion of more curves.
Avoid: Avoid a pair of baggy cargo pants or loose cargo pants that might mask the body's natural lines.
Inverted Triangle Body Shape: Wide leg or straight leg cargo pants can help balance your broader shoulders.
Petite Body:

Recommended Styles: Opt for cropped or ankle-length cargo pants to avoid overwhelming your frame. High-waisted options elongate the legs.
Avoid: Very long or baggy styles that might make you appear shorter or drown your frame.
Preferences: Your personal style and comfort preferences play a significant role in selecting cargo pants. Some might favor a more relaxed fit for a casual look, while others may prefer a tailored or slim fit for a dressier appearance. Experiment with different styles to find what makes you feel confident and comfortable.
Remember, these suggestions are just guidelines. Ultimately, the best cargo pants for any body type are the ones that make you feel comfortable and confident. Trying on different styles and cuts is the best way to find what suits your body shape and personal preference. Don't be afraid to experiment with different fits to see what flatters you the most!
There are a variety of ways to wear a pair of cargo pants.
Cargo Pants Outfit Ideas
I'm styling green cargos in most of these looks. Remember, you can make these looks your own by choosing any neutral pair for your cargo pant outfits.
Because I'm a pear shape, I chose a pair with flat front pockets and a small cargo pocket that sits to the front. This particular pair is sold out but I've linked up some similar pairs.
Solid t-shirt+ Cargo Pants + Sneakers
For a classic look, choose a neutral-colored cargp pant for a timeless appeal. Pair them with a well-fitted plain t-shirt in a contrasting color. Opt for sneakers or casual shoes to complete the laid-back vibe.
This is a great functional outfit for a casual day. The burgundy tee adds a great pop of color for fall.
Other options include swapping your solid t-shirt for a graphic t-shirt. Add a denim jacket to this look if you need another layer.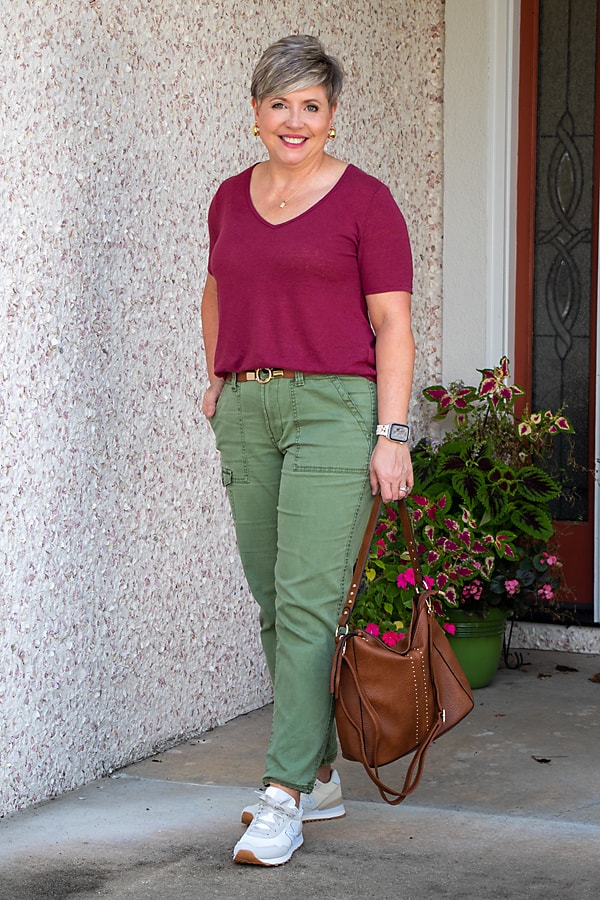 Tee- similar; pants- Walmart; sneakers- similar; purse- Amazon; earrings- Amazon
Chambray or Denim Shirt + White Tank + Cargos + Sneakers
Additionally, Another great way to wear cargo pants in a casual outfit is to pair them with a white tank and a button-down shirt. A chambray or denim shirt pairs well with cargo pants but any button up shirt makes a great outer layer for this outfit. Choose a gingham print if your style is preppy. Flannel shirts are a great option for the fall and winter.
Take the same pants and white tank and make it an edgy look with a black leather jacket and black ankle or moto boots or black high top sneakers.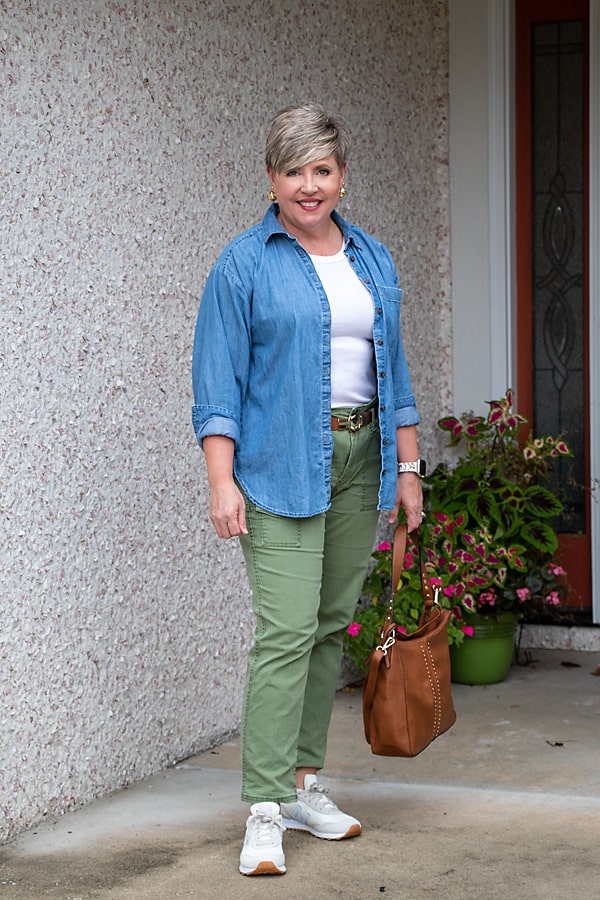 Shirt – Loft; tank – Loft; pants- Walmart; sneakers New Balance; purse- Amazon; earrings- Amazon
Brown Cardigan +Striped Tee + Sneakers
A different way to level up your look with cargos is to add a cardigan. The brown cardigan adds a cozy and elegant layer to the outfit, perfect for cooler days. Further, the neutral color complements both the striped tee and the cargo pants
This look strikes a balance between casual and polished. It can effortlessly transition from a day out running errands to a casual lunch or even a relaxed work environment, showcasing its versatility. Change the sneakers for neutral flats.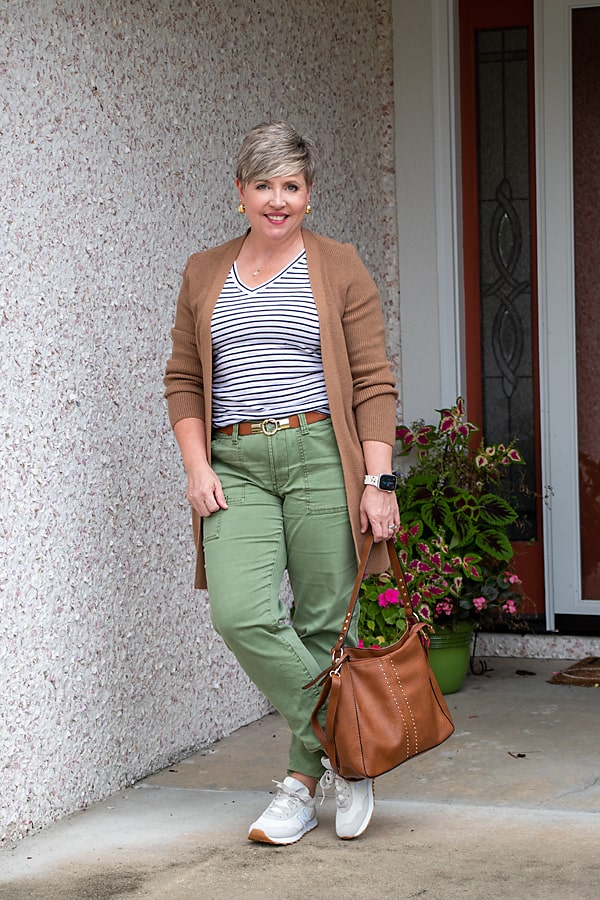 Cardigan- Old Navy; t-shirt- similar; pants- Walmart; sneakers; purse- Amazon; earrings- Amazon
Dressy Top Cargo Pants Outfit Idea
A sophisticated blouse with elegant flutter sleeves, in a rich jewel tone like deep burgundy or plum makes a great choice to dress up casual cargo pants for fall. The flutter sleeves add a touch of femininity and elegance to the outfit, featuring subtle detailing or a refined texture.
Complete the look with omfortable yet stylish flats in a warm cognac brown shade. They could be ballet flats or loafers. Cognac ankle boots would be a good choice too if the shaft of the boot is high enough to come up under your pants.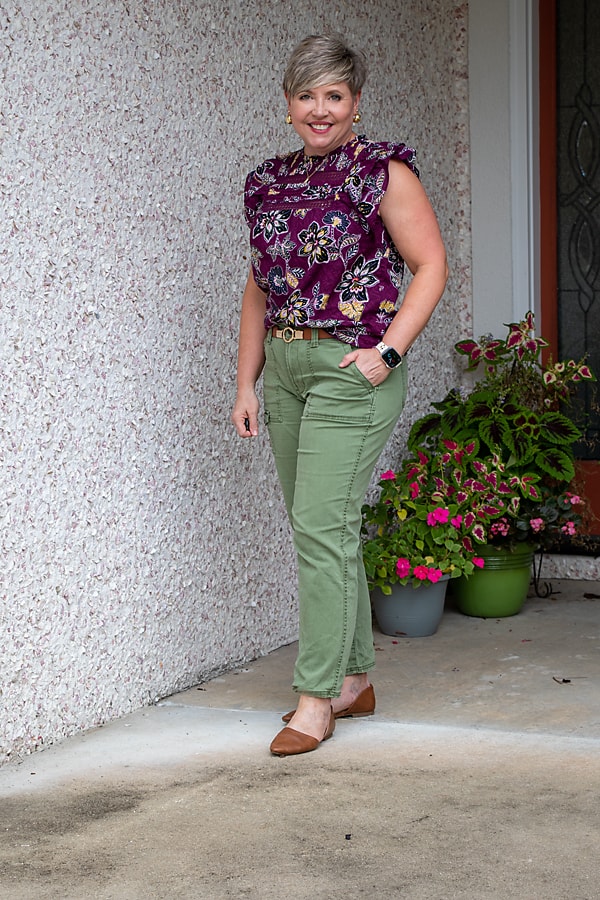 Top- Loft; pants- Walmart; belt- Amazon; shoes- Amazon; earrings- Amazon
The dressy top elevates the overall appearance, adding a touch of refinement to the outfit, while the cargo pants keep the look grounded and casual. This mix allows for a versatile outfit suitable for various occasions. It's a great choice for those days when you want to feel put together without sacrificing ease and comfort. Add a white or cream cropped cardigan for an extra layer and to keep it on the elevated casual side.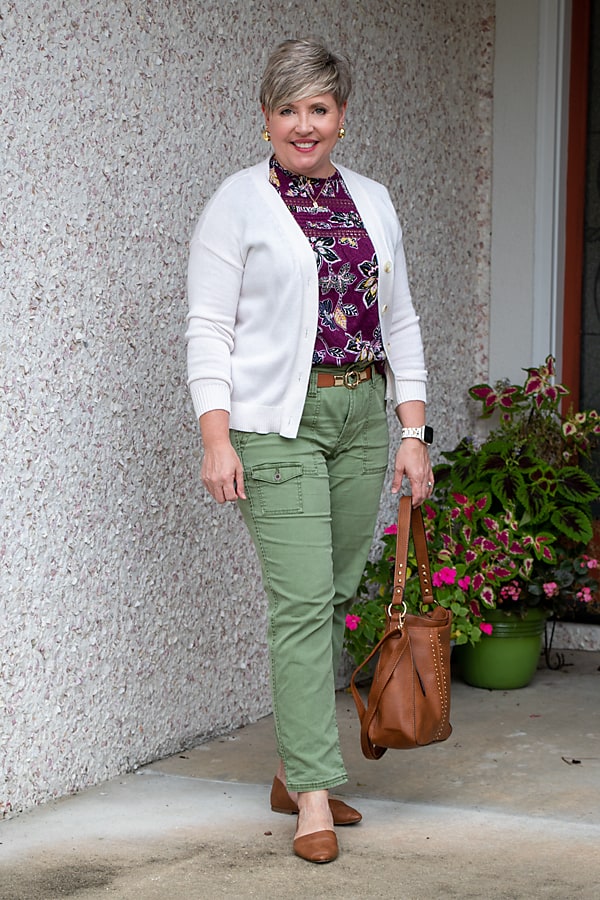 Quarter-zip Sweater + Cargo Pants + Loafers
Keep it casual but preppy with a striped quarter-zip sweater and coordinating loafers. The combination of a striped quarter-zip sweater and coordinating loafers merges a casual vibe with a preppy, classic aesthetic. It's an effortlessly stylish fusion that's perfect for various casual settings.
Lastly, a more tailored pair of cargo trousers or straight leg provide comfort while maintaining a smart-casual appearance. The outfit strikes a balance between relaxed comfort and a refined style.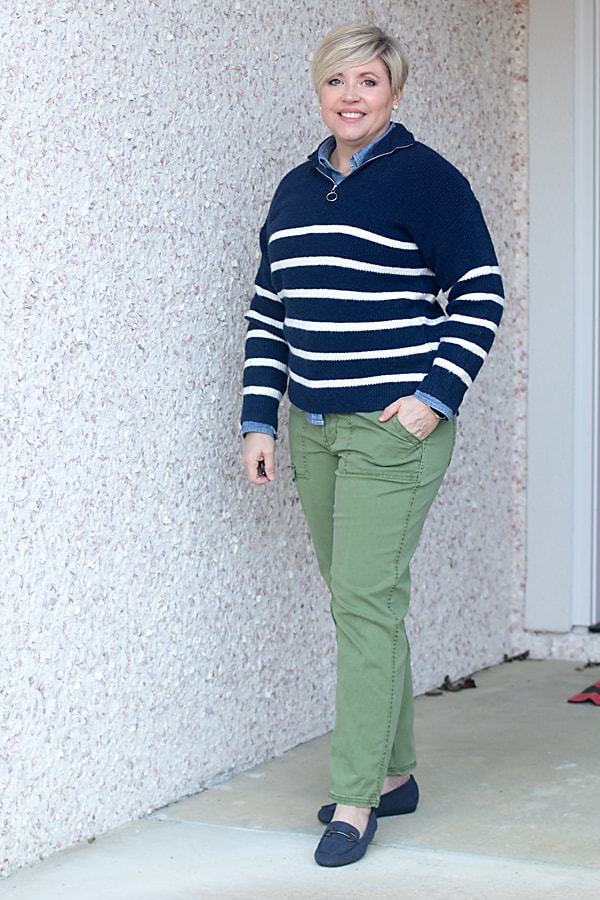 Sweater- Amazon; chambray- Old Navy; similar; pants- Walmart; loafers- Nordstrom; similar; similar
Cargo pants are a versatile and practical addition to any wardrobe. They offer both style and functionality, allowing individuals to create countless outfit combinations for various occasions. Whether dressed up with a dressy top and flats or dressed down with a casual t-shirt and sneakers, cargo pants provide endless opportunities for self-expression. So embrace the trend and experiment with different looks to find your perfect cargo pants outfits that reflects your unique personality and style.
Shop Cargo Pants