One of fall's and now winter's hottest trends in footwear is lug sole boots. You may love them or hate them, but regardless they are everywhere. The lug soles have functionality to them so they have been around forever but came out as more fashion than function this year.
If the trend has been growing on you or you have been eyeing them and wondering how to wear them or if you can wear them over 40, keep reading for ways to wear lug sole boots.
There is a big variety of this style from lace up lug sole boots to tall boots with a lug sole, but I'm styling one of the season's trendiest styles- the lug sole chelsea boot. In particular, I have the Mia Jody lug sole chelsea boot, which I think is last years version. This year's version is the Jonna by Mia, but both are available for purchase. I purchased this pair in both sahara (taupe) and black once I decided on this pair. I'll be styling both for you in this post.
For a history on lug soles and way to wear a variety of lug sole boots, check out Bridgette Raes post on lug sole boots.
Lug sole chelsea boot outfits can be created from a variety of things in your closet.
They work really well with this season's straight leg or straight cropped jeans. Let them show with your cropped jeans or hide some of the shaft under a pair of straight leg jeans.
Chunky boots and chunky sweaters are a match made in heaven so wear your boots and jean swith a cable knit sweater (another trend for the season and totallly doable for the woman over 40). Add a fun beanie.
Sweater- Gap; jeans- Loft; option; option; boots- Mia; beanie- similar; option; earrings- Rocksbox
Contrast your dark black boots with light wash jeans and a light plaid shirt. A black turtlenck ( or dickie if it's too warm for layers and you need to fake it) brings balance.
Shirt- Old Navy- similar; similar; dickie- similar; jeans- Gap- similar; beanie- Amazon; boots- Zappos; similar
You can also wear lug sole boots with ankle pants or straight leg pants. I paired them with a pair of plaid ankle pants and a button front sweater. Boots and hats are a great combo as well and they can give a little edge to your look, so top off your outfit with a felt wide brim hat.
Try this outfit with red plaid pants or bottoms, or any color plaid given that the rest of the outfit is neutral.
Hat- Forever 21; shirt- Land's End via Amazon; sweater- Target- option; option; pants- option; option; earrings- old/ option; option; necklace- old/ option;
Another jeans and boots outfit. Notice the jeans come just to the top of the boot so most of the boot is still showing. This is a pair of crop flare jeans that have just a little flare.
Give dresses and skirts a cool relaxed vibe with lug sole chelsea boots.
While you can wear any lug sole boot you choose with dresses and skirts, I like the polish of the chelsea boot when pairing them with dresses and skirts.
This ribbed knit midi dress is a perfect dress for chelsea boots, especially with the little bit of heel and added height of the chunky sole. Add tights for a colder climate.
Dress- Old Navy; cardigan- Amazon; earrings- Kendra Scott; boots- Mia
A shorter dress in feminine florals also works well with chelsea boots. Top it with a chunky sweater.
Dress- Amazon; cardigan- similar; boots- Mia
See these boots here with a sweater midi skirt and with a slip skirt.
Wear your lug sole boots with leggings and chunky socks.
It's becoming a "thing" of style to let your socks show and chelsea boots are the best with socks. Wear this combo with leggings or skinny jeans tucked into your socks and boots. My favorite socks are boot socks from Gold Toe (and not just for wearing with boots but for everyday because they fit my large calves when other crew socks don't.) Top your leggings with another trending item- the shacket.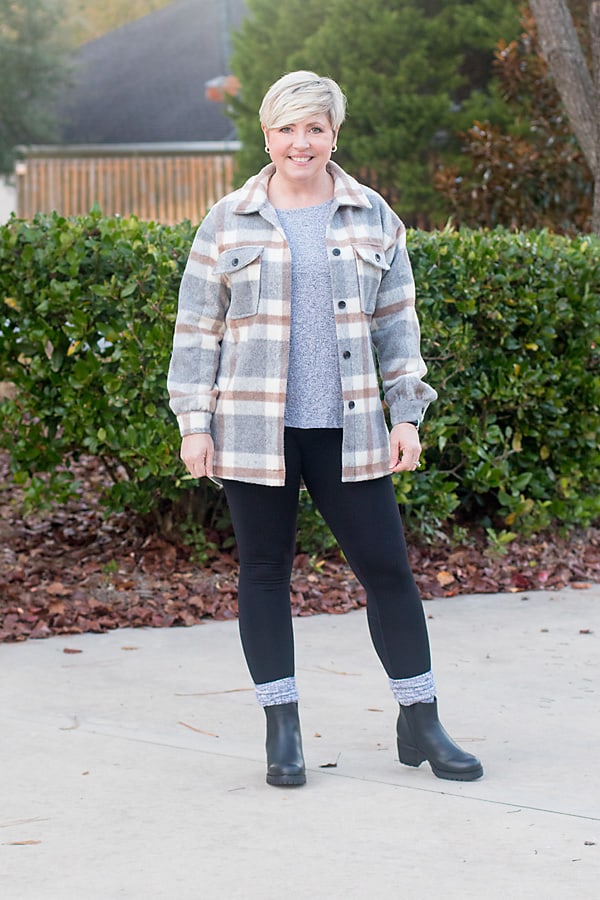 Shacket- Amazon; option tee- Old Navy; leggings- Amazon; socks- similar; boots- Mia
Are convinced now that you need a pair of lug sole boots?