Did you blow the budget on Prime Day? I picked up some things we use regularly at a discount and a few things from my wish list, but I didn't really buy anything big or extravagant just because it was on sale. I'll admit it's a fun to start with and by day 2, it's just overwhelming and I'm done with it. I did some shopping for a few new pieces for work wear for the summer just before the Prime sale, so most of my budget went there.
Now all the hype over the Nordstrom Anniversary Sale will really crank up. You can check out the dates here. If you want to shop early, you can apply for a Nordstrom card here. The sale is the only reason I have a card as I only shop Nordstrom a couple of times a year otherwise. Tell me- will you be shopping the Nsale this year or do you not even want to hear about it?
Regardless of where and when you shop, we all have to get dressed and it can be a chore in the summer. It gets so hot and humid here that I don't even want clothes to touch me. If you need some motivation or inspiration for getting dressed, here are the outfits I've worn over the past couple of weeks.
Work/office
I pulled out some oldies for this one. I've had the coral blazer for several years as well as the top. I like to bring in bright colors when putting together work outfits for the summer.
Blazer- Forever 21; option; option blouse- Belk; option option plus size option pants- Ann Taylor; shoes- Nine West option option
Work/court
Have you ever noticed that pieces from the same store or same line work well together, even if purchased during separate seasons? I've had this Loft top for several years. I paired it with navy Ann Taylor Loft pants that I purchased this year and an Ann Taylor Loft blazer that I purchased via Thred Up in 2019. I didn't even give thought to them being from the same brands until I started writing up this post. I find nothing wrong with having multiple pieces from the same brand/store. Sometimes I like to mix things up and shop at other places, but when the majority of your items come from similar places, they tend to coordinate better, even if you didn't initially purchase them to pair together. I tried on a couple of different pairs of shoes with this but decided the snakeskin loafers picked up the hint of gray/slate from the top and created some nice texture. Plain taupe/nude shoes were boring with this.
Blouse- Loft; option; option pants- Ann Taylor; blazer- Ann Taylor via Thred Up; option; option loafers– similar loafers
Work/Office
Neutrals work year round. I paired a black lace top with tan pants and a black blazer. The leopard pumps add a little interest.
Blazer- Gap/old; option; option; blouse- old; option; option; pants- Loft/old; option; option; pumps- Vince Camuto option
Work/Office
I favor my white linen blazer for summer work wear but this ivory color blazer is a great option when I don't want to spend a lot of time steaming out wrinkles. I purchased it from Amazon and it's a great option for a white blazer for the summer. A white blazer is hard for me to keep clean and presentable, so I go through one every summer season or two. This one was a great inexpensive option to rotate in during the summer and I can throw it in the washing machine. Sometimes these blue pants stump me on what to wear with them, but I was pleased with how this ensemble worked out. I took inspiration from an outfit featuring chambray linen pants and a beige tee.
Blazer- Amazon; same brand/similar sweater- Loft; (exact) ; option pants- Loft; shoes- Target
Saturday errands
The hubby and I ran some errands together and these shorts arrived just in time for me to take them for a spin. I'm obsessed with linen everything this summer.
Shorts- Old Navy/ exact; shirt- Target; earrings- Amazon; option shoes- Yellow Box; option
Sunday errands
The sandals are a new purchase from Kohls and the shorts are new from JCrew Factory. The top is a Jcrew Factory purchase from the spring. A trip to the grocery store seemed like a great time to try out the new pieces.
Work/ office
This blazer is a bit heavy for our hot summers but tolerable in the office. A bright colored top keeps the summer vibes in this office outfit.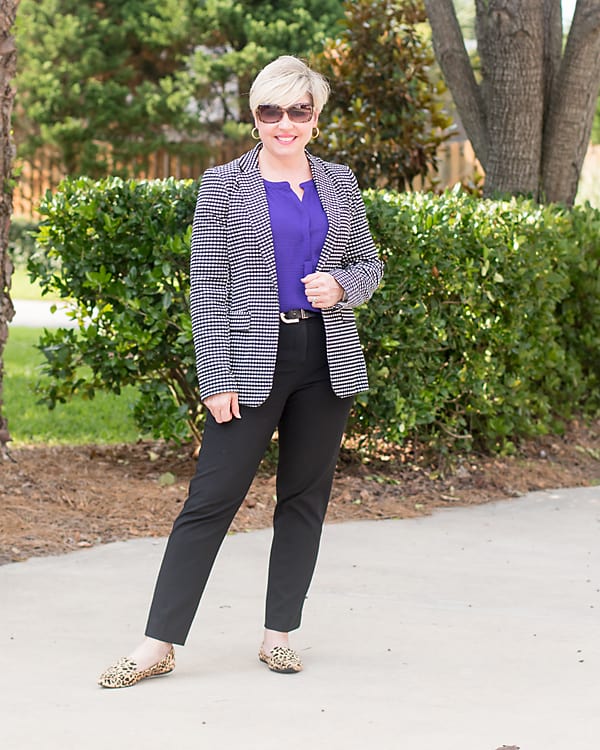 Blazer- Banana Republic/ old; blouse- old; pants- Ann Taylor Shop the Look
Work/doctor's appointment
I paired this outfit with a white blazer while I was at the office, but then left it off for a trip to the doctor. This top looks awful in the photos. I think the tuck on the shirt needs adjusting, but the top really is the cutest thing in person with its smocking and flutter sleeves.
Top- Banana Republic Factory; pants- Ann Taylor Loft; shoes- Amazon
Work
This top quickly became a favorite. It pairs perfectly with everything- white, olive, navy, coral. I paired it with olive pants and a pink blazer for a day in the office. This top is ideal for summer work wear as it's a cool cotton with lots of bright colors.
JCrew Factory top; pants- JCPenney; blazer- Banana Republic/ old- option/option; shoes- Amazon
Saturday – At home
I took some photos for content for the blog and Instagram and ended up in this tie dye top and denim shorts for the remainder of the day. The sandals are pretty fun and a great knock off if you don't want to invest in the more expensive studded sandals.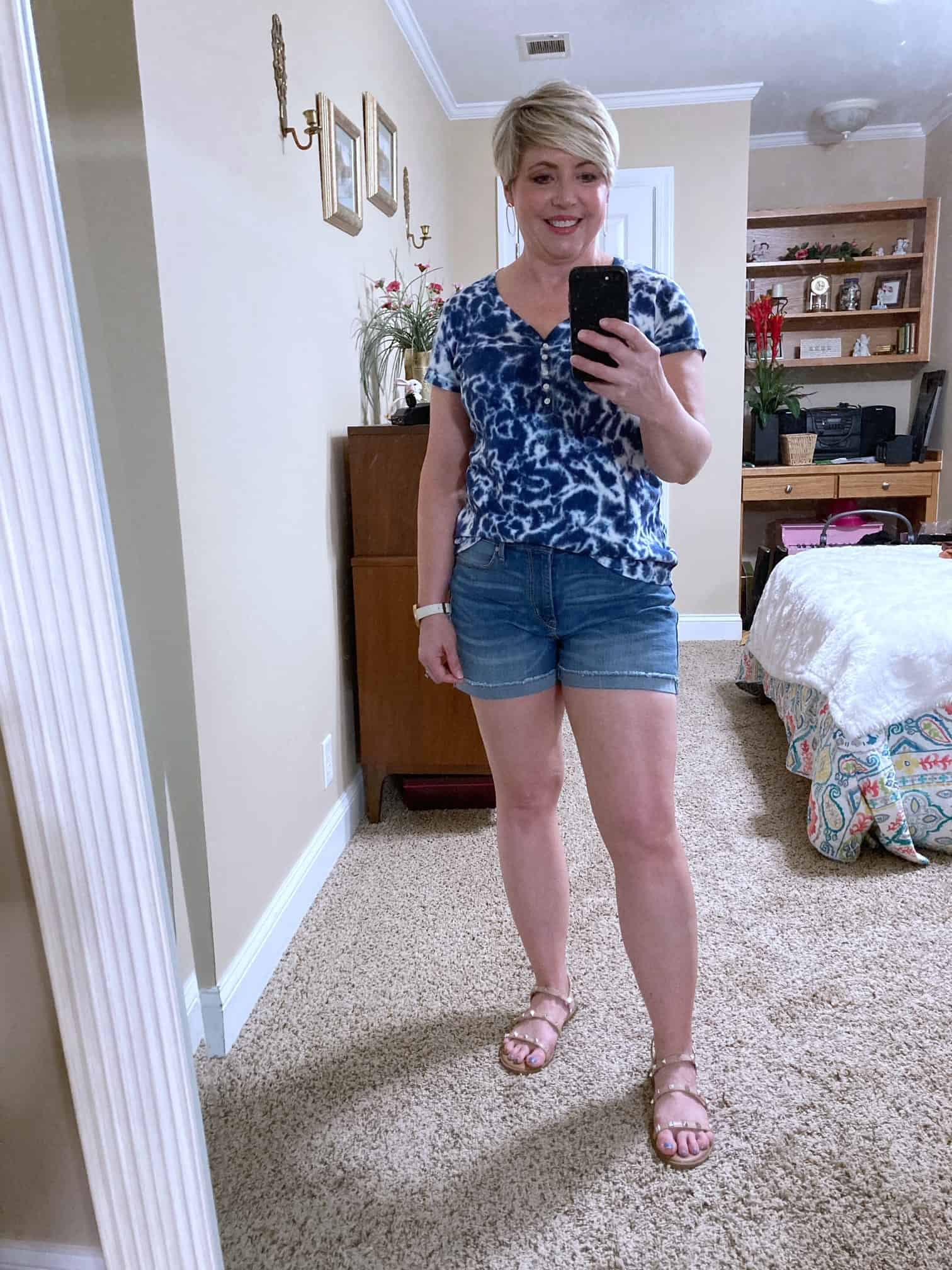 Top- Kohls; option; shorts- Target; sandals- Kohls
Sunday- lunch with family for Father's Day
It can be a bit warm at my parents house so I dress for it. This linen tee was perfect for a summer day. I also love this olive tee with embroidery in the yoke. These Loft outlet chino shorts are a 6 inch inseam if you are looking for a more modest short.
Top- Old Navy; shorts- Loft Outlet; sandals- DSW; headband- Amazon; bracelet- option