Happy Saturday! If you are new here, welcome! This is the day I share what I wore during the previous week- work and casual. I omitted some of this week's outfits because I photographed them for upcoming blog posts. You will see them soon!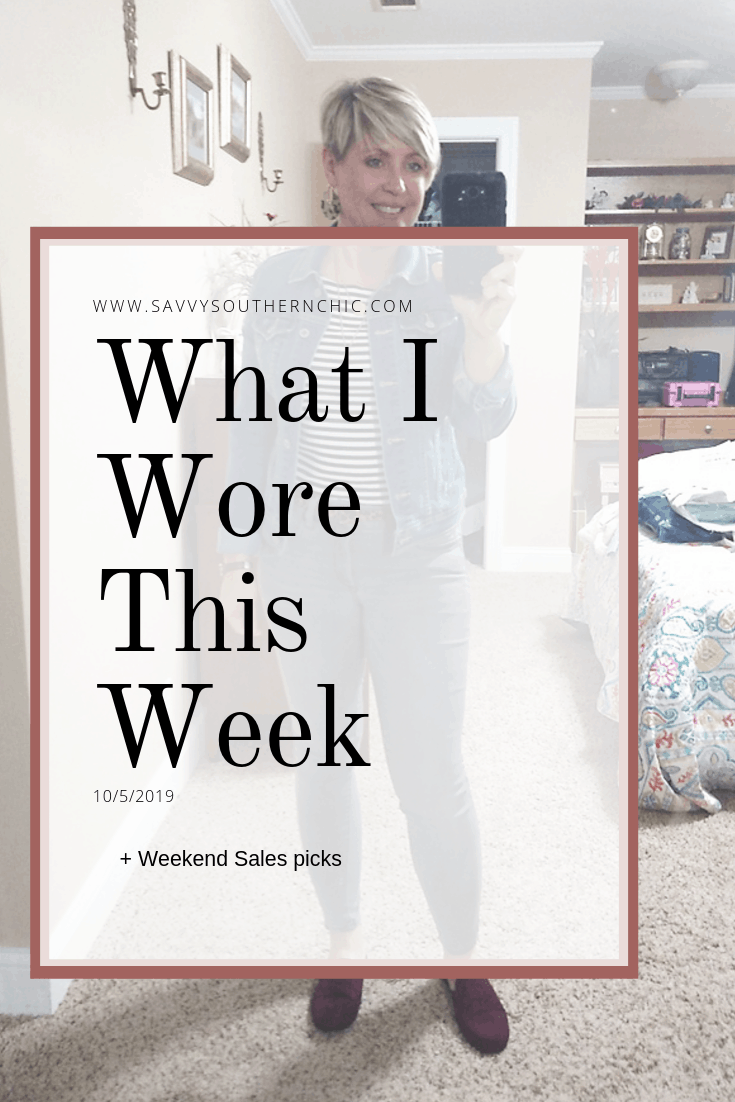 This post contains affiliate links. I make a small commission from your purchases through these links. Thanks for your support.
Saturday- Last Saturday the hubby decided to go for a craft store run to get some leather for a project he decided to start. I had to make a return to Hobby Lobby anyway, so I gladly accepted his invitation to accompany him and have dinner out. It was a super casual outing and it's still very hot, so jeans and tee fit the occasion. I really like this Old Navy Luxe tee. It's a rayon jersey with a cool silky feel. It's one sale today for $12.
Tee- Old Navy; jeans- Nordstrom; similar similar necklace- old; similar earrings- Amazon; shoes- Steve Madden snakeskin version
When it finally gets cold enough for a jacket here, I can repeat this with my moto jacket. (similar)
Sunday- You may have seen this in Snakeskin jeans: 5 Ways to Style Them this week. I wore this to church Sunday.
Monday– Work- I've not been planning ahead much so I grabbed matching suits for a couple of days. I did get comments and compliments on my "blue suede shoes."
Blazer- JCP/ Worthington; Pants- JCP/Worthington; blouse- JCP; shoes- Payless option
Tuesday- work- Boring but dressed
Thursday- We went out to eat with some friends from church Thursday evening so this is what I wore. I got away with the jacket in this heat due to the cold indoor AC.
Denim jacket- Old Navy; shirt- JCrew Factory; jeans- NYDJ; belt- Target; similar shoes- Lifestride option option
Weekend Sales
Old Navy is having some great deals but they are for today only. Up to 50% off pants. 50% off fleece- sweats and joggers- my pick is the camo sweatshirt , the good times sweatshirt and the v-neck polka dot sweatshirt. $15 puffer vests
JCrew Factory– up to 60% off fall styles.
Sherpa jackets 40% off at Cents of Style until 10/8 code SHERPAS
80 days til Christmas! Don't miss the Jane deals on tees, decor and gifts!
Have a great weekend and happy shopping!