Do you look for ways to maximize your wardrobe and get more wear for your buck? If you are like me, you may tend to categorize things into "work wardrobe" and "weekend clothes."
But what if you looked at your clothing as a whole and found those pieces that work both ways? I try to do that from time to time, and it's been a while since I've done a work to weekend post, but I'm back with one.
I've had red, white and blue on my brain a lot recently and when I wore this blue and white striped top to work recently, I thought about how it would make a cute red, white and blue weekend outfit.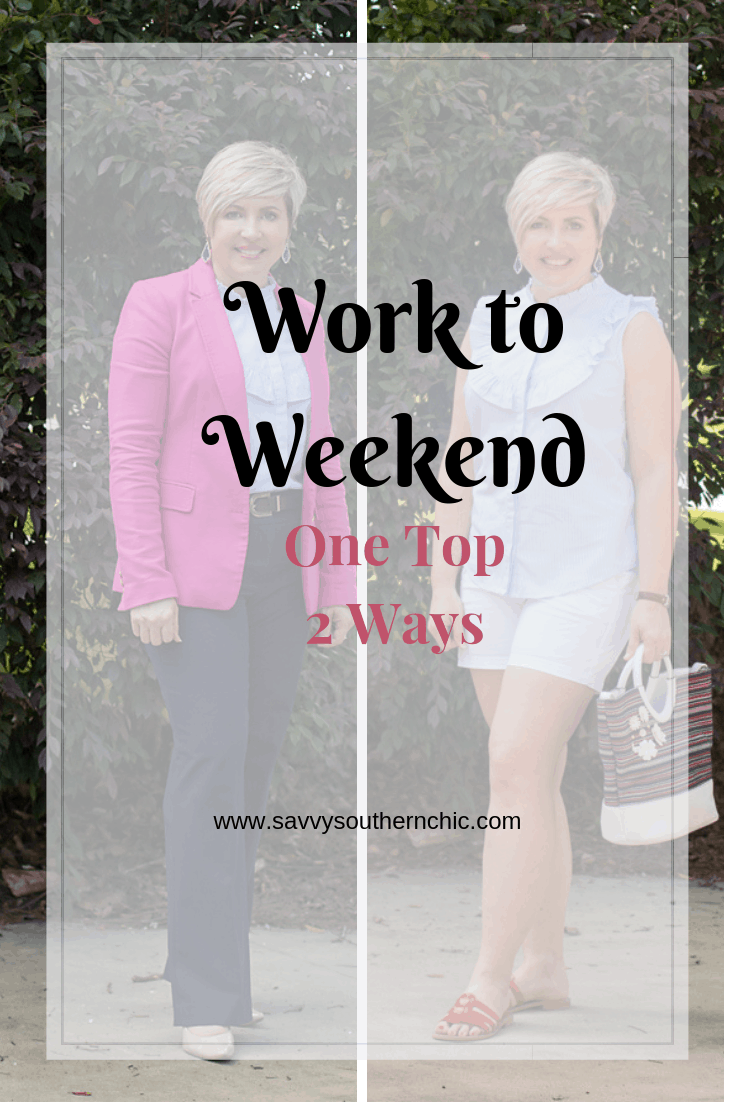 First, the work look.
I paired this light blue and white striped top with navy trousers and a hot pink blazer. Blue and hot pink give off such great summer vibes.
Navy is a great summer color too. I added a little contrast and pop with the cobalt earrings. Since there is a lot of color going on up top, I chose nude pumps for this outfit.
This post contains affiliate links. I make a small commission from your purchases through these links. Thanks for your support.
Blazer- Banana Republic via Thred UP; option; option top- TJMaxx (old); option option option pants- Loft; option option shoes- Payless (old); option option earrings- Kendra Scott option
Next, the weekend look:
This cute sleeveless top is perfect with white shorts. I added red slide sandals to complete a red, white and blue look. The red, white and stripe tote brings in a little more red. I kept the blue earrings with the look.
The ruffle detail goes all the way around, so this is the perfect little top for wearing as is. It doesn't need any layers or accessories.
Top- TJMaxx; shorts- JCPenney; option option sandals- Macy's; tote- JCPenney; earrings- Kendra Scott option
Do you interchange your work wear with your weekend wear? I hope this post has inspired you to look a your wardrobe a little closer to see how you might wear certain pieces different ways and get more wear out of your clothing.
Shop gently used items via my Poshmark Closet.