Oh how time passes when you start counting! How is it that we are at week four of this little series? If you want to know what this is all about, read this post. I've been wearing all the forgotten, ignored and unworn pieces in my closet.
Friday
I make a small commission from your purchases through links in this post. Thanks for your support.
Blazer- old; option option option top- thrifted; similar (limited sizes but a steal!) option pants- JCP; option option necklace Kendra Scott; ear crawlers- JCrew Factory;option option option shoes-Nordstrom
This is a perfect fall work outfit. The animal print top and teal pants are saying fall to me, even though I'm not focusing on fall. I'm still trying to wear all the summer things that haven't been worn, and kept a little summer with the turquoise necklace. So what's the ignored, forgotten or unworn? The pants and top and necklace. It's been about 2-3 months since I've worn the pants and until just before starting this challenge, I had not worn the top in a long time. These pieces have seen a good amount of wear in the past, just not recent wear, and they aren't on repeat much. It's easy to ignore colored pants when you think you don't have time to really put some effort into an outfit, but paired with neutrals colored pants are still easy to wear. The shoes are new (and all day comfy!) so they are a repeat but one of the very few repeats so far. It's kind of hard not to repeat work shoes when my office limits me to closed toe shoes or peep toes only. No sandals, etc.
Saturday was another stay at home in pjs, lounge wear and workout wear.
Sunday- church
Top- Old Navy; option option option jeans- Old Navy; option option shoes- JCPenney; option option option earrings- Amazon; bracelets- DIY; watch- Alison+Aubrey
The Ignored/ Unworn: The top and shoes. They haven't been worn at all this summer. Not sure why. I really like the top and immediately think of lots of option for shoes and bottoms when I put it on- white bottoms, pink sandals, pink pencil skirt, etc. I bought it last year (or year before? I lose track), but then didn't even think of it when summer rolled around. I was too busy focusing on the new things I bought for summer. Same for the shoes. I just don't have enough weekends to wear the casual stuff.
Here's a look at how I wore the top last year, the one and only time I remember wearing it. I haven't touched the skirt, sandals or bag in the outfit this year, but I still have all of it.
Skirt– Loft outlet; shoes- Payless; option striped tote- NY&Co. ; option earrings- Amazon option
Monday- back to work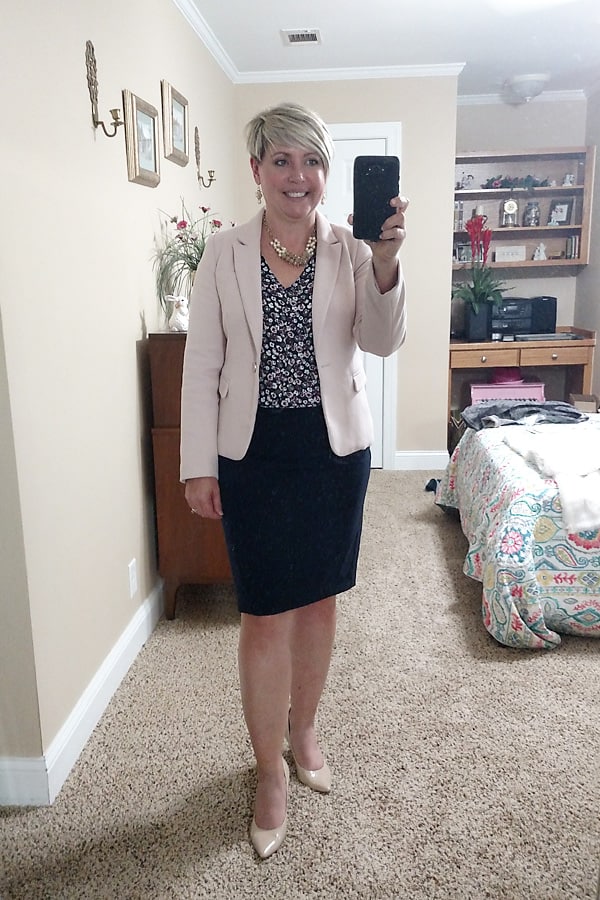 Blazer- Limited; top- Joe Fresh; option option skirt- JCPenney; necklace- Sears; earrings- Sears; nude pumps- Payless option
The Unworn: the top. I've had it for a couple of years but haven't worn it at all this spring or summer. I could wear it into fall by pairing it with some olive or burgundy. The skirt! Also not frequently worn, although I have worn it once this year already. Does that count? The necklace and earrings are probably 7+years old and have seen frequent wear. I highly recommend having something similar in your jewelry box for work. When I put it on this time, I realized I need to replace it because the chain part has tarnished. Or, just had a thought- Maybe I can just replace the chain/ clasp? I have jewelry tools and need to take a closer look.
Tuesday work
Jacket: Loft; option pants- Loft; option option blouse- JCPenney; option shoes- DSW; option option option earrings- Amazon
This suit gets a ton of wear. So what's the unworn? The top. I bought it last year and I think I've worn it twice. It has potential and purple is supposed to be popular this fall. It's a nice tunic length that covers the bum for leggings and skinny jeans untucked, but it has a button top that gaps. Argh. It requires safety pins and fashion tape to wear it. Maybe I should just get needle and thread and tack the button placket closed? It's covered so yo would never see. My leopard pumps also haven't been worn in a while, but this is the second pair as I completely wore out the first pair I owned.
Tuesday evening
shirt- Loft (old); option pants- ?; option option option jacket- Old Navy; shoes- Kohl's; earrings- Amazon
We actually made it to Bible study Tuesday night and this is what I wore. The ignored/unworn: the shirt and the pants. I bought this shirt last summer and wore it once. I love these pants (super comfy) but still only wear them about once per year.
Wednesday
Blazer- JCP; pants- JCP; shirt- JCrew Factory; option shoes- Payless; option option earrings-Loft outlet
The ignored: the shirt. I used to wear this shirt ALL.THE.TIME. Now I rarely do but I still like it. I repeated the cognac pumps from a couple of weeks ago. This is a pretty boring, matchy matchy suit/ outfit but sometimes that's the most appropriate for my work day.
Thursday (today)
Blazer- old; option top- Nordstrom; option option pants- JCPenney; shoes- Nordstrom; necklace- Kendra Scott; similar earrings- Ann Taylor
The ignored– the pants and earrings. These pants have seen a lot of wear in the past but I don't think I've worn them since the winter. I wear red year round but mostly summer, fall and winter. The blazer is over 20 years old and has seen lots and lots of wear. This top has seen a good bit of wear too. I should wear these earrings more often but they tend to get forgotten and skipped over.
Next week should be interesting, especially for work wear. I think I've cycled through most of my pants so I may be repeating bottoms. I could wear skirts all week but that won't be practical.
Shop my Poshmark closet for gently worn items.