Today I'm styling two cute work outfits that both feature red shoes. If you don't have a pair of office appropriate red shoes (and you work in an office), I highly recommend you add a pair now. They can add so much punch and variety to your office outfits.
Disclosure: This post contains affiliate links. I receive commission for clicks and purchases made through them.
If color is out of your comfort zone, the easiest way to wear red shoes is to pick another piece with a hint of red in it to coordinate with your shoes. This floral shell with a ruffle trim was a Nsale purchase and has just enough red to compliment the shoes.
By the way, this shell is on sale again and it's totally worth the purchase. It will go with so many things in your closet and you can wear it now and well into fall. I can see me pairing it with olive and pink as well. The material is soft and smooth and it has a nice cut, not too boxy. I've previously worn it with jeans (and those jeans are also on sale again.)
Blazer- thrifted OPTION OPTION
top- Nordstrom
pants- Loft OPTION
shoes- Nordstrom Rack OPTION OPTION
earrings- old
This second outfit also has a top with a hint of red. I've previously worn the pants and top together, and I mentioned then I already had this outfit in mind. The same two base pieces became a different outfit with a different blazer and different shoes.
Pick a neutral piece to add to your outfit as well to keep the focus on the red shoes. The navy blazer serves this goal in these two outfits. It also grounds and tones down the looks so they aren't too bold for the office.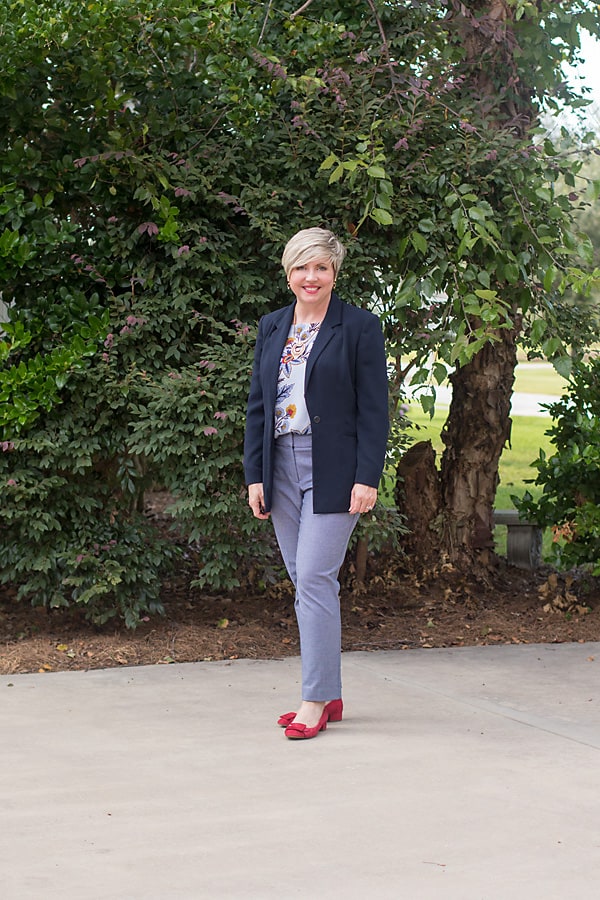 Blazer- thrifted
top- Loft OPTION
pants- Loft
shoes- Nordstrom Rack OPTION OPTION
necklace- Stella and Dot
earrings- Ann Taylor OPTION
I hope this gives you some inspiration for some cute work outfits, and that you have the courage to wear red or bright shoes to work now. I also hope you have today off and are shopping some fun sales, maybe some things to add to those cute work outfits.
Shop red flats:

Just for fun I thought I'd play along with The Blended Blog asks.
1. Slippers- yes
2. Favorite blanket- don't really have one
3. Thick pillow
4. Favorite warm beverage? COFFEE
5. Robe- yes
6. Favorite comfort snack food- trail mix
7. Movies
8. PJs
9. Couch
10. I'm for hoodies all the way if I'm staying in. Going out its a sweater.
What about you?