At some point during your working career or your spouse's, you will receive an invitation to a retirement party. Maybe you will attend the retirement of a family member or close friend. Retirement is a goal we all have to be able to stop working and have more free time. It's quite an achievement to stay at a single job or career long enough to retire. That achievement deserves honor and celebration. It's a big day for the new retiree.
These invitations often come at the close of a year. Once you receive that invitation, the next question is going to be what to wear to a retirement party?
I've got a few different options to wear to a retirement party, ranging from dressier than casual to business casual to just casual. It all depends on the type of social occasion, decorations, and other details. However, the selection of an outfit is not tough if you know the theme of the party. So ladies, figuring out the retirement party dress code is a must if you are invited to a retirement party. Because you just never want to look awkward in the wrong dress code or make a faux pas.
A retirement party should be approached much like dressing for a wedding or bridal shower. There are lots of retirement party ideas and themes, so it's important to know the type of retirement party you are attending and the dress code. The attire for a corporate retirement party will be much different than a party for someone retiring from public service or a manufacturing job.
Regardless of the type of party, keep in mind that the celebration is about the guest of honor. Your attire should be conservative and respectful. It's not necessarily a time to pull out your most daring attention getting outfit. You made the guest list because you are an important part of the honoree's life.
That being said, I have gathered four retirement party outfit ideas for you.
What To Wear To A Retirement Party
Wear A Floor-Length Dress For Formal Retirement Party
While cocktail dresses are shorter, you may find a long evening dress appropriate for a corporate retirement party setting. For women thinking about white tie dress codes, wearing a full-length gown to the official corporate party is a good idea. This retirement party attire can be very flattering, especially at night parties.
For the white tie dress code, which is the most formal one, it's preferred to wear a floor-length gown, gloves, and elegant updos. However, these days the black-tie dress code is more common. For this themed outfit, you can pair the full-length gown with flat sandals or opt for high heels if you like.
Black is always acceptable in this setting. Metallic colors like gold and silver are also celebratory and would be appropriate color choices for a floor length gown. Keep accessories minimal and sophisticated.
The empire waist column gown above features a side gather. It has just enough detail to show you dressed with care for the occasion but it's not too flashy. It comes with a three-quarter sleeve bolero jacket for arm coverage. It's the perfect gown for those end of the year winter retirement parties. Wear a simple but stylish closed toe shoe. Add a silver clutch and simple stud earrings and a dainty necklace.
Stay Dressy And Chic With A Cocktail Dress Code
The cocktail dress code for women means short dresses that are more formal and bridge the gap between formal and casual. Note that short doesn't mean skimpy or mini. Mind the hemline.
Cocktail attire translates to both formal and semi-formal. You may find this dress code fitting for a corporate retirement party. The men should wear black tie attire- a tuxedo, dark suit or black suit.
For a chic cocktail dress, you want to look classy, and feminine with a dash of fun and thoughtful detailing. For a timeless choice, a little black dress just never goes wrong. With appropriate shoes, a nice necklace or earrings, and a clutch, a little black dress can take you to any cocktail event.
A big question concerning cocktail attire is should you wear pantyhose? Those things are dreadful and immediately make some women want to stay home and forgo any formal dinner or formal cocktail dress.
If your comfortable baring your legs, skip the hosiery for all but the most formal events. Skip them if you are wearing a dressy sandal. You may find them more appropriate for the corporate retirement party.
If you do choose to wear pantyhose, opt for nude that matches your skin tone or black in a very sheer pair. Spend a little more on them. You don't want a cheap pair of pantyhose to ruin your look. This isn't the time for hosiery from a plastic egg.
The dress above is simple but elegant with a lace and velvet ruffle shoulder detail. Pair it with a drop statement earring and forego a necklace given the shoulder detail. A cute clutch and festive pumps complete the look.
Semi Formal or Dressy Casual Retirement Outfit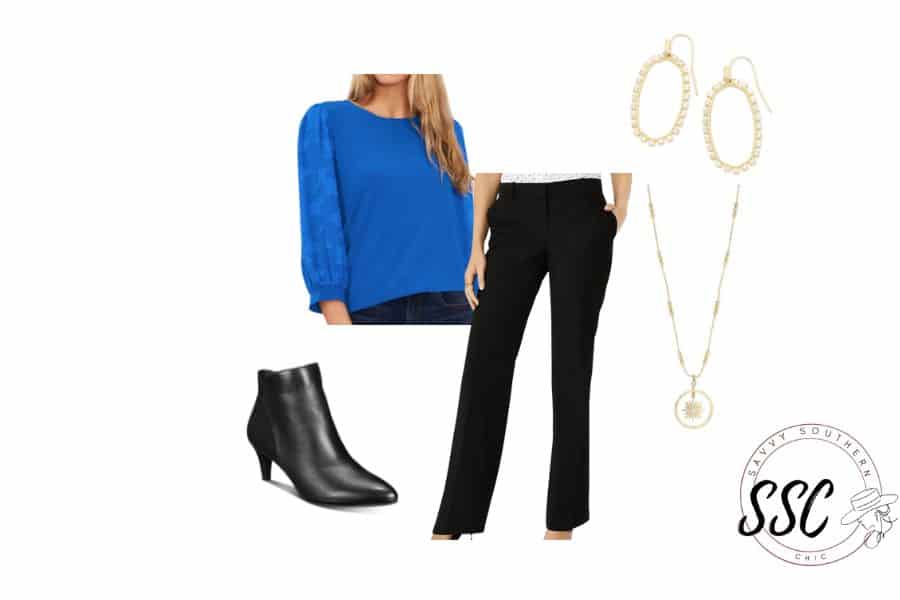 This is a step above casual, and not quite as relaxed as casual attire. This is a good choice for a retirement party that isn't formal dress code and isn't an outdoor barbeque event. It may be at a venue such as a rented hotel ballroom or meeting room.
A pant suit, trousers or skirt and blouse, simple dress or dressy jumpsuit would be a great way to dress for a retirement party with this dress code. While you can dress up jeans, I would recommend skipping them or wearing a dark wash, black or white jeans with a heel. Dresses can be of more casual materials than the finer materials used for cocktail dresses.
This dressy casual look features black trousers, a basic staple every woman should have in their closet. A lace sleeve blouse in bright blue compliments the black trousers. It's okay to wear bright colors to a celebratory event like a retirement. The simple lines of the blouse keep you from taking the attention away from the retiree.
Stay Casual With Jeans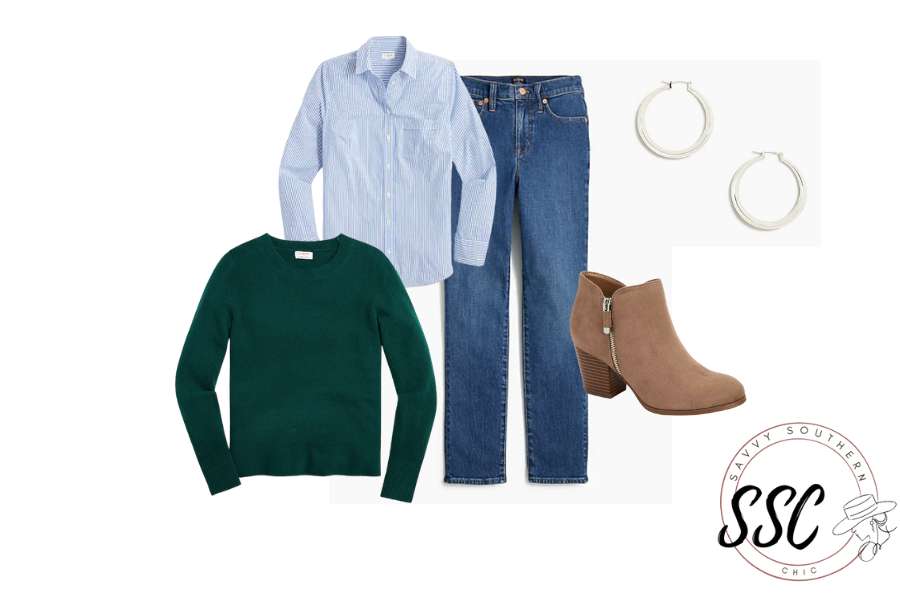 Comfortable and classy jeans are good to go for a casual look. This theme is often selected in family gatherings and with close friends. It allows you to choose comfort and styling together. For a casual family BBQ party, you don't want to overdress. A relaxed blouse and crisp pair of jeans are all that you need to keep your outfit looking fresh and comfortable.
If the weather is more on the chilly side, layer up a button up shirt with a knit sweater; just look put together even in the simplest look. You can also wear an oversized sweater with jeans to look casual yet stunning.
I hope these four retirement party outfit ideas give you a good idea to nail down the final look for upcoming retirement parties. These are only some of the suggestions that you can pick from when planning for a retirement party outfit. There is no right or wrong way to go, especially since your outfit should reflect how you are as a person. Stick to the dress code and dress to honor the retiree.
Retirement Party Etiquette
It's always proper and fitting to bring a thoughtful gift for the guest of honor. The best retirement gift ideas are those that match the retiree's personality, plans, or hobbies in retirement. You can also give them something that memorializes or symbolizes their career.