Ah Spring! It's here. It's time to shed the heavy coats and opt for a lighter weight jacket. Here are five spring jackets for ladies you should consider for your wardrobe. These will take you from work to weekends and in between.
Jackets to wear in the spring should provide both function and style. You may need protection from the wind and rain, or just a cute layer to knock off a chill. Spring jackets for ladies are often incorporated as part of their cute spring outfits.
Here are the top five spring jackets for ladies:
1. The trench coat
It's a polished layer to complete your work look. A trench coat is a classic coat worth the investment.
In addition to polishing up your work wear, you can throw it on over jeans and sneakers for a cool vibe. Go for a trendy look in a bright yellow trench. While it may get some trendy updates with color and patterns, a trench coat will neve go out of style.
Shop trench coats:
Two years ago I invested in a trench style that doubles as a rain coat. I love the pop of color on a rainy day.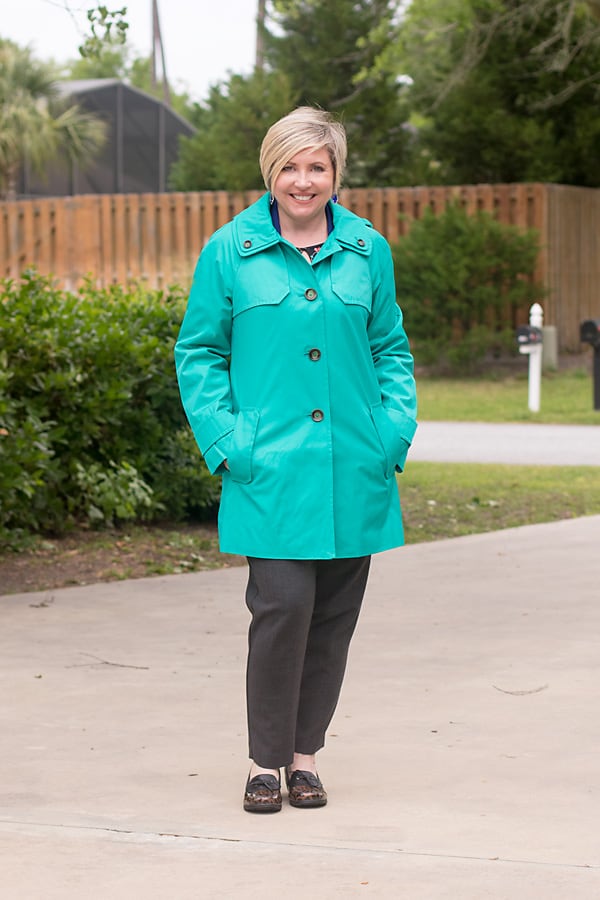 ---
2. Utility jacket
A utility jacket is the best jacket for weekends. I was hesitant to get one but I've more than gotten my money's worth. I even replaced my old one.
A women's utility jacket is great with jeans but works with dresses too. A utility jacket is one of the best spring jackets to wear with dresses. An olive utility jacket is a great neutral that goes with everything in your closet.
Shop utility jackets: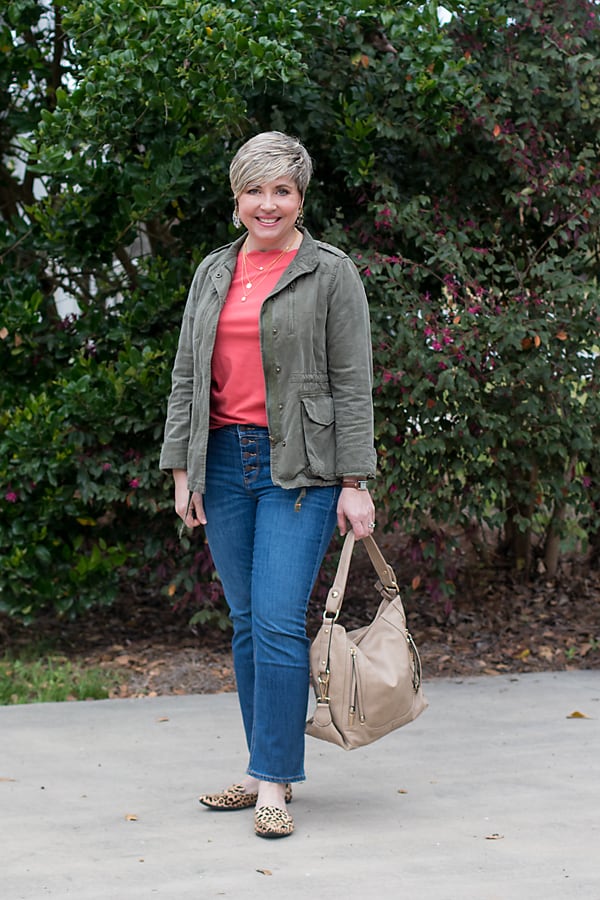 My old utility jacket- similar
Related: 7 Ways to Wear a Pink Utility Jacket
---
3. Denim jacket–
A denim jacket looks good with everything from pencil skirts, shorts, dresses to crop pants. Check out my how to wear a denim jacket board. I carry my denim jacket during the summer too for indoor restaurants and stores that have the AC too cold.
Check out 15 Ways to Wear A Denim Jacket for Spring.
A white or light wash denim jacket is also a great option for spring.
Shop denim jackets: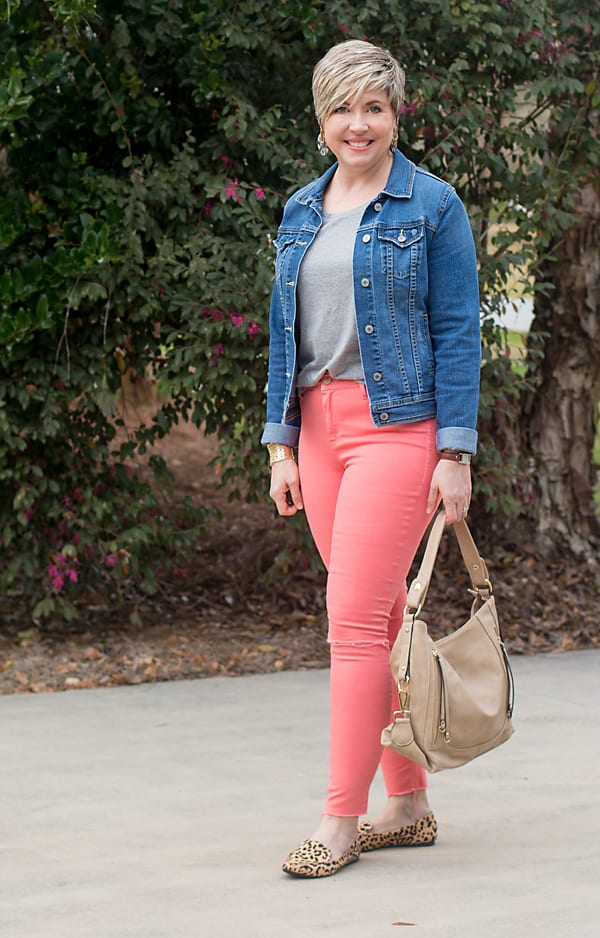 ---
4. Moto jacket
Moto jackets come in lots of lightweight options and colors that are perfect for spring. Go with a lighter color for spring vibes.
Try a soft suede moto jacket instead of a heavy leather one. There are also lots of moto style jackets made from other materials like knit, twill and tweed that are perfect spring jackets for ladies.
Shop moto jackets: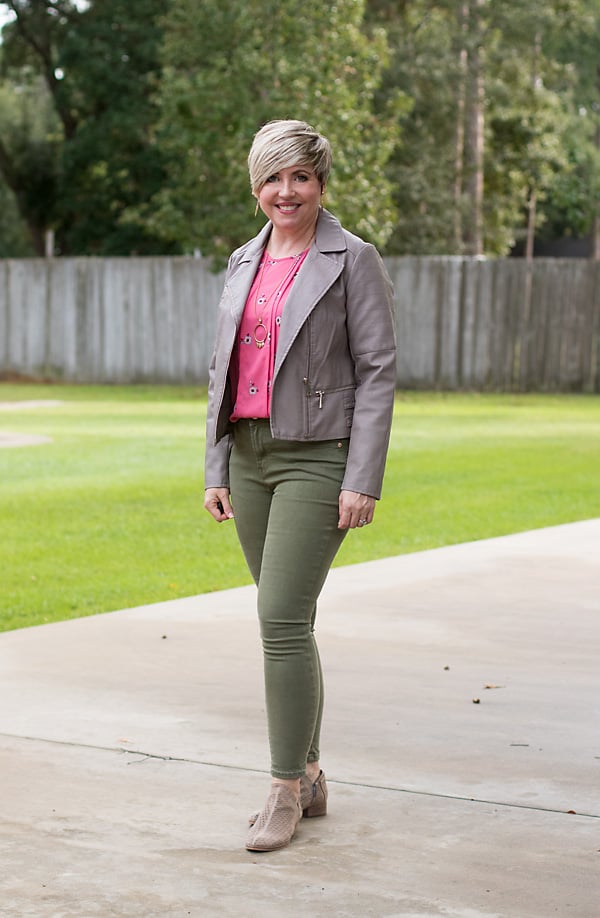 ---
5. The Shacket
The hottest new trend in jackets for spring is the shacket, or shirt jacket. Some love them, some have said "No way. I can just wear a shirt over a top."
I didn't jump on this bandwagon when the shacket came out but they are growing on me now that they are sticking around for spring. I always find the look of a button up shirt layered over a tee or top sloppy on me, so I like the extra structure a shirt jacket offers. There are lots of spring colors and fabrics available.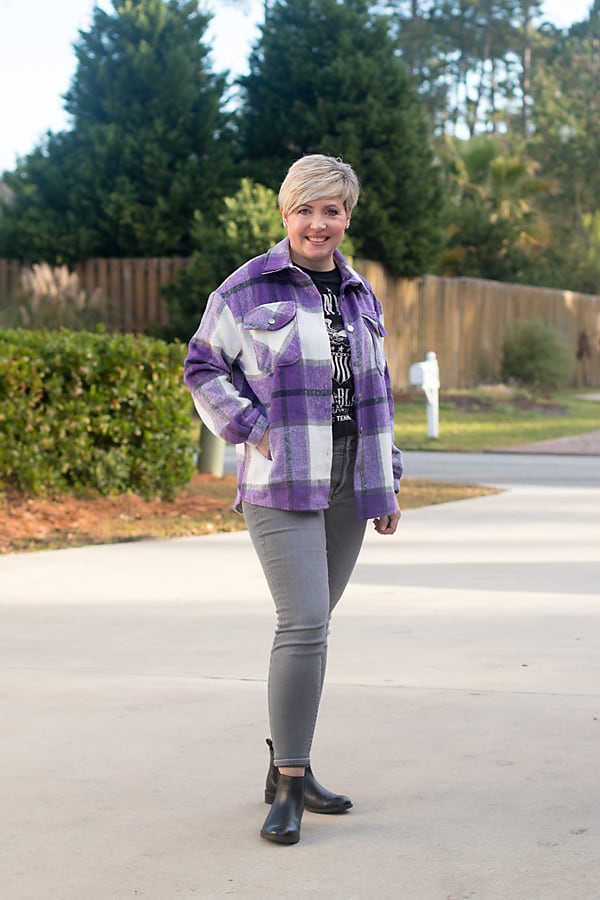 Shacket- Amazon
Need help styling your jackets? Invest in a capsule wardrobe like Closet Staples from GYPO for lots of great ideas.