The utility jacket was originally created for those who worked outside in inclement weather and had a need for multiple pockets to hold tools and supplies. The women's utility jacket has evolved into a fashion staple. Not only can your outerwear serve its purpose of keeping you protected from the elements, but it can also be a stylish part of your outfit.
Spring is the perfect time for a utility jacket in a lightweight and pinks and purples will be trending this spring, so why not combine the two into a functional but stylish piece? This lightweight twill utility jacket featured here is an older piece but this one from Gap Factory is a great option.
A utility jacket makes a great piece to have if your style is sporty chic.
Keep reading for 7 ways to style a pink utility jacket.
With black jeans
Pink and black are a great combo. Create a sporty look with a striped tee and black jeans and slip on snakeskin sneakers. If you want a preppier look, swap the sneakers for loafers.
With dark wash jeans
Pair a pink utility jacket with dark wash jeans and a grey tee. Lighter grey sneakers complete the look.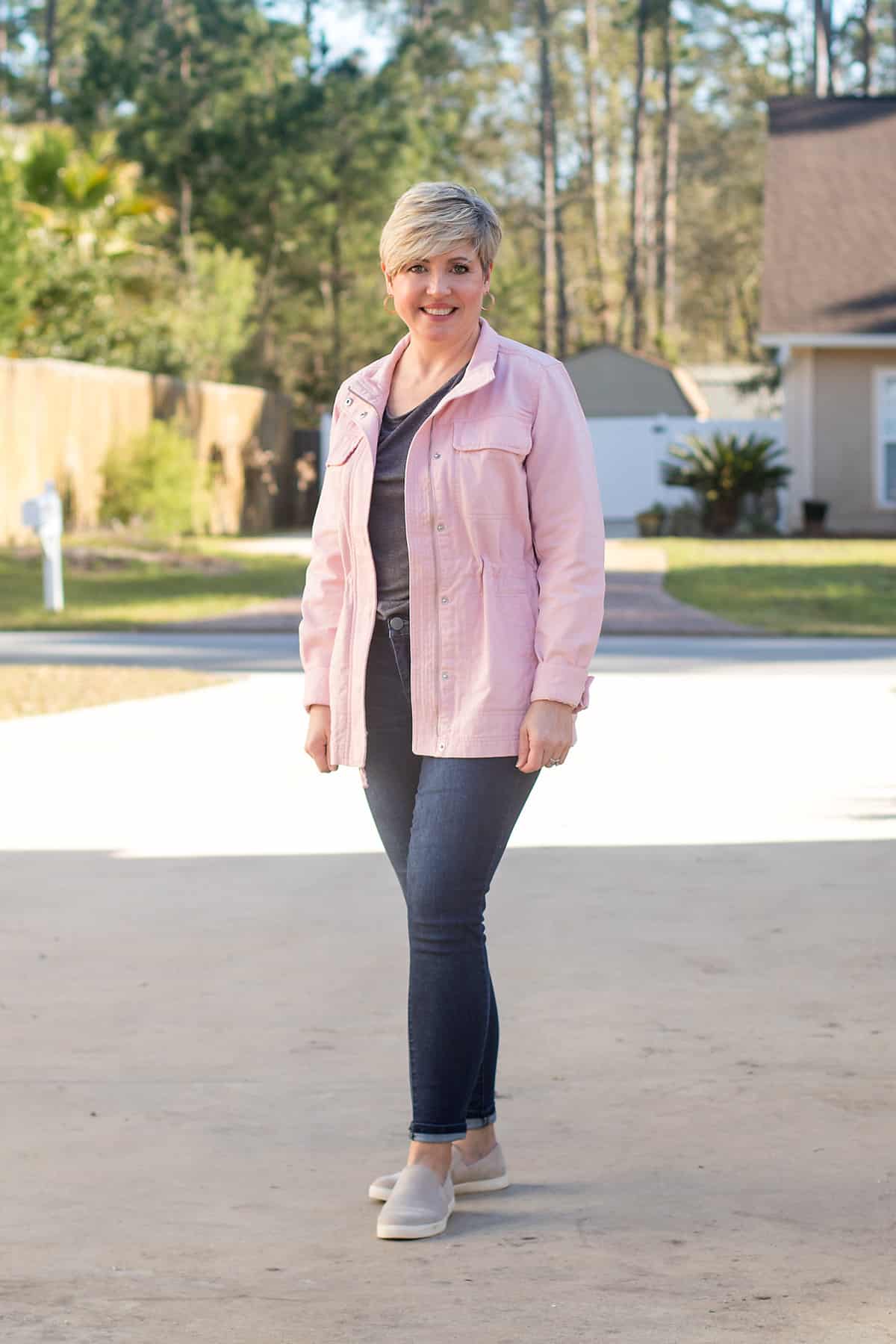 With grey jeans
Pink and blue make the perfect spring palette. Pair a pink jacket with a blue popover and grey jeans. Taupe booties dress this up just a bit.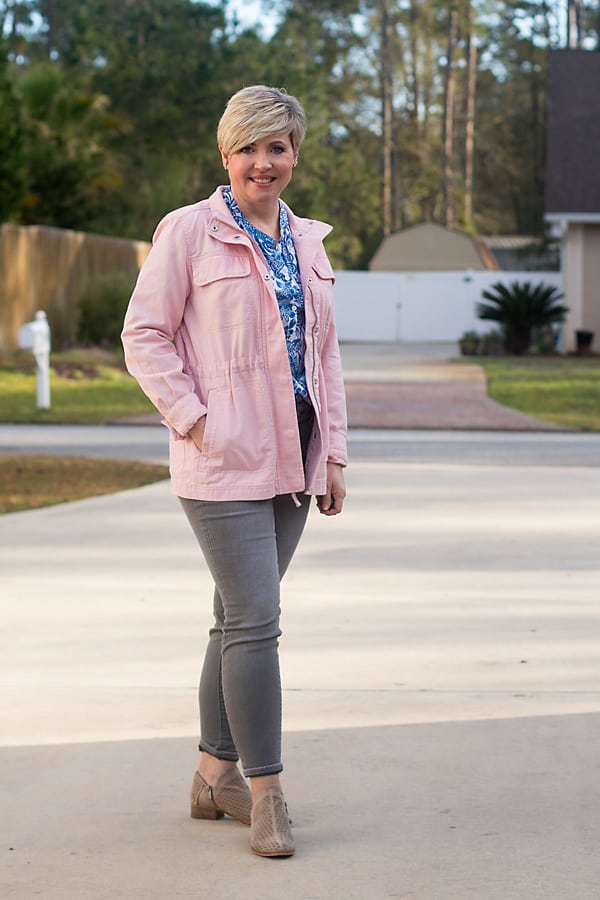 With a denim skirt
If your spring weather is warm, pair your jacket with a denim skirt. I chose a boatneck striped top and mules for this look.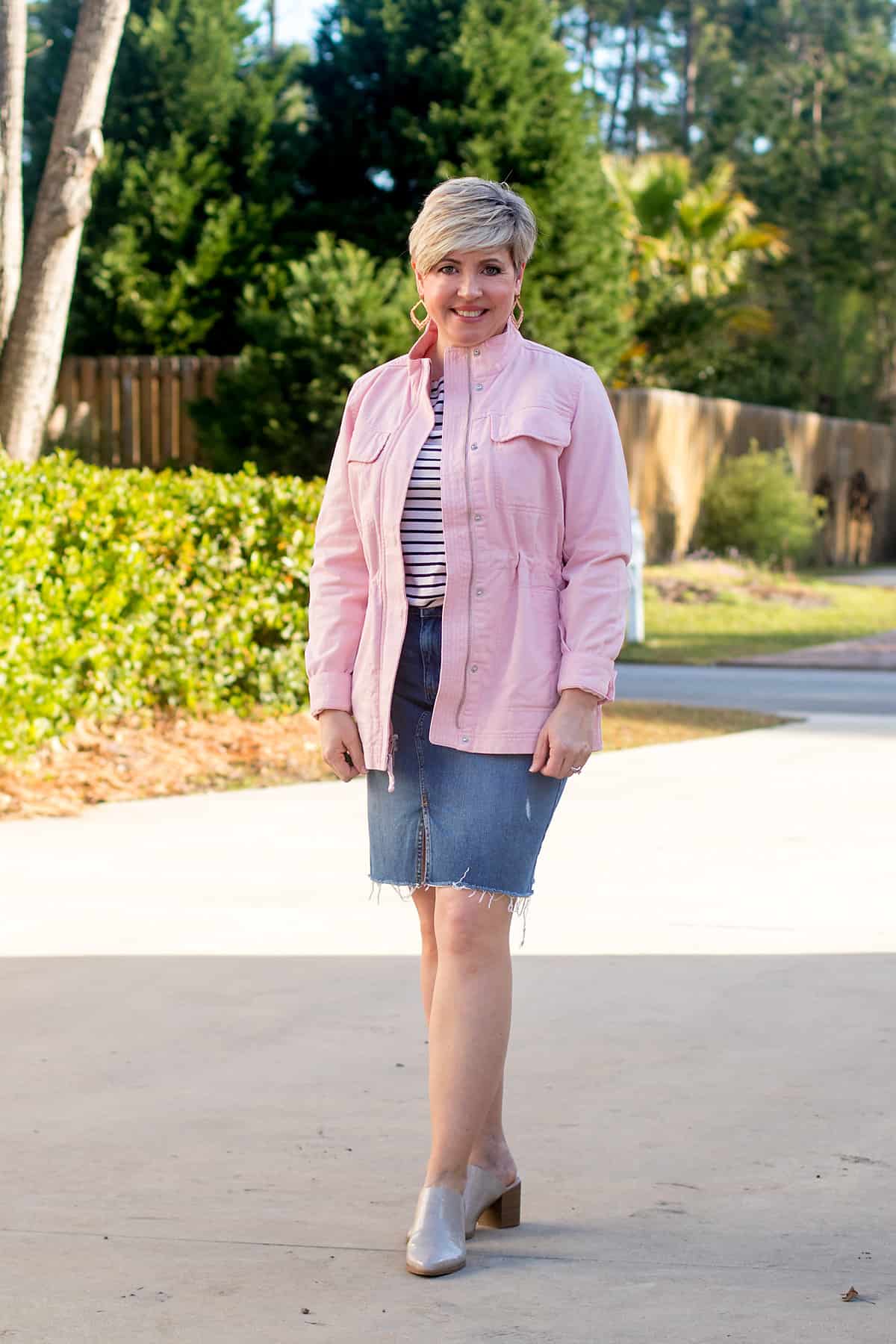 With an olive skirt
Another easy and effortless but chic way to wear a utility jacket is to pair it with an olive skirt and leopard flats.
With joggers
Create a sporty look with joggers and a chambray shirt.
With white jeans
White jeans and a utility jacket of any color will always be a staple look. Pairing a pink jacket with white jeans screams spring.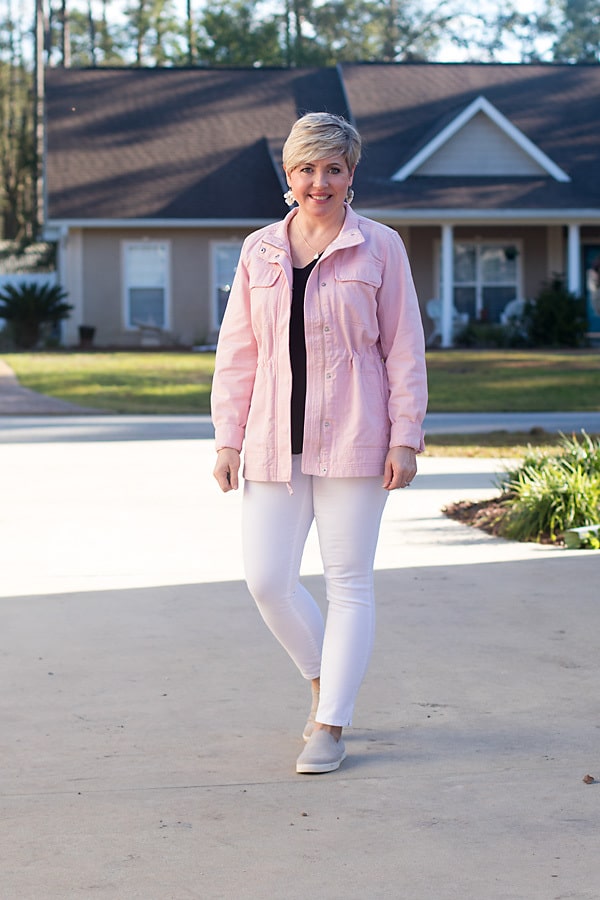 Shop utility jackets:
Also, check out 15 Simple Must-Have Spring Wardrobe Staples
DON'T MISS OUT!
Subscribe to my daily feed or to the weekly newsletter to get each post as it's posted or a link to each week's posts along with exclusive subscriber content in the weekly newsletter. Make sure you check your junk email after you subscribe and add me to your email safe list.