The hoodie- a sweatshirt with a hood- has been a long time classic casual garment for keeping warm and being comfortable at the same time. We have worn them for utilitarian reasons and for athletics. Sweatshirts, hoodies, and joggers even became mainstream outfits with the athleisure movement. For some they became a daily uniform during pandemic lockdown. Now that we are really emerging from the pandemic, many of you want to start dressing up a bit more, but don't want to give up comfort. The easiest way to level up your hoodies into a stylish, fashionable outfit is to add an extra layer. Keep reading for 5 ways to style layered hoodie outfits.
The well known brand Champion pioneered the production of sweatshirts after developing a process that allowed the use of thicker materials such as French Terry cotton. Then, in 1930, Champion sewed the first hood onto a sweatshirt, creating a hoodie. It was designed to keep workers in upstate New York warm.
Funny bit of personal history – I don't recall wearing hoodies while growing up or even in college. Sweatshirts, yes, but not hoodies. I received my first hoodie, a zip up hoodie, as a gift in my late 20s, and I've grown fonder of them as I've gotten older.
How to Style A Woman's Hoodie Without Looking Frumpy or Sloppy
Many of you have expressed that today's style of dressing has become too casual and too sloppy. Anything goes. While that's true, we women over 40 don't have to give in to that. We can still set an example of style and polish. Some of it also just comes down to good manners and considering your environment. When attending functions that were designed to honor someone, or honor their memory- weddings, showers, funerals, viewings, etc. we should still dress appropriately. Most of these events call for at least dressy casual attire. A hoodie has no place there. Continue to dress up when appropriate and when you feel like it.
We can wear a hoodie in a casual outfit to a backyard barbeque, informal birthday party, out to a casual lunch or dinner, a sporting event, or any number of other casual outings. And we can look polished doing it.
The key to not looking frumpy or sloppy in a hoodie is to choose one that fits well. Don't go oversized unless you want one that's a bit longer for leggings or skinny jeans. For looks with a hoodie under a jacket, choose one that fits. A more fitted pullover hoodie will also layer more easily under an outer layer.
Bonus tip: If you have a hoodie that's a bit too long but otherwise fits, cut it off at the bottom and wear it with a raw hem.
Make your hoodie look like an intentional choice instead of an afterthought by adding a layer.
There are several options for layered hoodie outfits and each one gives a different vibe. The most important detail is to remember to pull the hood out from under the layer and let it hang over the jacket on the outside. Otherwise, you have a lump under your jacket and loose the effect of the hoodie. That also looks like you didn't put any thought into the outfit.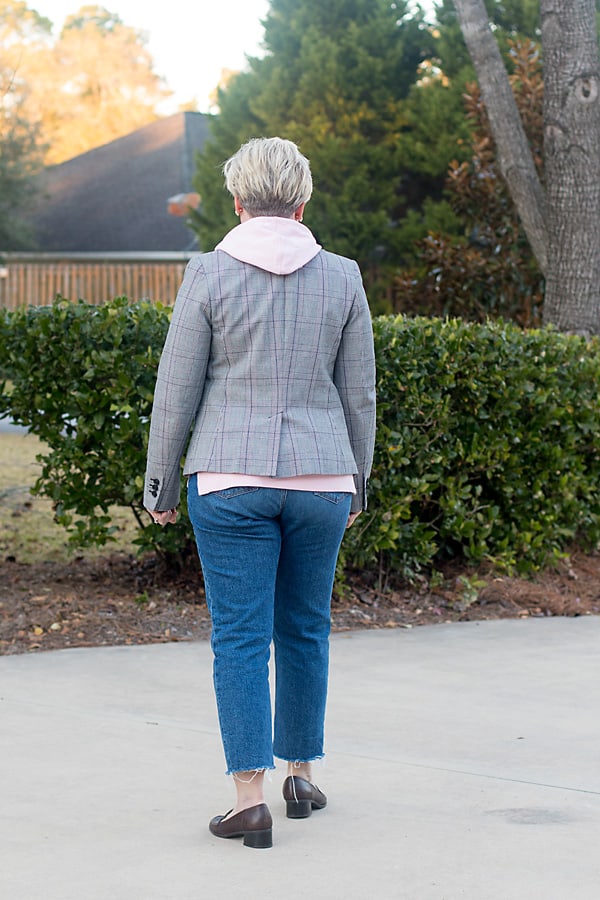 For a casual daytime outfit, layer a hoodie under a jean jacket or denim jacket.
Pair it with camo or olive joggers (or utility/ cargo pants) and sneakers. Keep jewelry simple with this look. Gold (or silver hoops) will do the trick.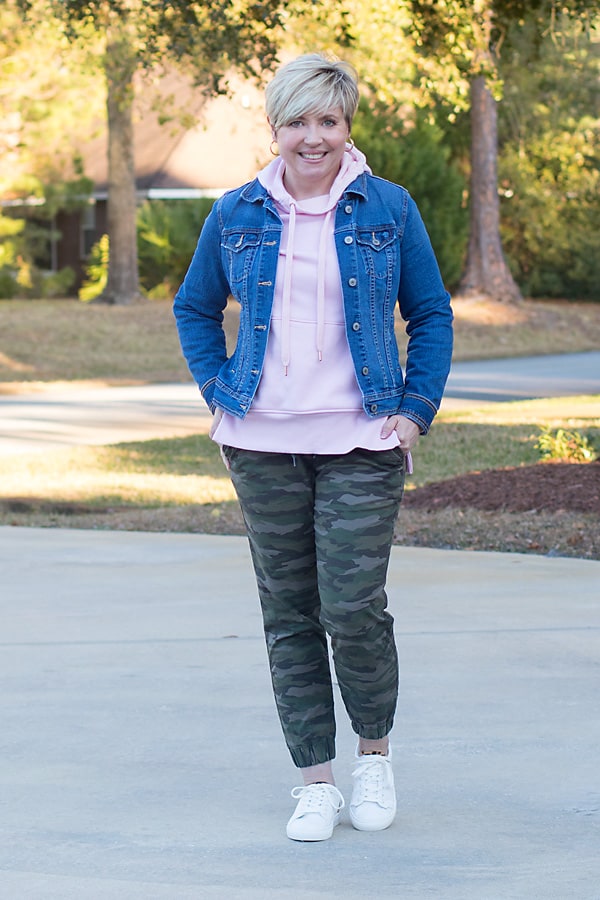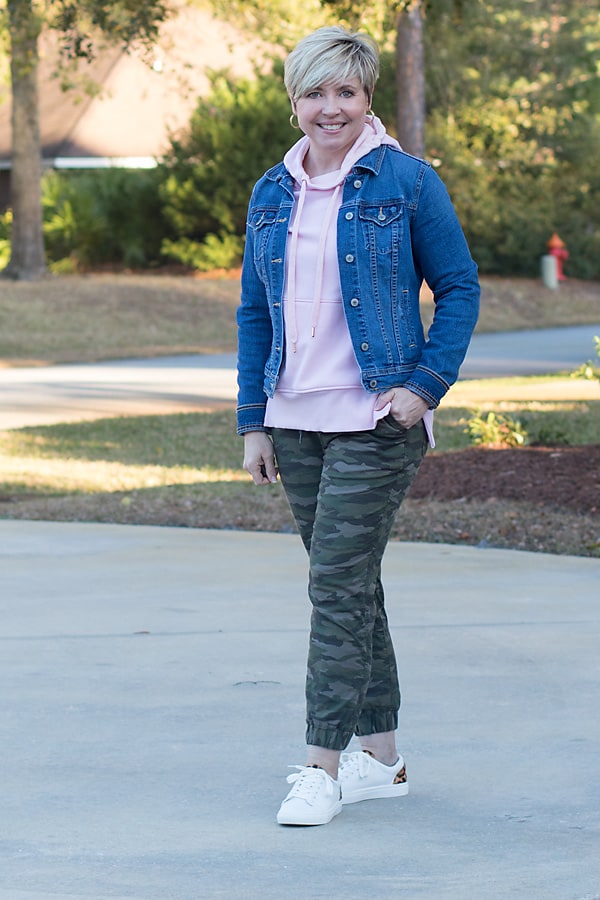 Hoodie- similar; jacket- Old Navy; joggers- Amazon; option; sneakers- JCrewFactory; hoops- option
For a cozy casual hoodie outfit, pair it with a shacket.
Add lug sole boots. You can never go wrong pairing a shacket and lug sole boots and the hoodie is a fun touch.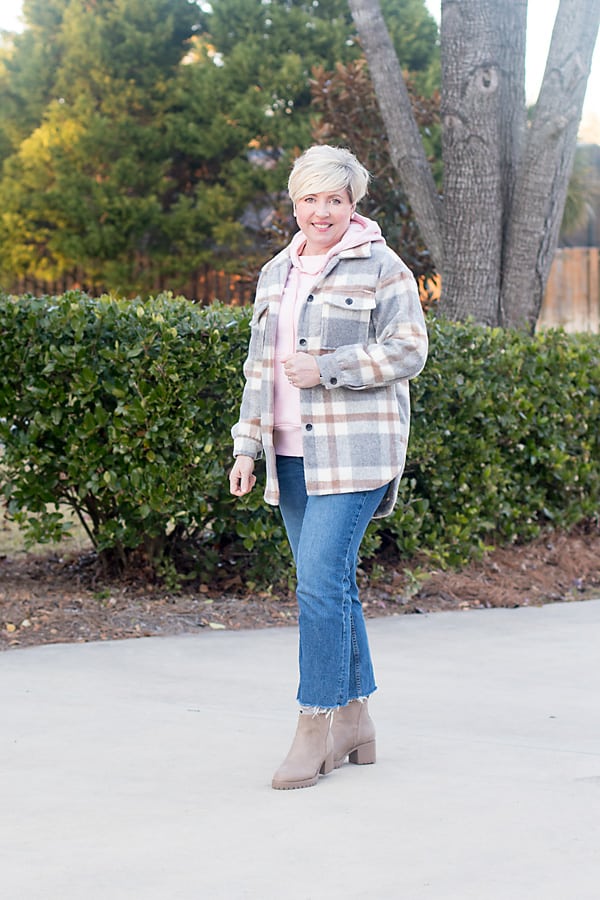 Shacket- Amazon; hoodie- similar; jeans- similar; boots; earrings
Pair a pink hoodie with a navy puffer or quilted vest.
Navy and pink are a great combination, and the vest might be all the extra layer you need with a thick warm hoodie. I paired this outfit with the lug sole boots again, but you could go for sporty vibes with sneakers.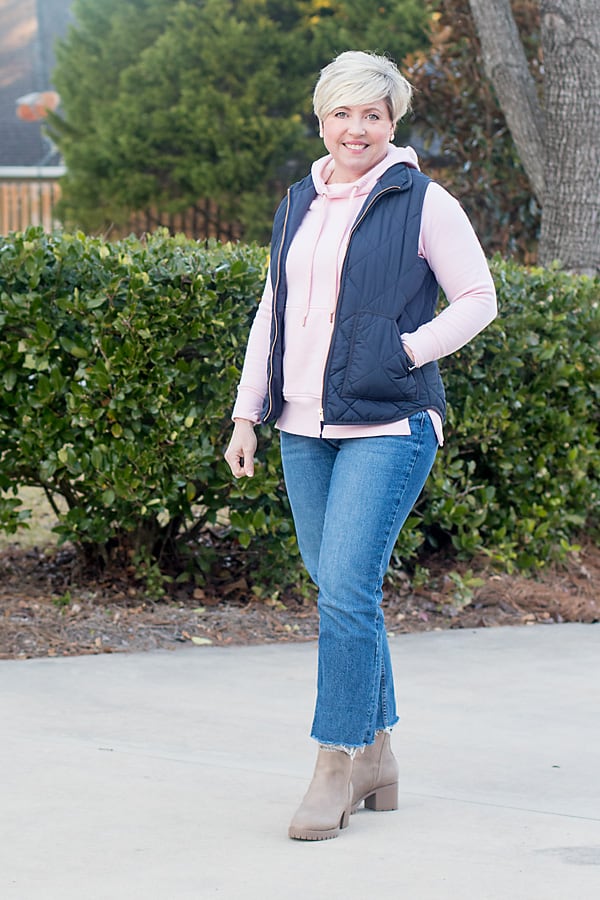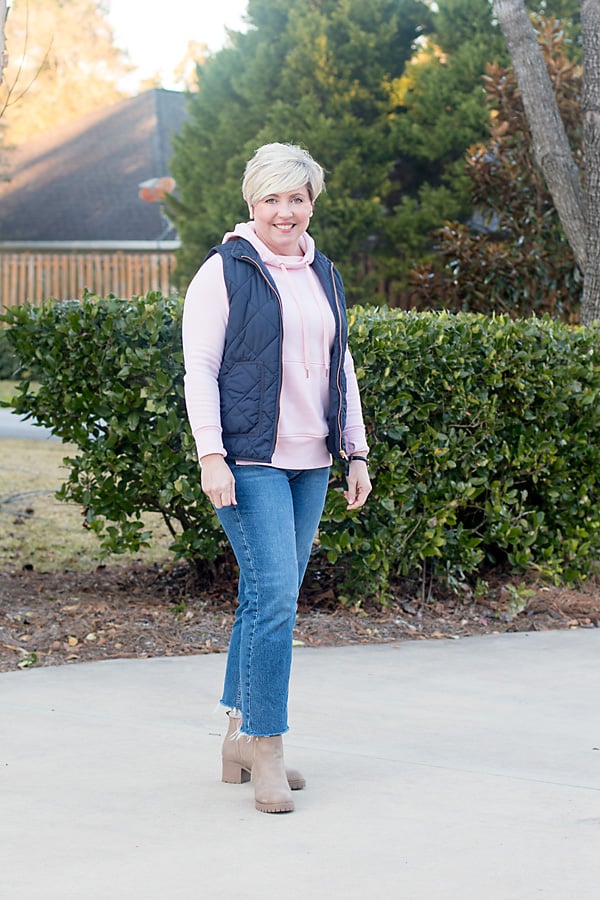 Vest- JCrew Factory
Go for a preppy pink hoodie outfit by adding a plaid blazer over your hoodie.
What? Can you layer a blazer over a hoodie? Absolutely yes. It's become such a widely accepted juxtaposition, you can actually buy blazers with sewn in zip up hoodies. Get extra milage out of both your hoodies and blazers by layering them and coming up with your own combinations of a hoodie under a blazer. Continue the preppy vibes here by wearing loafers.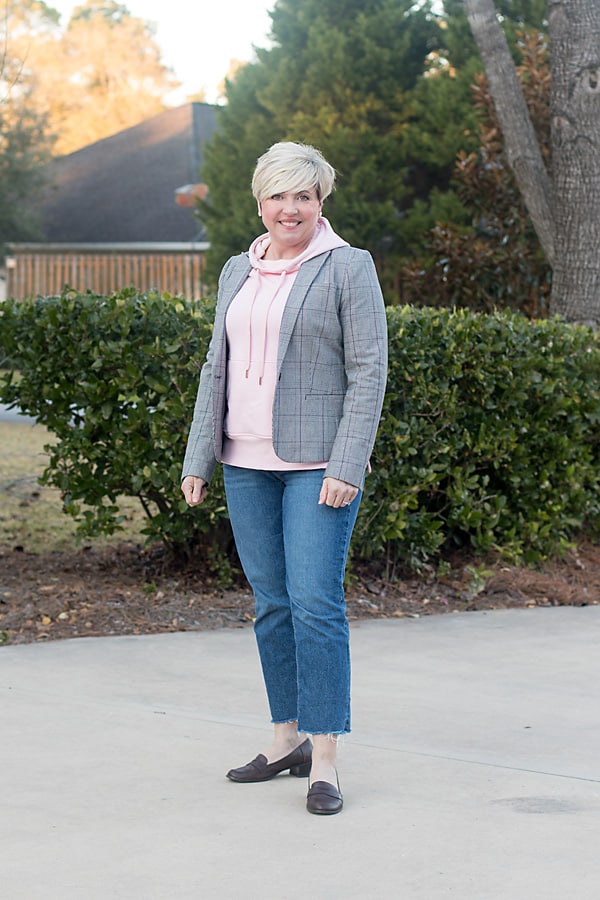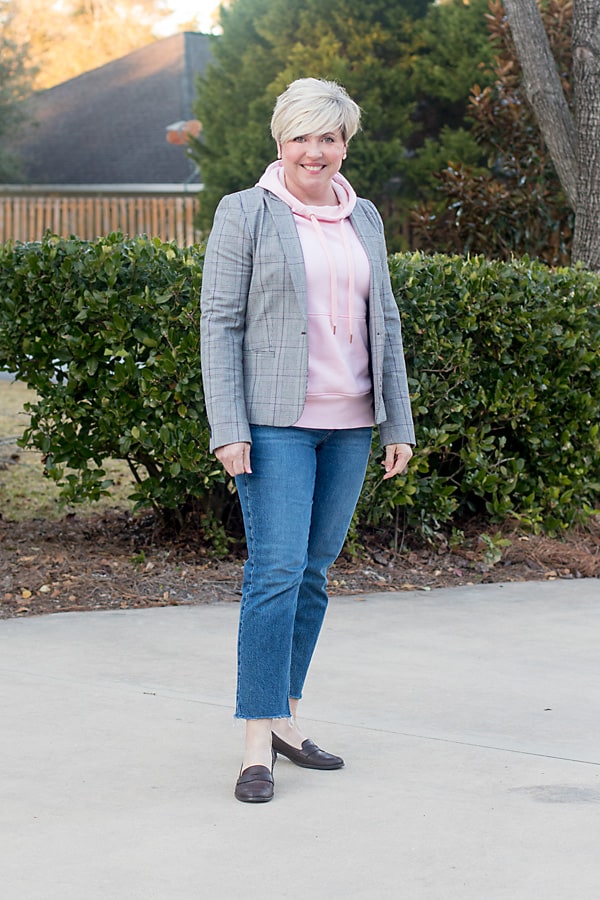 Blazer- option; loafers- option option
For stylish edgy hoodie outfits, layer a moto jacket over the hoodie.
Black Van sneakers finish off the look. Black chelsea boots would work well with this look too.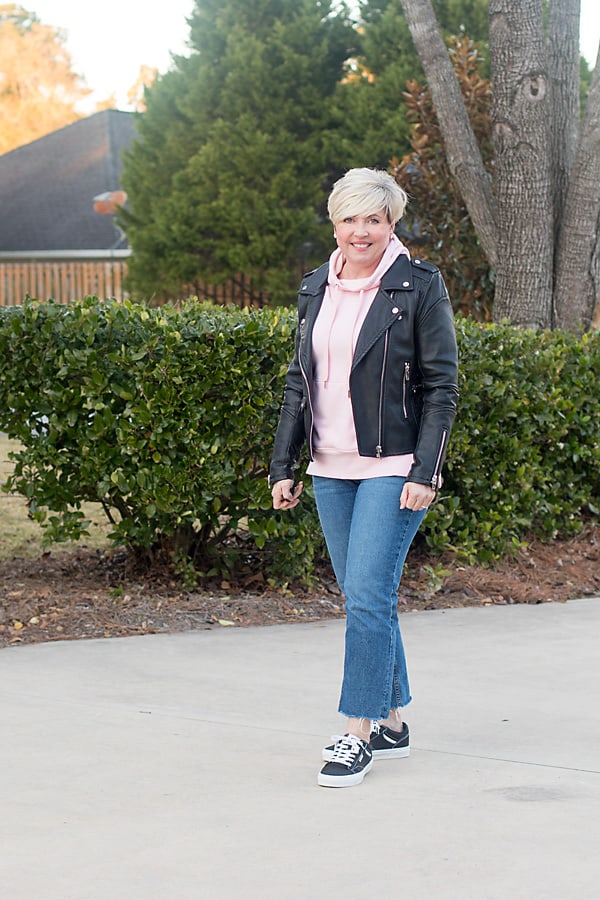 moto- similar; sneakers- similar
Note that all the hoodie outfits were created with the same hoodie and same pair of jeans. Changing your outer layer and shoes changes the vibes such that each pairing looks like a different outfit.