Welcome to 9 to 5 Style! The third Monday of every month Jennie of A Pocketful of Polka Dots and I will showcase a theme featuring our individual takes on a professional look. Our aim is to inspire and show professional style does not have to mean boring and without personality. We hope you enjoy our 9 to 5 Style!
This month Jennie chose monochromatic for our theme for 9 to 5 style. I love a good neutral outfit of whites, or ivory, but I chose to do a monochromatic outfit with blues. I chose navy pants and this pintuck pleated blue top. I added a blue statement necklace and blue purse.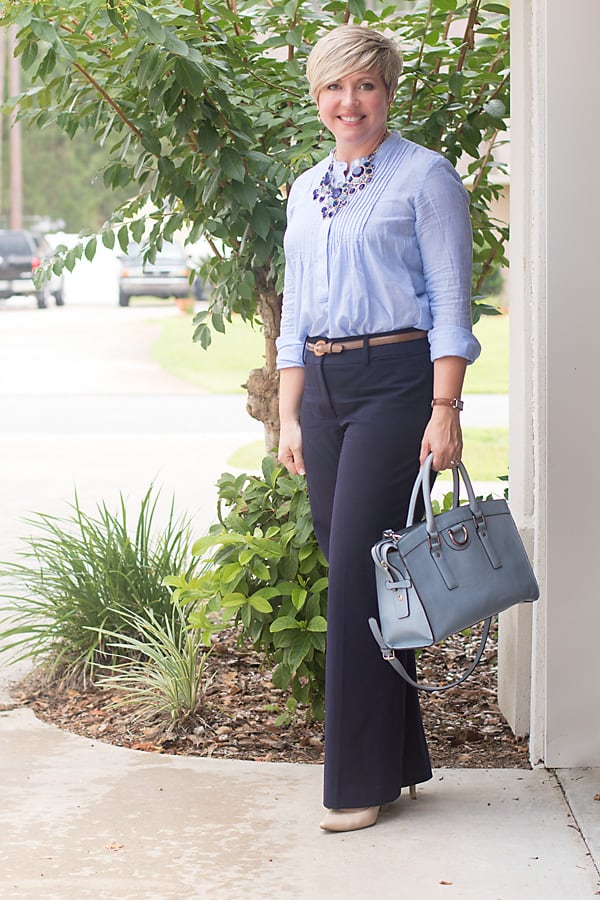 Of course I had to break up the column of blue with a beige blazer. You know my office outfits are not complete without a blazer.
I work in a pretty conservative environment, but if you don't this outfit is completely acceptable for an office without the blazer.
Blazer- Sears (old) option option option
top- Gap option option similar
pants- Loft option option option
necklace- Banana Republic (old) option option
earrings- Ann Taylor option option
shoes- Payless
What are your thoughts on monochromatic outfits? Do you like to dress completely in one color?
Did you know today is Amazon Prime Day? Today and tomorrow Amazon will have special deals just for Prime customers. If you are not a Prime member, shop fashion, clothes and accessories on Amazon. Add items to your wish list so you can be notified if they go on sale.
You might also like: