Welcome to another edition of fashion A to Z. Today we are exploring the ruffle. In the sewing and fashion world, a ruffle is a strip of fabric that has been closely pleated or gathered to create a trim or decoration on a garment. A ruffle can be single edged or double edged. It can be very simple or very elaborate.
Blouse- Amazon; jacket- Loft option
This fabric trim has been around since the 1500s when it was popular to wear two layers of clothing. German soldiers began creating cuts in the outer layer to reveal the inner layer. The inner layer was often wrinkled. Then the ruff, an elaborate wide pleated collar, came along. That was replaced by lace collars, but the ruffle effect was still desirable in the 1700s so layers of wrinkled material were sewn onto collars and sleeves. The ruffle has continued in some size and form through each century and decade since. Up until the 20th century, it was worn by men and women alike. It finally faded from men's fashion and became a very feminine decoration for clothing.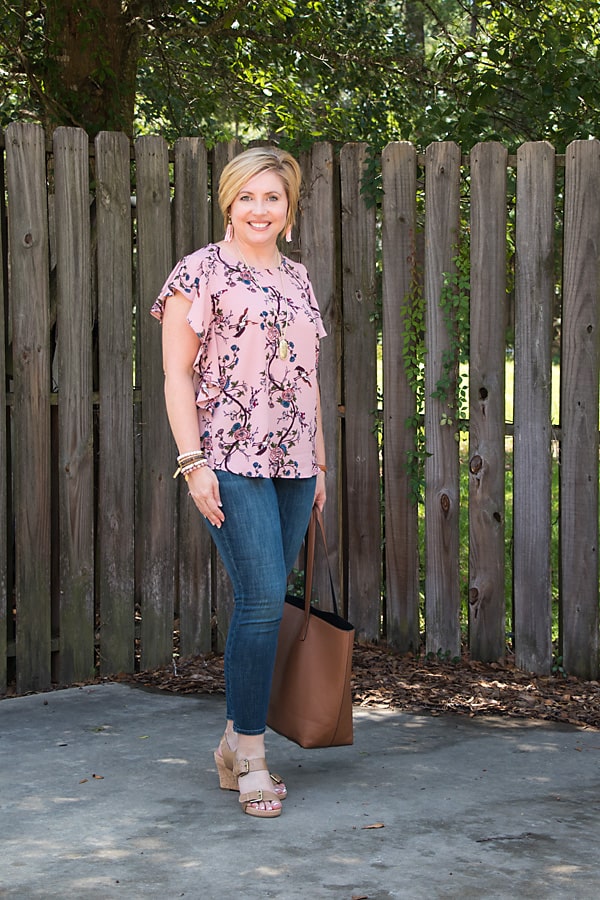 Blouse- Nordstrom/ old; similar; option option jeans- NYDJ; sandals- Aerosole in snakeskin option
Top- TJMaxx/old; option pants- Old Navy- option
Sometimes the ruffle is very trendy, especially large cascading or layered ruffles. Spring 2019 saw a big resurgence of ruffles as a trend. Even when it's not a trend for a season, you can easily find one on a garment. This spring I'm seeing lots of ruffle neck blouses, with just a small sweet trim at the top of the neck.
Top- Nordstrom/old; option option bag- Amazon similar
Top- Old Navy/ old; mules- JCPenney/ old; option
Related: Three Ways to Wear Gingham
Ruffled sleeves remain popular as well this spring.
In searching my own closet for ruffle items, I found that I have several tops with this trim, and a couple of dresses/skirts. This makes sense given that dresses and skirts don't often suit my lifestyle (even though I love them!) A top might also be the easiest way for you to wear ruffles.
Shop more ruffled items:
Don't miss a post. Sign up to receive posts in your inbox as they are delivered or for the weekly newsletter with a recap of each post and exclusive subscriber content. Don't forget to check your junk/spam box! Sometimes new mail gets sent there by mistake.