It's no secret that I love shoes. Shoes are one of my favorite fashion items. A shoe can make or break an outfit or change the vibe in an instant.
Each new season brings an opportunity to add a new shoe or a new trend. Sometimes all you need to make your basics or an older outfit look trendy is to add a new pair of trendy shoes. Here are the nine spring shoe trends for 2022 and my picks for the best shoes for spring.
Shoes are an easy way to start transitioning from season to season. For those that aren't quite ready for exposed toes and sandals yet, there are several options in the 2022 spring shoes trends that make it easy to remain on trend for spring.
1 Clogs/Mules
Clogs are one of the best shoes for spring. These might fall into a love/hate category for some people, particularly clogs. If boho is your style personality, you may jump right on this trend. Others may say these shoes are too clunky and thick. Those are defininetly something to consider, especially for petites.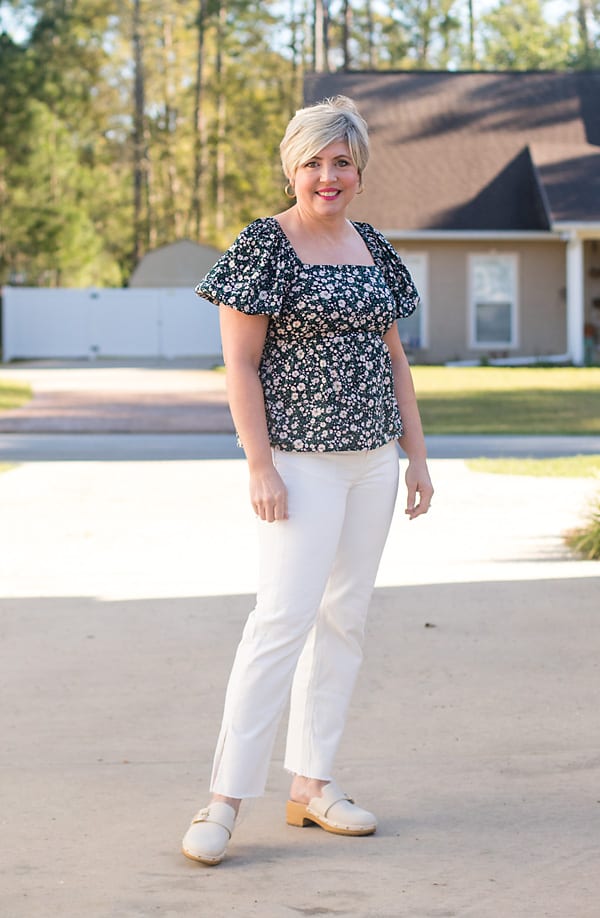 Clogs- Dr. Scholls; top- Old Navy; split hem jeans- Gap
On the other hand, mules have been trending for several seasons. This year we are seeing more heeled mules. Mule loafers and flats are still in style but the more trendy option is one with a thicker, taller heel.
If you struggle with backless shoes and are afraid they will slide off your feet, there are several cute options with straps.
If you want to try clogs but arent' sure about them, this budget friendly pair from Target is a great way to go. They have memory foam and are quite comfortable. The pair featured in the outfit above costs a little more, but Dr. Scholls always delivers on comfort.
Can you wear clogs or mules with dresses?
Yes, you can wear clogs with all the cute spring dresses and mules go with dresses too.
2 Ballet Flats
Those who love classic style will embrace this trend. A ballet flat is a classic shoe to have but they are having a moment as a trend this spring, especially with a square toe and in bright colors. A ballet flat is one of the best spring shoes because they go with everything.
Ballet flats also make great shoes for travel. They are easy to pack and carry, and easy to slip on and off at the airport. Don't skimp on quality here.
Cheaper ballet flats don't have as much cushion or padding so invest in a trusted brand for comfort. Some of my favorites are Vince Camuto, Cole Haan and Dr. Scholl's.
3 Retro Sneakers
I'm not sure that I'm adding any of these to my closet, but if your style is primarily sporty these would be cute to have. These city sneakers at JCrew Factory in navy caught my eye as soon as they came out. They come in other fun color combos too.
The retro inspired sneaker can be found in neutral and pastel color combos or in bright colors.
I wore this style of sneaker often during my childhood and teen years, and didn't even think of them as being fashionable. Who knows? Maybe they will grow on me.
4 Platform sandals
You will find the platform sole in a variety of shoe styles this season- espadrilles, wedges, block heel sandals, even sneakers. As a petite, I favor platforms for some added height with the ability to maintain stability. Just don't go too crazy with the height and arch and they will remain easy to walk in.
Dr. Scholl's Bayside Platform Sandal / full outfit here
5 Fisherman Sandals
Fisherman (or you may see fishermen) sandals are always available for spring and summer. They have been increasing in popularity for women over the past couple of years and are making a big push this year.
These fisherman sandals with a feminine twist (the heels) just arrived at my doorstep. It was love at first sight! I have them in the honey color from Nordstrom but sizes are limited since they marked them down.
6 Braided Sandals and Slides
This was a huge trend last year and it's still going strong this year. I'm glad it's continuing because I'm late to the game. I added this pair to my closet.
The criss cross or crossover sandals ( or crossband) are popular again too but I think some of them have an "old" look to them. If a twenty year old wants to wear them, she can because she can likely maintain a youthful vibe no matter what she wears. If an older woman wears a criss cross flat, sometimes it comes off as old or bedroom slippers. That being said, there are options that don't look so frumpy.
Braided sandals and slides come in a variety of fun colors too. And if you don't like braided, or criss-cross, the ruffled or ruched look is popular as well.
A braided sandal with some heel is one of the best spring shoes because they provide a dressy option for your spring outfits. There is no shortage of braided sandals. You can find them at almost any retailer for any budget.
7 Clear Sandals
Another returning trend from the past couple of years is clear sandals. I'm all for it.
8 Bright Colors
With an uptick in dopamine dressing and wearing bright colors to feel good and to celebrate some return to normalcy, you can find most any of the shoes already mentioned in bright colors. I'm not one to shy away from wearing a colored shoe.
These Crocs Tulum sandals in bright yellow would be fun for spring and summer.
9 Architectural or Statement Heels
I probably won't jump on this trend either, but it's out there and fun to look at all the unique heel shapes.
Which one of these fun spring shoe trends for 2022 will you be wearing?