This spring is all about bright colors that bring much needed vibrance and energy following the last two years. One of the best ways to level up your work wear or casual outfits is to add a bright blazer.
If you aren't accustomed to wearing such a bold color as hot pink, you might be a little intimidated but theres no need to be. Here are 20 hot pink blazer outfit ideas for work.
Before we get to the hot pink blazer outfit ideas, let's consider what you can wear a blazer of any color with. There really isn't anything you can't wear a blazer with. How you wear it will depend on your unique style personality.
What Can You Wear With A Blazer?
You can pair a blazer with any other item of clothing. It just depends on whether or not you want cool casual vibes, or polished and professional looks with your blazer outfits.
Jeans/tees/tops- Instantly add polish to your jeans and tee outfits with a blazer.

Dresses- Turn your favorite dress into a new outfit with a blazer.

Skirts- Create endless outfits with a blazer and skirt combo.

Trousers/ pants/ ankle pants- Instantly turn plain pants into business casual or business attire with a blazer.

Bralette or crop top- Not feeling brave enough to wear a crop top on it's own? Top a crop top (or a bralette if you dare) with a blazer for a night out.

Leggings- Level up leggings, particulary faux leather leggings with a blazer.

Hoodies/joggers- Yes, you can even top your lounge or athleisure wear with a blazer.

Jumpsuit- Just like a dress, turn your favorite jumpsuit into a new outfit. Make that jumpsuit business casual with a blazer.
You may also like: 10 Yellow Blazer Outfit Ideas
The following hot pink blazer outfit ideas focus on trousers and ankle pants that create work appropriate outfits.
What Colors to Pair with a Hot Pink Blazer
Hot pink pops against black, white and navy, but also works well with neutrals like tan and grey. It also pops with other brights like cobalt and kelly green. Hot pink is also stunning with browns and olive. It works well with floral patterns also.
Hot pink blazer outfit idea with olive pants + floral top
The bright pink blazer pulls out the bright colors in the floral top and is a stunning contrast to the olive pants.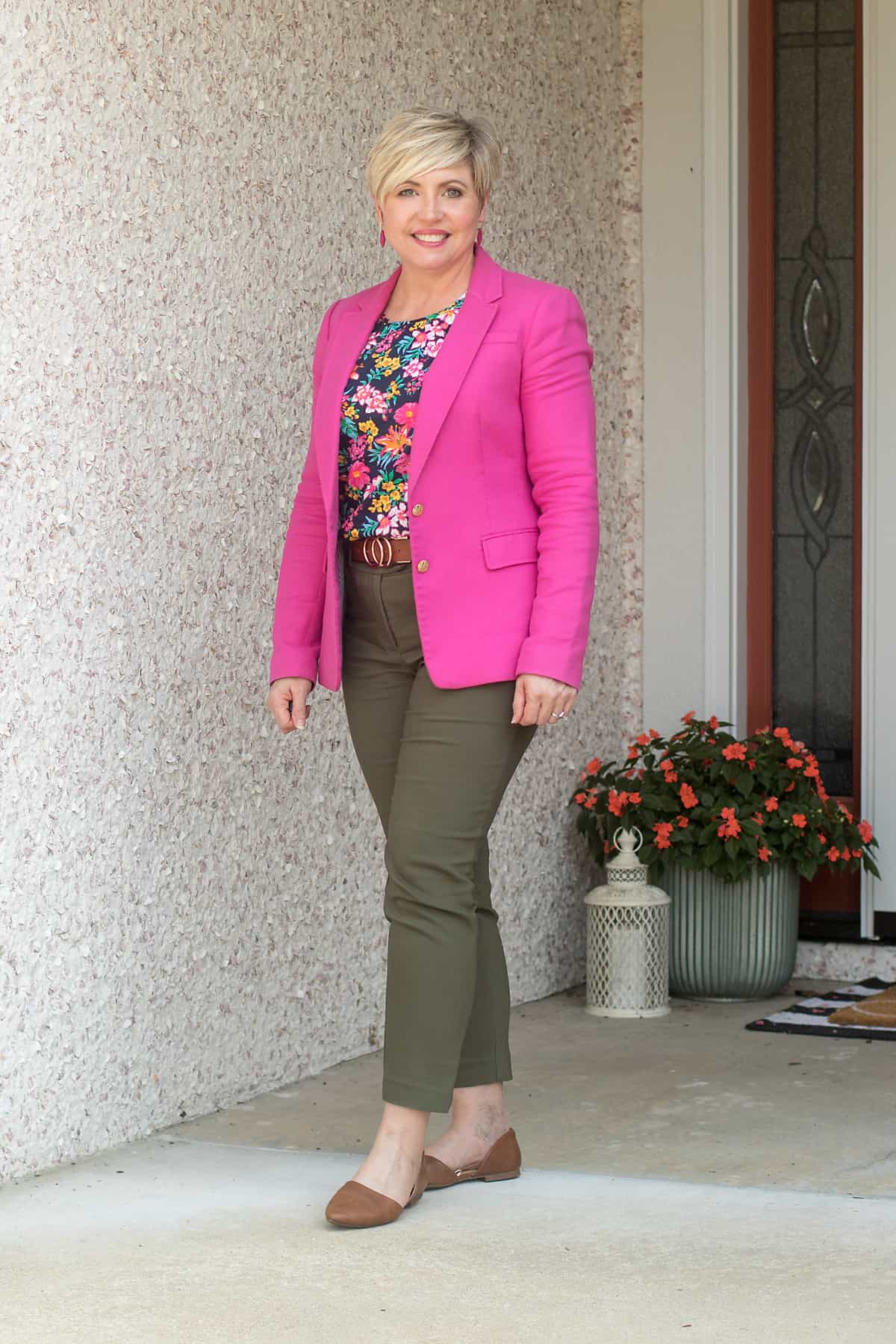 Hot Pink Blazer Outfit Ideas with black and white
Any combination of black and white with hot pink works. Colorblock with solid pieces or add some interest wtih a grid pattern and stripes. Top black and white print pants with a bright color like hot pink.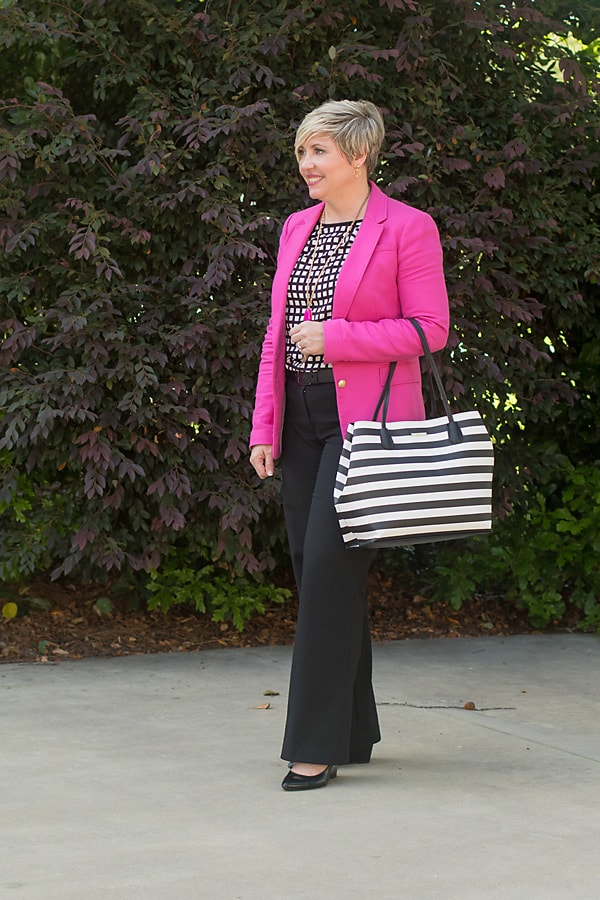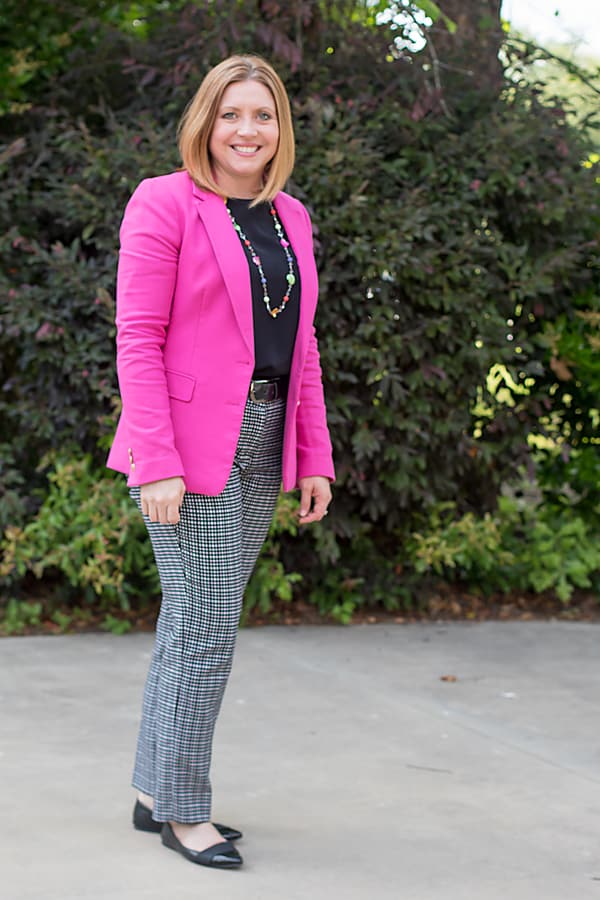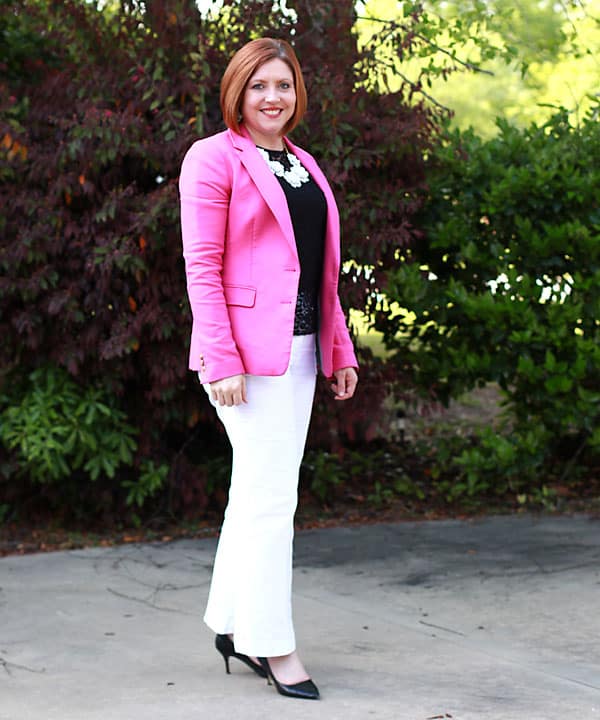 Hot Pink with grey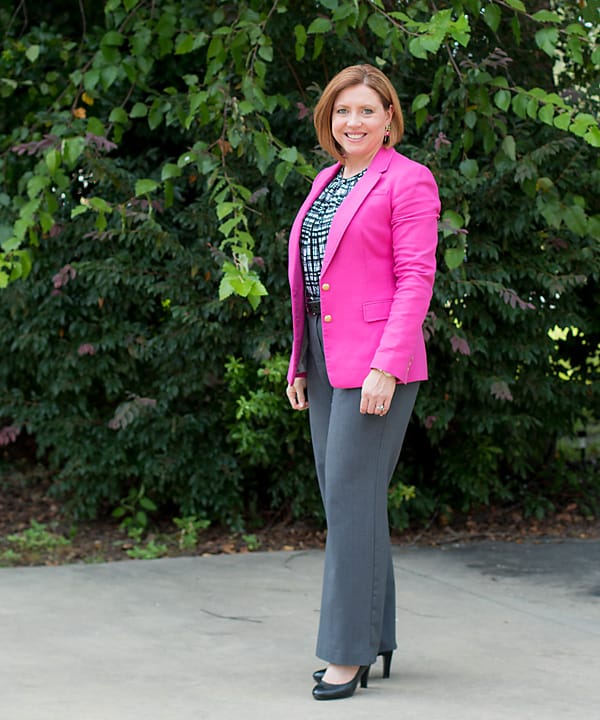 Snakeskin print shoes and accessories compliment hot pink well.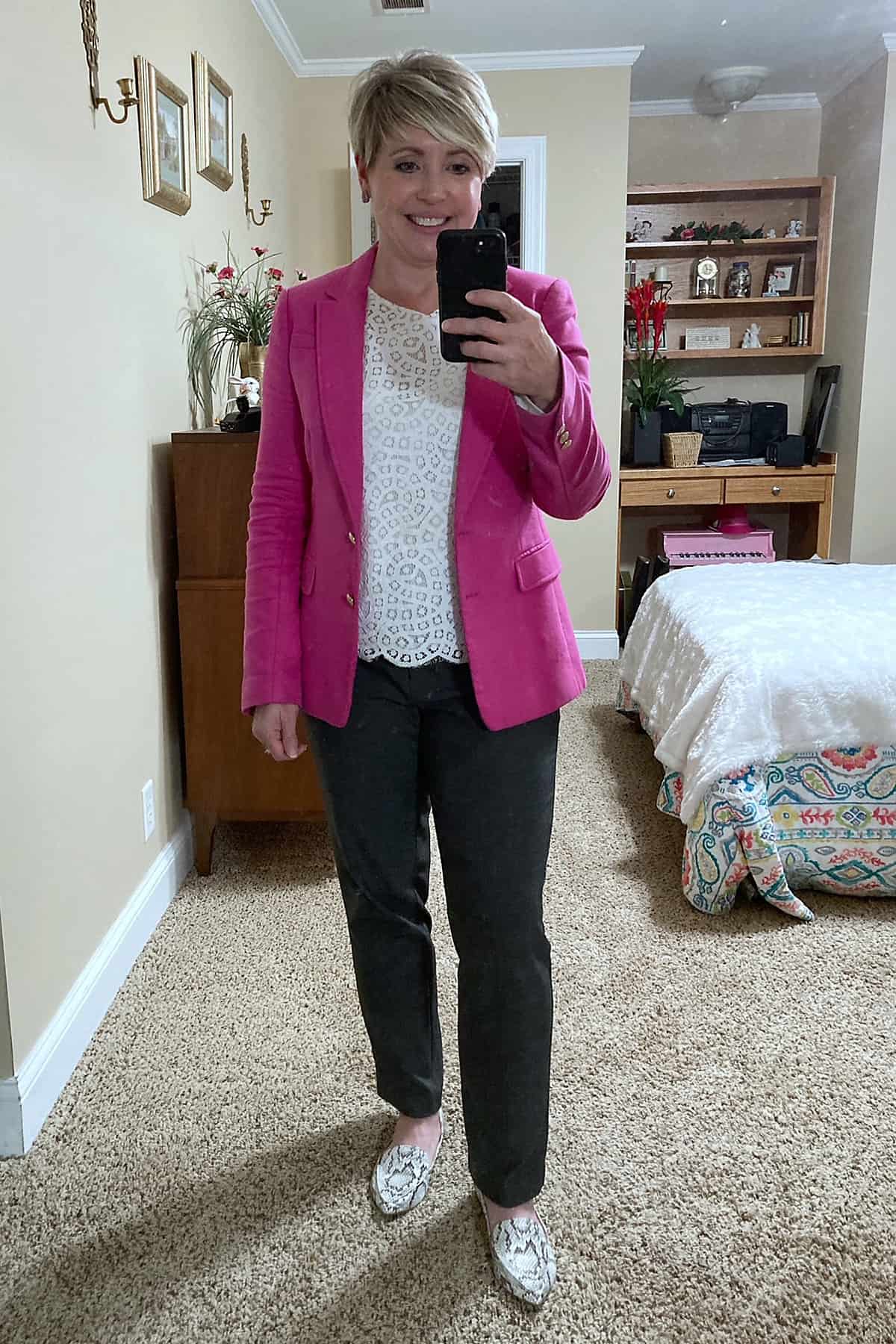 Hot Pink Blazer Outfit Ideas with white and navy
Blue and white polka dots or french blue striped tops make a perfect pairing with hot pink.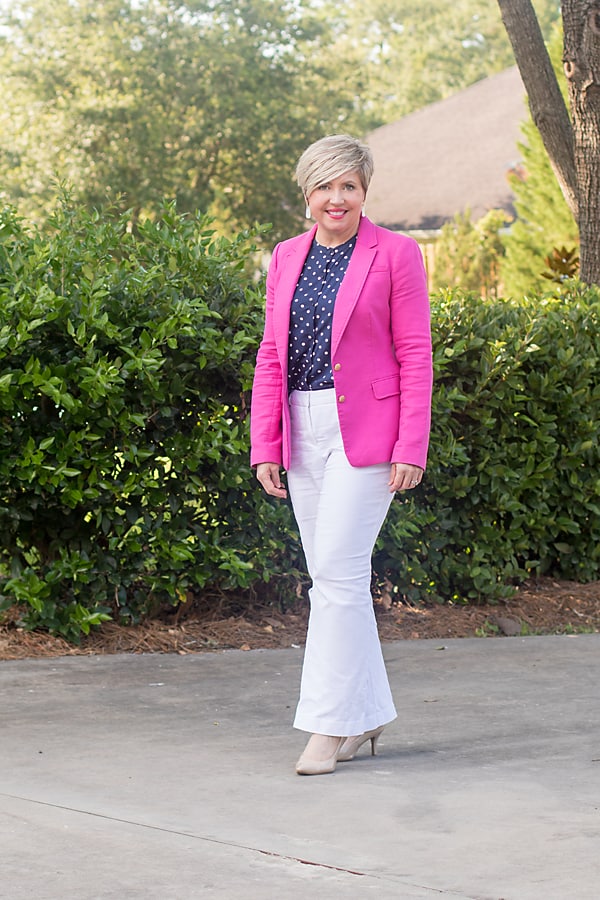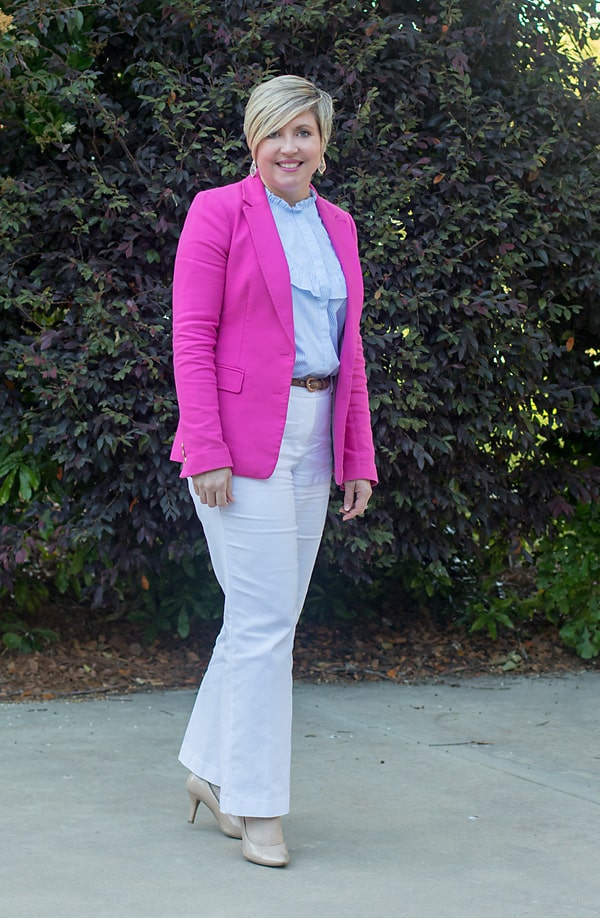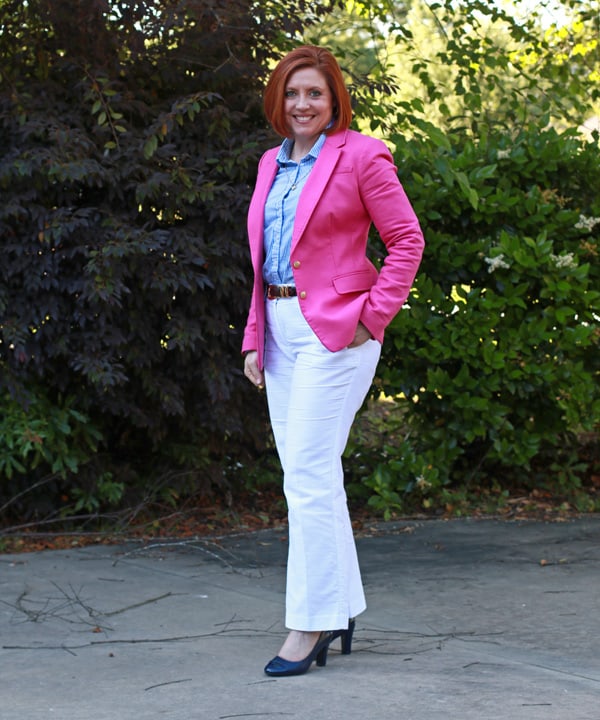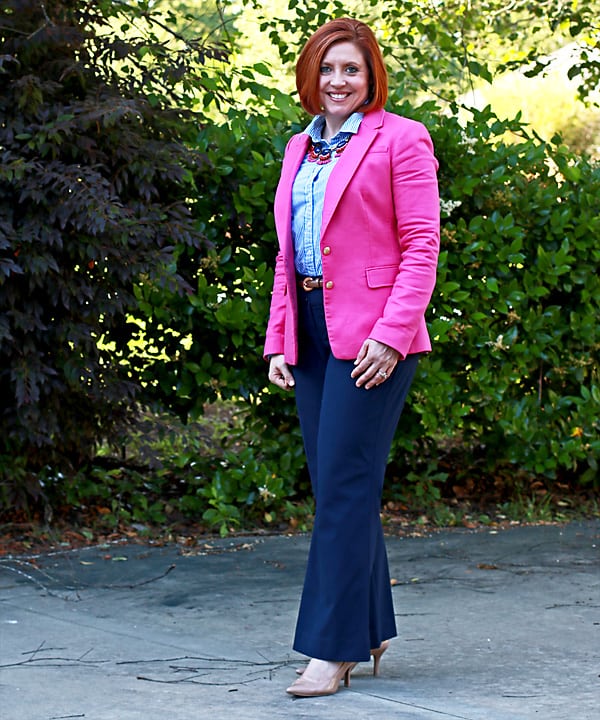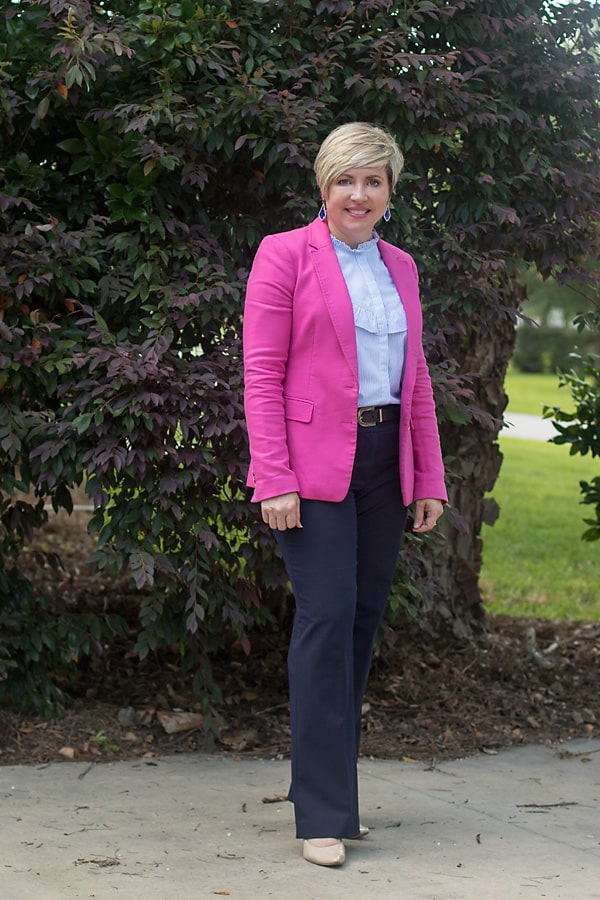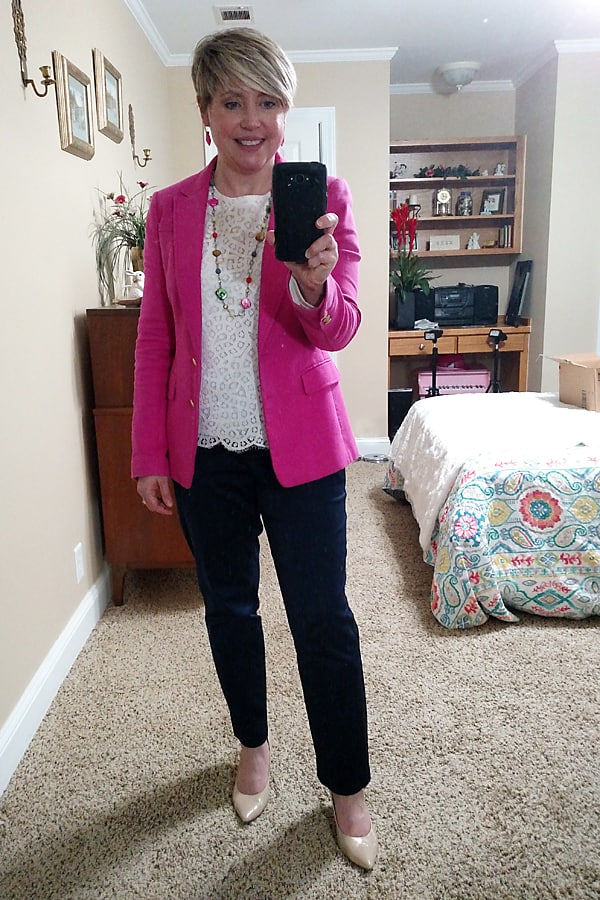 Instead of navy, try pairing hot pink with a cobalt top. The two bright colors pop against white.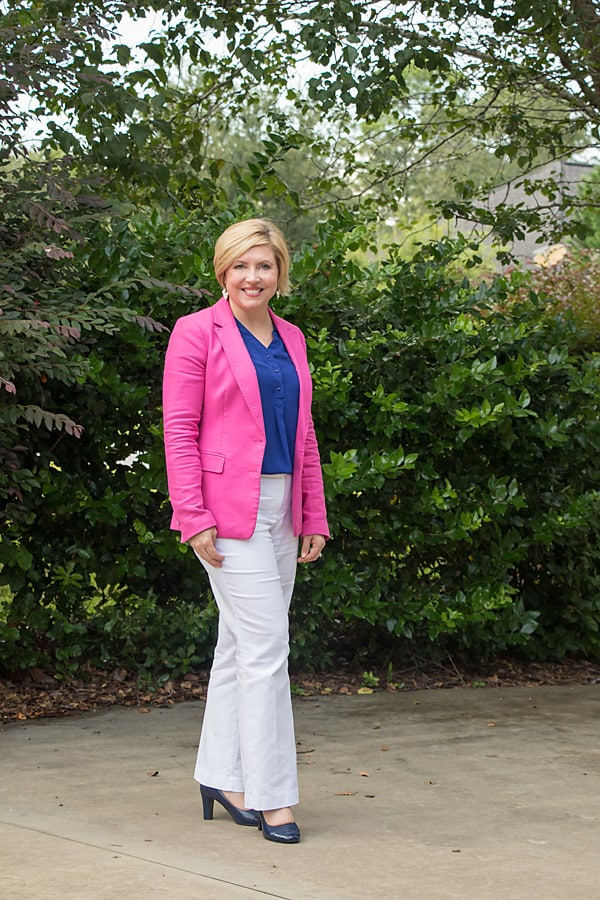 Hot Pink Blazer Outfit Ideas with Kelly Green
A hot pink blazer and bright green skirt make a great summer office outfit. Tie the two together with a floral top.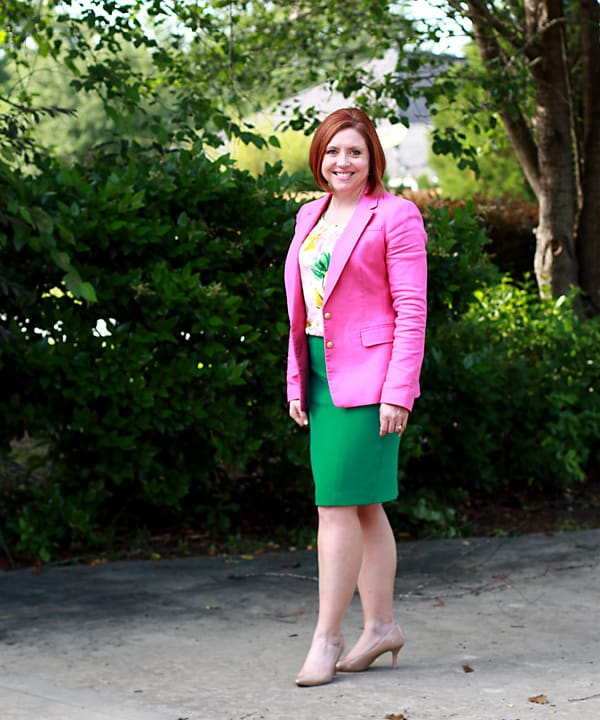 Hot Pink and Tan Outfits
Pair a hot pink blazer with a neutral like tan or khaki so the blazer can be the star of the outfit.
Hot Pink Blazer and Floral Top
Lastly, don't forget the power of a floral top as an accent piece for your hot pink blazer.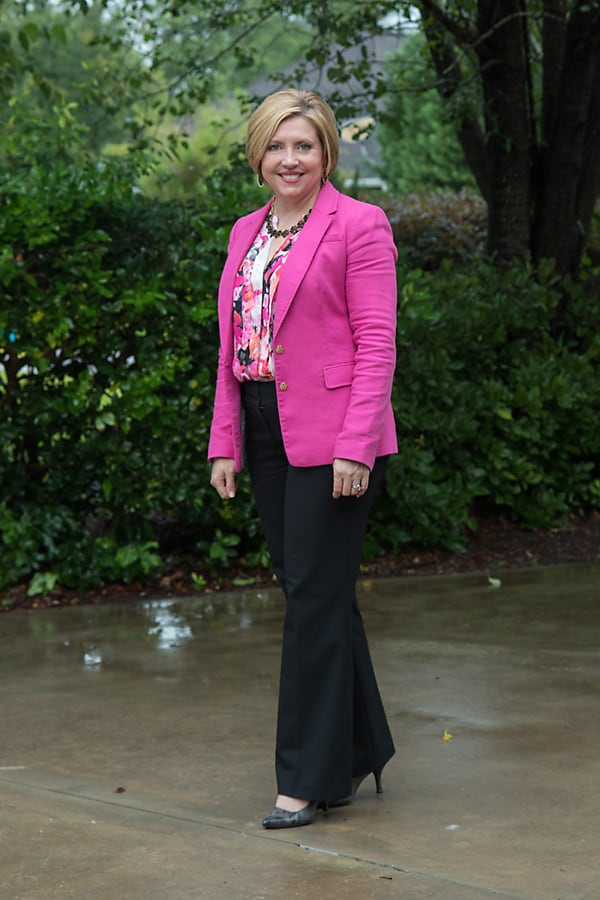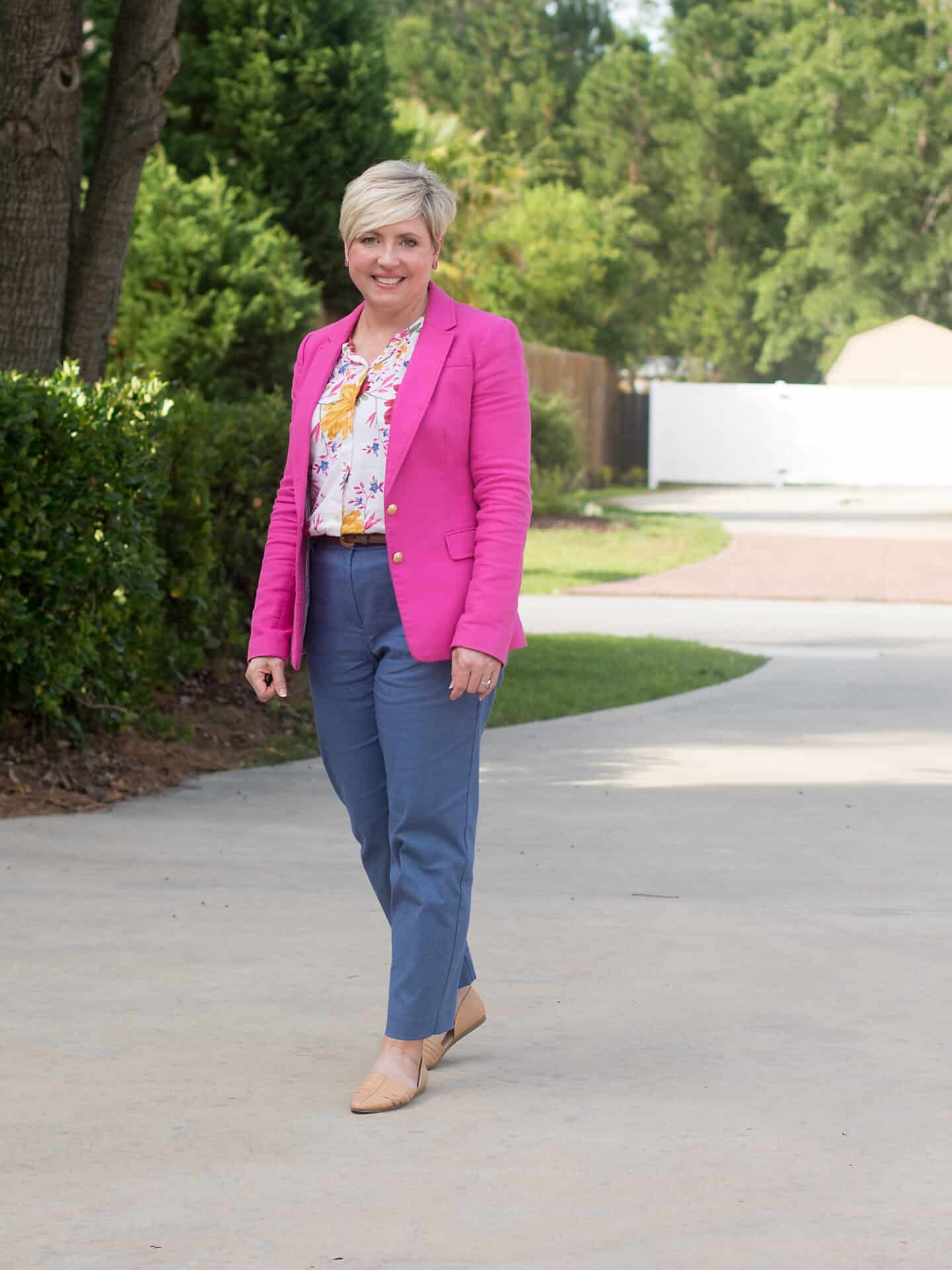 Which look is your favorite?
Shop blazers: