The white denim jacket- it's the summer sister to the blue denim jacket we reach for during other parts of the year. White suggests coolness and a denim jacket is more breathable than others. It's the perfect piece to take with you if you find indoor A/C too cool and need a layer.
Can you wear a denim jacket in your 40s?
Yes, a denim jacket of any color is a timeless classic piece that a woman of any age can wear. It is one of those pieces that gives a youthful vibe without looking you are trying too hard. It pairs well with all of the other timeless pieces that work best for woman as they age.
When I first bought my white denim jacket (over 7 years ago) I fretted and doubted that it would be a wise purchase. I mean, who needs a jacket when it's 100 degrees outside? I've found over the years that I need it inside at places like church and restaurants.
If you doubt it's versatility, let me show you how to wear a white denim jacket over 40 in 17 ways.
Related: 15 WAYS TO WEAR A DENIM JACKET FOR SPRING
Wearing a White Denim Jacket Over 40: Cute Outfit Ideas
White Denim Jacket and Chambray Bottoms
This jacket is the perfect topper for chambray bottoms. Here I've paired it with a chambray skirt and a floral shirt and then repeated the outfit with wide leg chambray pants.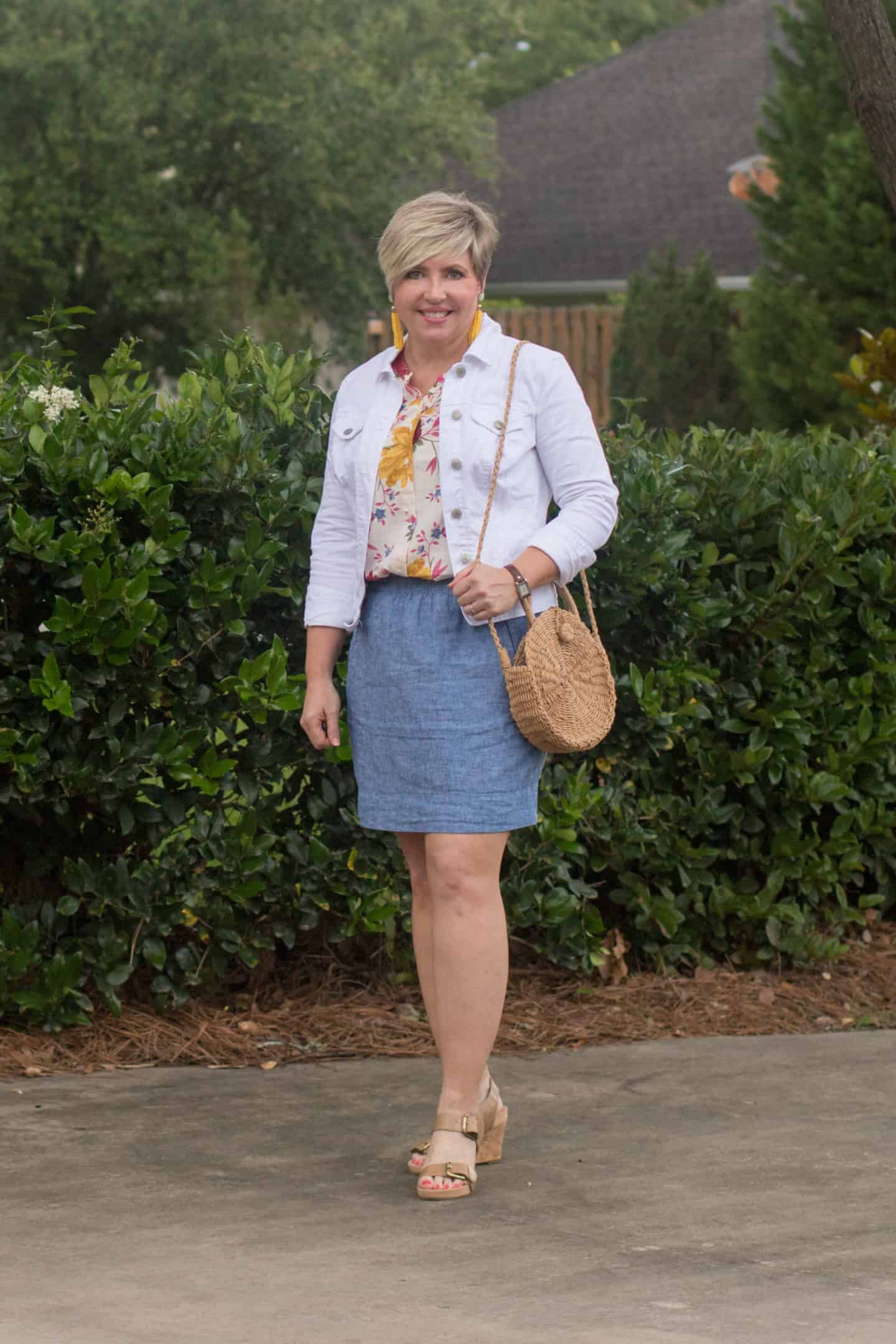 Skirt- Loft Outlet; blouse- Old Navy; jacket – Old Navy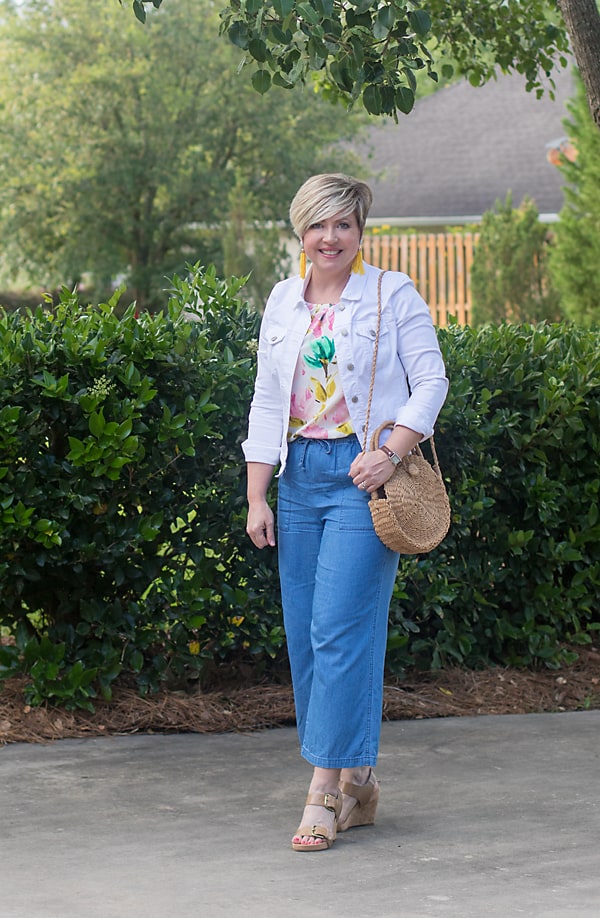 SEE ALSO: 4 Easy Ways To Style Wide Leg Chambray Pants.
Pants- JCrew Factory- option
In addition to chambray bottoms, a white denim jacket would pair well with light wash jeans. Light wash denim shorts are another option.
You can certainly pair a white denim jacket with medium or dark wash denim bottoms, but the vibe won't be as summery or cool feeling.
White Denim Jacket + Solid Top + Printed bottoms
A white denim jacket is the perfect topper for printed bottoms- floral shorts or skirts and gingham pair well.
There is typically some white in floral patterns so white tops and jackets compliment them well. Less is more when it comes to florals. If you choose the wrong floral print over 40, you can look frumpy. A crisp solid white denim jacket will help counteract the frumpy effect.
White denim jacket + solid color top + floral shorts (or skirt)
Pair floral shorts with a solid top that coordinates with a color in the shorts and top with a white denim jacket for an outfit that pops. Keep the shoes neutral so they don't compete with the outfit.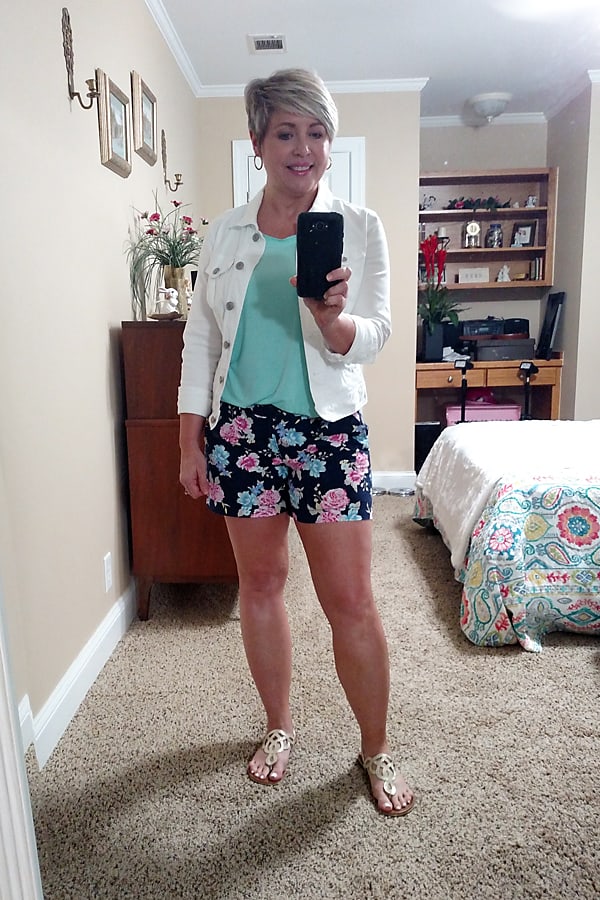 White denim jacket + solid top + gingham shorts
A white denim jacket can play up the white in gingham. Pair it with a solid top the same color as your gingham. Here we are working with black and white.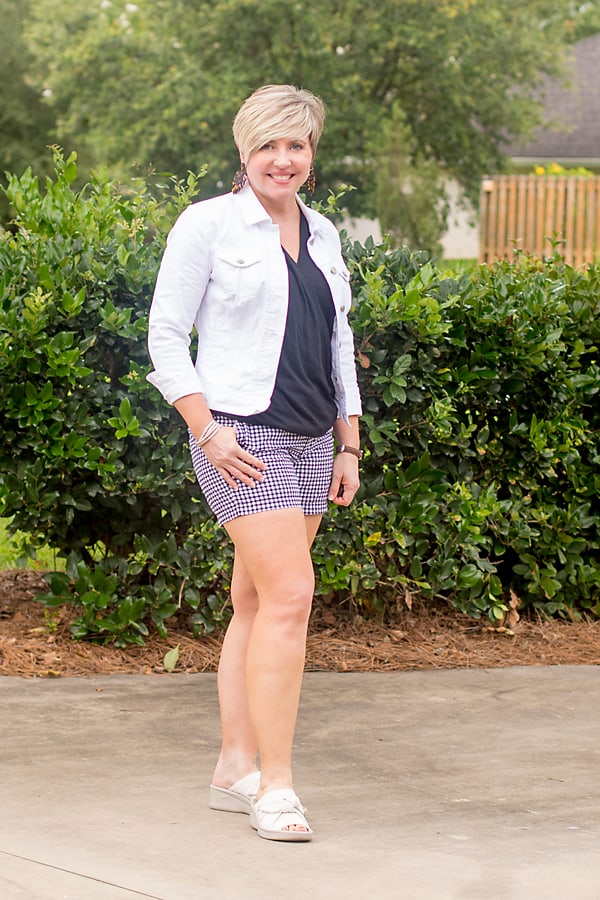 Shoes- Bzees
Experiment with pattern mixing and use a white denim jacket to tone it down.
The next two outfits combine floral skirts with patterned tops. The white denim jacket helps to pull the looks together.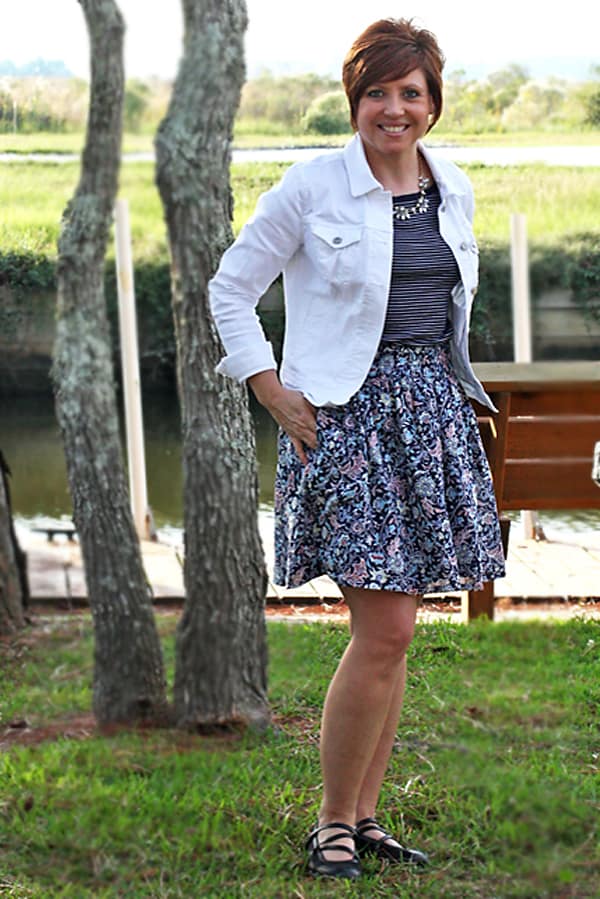 Shop printed bottoms:
White denim jacket with colored bottoms: Outfits for Women over 40
A white denim jacket pops with solid color bottoms.
With a floral top and pastel jeans
Create a pretty spring look by pairing the jacket with a floral top and pastel color jeans.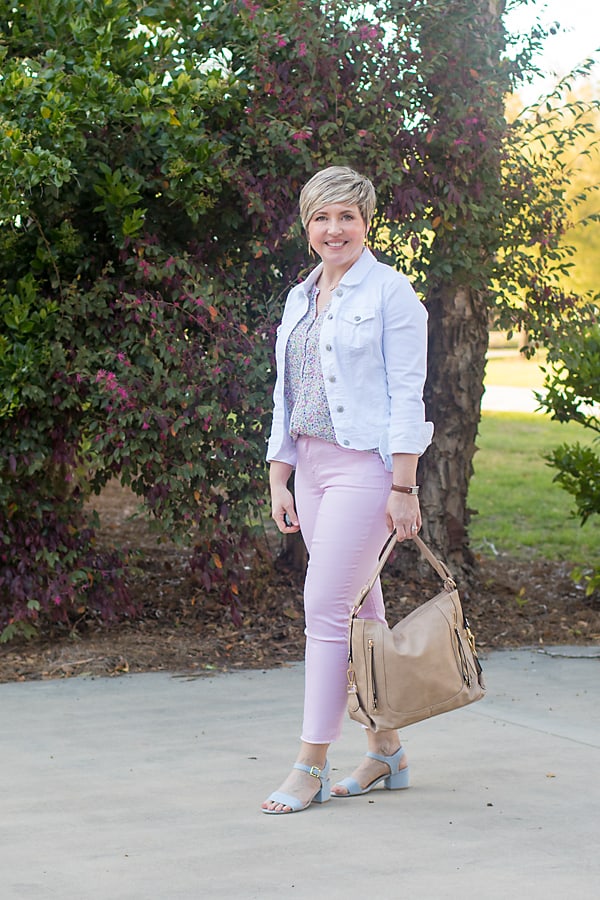 With a patterned top and olive joggers
Add some contrasting color with mustard flats.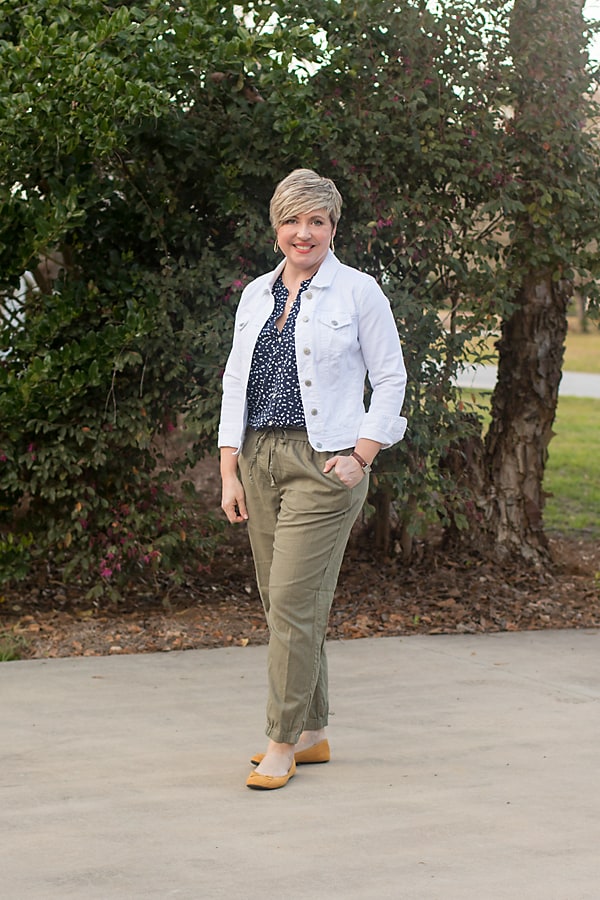 With a solid color skirt
Here a red chambray shirt and printed halter top is paired with the jacket. White sandals bookend the look.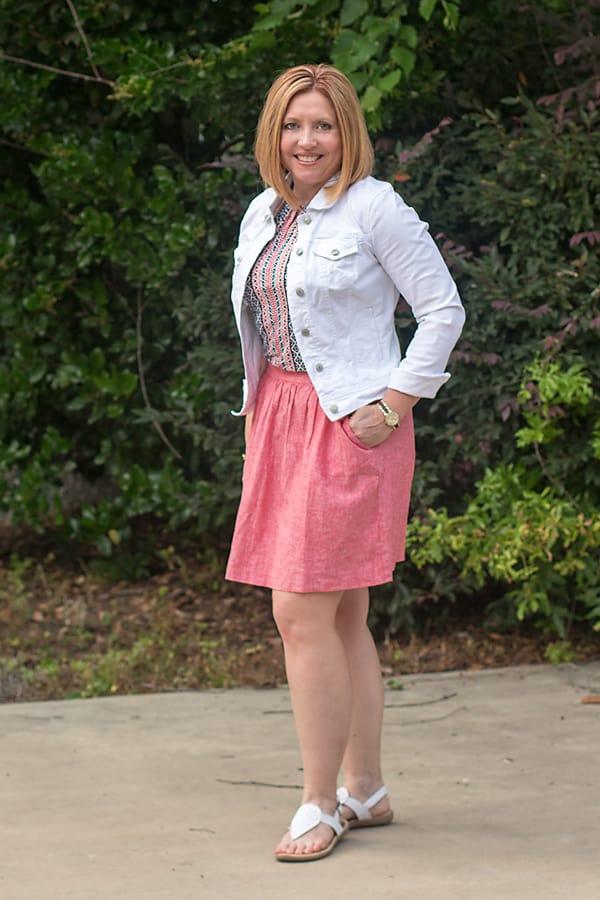 With bright shorts and a floral top
Pick any color bright shorts, pants, or skirt and pair it with a floral top that coordinates. Top with a white denim jacket.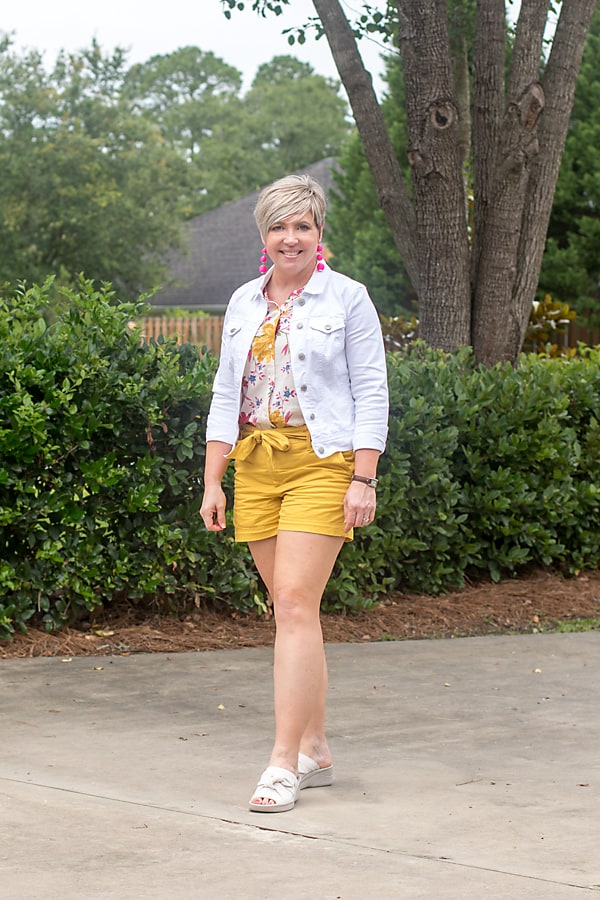 White denim jacket with a summer dress
A denim jacket is the perfect piece for throwing on with a casual dress and white keeps it on point with summer.
A white denim jacket provides more structure than a cardigan or other softer topper. Stick with a fitted cut instead of an oversized white denim jacket to avoid looking frumpy. This is especially important when pairing your jacket with looser fitting dresses.
A white denim jacket is also a little dressier than its blue counterpart.
With a navy tshirt dress
Create a chic look for Memorial Day or Fourth of July with a navy dress, white denim jacket and red sandals.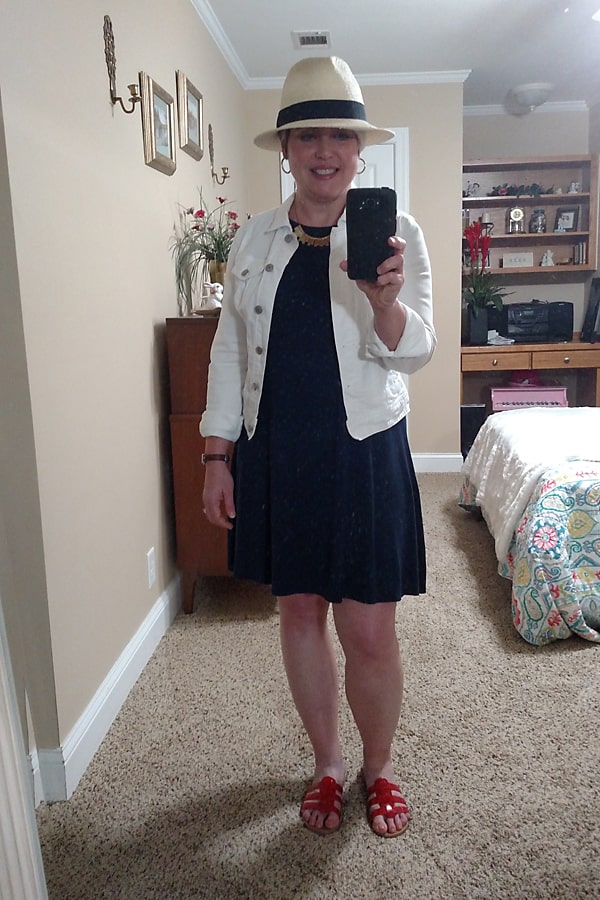 With a striped dress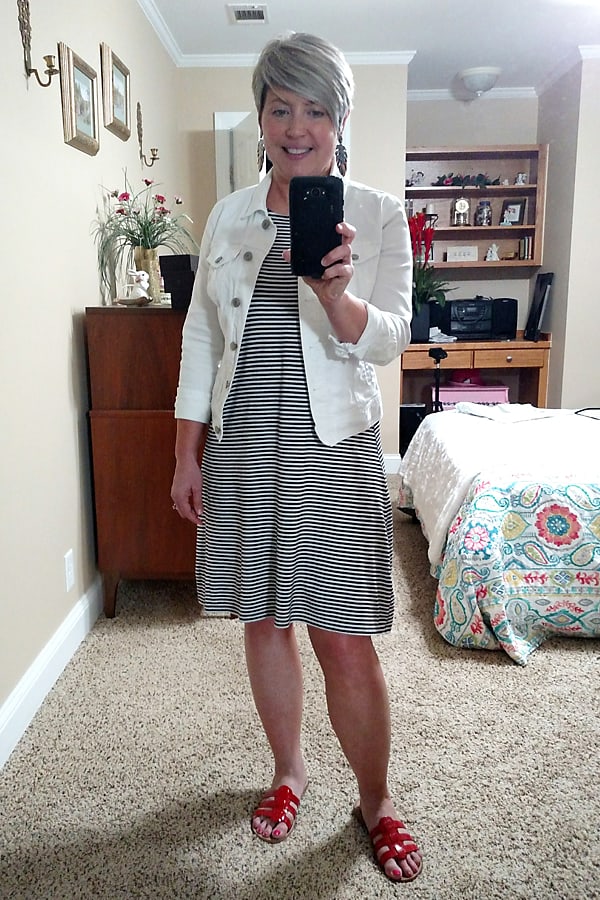 With a Patterned Dress and Wedges
Just like with patterned or floral shorts and skirts, a white denim jacket is a perfect topper for a printed dress.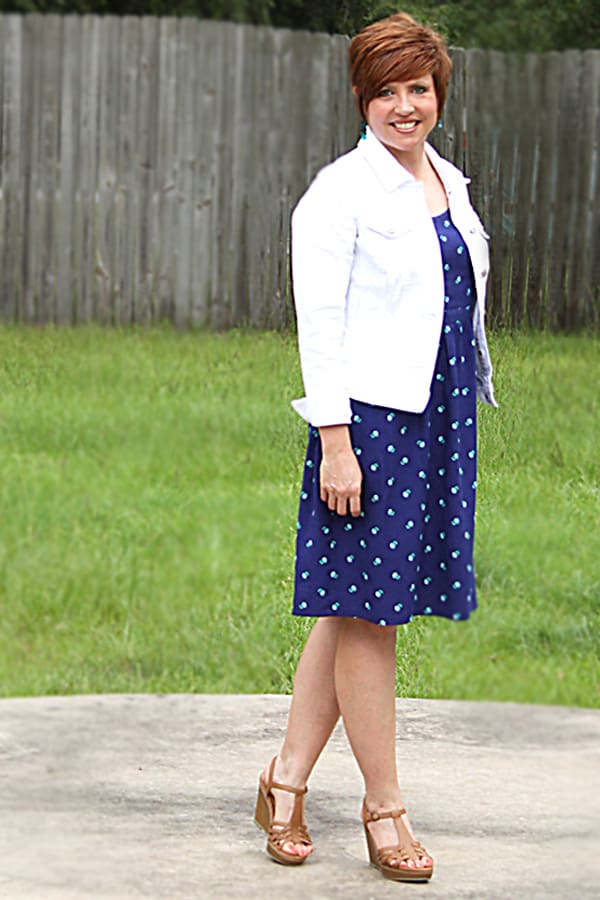 With a floral dress
Dress down a dressier floral dress with a white denim jacket and straw accessories.
See also: The Best Summer Accessories.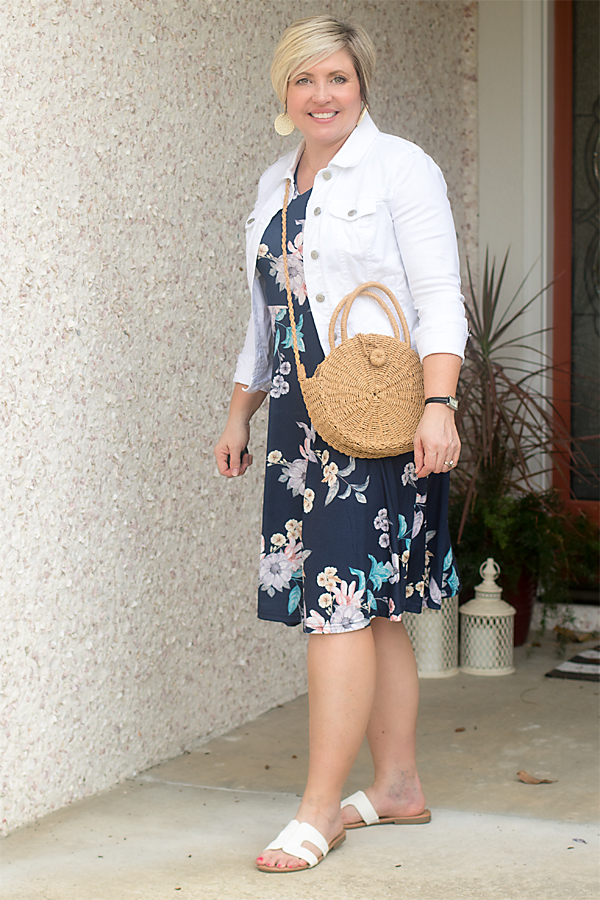 More Ways to Wear A White Denim Jacket Over 40
With a romper
Toss one ove any solid or printed romper.
Romper- Amazon
With shorts and white sneakers
Bookend a casual shorts outfit with white sneakers.
See also: The Best Shorts for Older Women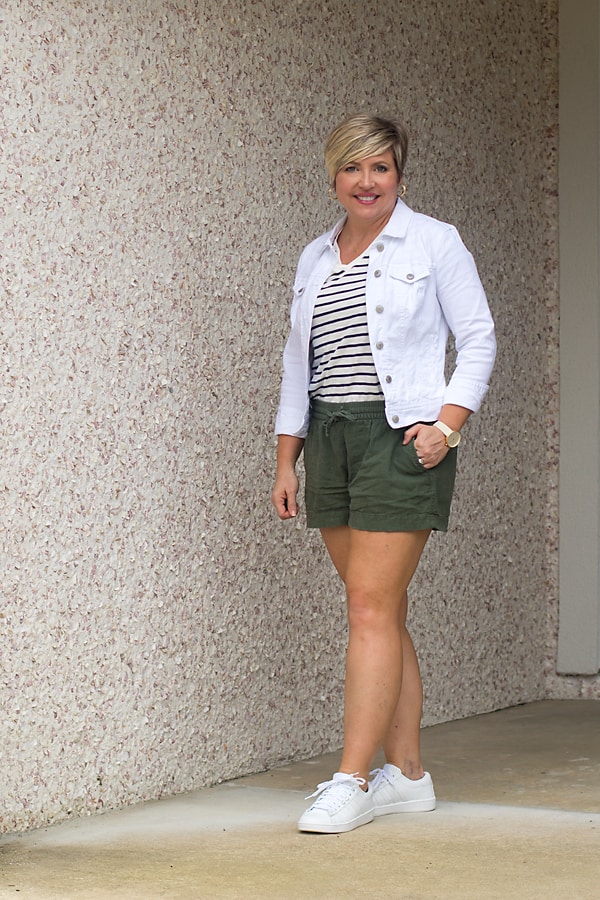 With trousers and a floral top
Go from work wear to casual event wear by changing your work flats to sandals and add a white denim jacket.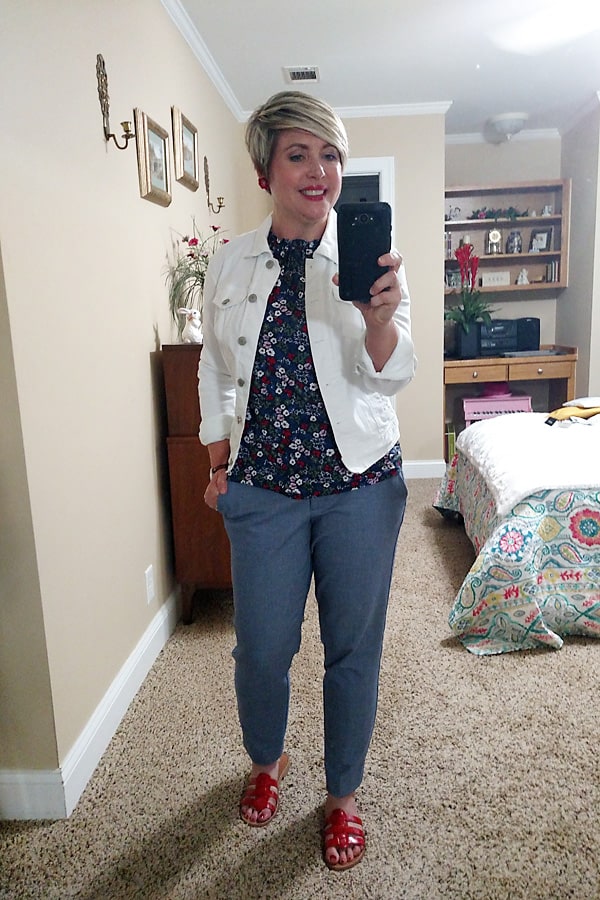 Even More Ways to Wear A White Denim Jacket
Jeans + tshirt + sneakers
Black jeans or trousers or skirt+ black and white printed top
Black and white is classic pairing and will always work. This can be your go to look when you get stumped on how to wear your white denim jacket over 40. Keeping most of the black on the bottom will benefit aging skin that doesn't look good next to black.
White jeans + patterned top
Nautical looks
Pair it with red and navy or with navy stripes to create nautical looks.
Shop white denim jackets
The denim jacket pictured here is from Old Navy. Other brands that come highly recommended are Kut from the Cloth and Vince Camuto.
What can I wear with a white denim jacket?
This post has answered this question many times. A white denim jacket pairs well with everything from jeans, trousers, shorts, skirts and dresses. Wear it with floral prints or bright color bottoms.
Can you wear a white denim jacket in fall or winter?
White demin is now accepted year round. Wear a white denim jacket in the fall and winter with white jeans, cozy neutral colored sweaters, and boots.
How to whiten a white demin jacket?
A white denim jacket can get dingy quickly, especially if you use sunless tanner in the summer. Wash it frequently to avoid this. Add Oxiclean to your wash. You can also try mixing 4 quarts of warm water with a cup of baking soda, then soak for 8 hours.
This post was originally published August 2020 and updated for August 2022.
DON'T MISS OUT!
Subscribe to my daily feed or to the weekly newsletter to get each post as its posted or a link to the each week's posts along with exclusive subscriber content in the weekly newsletter. Make sure you check your junk email after you subscribe and add me to your email safe list.