July was a slow month for me as far as Amazon shopping goes. I received my usual subscribe and save order which included Jergens self tanner, in shower sunless tanner/moisturizer , eyeliner, a brow pencil, cleanser and moisturizer, most of which I have had to hold off on using while I deal with allergies and contact dermatitis around my eyes. I love all of these products, assuming they were not causing the reactions. I'm ready to get back to some sort of beauty routine that includes more than mascara and Vaseline.
I purchased this bra because I was in need of a racerback or one that has that option with the straps. It serves its purpose and I don't have any complaints.
I also purchased these shorts. They are super comfy. I had originally intended to return them, but the more I wore them around the house, the more I loved them.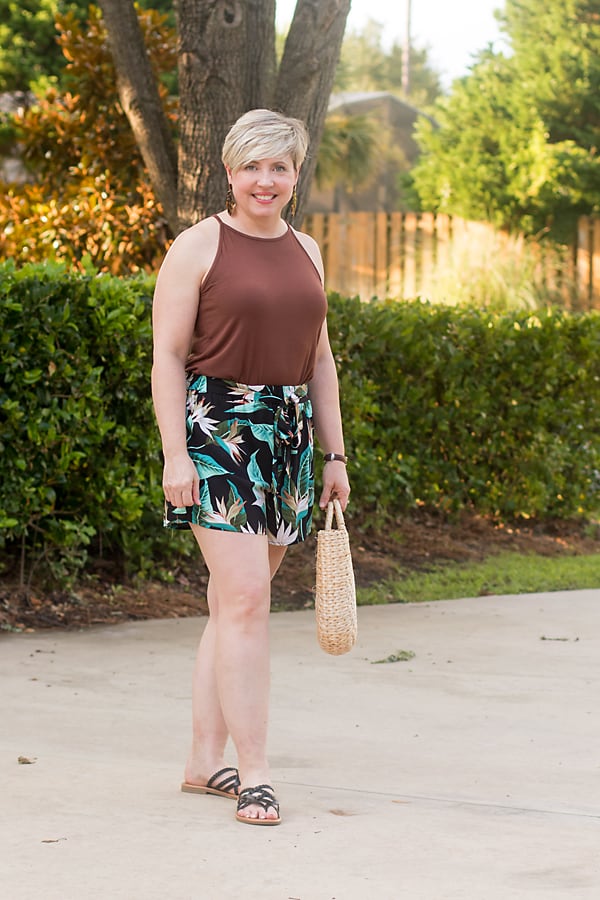 I'm hoping this mini budget planner will get me back on track with a budget and keeping up with our spending. We don't overspend but we could do better at identifying some cash flow to invest. I hate keeping up with a budget and expenses but I managed to track the whole month of July after getting this planner. It's small enough to carry around with me in my bag.
My hubby ordered these watermelon blocks and this garland for my tiered trays from my wish list for my birthday. I haven't had time to switch out the trays yet, but I can't wait to use these.
Since my Amazon purchases were so few I decided to review the remainder of my Nordstrom purchases that came in last week in this post. You can find the initial round of reviews here.
Caslon Corduroy Utility Jacket– I have been trying to add corduroy to my fall wardrobe for a couple of years now. I don't need a lot because it doesn't get that cold here and somehow I keep missing out on the pieces I think would work. I was surprised at how light and thin this jacket it. It's the weight of a regular shirt. It's perfect for our climate so it's definitely a keeper. Wearing a small.
Wit and Wisdom Raw Hem Straight Leg Cool Max jeans I reviewed these in the other post. You can't go wrong with Wit and Wisdom, especially if you are curvy. Check to restocks.
Steve Madden Finn Chain Pointed Toe Mule- There were similar shoes in last year's sale that I missed out on so I thought I had to have these. I'm really not impressed and will be returning them. They are pretty flat and have no support. I do like Steve Madden shoes but these missed the mark for me, even at the sale price. I'm sure I will find chain mules in a couple of months, at a better price. Maybe a different color would have looked better on me. I don't know. The husband made a horrible face and shook his head no when I came walking through with these on. They do run true to size if you want to give them a try.
Other keepers:
Zella High Waist Studio Lite Pocket 7/8 Leggings I bought a pair last year, but I don't think they have pockets. These have the pocket and the 7/8 length is perfect for petites. Lots of compression and worth the sale price.
How Perfect No-Wire Contour Bra
Red Carpet Convertible Strapless Bra
It's a good idea to refit and replace bras every year. After last years weight loss, this was a necessity for me, especially in the strapless bra. Both are favorites of mine.
Breast of Both Worlds Reversible Wireless Bra The description says no roll band, but it rolls on me. All bras of this type do because I have a short torso and large ribcage. Otherwise, it's pretty comfortable and I'm keeping it.
Returns:
Snow Wash Rib Bike Shorts I found these to be a little long for my liking and the ribbing was rough and uncomfortable. These were just a no!
Live In Jogger Pants Maybe I was just in a mood, but these felt gross to me. The fabric is a polyester and it just felt gross. They run a bit small and were a bit too snug, so it wasn't a pretty picture from behind either.
Breezy Racerback Sports Bra I bought a Zella sports bra last year that I loved, but this one failed to meet expectations. I might have liked this one better, but I'm done with all the packages and returns!
Linking up with Tanya for Prime Purchases. I can't wait to see what you bought last month.