I have more spring fashion to share with you today in the form of a try on. Be sure you check out the Old Navy and Target finds I shared earlier in the week. This spring shopping haul includes finds from Loft, Gap and Wal-mart. All are fun affordable places to shop for cute spring outfits.
FOR SIZING REFERENCE: I'm 5'2 and wear a small in most tops, sometimes a medium if its more fittled. I wear 6-8, or 28-29 in pants and jeans. I'm wearing a small in all tops featured here.
Spring Tops from Gap
Let's start with my favorite- the printed peplum top. I'm not a fan of baby doll tops or loose billowy tops. I feel like they have always made me look bigger or pregnant. That's definitely not a look I'm tyring to achieve.
But a peplum top- yes.
Usually, a peplum top fits at the waist and flares out from it but this peplum top from Gap has a slightly higher waistline with a small peplum. The shorter length of the top keeps it from looking like a maternity top and the v-neck neckline is super flattering.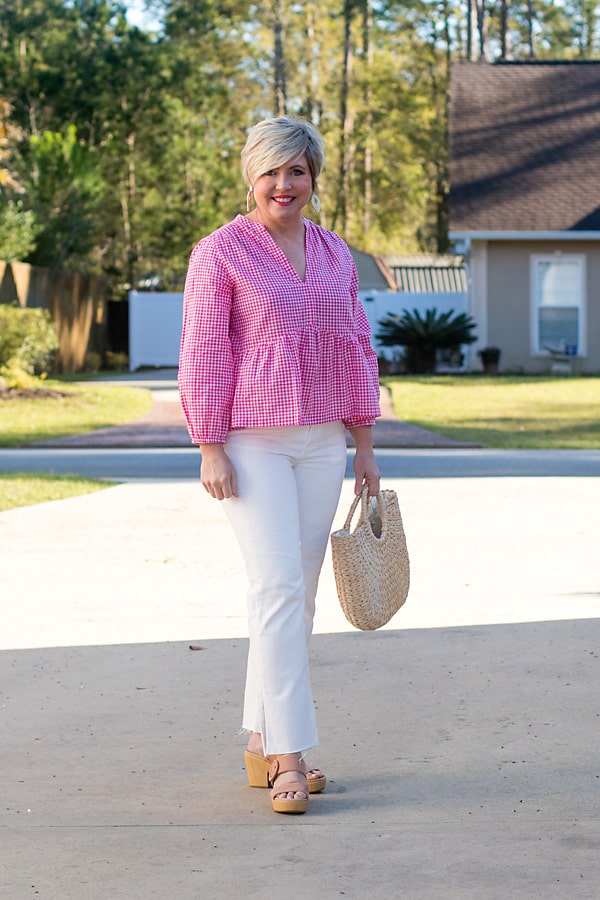 This top also comes in a cute navy blue daisy print, as well as a beige floral and navy gingham.
Made from 100% cotton, this top is cool and comfortable. It will take you from spring to summer and is especially suited to warm humid climates. The sleeves are three-quarter, roomy and perfect for those that like to keep large upper arms covered. It's also great for women with tummies as it comes in at the smaller part of the body and the looser bottom covers the tummy.
This double tie front top is another soft cotton top with three-quarter sleeves. It will also be comfortable for warm spring and summer climates. The top has a double tie and this one looks good partially tucked or worn loose. It comes in an on trend blue stripe and sage green floral.
The roll cuff shirt is a soft cotton button up that comes in fun bright stripes and neutral stripes. It has an easy, relaxed fit. I can see myself showing lots of love to this one all spring and summer.
The oversized flannel shirt is a great option for cool spring morning and evenings. It' s soft and lightweight and easy to remove and tie around the waist when the temps rise during the day. I sized down to an x-small in this one due to the oversized fit.
It's so comfortable that I purchased it in two colors and have been wearing it like a shacket since most shackets are too warm for our spring weather.
jeans- Loft; sneakers- JCrew Factory
striped tee; jeans- similar; loafers similar
The jeans I'm wearing with these tops in the first five pics are also available at Gap. The white denim is a 90's loose split hem jean and the medium wash jeans are a 90's midrise loose fit. Both pairs of jeans are comfortable and a nice change from skinny jeans.
Loft try ons
I've recently purchased a few things from Loft so I'm sharing those with you also. I do wish Loft offered free returns but they don't so I'm very selective with my orders because the closest store is an hour away.
I can't resist stripes or puff sleeves. Put the two together and I'm sold. I bought this top in two colors. It's a nice lightweight fabric that works for our mild springs. It has a true to size fit. It's not oversized or fitted. I also liked it so much I bought it in two colors. As another reviewer noted, the sleeves are shy of being full long sleeves, but longer than three-quarter sleeves.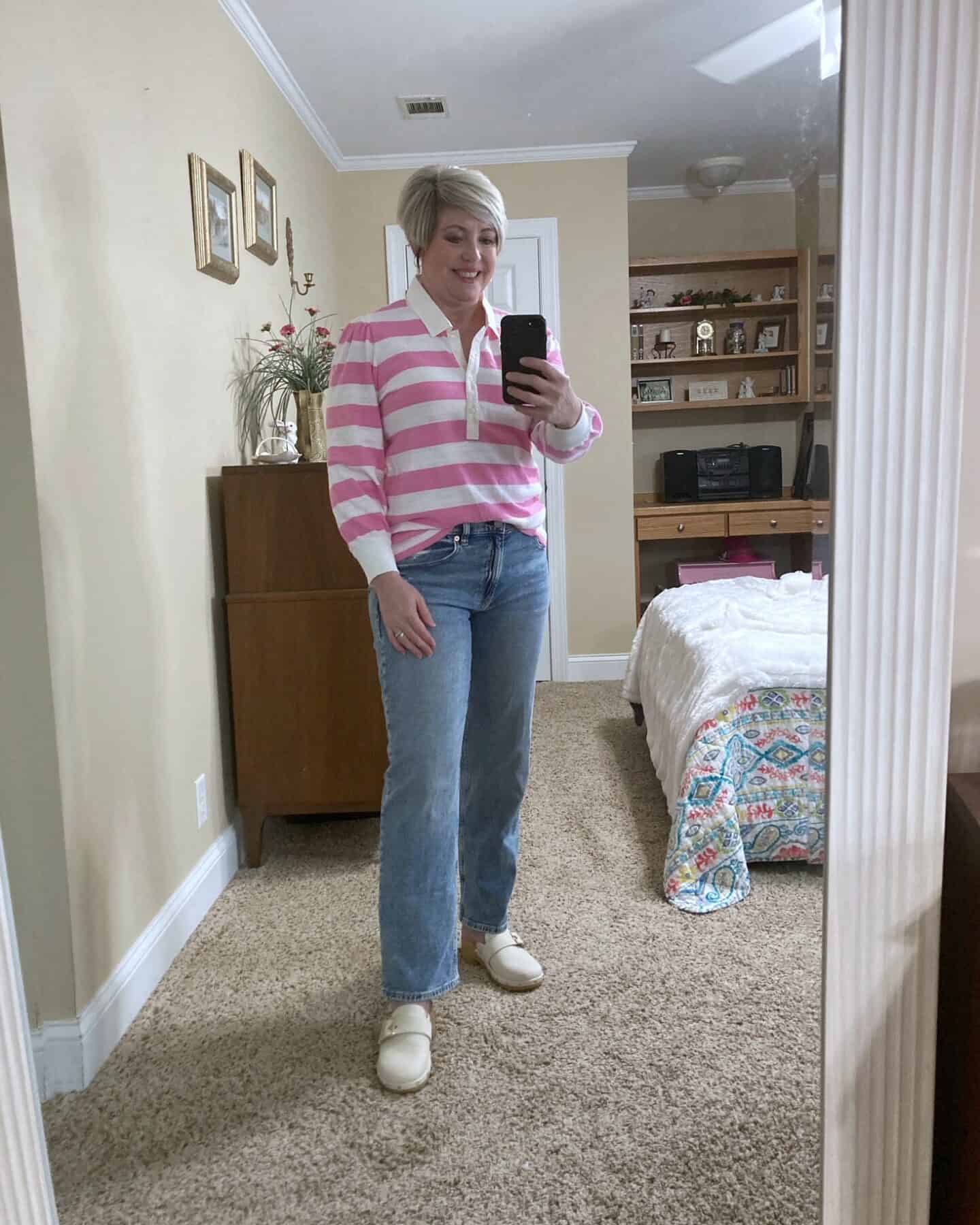 V Neck Cardigan and Wide Leg Crop Pants in Spring Bloom
The pants have an elastic waist in the back and pockets in the front. The fabric is very smooth and cool. I'm wearing a small. It fits and I'm not sure if a medium would be a better fit or too big. I think it comes down to preference. If you want them to have a loose fit, size up.
The cardigan is a decent weight for spring. A little heavier than I need for our temps, but not too heavy.
It's hard to see in the pics, but the neckline has a sweet scallop edge. The sleeves have the slightest bit of puff to them. This really is a sweater tee- lighter than most sweaters but like a thick tee shirt. It's a level up from a tee shirt and I can wear it work where a regular knit tee would not be allowed.
Spring Fashion from Walmart
Walmart has lots of cute clothing now but I have the hardest time finding things to share. When I find something I like, it's usually almost sold out and there is no point tempting you with it if you can't buy it.
Free Assembly Pleat Shoulder Sweatshirt
Another sweatshirt for a cool spring day with cute details like pleat shoulders and princess seams. Soft and comfy. It's a little heavier than the sweatshirts from Target. Comes in 5 colors.
Free Assembly Women's Breton Stripe T-Shirt with Drop Shoulder Long Sleeves
Stripes are an abundant part of spring fashion and they are an easy trend to wear this spring. This blue breton stripe top is a steal at $14. 100% cotton.
Free Assembly Women's Boatneck Mini Dress with Long Sleeves
Another steal at $22. It's the perfect weight for spring. It's soft and comfy. I'm wearing a medium but it's large around the middle on me. I could probably wear a small. With 95% cotton/5% spandex, it has just enough stretch to move with you and still hold it's shape. This is a classic piece you can wear for several seasons.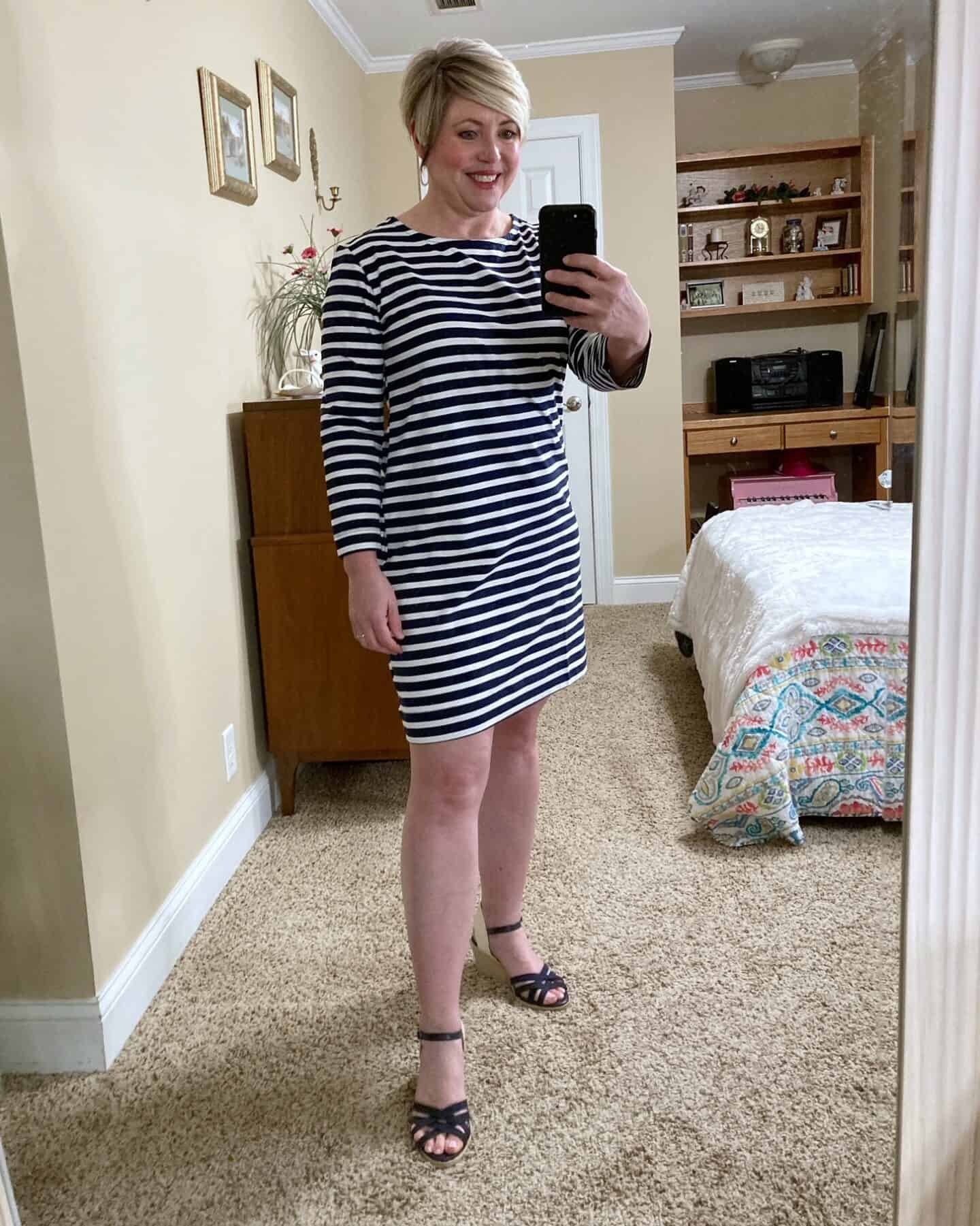 Free Assembly Women's Long Sleeve Shirt Dress
A shirt dress is another classic piece to have. It makes an easy outfit but still has class. This one is 100% cotton poplin. It's not the softest but will probably relax with washing. Bonus: it has pockets.
Time and Tru tiered midi skirt
I consider this one petite friendly because it stops before mid calf. It has a flat front but elastic back waistband. It also has pockets.
The denim color will go with a variety of tops.