Happy Monday! If you aren't a Monday person, maybe this spring fashion try on haul will add a little fun and excitement to your Monday.
Many of us are enjoying spring to the fullest and some are still waiting for it to come. No matter what your status, I've got spring clothing for both in this spring shopping haul.
FOR SIZING REFERENCE: I'm 5'2 and wear a small in most tops, sometimes a medium if its more fittled. I wear 6-8, or 28-29 in pants and jeans.
Let's start with some Target finds for those of you still having cold weather.
Cute Outfits from Target
They had me at "henley" because I love a good henley style shirt, but look at those sleeves! This solid sweatshirt comes in three colors and has floral crochet overlay on the sleeves. It's soft and stretchy and fits true to size. I'm wearing a small.
These jeans feature a full elastic paperbag waistband but have belt loops. They are made from a soft cotton and are super comfortable to wear. Wearing a 6.
These two pieces, along with the Dr. Scholl's clogs make the perfect cute casual spring outfit to wear on a cool spring day.
Another lightweight spring sweatshirt with drool-worthy sleeves. The embroidery is beautiful. Paired with these hight waist carpenter jeans, this makes another cool spring day outfit.
I'm wearing the pants in an 8 short. They are cotton with a touch of spandex for stretch. The ankle length lets you show off fun shoes like these clogs that are not only fun but comfortable thanks to memory foam.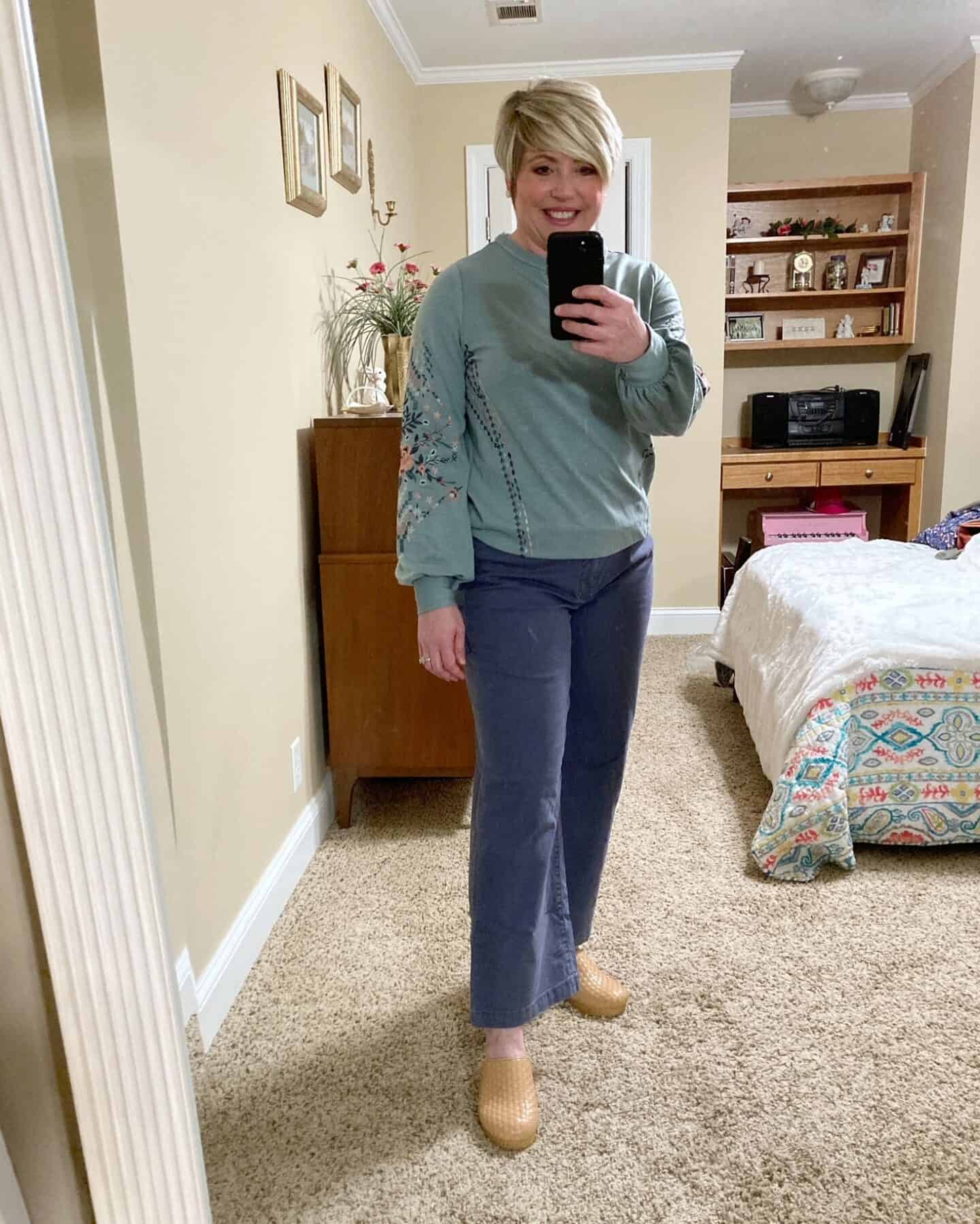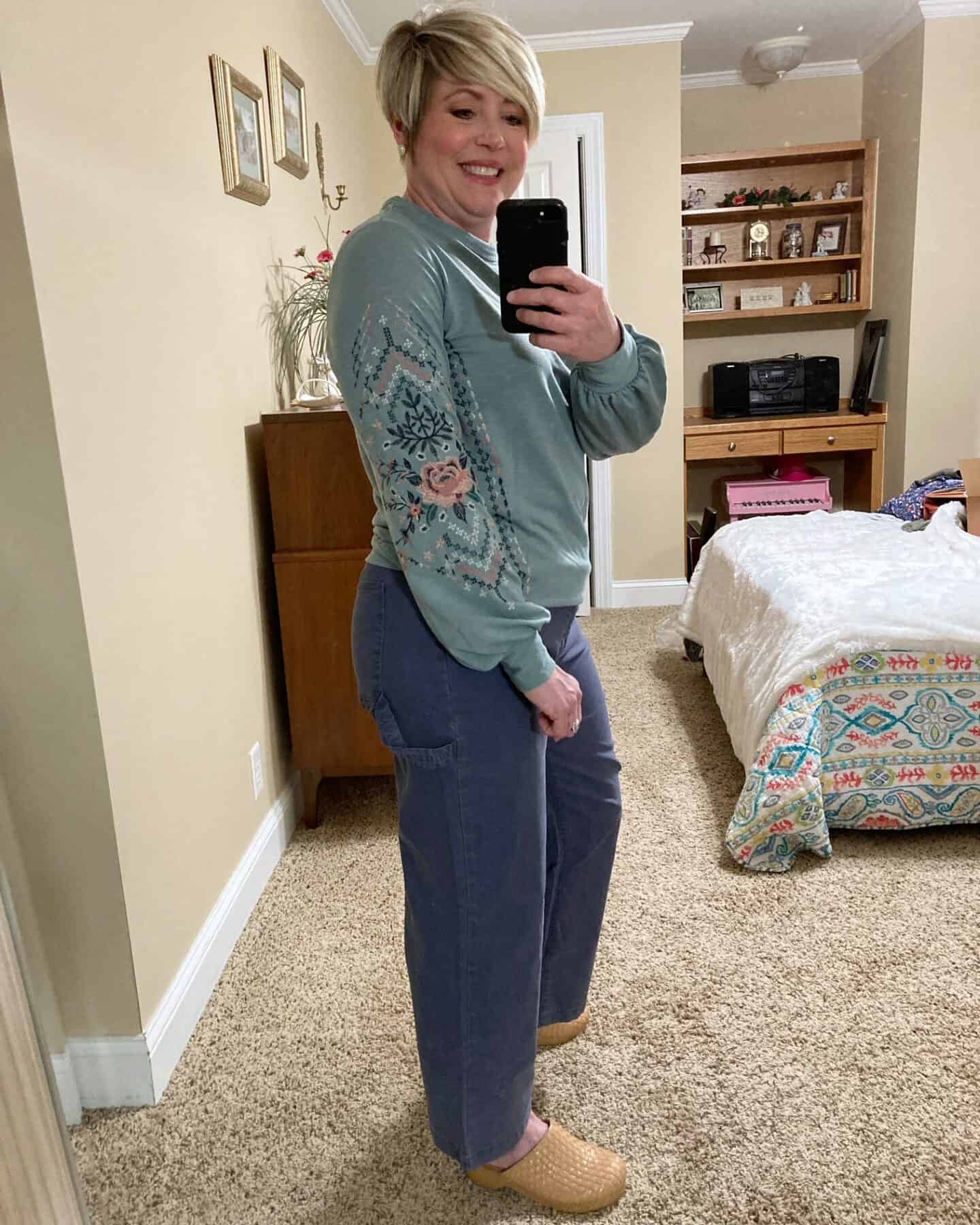 I've already shared that I have a crush on henley shirts. This one levels up a basic henley with smocking at the top. The sleeves are elbow length and perfect for those that like to cover large upper arms. Wearing a small.
These flare jeans are really cute and come in a short length. I'm wearing a 10 short. Target jeans tend to run small for me, but these have enough stretch that I need to go back down to an 8. They also come in a dark wash which is completely on trend for spring.
The top is almost out of stock as I write this post, but it's worth stalking for restocks. The navy floral print pairs well with a number of items, including these apricot orange paperbag waist jeans. These are the same as the first outfit, but in a different color.
Wearing a small in the top and 6 in the pants. Shoes are Dr. Scholl's.
This sweater is also perfect for cooler spring days. It goes well with either color of the paperbag waist jeans. I'm wearing a small. I thought the fit was a little off for me but would still recommend it. Those Magnolia heel clogs go with everything.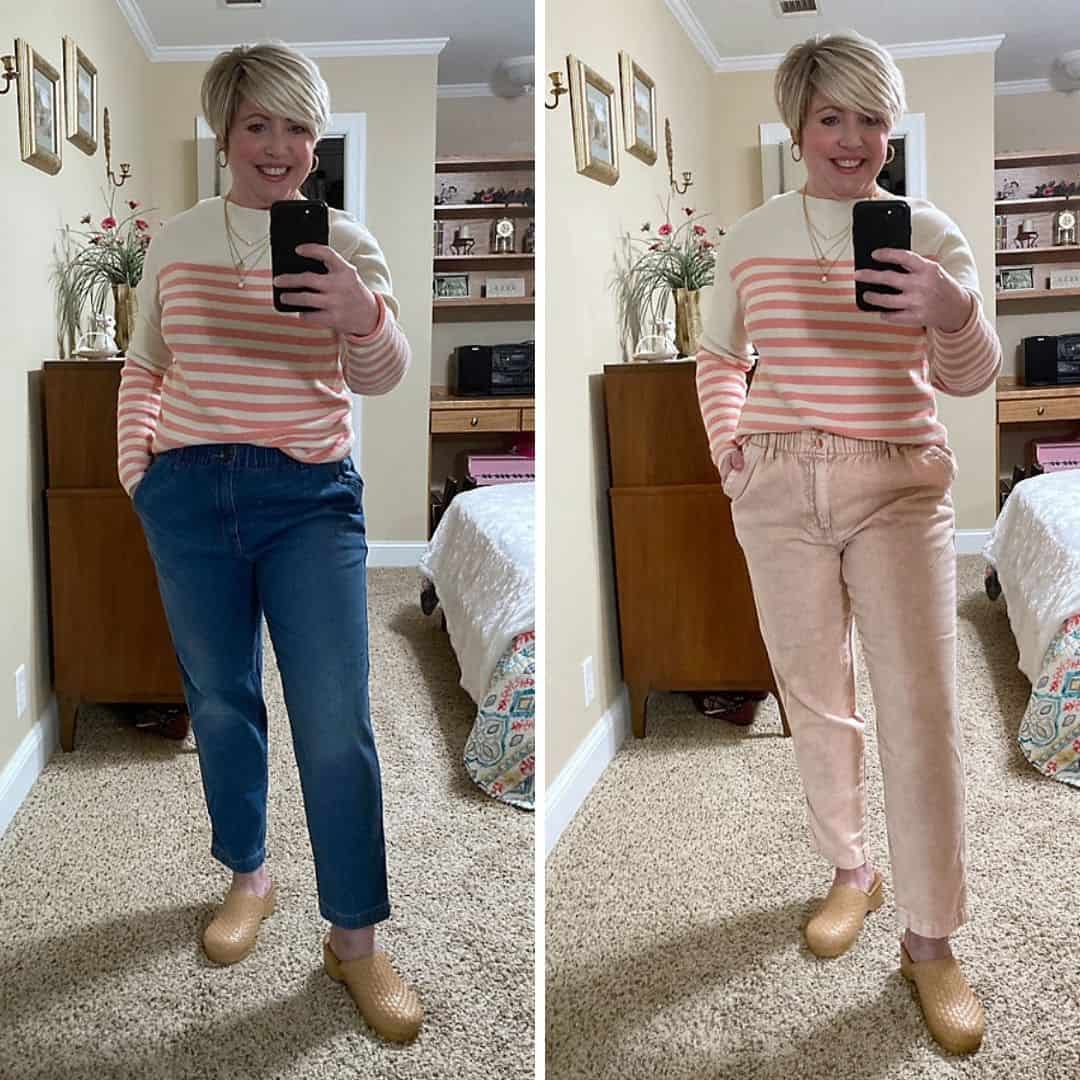 These tie waist pants are a lightweight linen/rayon blend and are perfect for work on warmer days. I'm wearing them in a medium in cream.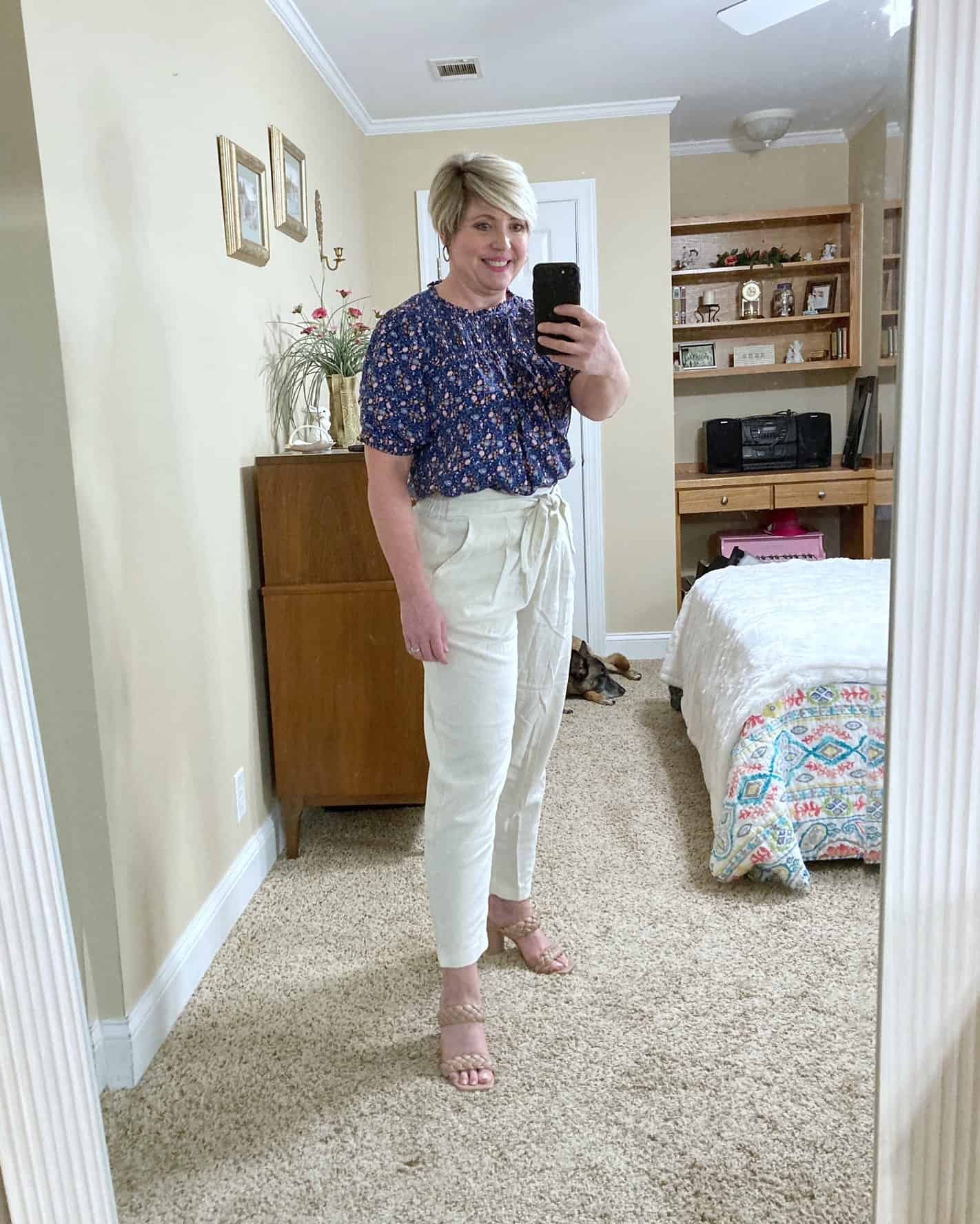 Old Navy Spring Shopping Haul
Next up is spring clothing from Old Navy. I had a lot of misses with my Old Navy order and I'm only sharing the best of the order.
Right now Old Navy has lots of midi dresses and flowy baby doll tops. Those aren't the most flattering items for me.
This tee is a boxy fit but can be tapered in a little with a tuck.
I have been on a search for new white jeans in a straight leg fit. I'm giving skinny jeans a break. I didn't dislike these jeans, but they were not "the" ones for me. I have issue when the pockets show through on white jeans and these show more than others.
This is a nice, smooth feeling fabric (rayon/cotton blend) and this top can be dressed up or down for work or casual outfits. It has elastic in the sleeves to give them a blousy full look.
Jeans- Wit and Wisdom; headband- JCrew Factory; shoes- Old Navy
If you have small shoulders and a small chest, you are in luck! Puff sleeves are everywhere. However, if you have large breast or wide shoulders, these are not your friend.
I'm pretty small chested and I barely squeezed into the top of this dress. A couple of others were so bad, I'm not even showing them to you. Clearly, Old Navy is currently catering to young girls in the dress department right now.
I adore the sleeves and this dress has pockets but I'm feeling a bit "Dorothy in the Wizard of Oz" here.
If you like it, go ahead and rock it. No judgment here. I'm never one to say you can't wear something past a certain age.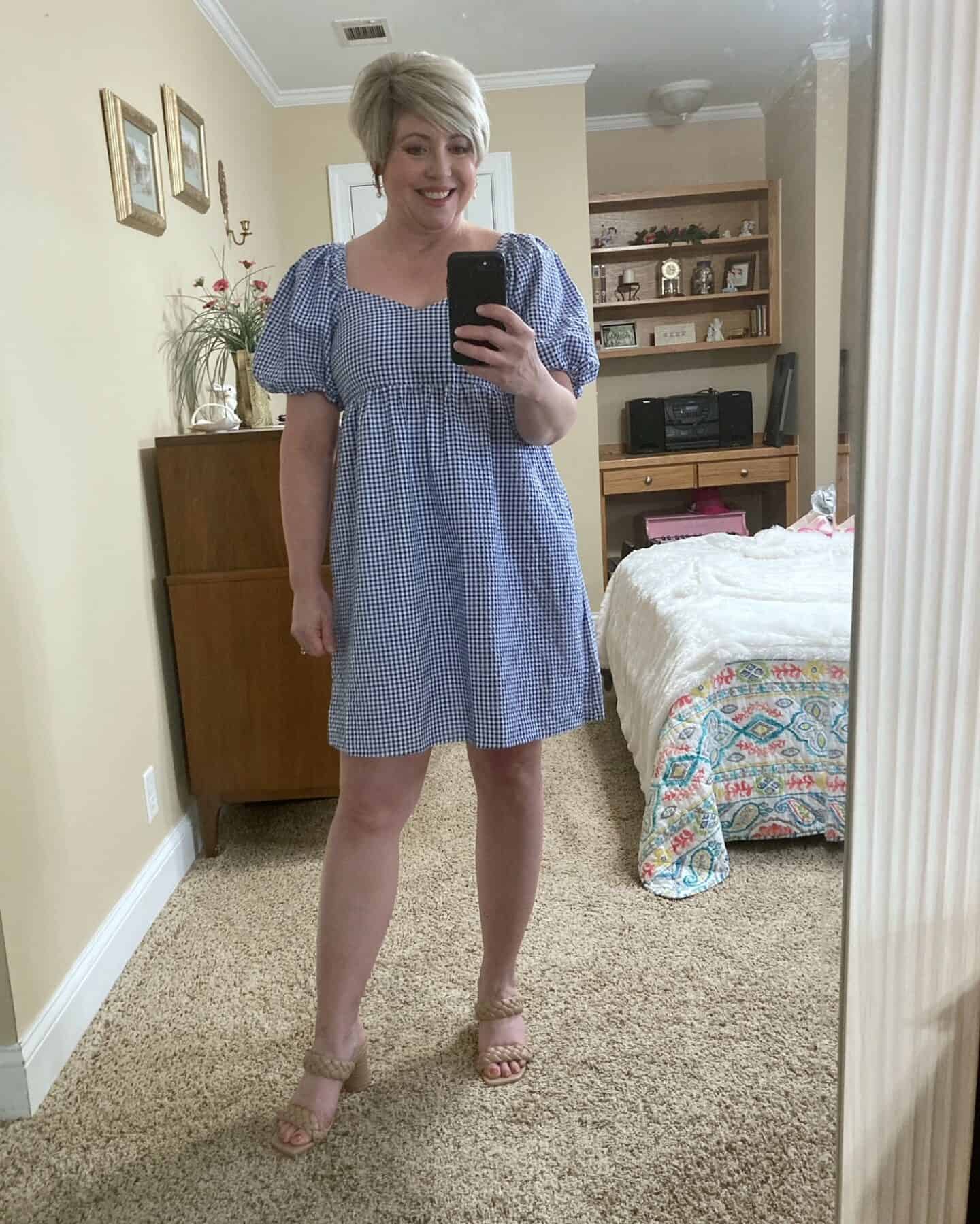 Sandals- Target
This dress is a better fit than the one above. I would wear this one on vacation or out to dinner.
The smocked waist is quite comfortable and the top is roomier. The length is a tad on the short size but very wearable for petites.
I kept it casual by pairing it with these square toe slides I recently purchased from Amazon.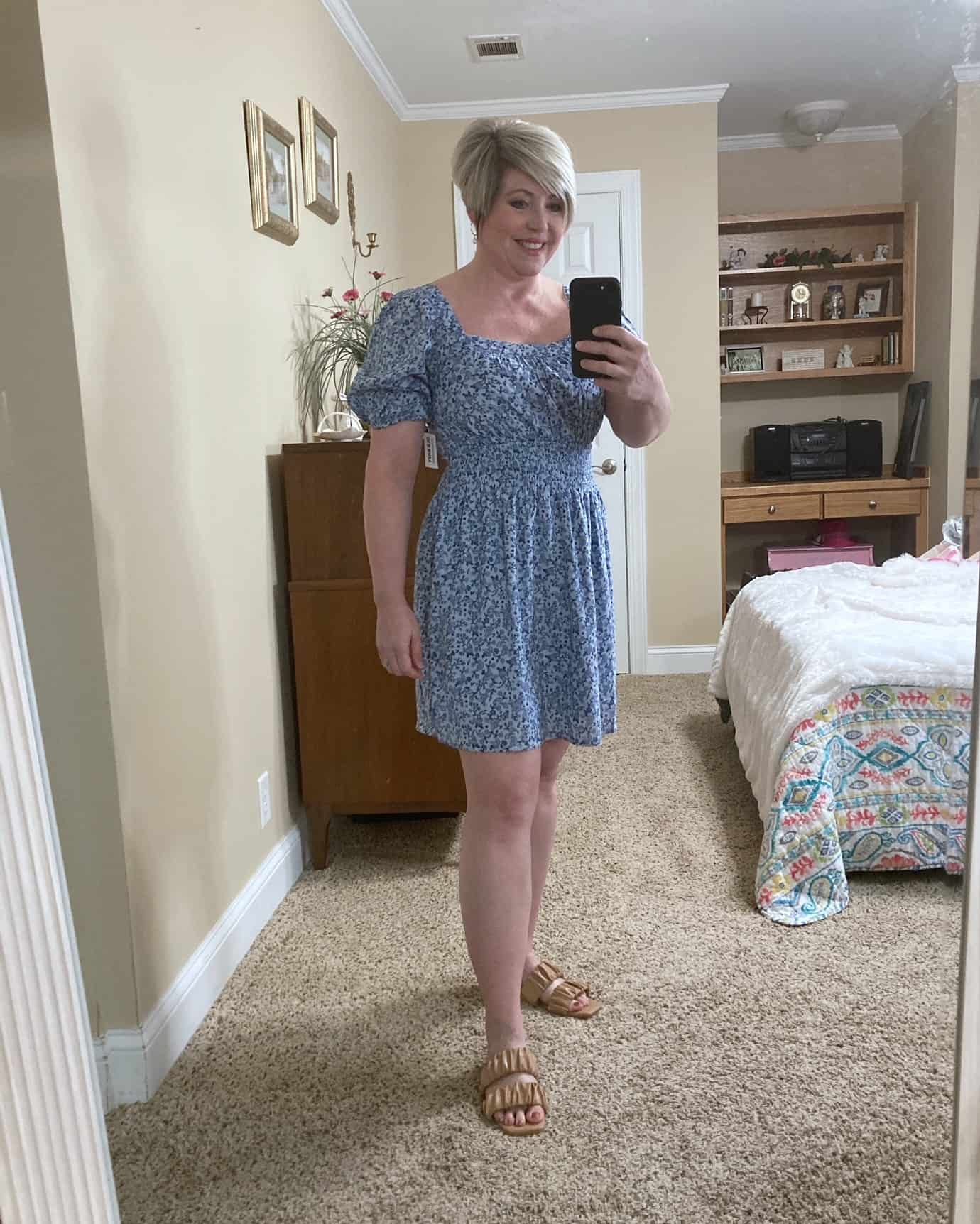 I'll have a part two of the spring shopping haul for you within the week. If you can't wait, check out my instagram. I'm featuring Gap tops in this reel and they are currently on sale.
Don't miss my post on the Best Shoes for Spring for trending shoe styles.