Boots– the footwear we southerners anxiously await the drop in temperature for a chance to wear. Our northern friends are probably sick of them by the time spring rolls around again. Officially, boots are footwear that fully cover the foot and some part of the leg, at least the ankle. The coverage they provide make them a great addition to a wardrobe for the colder months.
This post was originally published in 2019. Updated January 2023.
Boots come in many types and with many functions. They have evolved greatly over the years. There are rain boots, snow boots, hiking boots, duck boots, riding boots, rubber boots, waterproof boots, and work boots of all kinds.
They are made for men and women. This article will focus on different types of women's boots. The fashion variety can serve a purpose, like keeping us warm, but are worn more for style than for any utilitarian function or purpose.
In the early 1900s, hem lines began to rise so the wearing of taller, knee length boots by women became popular. By the 1930s, their popularity declined and then surged again in the 1960s and 1970s. (source) Each style/brand of boot has its own unique history.
Let's look at the four most popular types of fashion boots- ankle, mid-calf, knee high and over the knee.
This post contains affiliate links. I make a small commission from your purchases through these links. Thanks for your support.
Ankle boots
These have been popular with women since the late 1700s and early 1800s, and are a style worn today by both men and women. In 1837, Queen Victoria had a pair of ankle boots designed for her that featured an elastic side gusset to be pulled on instead of lacing up. We know that boot with elastic side panels today as chelsea boots.
We also call ankle boots of all sorts "booties" but I could not find the origin of that term. The term bootie is actually defined as "socks for babies" or disposable cloth shoes. Another definition suggests this is a boot that doesn't cover the ankles. It's somewhere between a shoe and a boot.
The shaft height may vary a little on ankle boots but boots are considered an ankle boot if they cover a couple of inches above the ankle. Classic style black ankle boots or brown ankle boots are some of the best boots for a woman's wardrobe.
See also: Trend to Try: White Ankle Boots
Ankle boots can be styled in numerous ways but are most commonly worn with skinny jeans, straight leg jeans boot cut jeans, flare jeans, skirts and sometimes shorts. They come in a variety of styles and heel heights- low heel, flat, wedge, cut out, block heels, high heels, and more. They are made from a variety of materials, to include leather, nubuck and suede.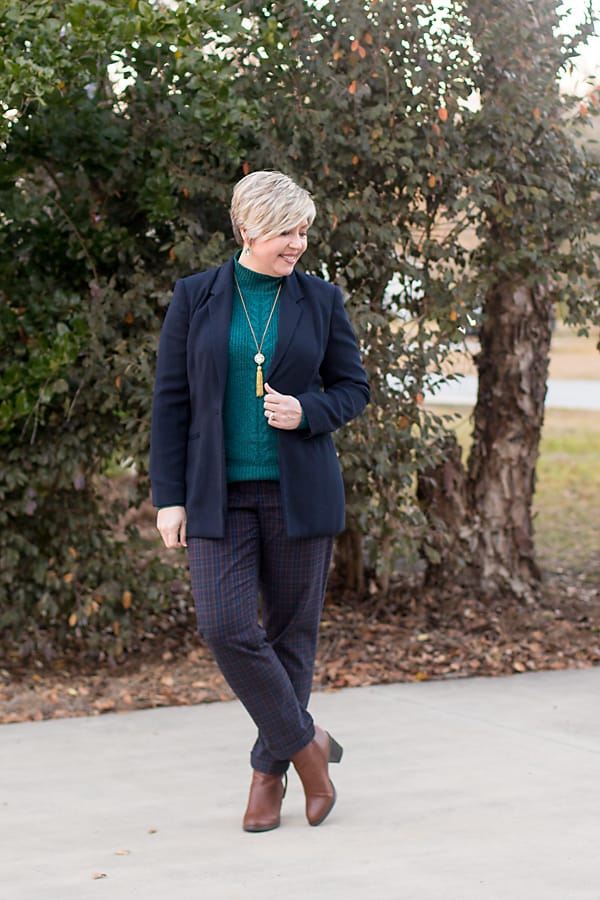 Related: 15 Ways to Wear Leopard Booties
Different styles of ankle boots
Chelsea boots
This classic ankle boot tends to be a casual boot that can be worn with your everyday outfit. Some come with a thick sole or lug sole. They are characterized by the elastic sides that allow them to pull on as opposed to traditional boots with an inside zipper or back zipper.
See also: Trend to Try: Lug Sole Boots
Wedge boots
Wedge boots have a wedge heel, making them sturdy, comfortable boots. Some women find a wedge easier to walk in that a traditional heel. These are a great choice if you need some height but want to keep the shoe style casual.
Flat Boots
A trendy boot for winter 2022 is the suede/sheepskin ankle/ short boots with a rubber sole. These are best know by the brand Ugg boots, but there are more affordable alternatives in similar styles.
Mid calf boots
This boot typically hits mid calf, as the name suggests. The shaft is taller than an ankle boot, but shorter than a knee high boot. The taller shaft of a mid calf boot may work better with some straight leg jeans.
Different Types of Mid calf boots
Combat boots
These were originally designed for solders and military use, but have become trendy in street style. A combat boot can be one of the best women's leather boots for winter. The lace up style comes to mid calf.
Live your best 90s grungle style over and over in a pair of Dr. Martens combat boots. Pair combat boots with sweaters and jeans, tunic tops and leggings, or with a dress for edgy styles.
Cowboy boots
For a trendy look, grab a pair of western boots. Cowboy boots continue to make an appearance among fall fashion trends each year. Most come mid calf or just a little higher, but you can also find western inspired ankle boots. They are predicted to be popular on spring runways for 2023 as well.
Moto Boots
Moto boots are leather, mid-calf boots with a low heel that are typically worn by those who ride a motorcycle. They may have a variety of embellishments such as buckles, studs and zippers. For edgy style, pair them with a dress and a leather jacket.
Tall Boots / Knee-High Boots
Another type of women's boots are tall boots or knee high boots. These come up to or just below the knee.
One of the most popular styles of the knee high boot is the riding boot. Some debate that they are not in style anymore but I think they are a classic and you will never be totally out of style with a riding boot. As the name suggests, they were designed for horseback riding and date back to the 1600s and earlier.
They were designed to protect the legs and calves from the saddles and the heels helped to keep a rider's foot in the stirrup. Today's version has a slightly lower heel and may be buckles and embellishments. This style looks great with skinny jeans and leggings. Other knee high styles may have higher heels and look great with skirts.
They are not just for riding horses any more.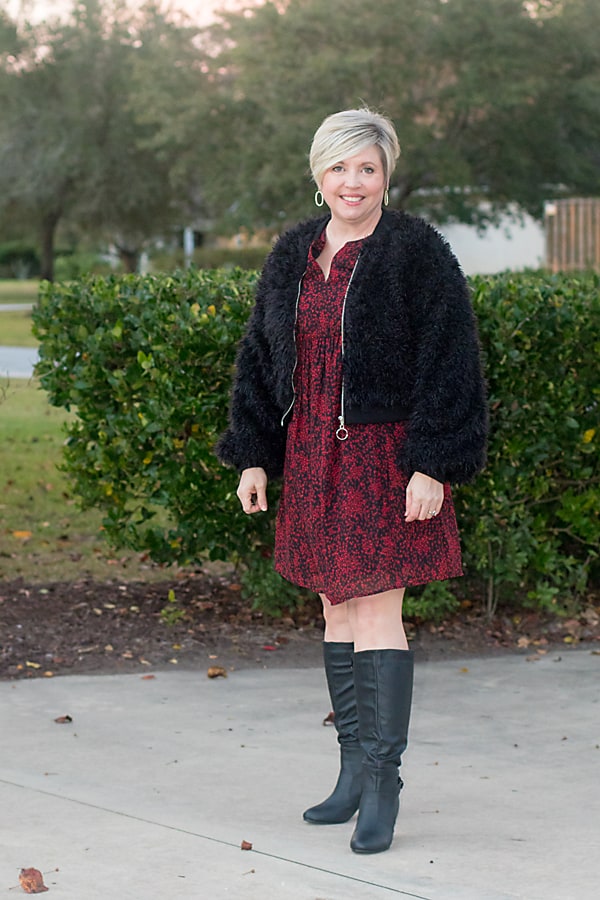 Other knee high styles may have higher heels making them a great option for dress boots. Wear them with sweater dresses, dresses, and skirts for a polished classic look.
Related: 5 Ways to Wear Tall Taupe Boots
Over the Knee Boots
Over the knee boots, particularly thigh high versions were originally worn by men! They can be traced back to the 15th century. In the 19th century, women began to wear this style. Popularity came and went in the 60s and 70s and revived some in the 80s and 90s. They will always be around, so if you like them, rock them!
I'm probably never going to rock the thigh high style, but I did add a pair of over the knee boots to my closet.
When wearing over the knee and thigh high boots, it is best to let them be the statement piece and be more conservative with the rest of the outfit. When wearing them with skirts, show only a tiny bit a skin. If you have fitted over the knee boots, the skirt can cover the top of the boot.
The boot type you choose will depend on your personal style. In addition to being defined by shaft height, boots are defined by toe shape.
You may prefer a round toe, square toe, almond toe or pointed toe boot. Pointed toe boots tend to look best with boot cut and flare cut jeans and help lengthen the leg for petites. A round toe or square toe ankle boot works for taller women and looks good with dresses, skirts and cropped pants.
Toe Shapes
Pointed Toe
The toe of the shoe comes to a point. This provides less room and may be uncomfortable for those with wide feet. A pointed toe helps lengthen the leg for those with short legs.
Almond toe
Somewhere between the round toe and pointed toe. It' s less narrow than a round toe boot or shoe, but provides more room than a pointed toe. It comforms to the common foot shape.
Square toe
A square toe shoe is squared off at the toe or very tip. It's a trendy shape that goes in and out of popularity. Like a round toe, it can provide more room for your feet and toes.
Round toe
A round toe is exactly as it sounds- the toe of the boots is rounded. This can provide more room for wider feet but the boot can look shorter and stumpy if you aren't careful.
Given the variety and different types of women's boots, there is a perfect pair for everyone. No matter your preference in style, a good pair of boots should be one of your fall and winter wardrobe essentials.