Hello and welcome back to another edition of Fashion A to Z. This week we are talking about one of everyone's favorite garments- the t-shirt.
This post contains affiliate links. I make a small commission from your purchases through these links. Thanks for your support.
The t-shirt is an iconic American staple for a wardrobe. It was originally created as an undergarment and was issued to the U.S. Navy as such in 1913. Before that, undergarments were one piece suits called union suits. While the suit kept men warm, it did nothing to keep them cool and they began cutting the suit in half for the warmer months. This spawned the idea for the first undershirts, or t-shirts. P.H. Hanes Knitting company began making a two piece version of the suit in 1901.
In 1950 Marlon Brando wore a white t-shirt as Stanley Kowalski in A Streetcar Named Desire, followed by James Dean in 1955's Rebel Without a Cause. The t-shirt instantly earned status as a stand alone garment.
The white t-shirt is the best blank canvas for an outfit, but t-shirts come in many colors and styles. There is one for everybody, male and female. The most popular necklines are crew neck and v-neck.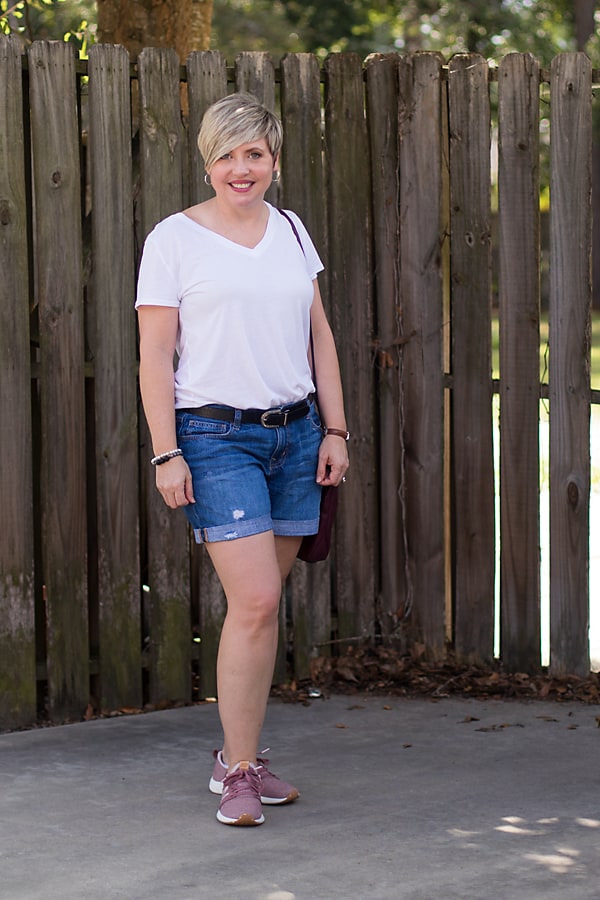 White v-neck tee- Target; shorts- Old Navy; sneakers- New Balance similar
For some fun inspiration on how to wear a t-shirt, check out Cosmopolitan's article–T-Shirt Addicts Will Love These 13 Ways to Style Their Fave Wardrobe Piece.
Between the 1950s and 1970s it became popular to print on t-shirts, and thus the graphic tee became a medium to advertise and to send any message you want. The first use of a t-shirt for a printed slogan came in 1948, when presidential candidate Governor Thomas E. Dewey printed the slogan "Dew-It with Dewey" on t-shirts during his campaign.
Related: Fashion A to Z: G for Graphic Tee
I have a ton of band tees from my teenage years. I attended many concerts- Poison, Motley Crue, Rolling Stones, Lynrd Skynrd, and Aerosmith to name a few. I have my concert tees packed away and I don't wear them anymore. Maybe I should pull them out? Most of them are probably too small at this point and they have sentimental value to me, so I opted to buy a new band tee. I've never seen Def Leopard in concert, but I do like them and this tee.
Tee- Tilley's; jeans- Old Navy; option; option; blazer- Loft; earrings- Jane
I added more leopard to the mix with this blazer. A graphic tee and a blazer are always a fun pairing.
Have a great day!