I'm back with another edition of What I Wore Recently. These posts usually span the two prior weeks, not including the current week. During this time frame, I've had time off work, time at work, the Fourth of July holiday and trips to the doctor for allergy testing, so I've got a mixed bag of outfits for inspiration. Most days at the office I can get away with more business casual attire than wearing full on business attire in the form of a formal suit.
I've divided this post into my business casual work outfits first and then everyday summer casual outfits. If you don't need the work wear, scroll on down for cute summer outfits.
Work
Tan sweater+ black pants + white blazer
This white blazer has been on constant repeat. It's the perfect summer piece. A pop of leopard adds a little interest to this. I don't know what I'd do without my leopard heels and flats.
Short sleeve sweater- Loft; pants- Ann Taylor;- blazer- Loft (old) similar; similar; shoes- option; earrings- Kendra Scott
Work
Navy print blouse+ Khaki pants+ Navy Blazer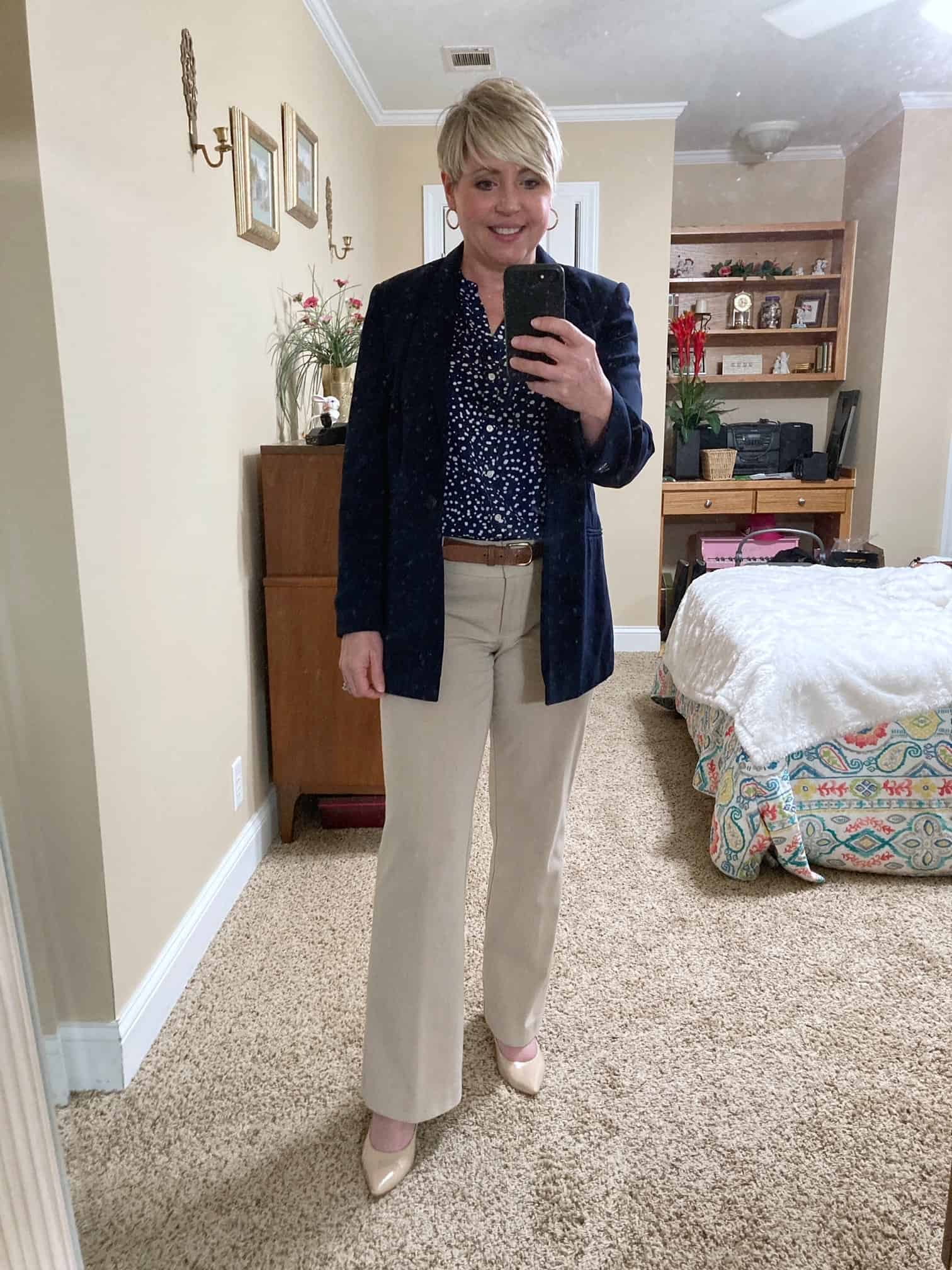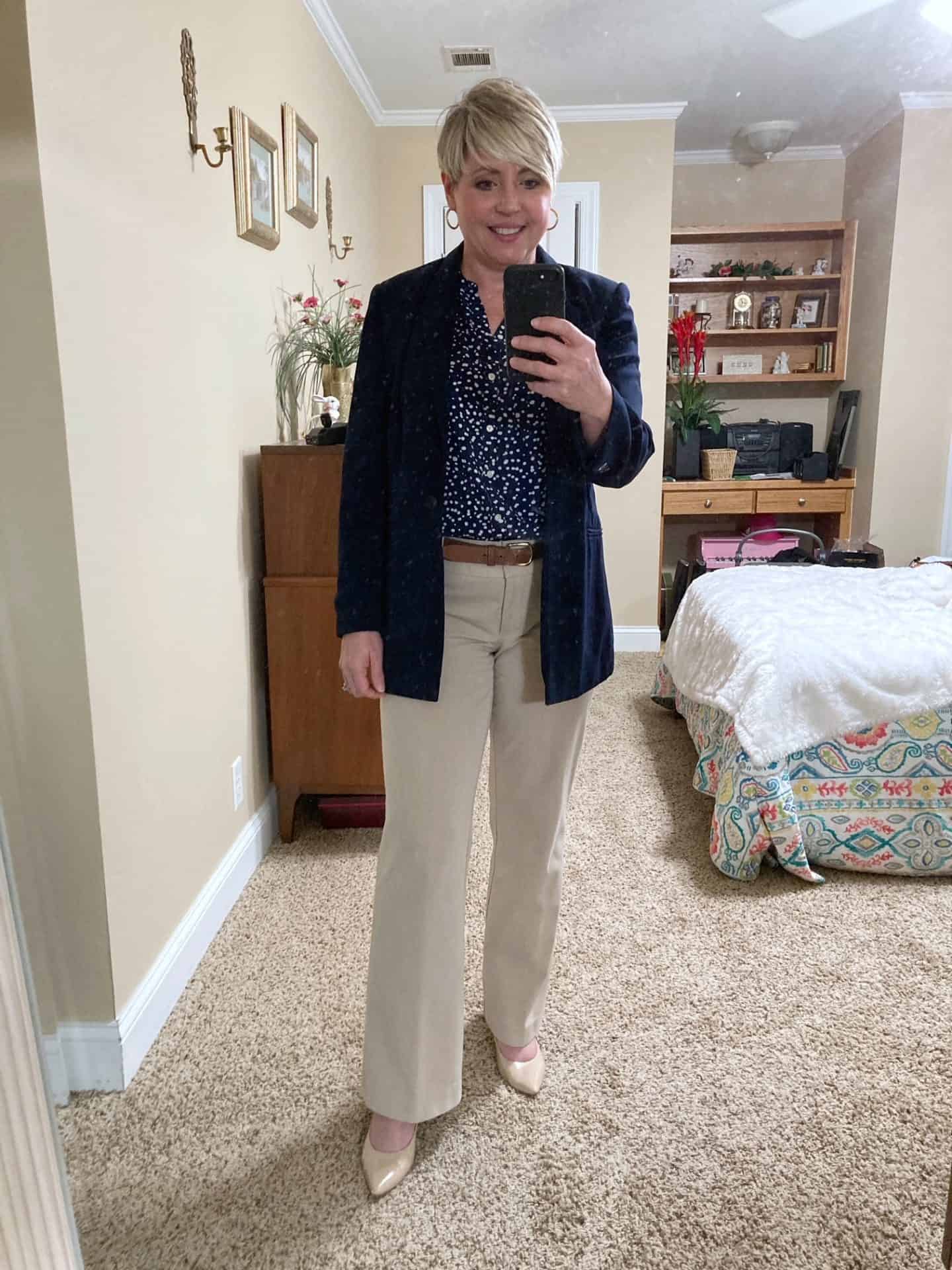 What color do you call this? Tan, beige, khaki? Whatever the color, these pants give every outfit a light summer feel.
Top- JCrew Factory (old); option option pants- Loft (old); option; option blazer- thrifted; similar
Work
Gingham top + bright pants+ black blazer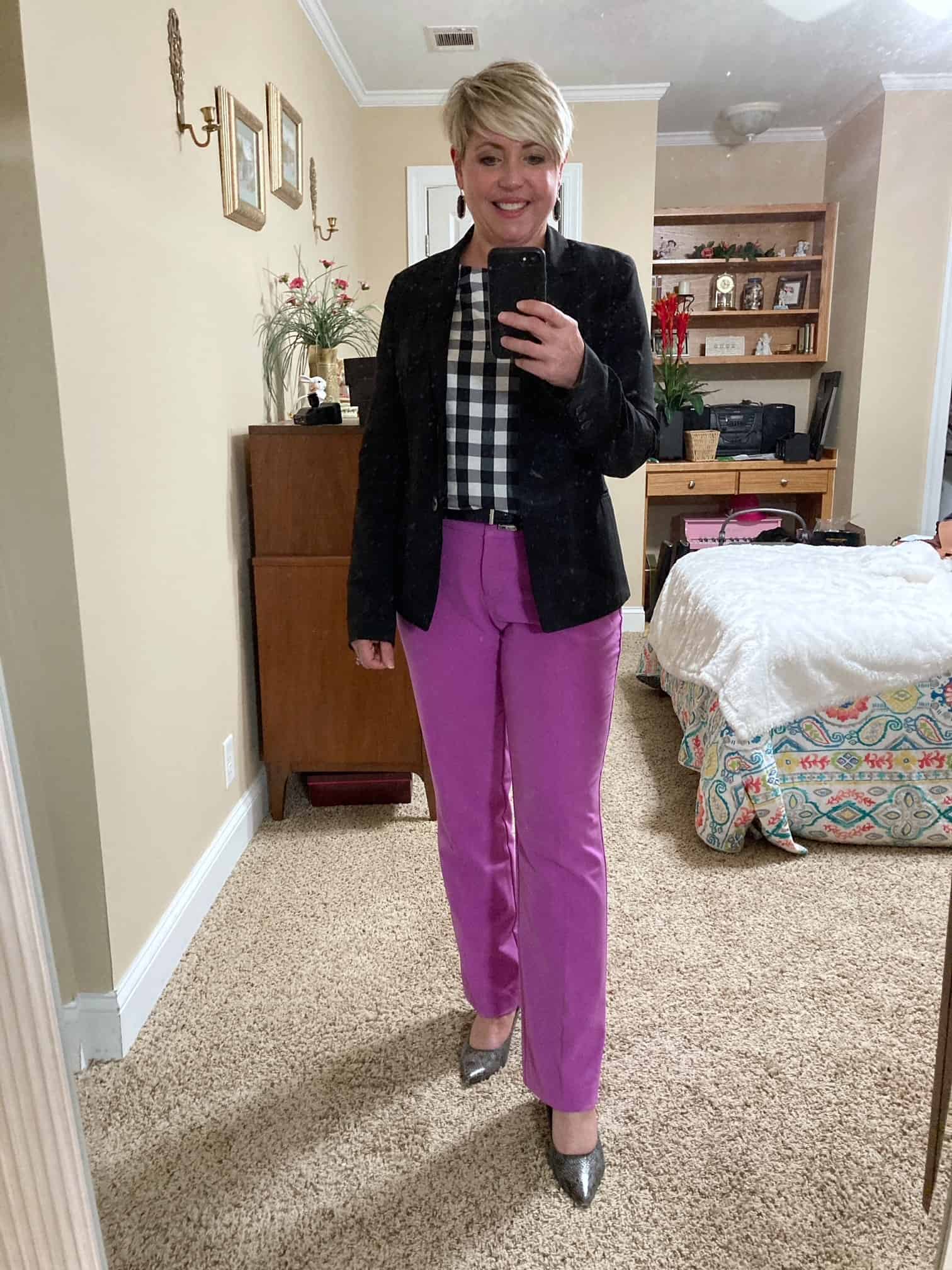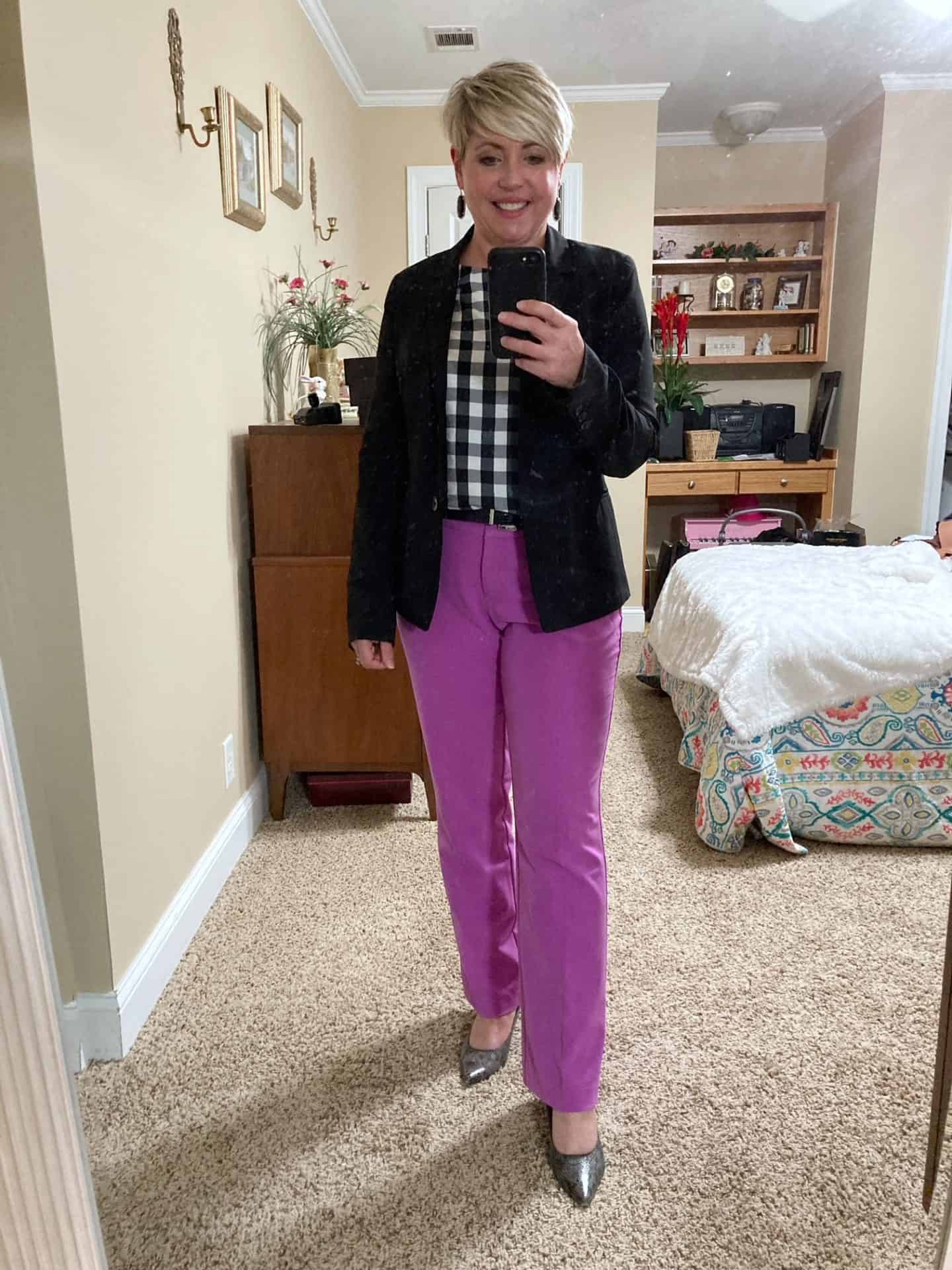 This gingham top is fabulous on its own with its cute flutter sleeves but the fabric is soft enough that the top works under a blazer. Did I mention that it's only $20?
Have you ever noticed some things don't play well together? Certain fabrics and sleeves just don't want to fit into a blazer. So annoying, but this top plays well.
Tip: If you have a navy gingham top and navy blazer, those pieces would work with bright colored pants/bottoms as well as black.
Top- Target; pants- JCPenney; shoes- (old) option; earrings- Kendra Scott
Work
Bright blue blazer + white blouse + navy pants
This was not what I normally think of when I think of blue on blue, but navy is such a neutral they any shade will go with it.
Blazer- JCPenney; option blouse-Macy'; pants- Ann Taylor
Work
These pants are a recent purchase and they are so comfortable. I already had them in a similar pair in blue. I don't normally like a high waist or high rise, and these have a bit of a high waist, but they are super comfortable in spite of it. I usually think of rust as a fall color, but it's made a presence for spring and summer 2021 so I've embraced it. The white blazer helps keep summer vibes to the outfit. The top was a Nordstrom Anniversary sale purchase during last year's sale and one I've worn often.
Top- Nordstrom; option pants- Loft; blazer- Loft/ old- similar; shoes- Old Navy
Work
Sometimes I pull random pieces together and they just fall flat for me. This outfit is one of those. This blazer was thrifted from Thred Up and even though it has a hint of grey and in theory should work with the pants, I find this look to be a little off.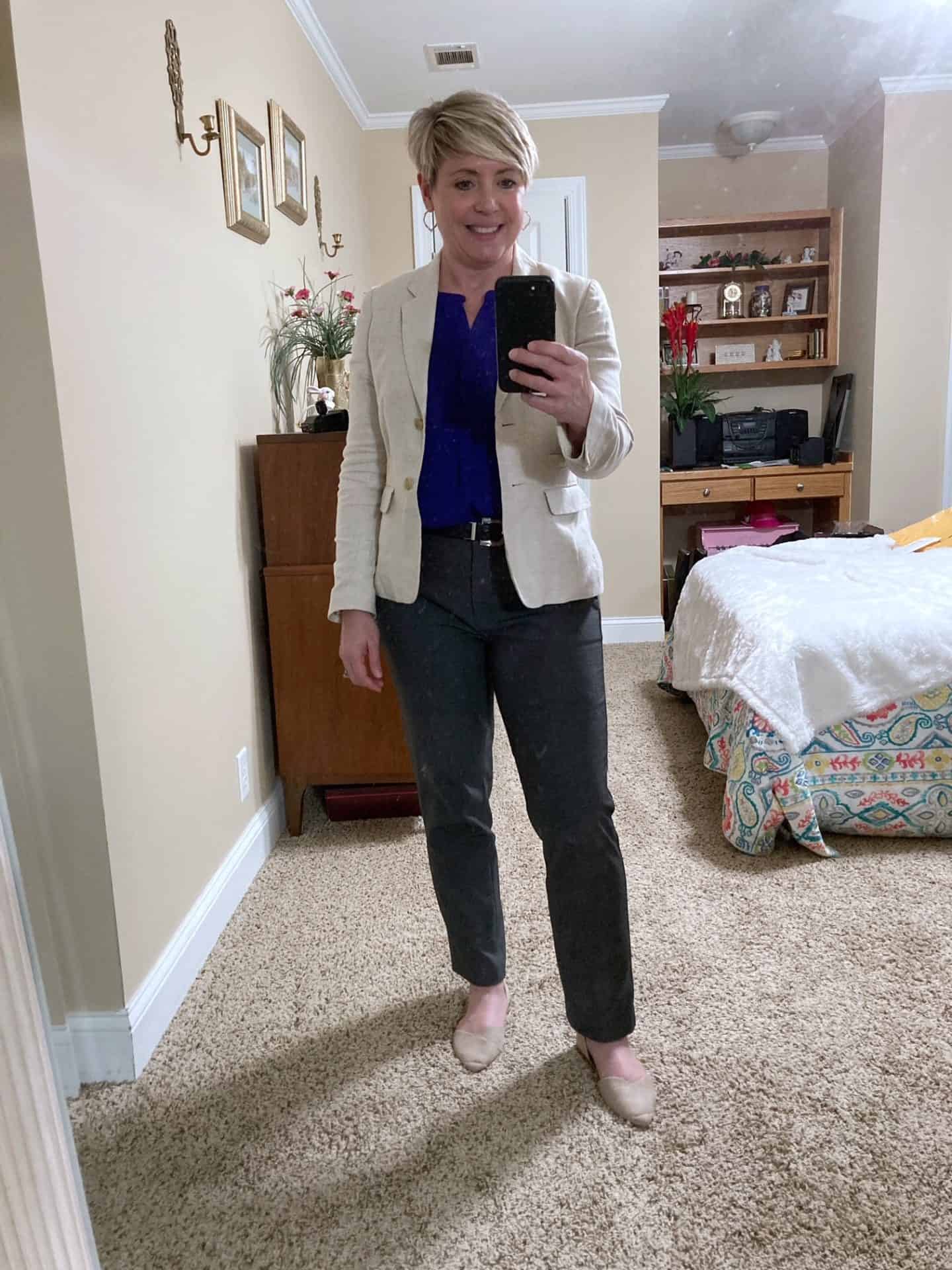 Blazer- Banana Republic via Thred UP; option; top- similar; pants- Ann Taylor
Casual Outfits
Saturday errands
I took this photo with the hat, but at the last minute I ditched and went without it. The hubby and I were making a Sam's trip for groceries and supplies.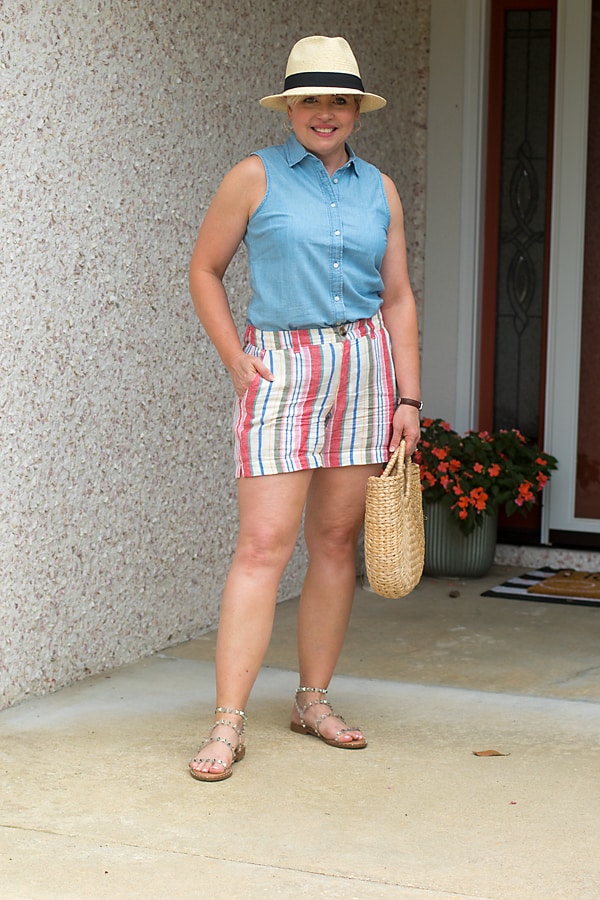 Top- JCrew Factory; shorts- Old Navy; shoes- Steve Madden; hat – similar
Sunday errands
Beige tshirt + striped paperbag shorts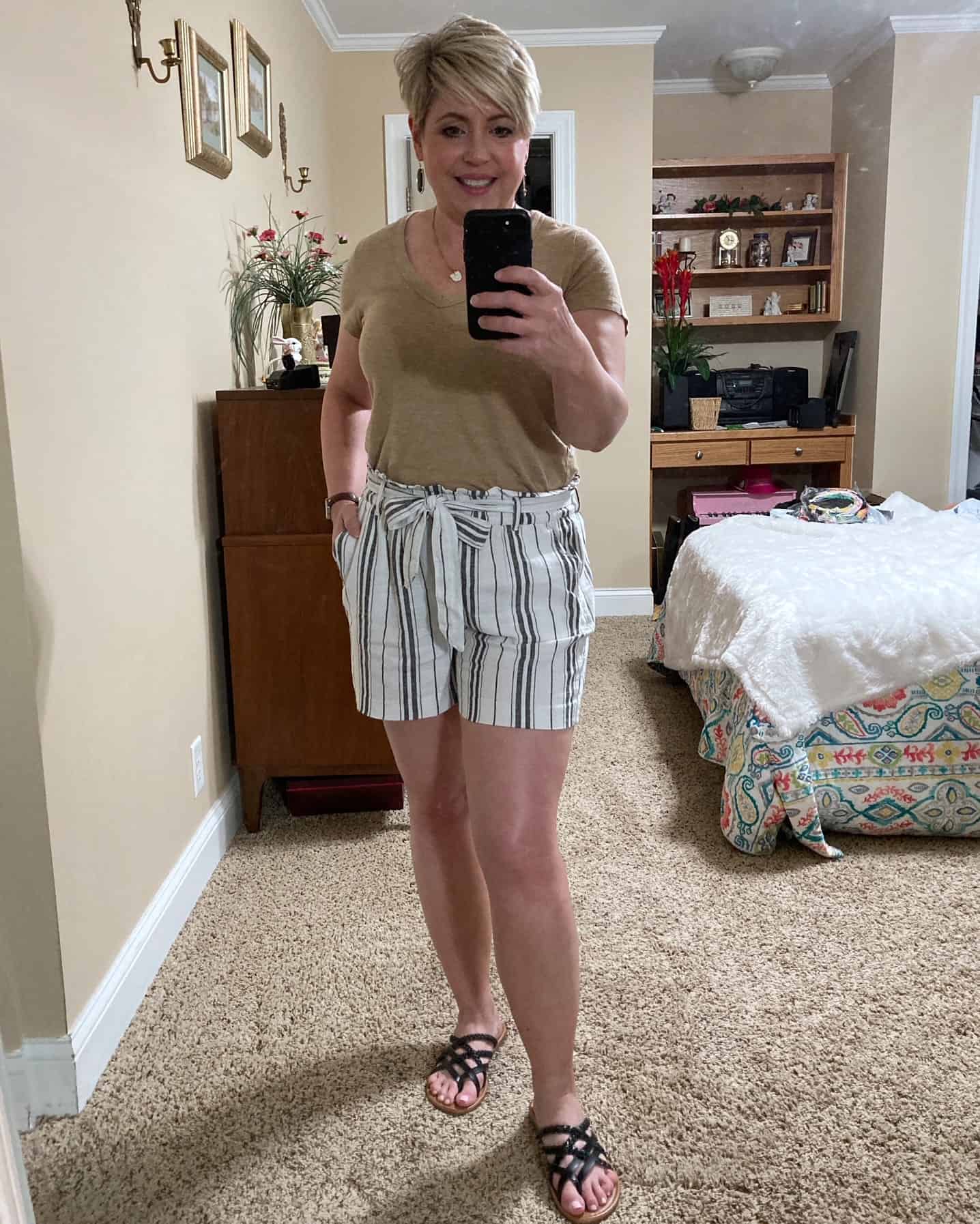 These are not the most flattering shorts on me, nor is this my best color in the tee, but it is a pleasing combo. The shorts are pretty comfy. Sometimes I wear things because I like them, not because they like me, lol.
Tee- Banana Republic; shorts- Old Navy; shoes-Kohls
See more looks with the shorts above and pants below by clicking the highlighted link.
Paperbag waist pants + striped tee + gingham slides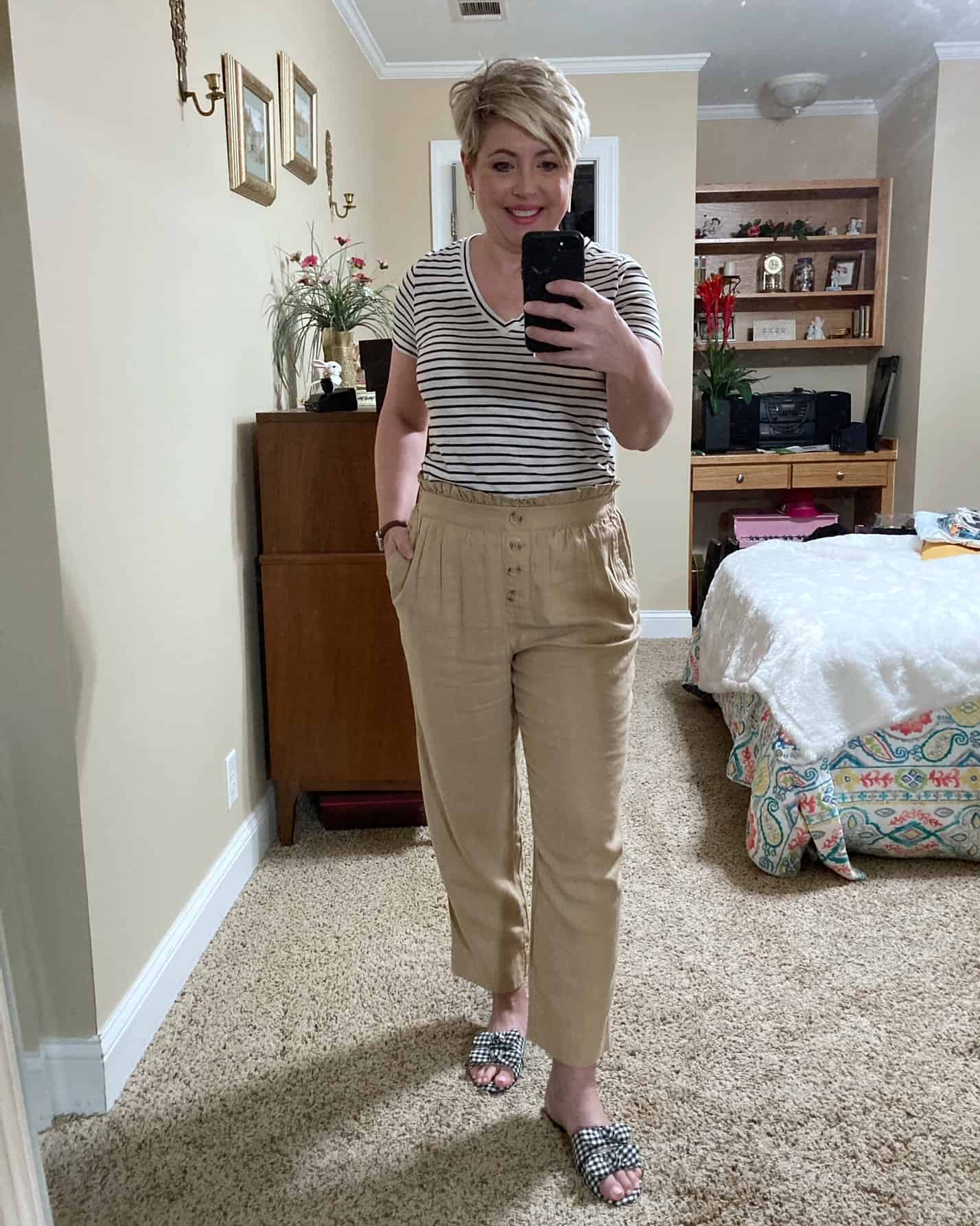 I wore this to the first of several allergy doctor appointments I went to during the end of June and first of July. I knew they would be sticking my arms and leaving dots, so I took along the blazer for after the appointment.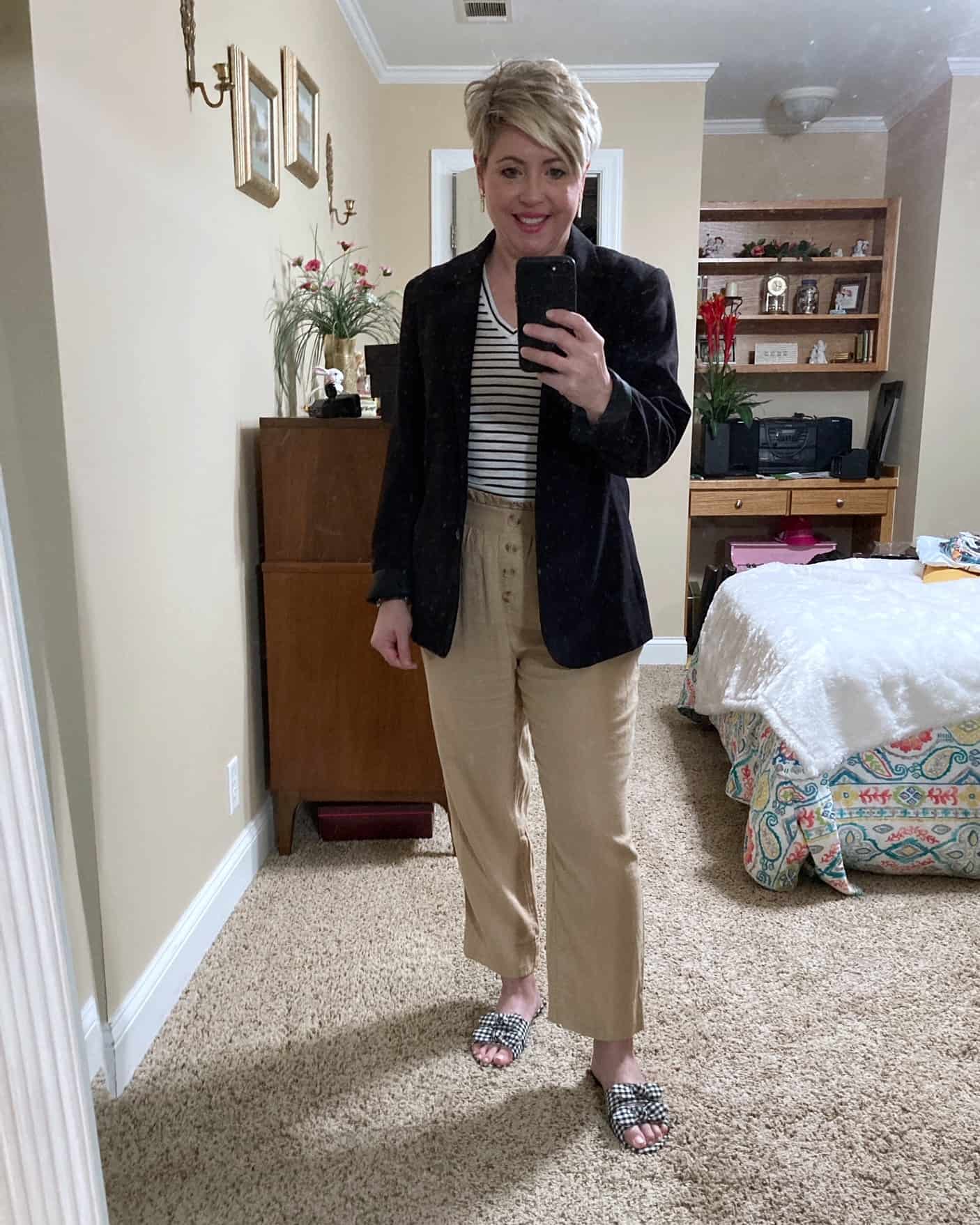 Pants- Loft outlet; similar tee- Target; option shoes- old; option blazer- old
Follow up doctor's appointment
Red top + chambray linen pants+ sandals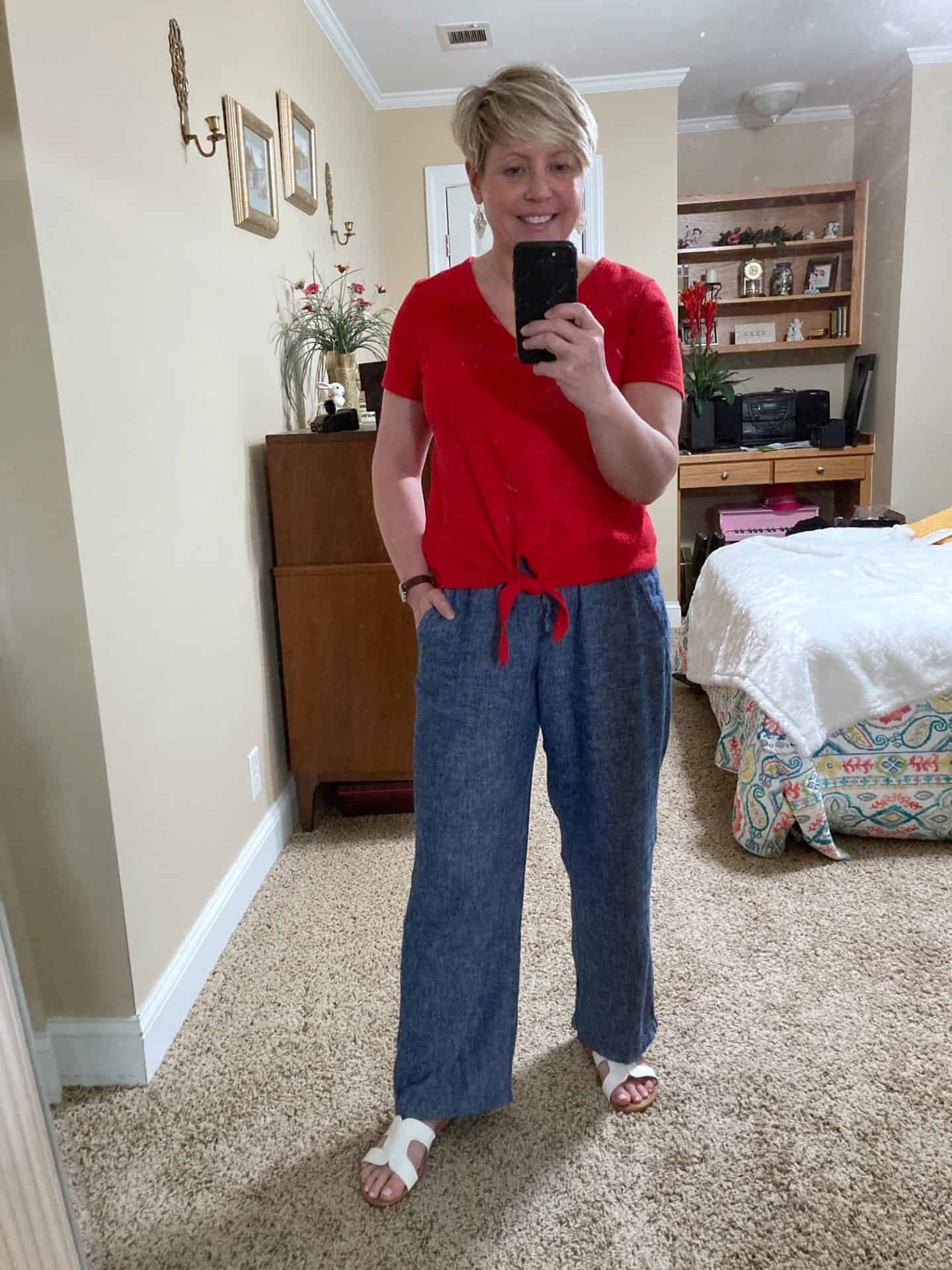 We were approaching the July Fourth holiday so I went a little patriotic. The fact that I also needed to have a top that would easily allow the doctor to check the test patches on my back influenced top choices also. These sandals are from Kohl's a couple of years ago. They have the best selection of sandals $16.99 and under every year and they hold up well.
Top- JCrew Factory (old); option; option pants- Old Navy; shoes- Kohls (old) option; option
Dr. appointment
Black top + camo joggers + sandals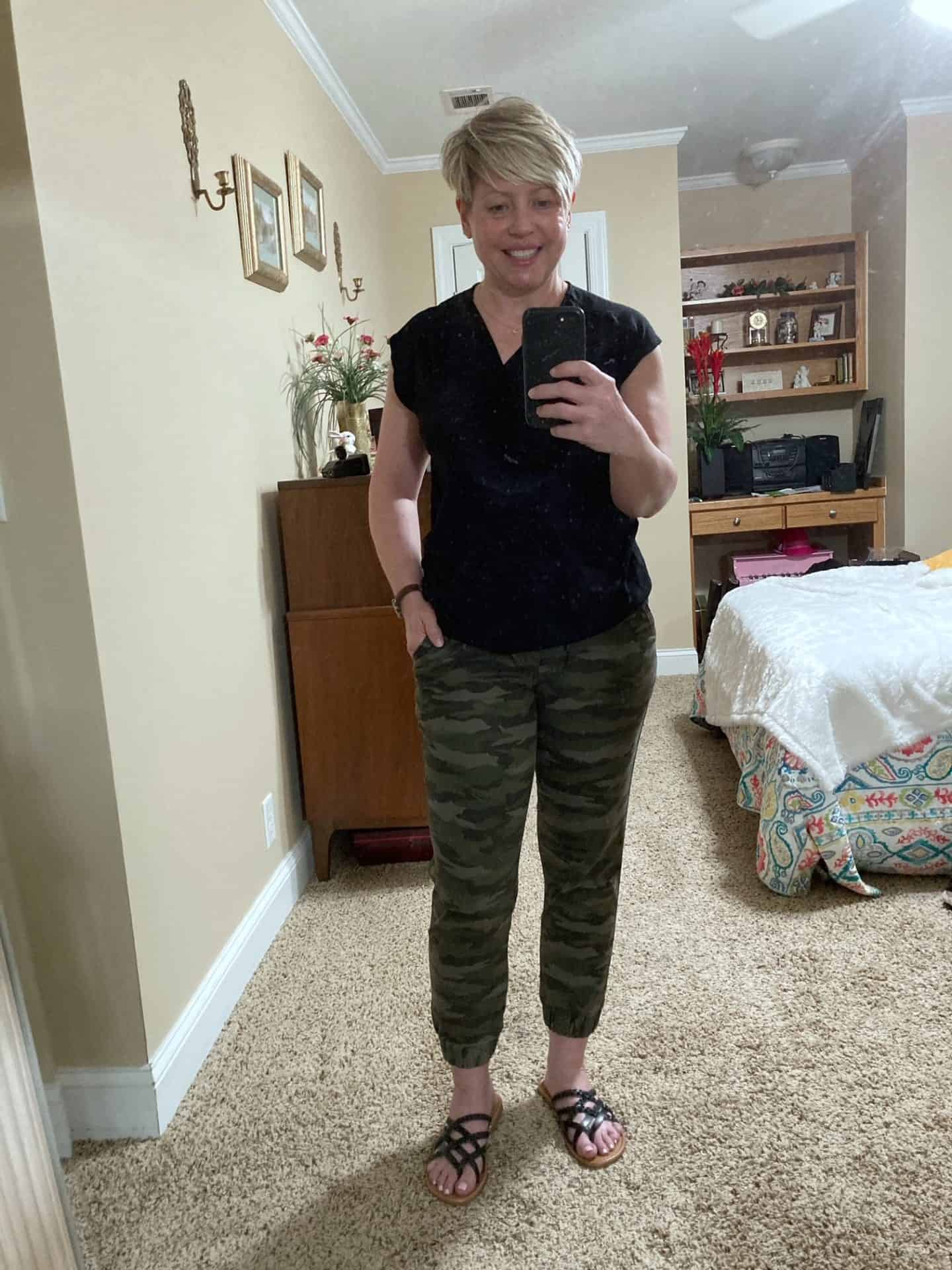 I rarely wear joggers in the summer but I wanted something easy to travel to the doctor's office in (it's an hour drive one way). Doctor's offices can be cool, so I opted for pants.
Top- old; joggers- Levis/ Amazon; sandals- Kohl's
Around the house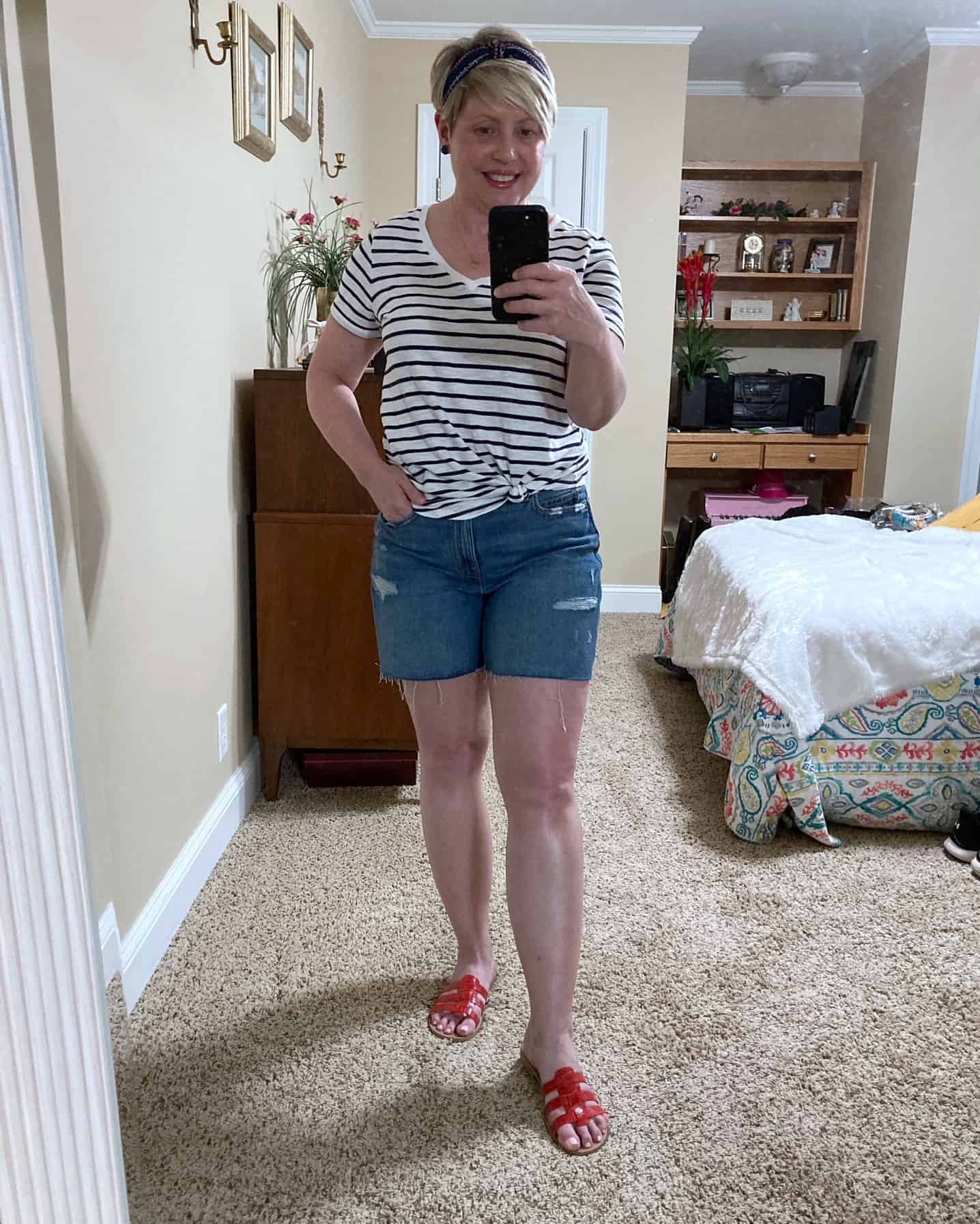 Striped tee+ denim shorts+ sandals
This will forever be a classic summer outfit- denim shorts and a tee.
Tee- Old Navy; shorts- Old Navy; sandals- Steve Madden; option headband- Amazon; earrings- Amazon
Grocery Store
I finally bought some fake Berks. A pair of these footbed sandals had been on my wish list for summer. I had some in college and loved them and I'm pretty pleased with these.
Shirt- Old Navy; shorts- old; purse- Amazon; earrings- Amazon; shoes- Amazon
Fourth of July/home
Tie dye shirt + jeans+ sandals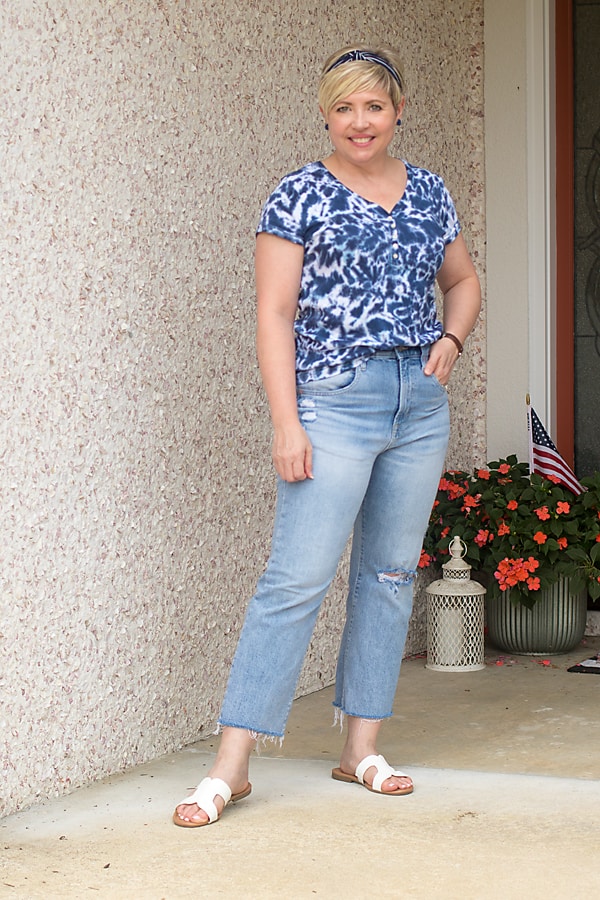 Another rare instance of me wearing jeans in the summer instead of shorts, but these do have plenty of ventilation with the distressing. We were just hanging out at home so they worked.
Shirt- Kohls (old) similar; similar; jeans- Gap; option; sandals option
What's your favorite look?
Let me know in the comments and pin/share your favorites.